Live Review
Harry Styles, Hammersmith Apollo, London
30th October 2017
Dodging stray kiwis and the trappings of misplaced "authenticity", Harry Styles finds his identity post-One Direction.
"As some of you might've seen," announces Harry Styles mid-encore, speaking in clipped half-sentences to fit around the room-shuddering screams filling Hammersmith Apollo to the brim, "I slipped. It appears there was an actual kiwi on the floor," he smiles, stooping to peel the offending fruit from the stage slats. "Green mush! This is gonna be a problem…"
To provide a bit of context: earlier on this evening, hurtling around the stage and performing 'Kiwi' - a ridiculously overwrought slab of glam rock that has fast become a fan favourite - Harry's Gucci-clad foot collided headlong with a stray piece of flattened fruit, and of course, he made the ensuing stumble resemble a gliding dance sequence from Saturday Night Fever. If you'll pardon the pun, he well and truly styled it out.
The fervent anticipation that has surrounded Harry's two night residency in London is impossible to overstate. As well as smuggling in those aforementioned kiwifruit, fans have been camping outside the venue - which by One Direction standards, is positively miniature - for days. Some are clad head to foot in pastel pink 'Harry' merchandise, others sweep nobly through the foyer, gay pride rainbow flags fashioned as capes fluttering behind them. Young women meet up outside ahead of the show in a dizzying blur of running-jump hugs, and beaming parents drop their wide-eyed kids off for the night underneath Hammersmith flyover. Multiple reviewers of both One Direction and Harry on his tod have referred derisively in the past to these 'hordes of girls' (in the condescending manner you might describe, say, a gaggle of geese rather than the serious music lovers these fans are) and made a point of their 'hysterical shrieking', their 'crazed screeches'. It's a lukewarm take better known as sheer nonsense. The truth is, pure joy hangs in the air tonight; an unbridled love of music that beats chin-stroking and pretension in a fist fight hands down every time.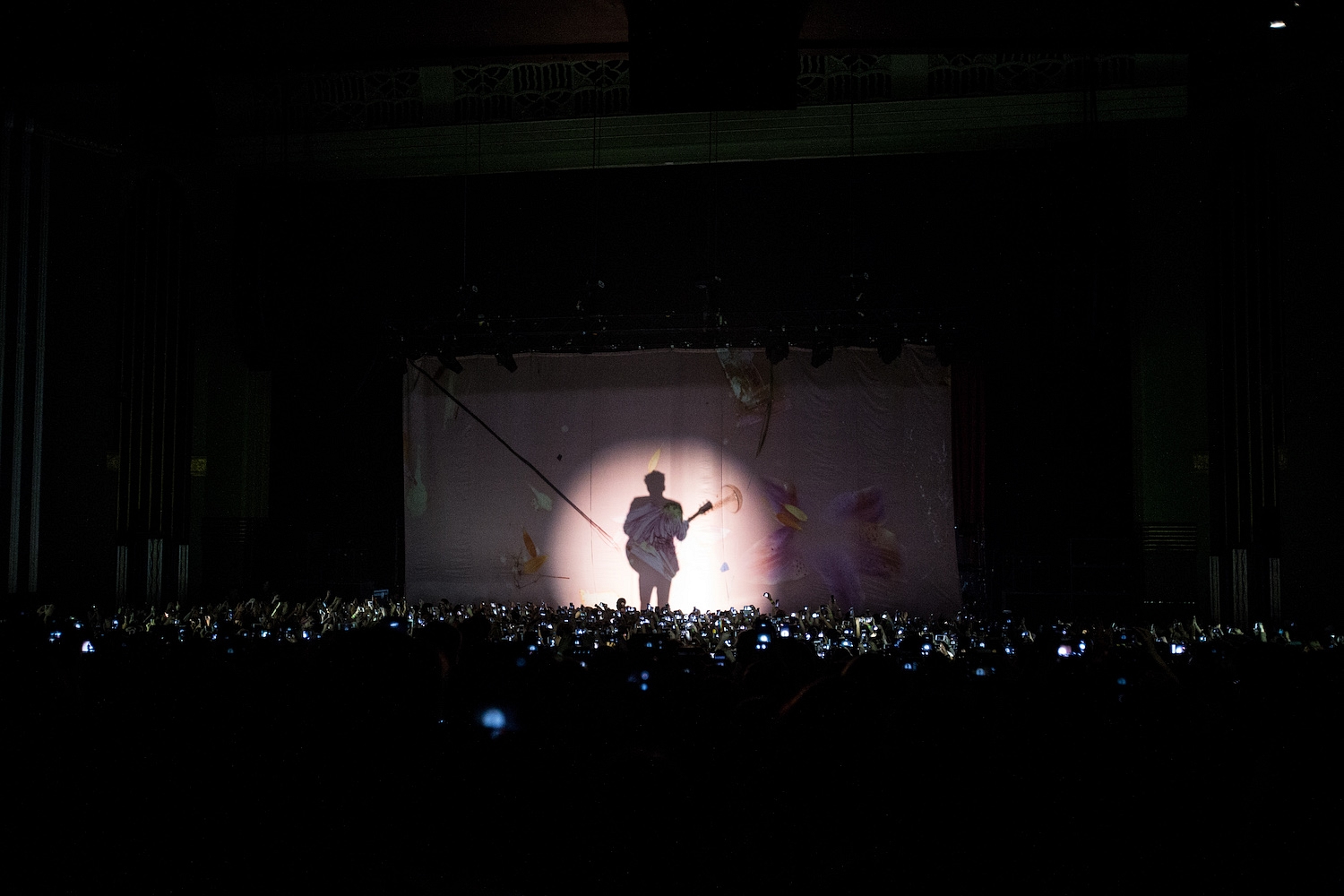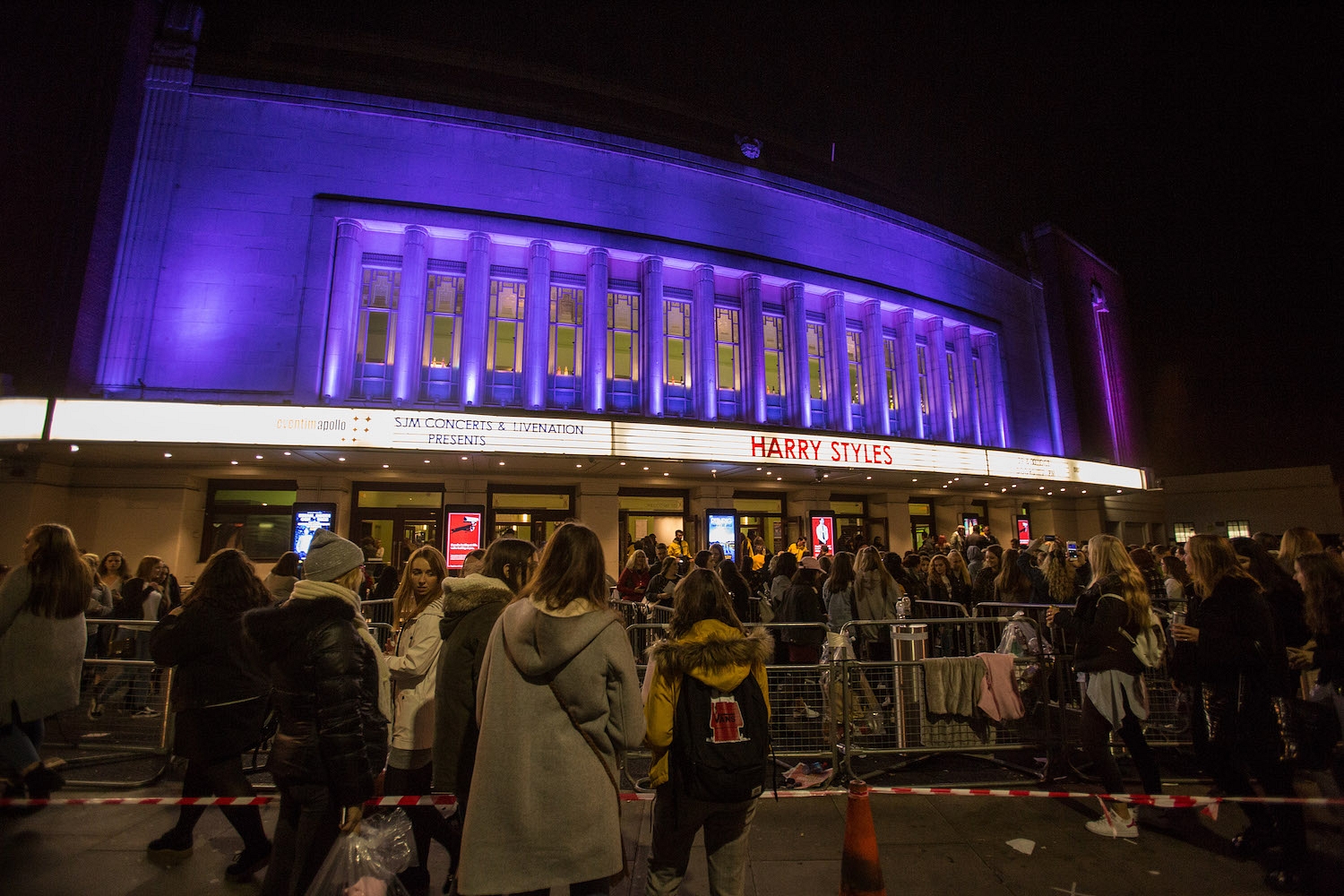 Where so many ex-boyband members have tripped over kiwis of their own making, fleeing their former fanbases in pursuit of boring old "authenticity", Harry clearly has the utmost respect for the very people that put him here on stage. "I am so proud to be in your presence," he tells them, tonight. Styles' merchandise is similarly adorned with the mantra "treat people with kindness" - such earnest sincerity could seem a bit cloying from anyone else - but you get the impression he really and truly means every word. His 70s flecked rock 'n' roll, meanwhile - charged with flamboyant 'Benny and the Jets' leaning glam, and theatrical curtain-drops - also sees him at his most playful and carefree, free from the constraints of a meticulously planned stadium production. When he's not frolicking about the hilariously tiny stage (the venue's appeal comes partly from its struggle to contain one of the most famous men in the world) or fist-pumping down the front like Delia Smith at a Norwich City game, he's coyly wiggling his bum in the direction of his bandmates, and whirling about with a rainbow flag while dodging airborne roses. And 'From The Dining Table' - a song which, as much as Harry protests otherwise, is definitely about having a cheeky wank in a hotel room - there's even a knowing smirk and comedy crotch grab.
Harry's calling card has always been his familiarity and charisma, and throwing himself headfirst into that sometimes tricky solo transition without looking back, that hasn't changed a bit. Making the kind of music he's always clearly felt most at home with, and loving every minute, the shaping of Harry Styles' new solo identity is just beginning.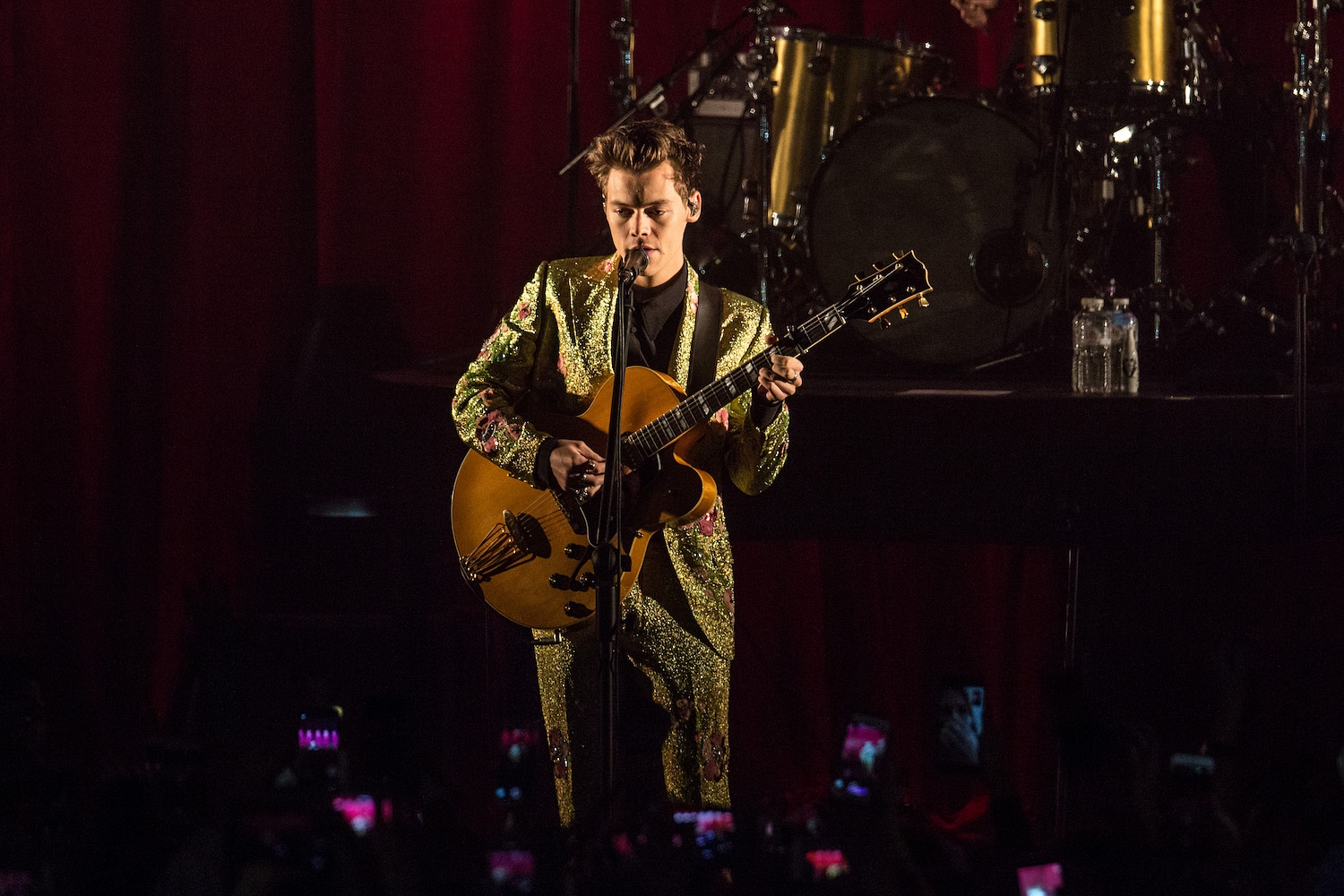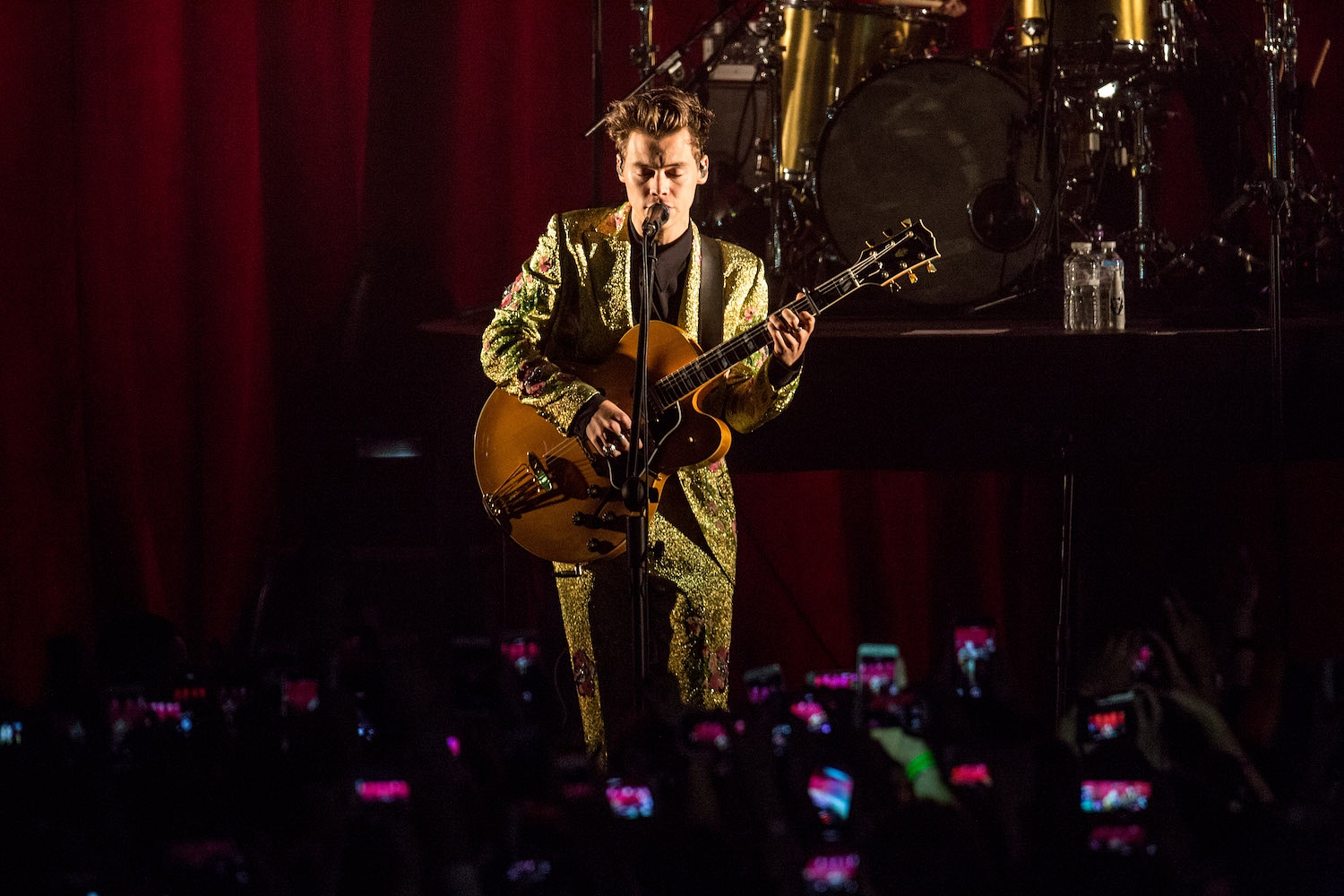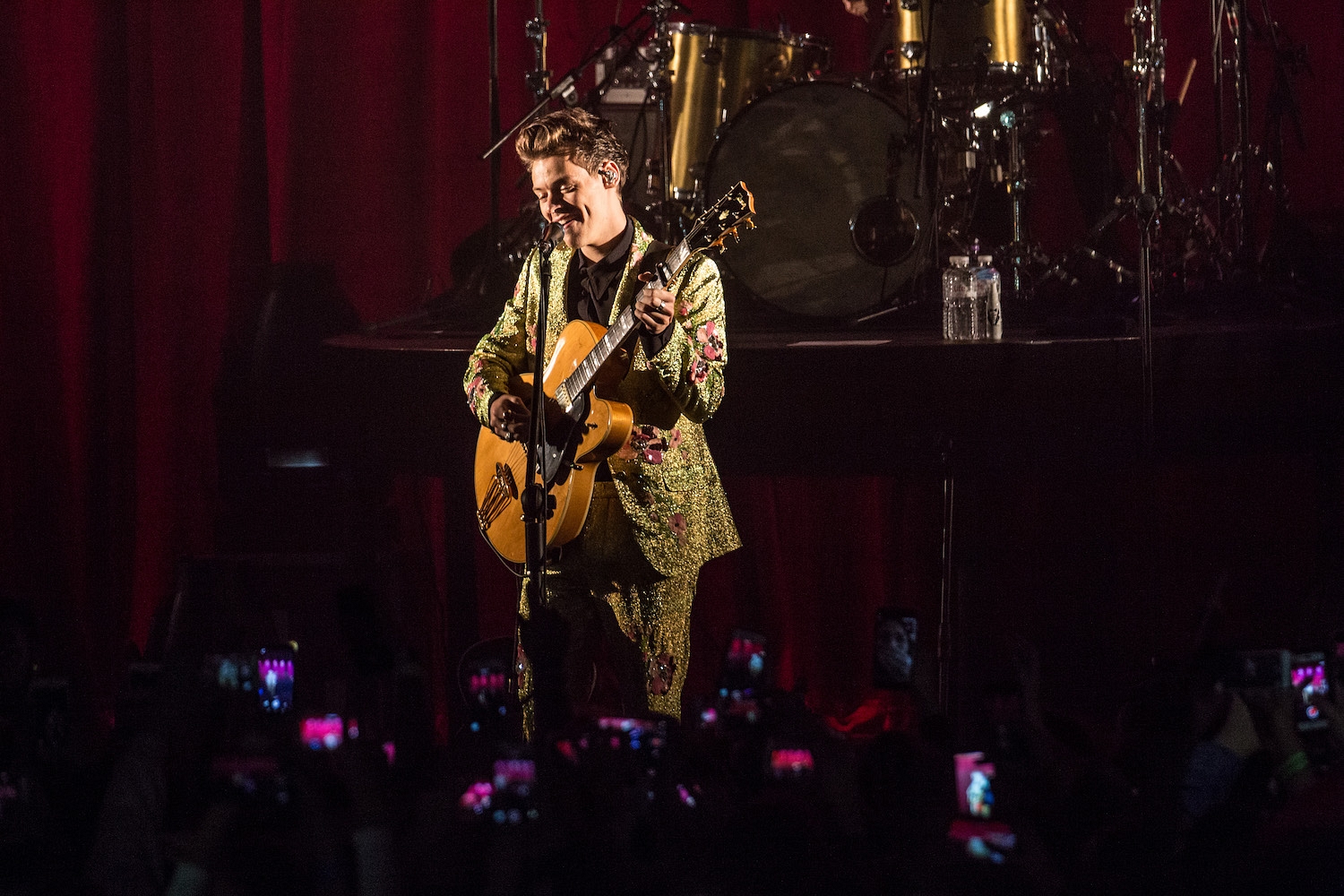 Read More
Featuring James Blake, Romy, Marika Hackman, yeule and more.