Festivals Kylie delivers pop perfection, plus Miley Cyrus, The Cure and more highlights from Sunday at Glastonbury
The final day, and Worthy Farm is going out with all the whistles and bands.
Glastonbury is, by nature, full of weird and wonderful sights (once you've clapped eyes on four butt naked people playing 4am table tennis, there's little that'll shock you), but there's never anything that can quite compare to Babymetal. Taking to the Other stage, the Japanese rockers are a mind-melting feast for the eyes. Dressed as goth warriors, the three members brandish flags and other props, canter on the spot like a strange hard-riffing 'Gangnam Style' and rip out a series of metal tracks with a cross between no-nonsense deadly seriousness and Kawaii cuteness. It's a bit like watching an extended opening sequence of Power Rangers, if Bring Me the Horizon had soundtracked and turned themselves into small, 20-year-old women.
Since being labelled the BBC's Sound Of 2019 winner, Octavian's rise towards stardom has been more than steady. A raucous, sold-out London show at the Forum, a new collaboration with Skepta, and his 'Spaceman' mixtape have made 2019 a year that's so far delivered on the hype, and his sizeable crowd in the John Peel Stage early on today reflects this. There's plenty of thudding beats and energetically rapped verses, but it's on the poppier, tropical-tinged likes of Mura Masa collaboration 'Move Me' and calling card 'Party Here' that the Londoner shines. "This is the song that got me famous," he yells before the latter; give him one more radio hit of this calibre and he'll be on his way to stardom.
Over on the Pyramid and the absolutely enormous crowd (almost certainly the largest of the weekend) can only mean one thing: the customary Sunday afternoon 'legends' slot, and the imminent arrival of Kylie Minogue. If previous artists occupying that coveted slot (Dolly Parton, Lionel Richie et al) have kept it a fairly unshowy affair, then Kylie's not having any of that; from the second she's revealed from inside a mirrored wardrobe, various pastel-coloured dancers twirling around her, it's obvious that the national treasure has pulled out all the stops, and it's an all-singing, all-dancing theatrical production that fills the next hour.
During 'I Should Be So Lucky', giant letters spelling her name sway in time to the crowd; during a mash-up of 'Slow' and David Bowie's 'Fashion', extras stalk the stage down an imaginary catwalk, wearing outfits made from old tents; ahead of 'Especially For You', there's an entire wedding scene, complete with faux guests, confetti throwing and a chucking of the bouquet. It's all so camp, so fun, so delightfully pure and wholesome (aside from some exceedingly saucy gyrating at one point) that you can't help but grin. There's time for 'Where The Wild Roses Grow' – complete with a guest appearance from everyone's favourite vampire, Nick Cave mid-way through, just to remind people that Kylie's not just a saccharine sweet pop nugget, but then the pint-sized legend is equally at home hamming it up to the sound of an imaginary train before 'Locomotion'.
Costume changes come every 5 minutes, and it's a polished, perfectly-rehearsed pop show, but there's humanity and heart that cuts through the high-shine production at every turn. Addressing the time she was meant to headline in 2005, but had to cancel after being diagnosed with breast cancer, the singer gets teary and overwhelmed, momentarily having to stop ("I'm sorry, this is really hard…") before acknowledging that her and her fans had now spent "thirty-plus years together". As the crowd chants her name, and Kylie tries to contain her emotions, it's a tear-jerking moment in a show that proves you can deliver pop perfection without losing any of the genuine spirit beneath (even though she does bring out Chris Martin – him again – to ruin the beginning of 'Can't Get You Out Of My Head').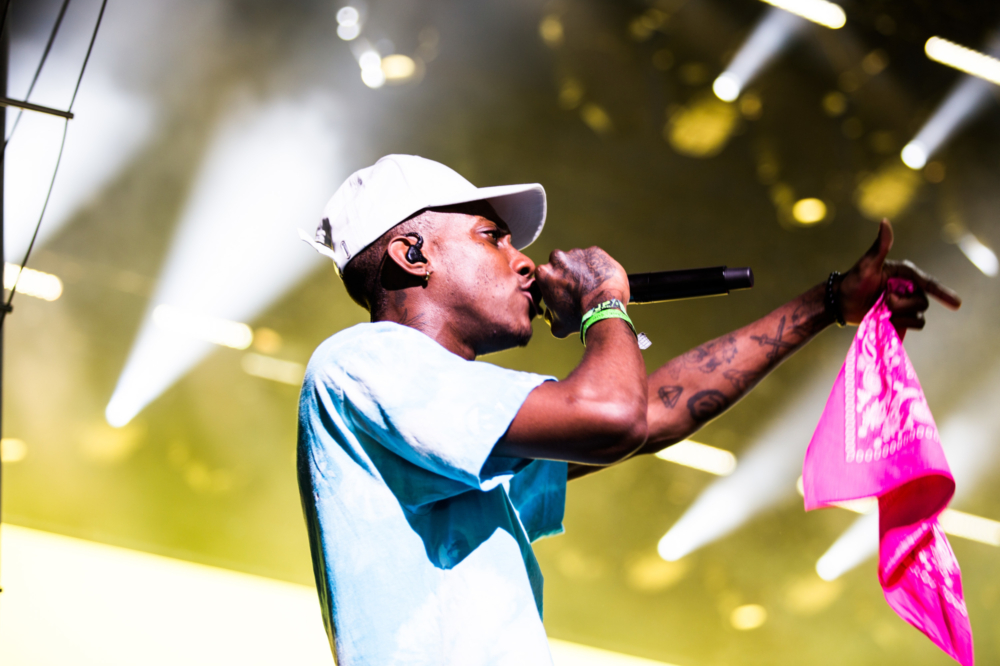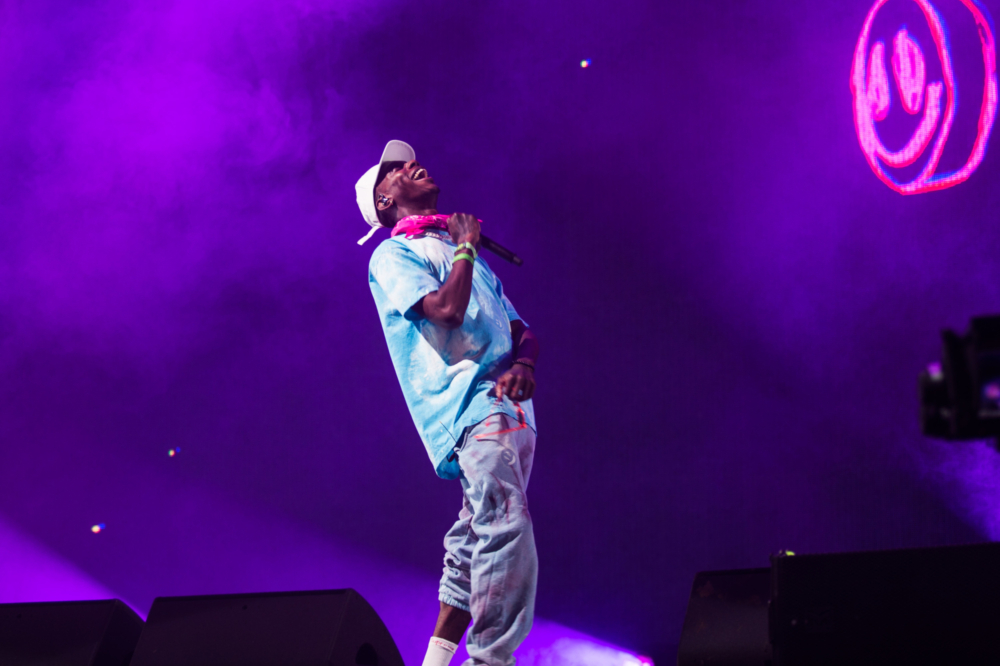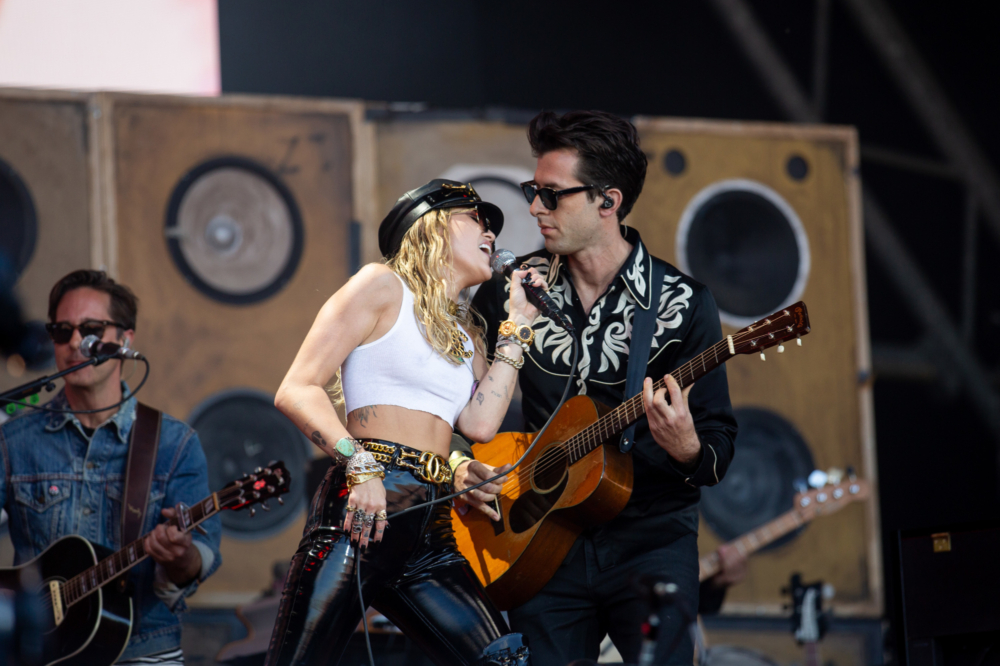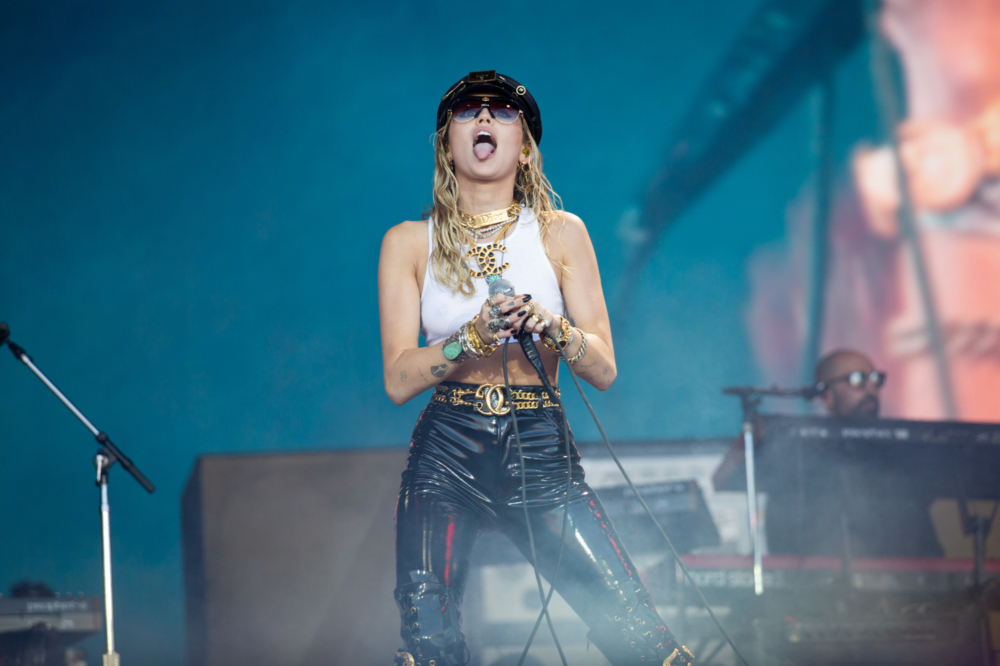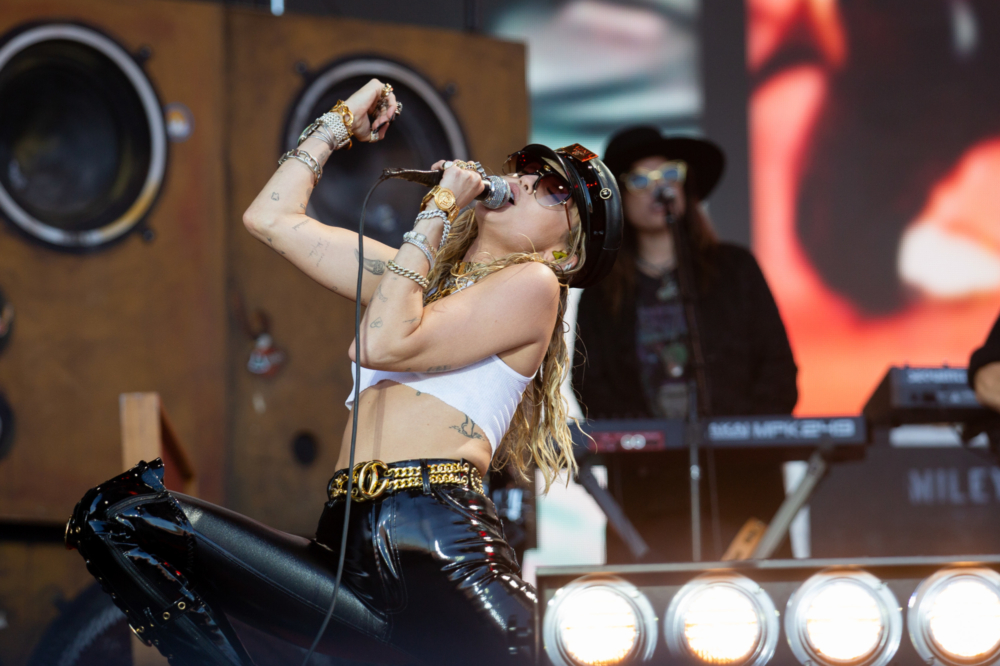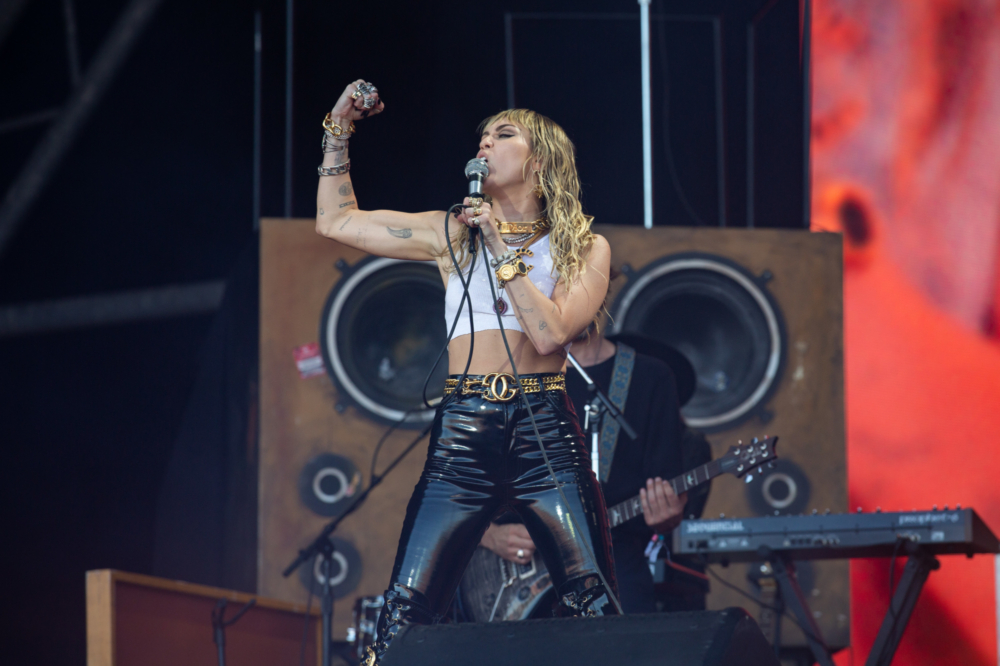 In comparison, Miley Cyrus' following turn is a far less straight-forward beast to contain. Now styling herself like a wet leather-wearing rocker, her vibe is – as ever – a don't-fuck-with-me mash of writhing sexuality and purposeful provocation. But, underneath, it's obvious that the star is trying very hard to please at a show that she admits "scared the shit out of [her]", preceding it with the fact that she'd watched The Killers last night and, essentially, didn't know if she'd be able to follow it.
The way that Miley decides to tackle the problem is by loading the set with covers and guest stars. Bringing out Mark Ronson at the top of the show, she mixes a frustratingly incomplete snippet of recent gem 'Nothing Breaks Like A Heart' into Amy Winehouse's 'Back To Black', then proceeds to infuse the next two tracks with bits of Led Zeppelin and Metallica. Single 'Cattitude', with its made-for-Drag-Race scattershot prowl, is deployed with the kind of grinding, nipple-flashing show that'd make your Nanna blush, before Miley launches into a cover of Dolly Parton's 'Jolene' (aka her Glasto-smashing Godmother).
Then she brings out her dad Billy Ray and Little Nas X to perform 'Old Town Road'; it's a little odd when the biggest hit of the set isn't actually sung by the person with their name on the poster, but the crowd go predictably wild nonetheless. Even stranger is when she disappears and reappears dressed as Ashley O – her lilac-wigged character in Black Mirror – to deliver the show's song 'On A Roll', and its cover of Nine Inch Nails 'Head Like A Hole'. Throughout she sounds incredible, her voice a rasping, powerful machine, but it's a bit all over the place and chaotic; then again, toeing the party line has never been Miley's bag.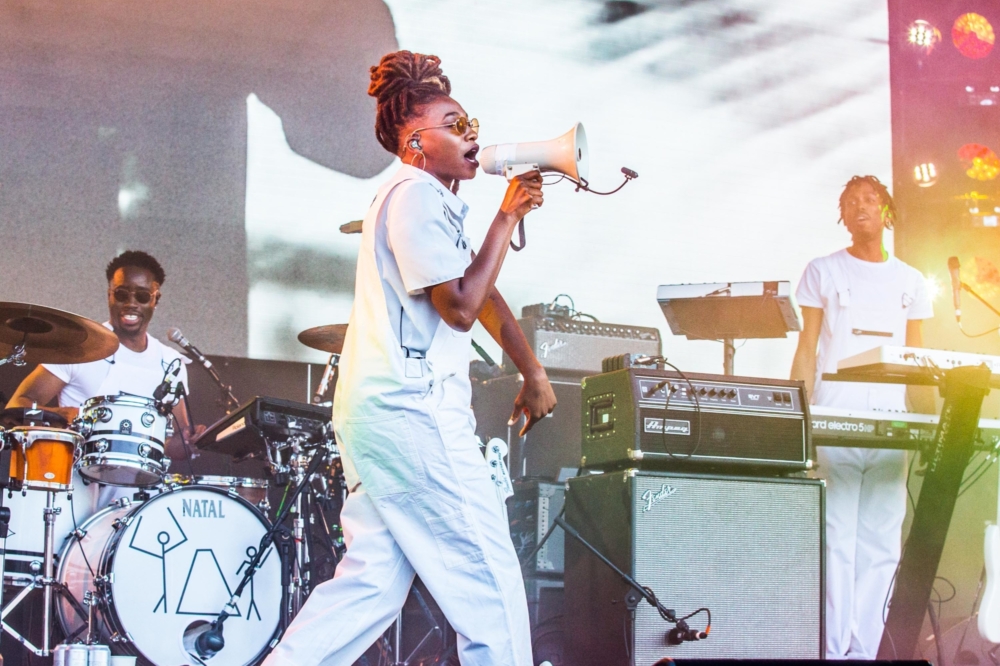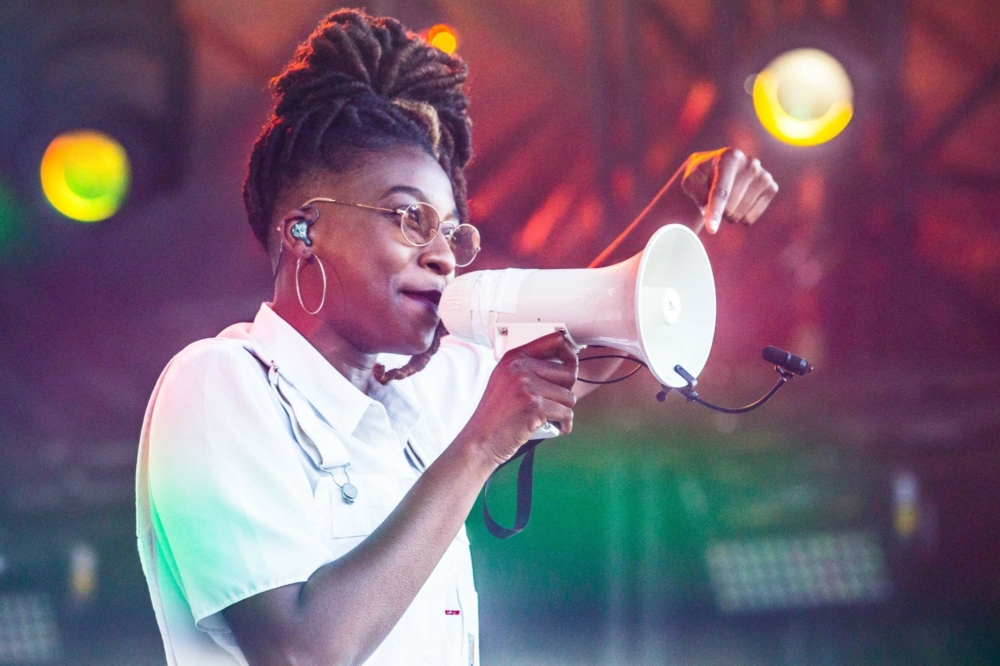 Critically lauded and ready for his next step into the big leagues is Dave. His set at sunset on the Other Stage, which follows his chart-topping LP 'Psychodrama', is compelling, thought-provoking and, at times, downright funny. In 'Hangman', he ruminates on life with exceptional precision and nimble rapping, and his knack for poetry is shown on a following a capella section. "I wanna be different, I wanna deliver a message to people," he says, and his is a voice that immediately commands an ear with which to digest that message fully. The standout moment, though, and one that's already on its way to viral internet fame, is when he picks out a fan with a Thiago Silva shirt from Paris Saint Germain for his song of the same name. The suitably squiffy kid then proceeds to absolutely smash it out of the park. It's a bafflingly impressive and funny moment in a set that otherwise cements Dave's status as one of the UK's most promising rappers. At the last Glastonbury in 2017, a certain Stormzy played this slot - one from top on the Other Stage - and just look where he is now. Could Dave be close behind?

Meanwhile, over on the Park Stage, Little Simz transports Pilton to North London, sporting miraculously fresh dungarees and a megaphone to boot, and spitting slick bars dedicated to next door neighbours, rough starts and sherbet sunsets.

For the beery masses, a few slabs of nostalgia to close out the festival are just what the doctor ordered. First up, Friendly Fires do a better job at taking us back to 2008 than looking forward to their upcoming third album, but hearing 'Jump In The Pool' blast out of a festival tent after a few pints will never get old, will it?
They're followed in the tent by The Streets, and by god do they pull a crowd. The entire John Peel field, let alone the tent itself, is totally rammed, with scenes akin to The Killers' not-so-secret set here in 2017. As soon as Mike Skinner bounds onto the stage, flares are ignited and a truly unhinged final night of Glastonbury 2019 is underway. Throughout, the frontman is a beery orchestrator of the chaos, demanding circle pits ("this is what they do in Germany!"), crowdsurfing for the entirety of 'Dry Your Eyes Mate', and crowning the predictably lairy closer of 'Fit But You Know It' by scaling atop the crowd to hand a can of beer to a particular punter. It's perfect, ridiculous chaos.
The energy exuded here is matched over on the Other Stage by Christine & The Queens, if in very different ways. The tour for second album 'Chris' is a flamboyant masterpiece. Scouring the stage back and forth with a host of dancers for company, Heloïse Letissier is the conductor of the most dramatic of musicals, with her catchy, genre (and gender) bending synth-pop taken to new heights via its stunning recreation on stage. 'Tilted' is a predictable highlight, along with the soaring '5 Dollars', and there are few dry eyes in the house when she leads the crowd through an a capella version of David Bowie's 'Heroes'. In between songs, her message is all about positivity, rejecting norms and forging your own path after growing up as an outsider. "We are sharing a safe space, free of judgement," she tells the crowd. "It's just love, and then everything is possible." As a message to take home with you from Worthy Farm, it's about as good as it gets.

After three massive Pyramid Stage pop turns, the arrival of Vampire Weekend is an altogether lower key affair. But if Ezra Koenig and co's schtick has always been as a bunch of affable guys, unbothered about trying to be cool, but writing huge, unifying indie hits nonetheless, then today they succeed on the big stage by virtue of being nothing like any of the artists that have played just before them. There are no big whistles and bangs, only a giant globe behind them that merrily takes up the stage while the band trot through the likes of 'Oxford Comma' and Ezra's SBTRKT collab 'New Dorp. New York' as the sun sets. It's all they need.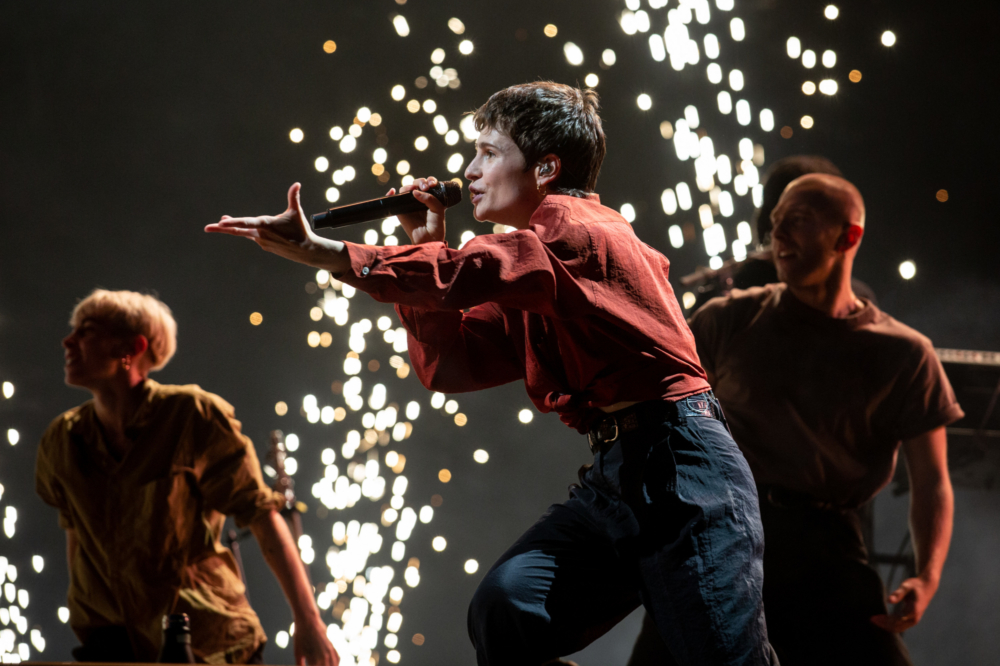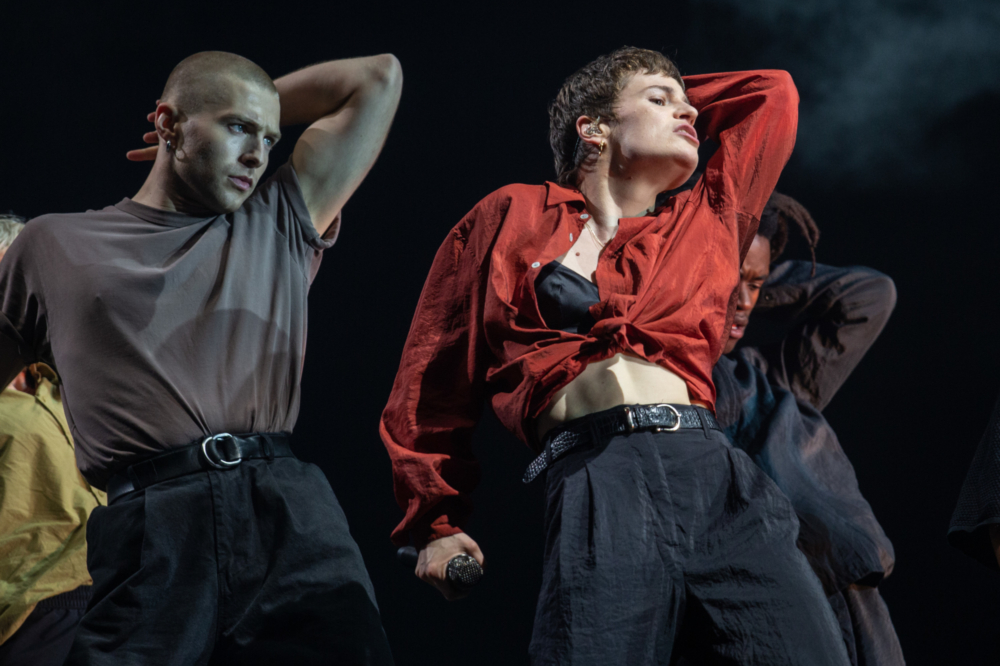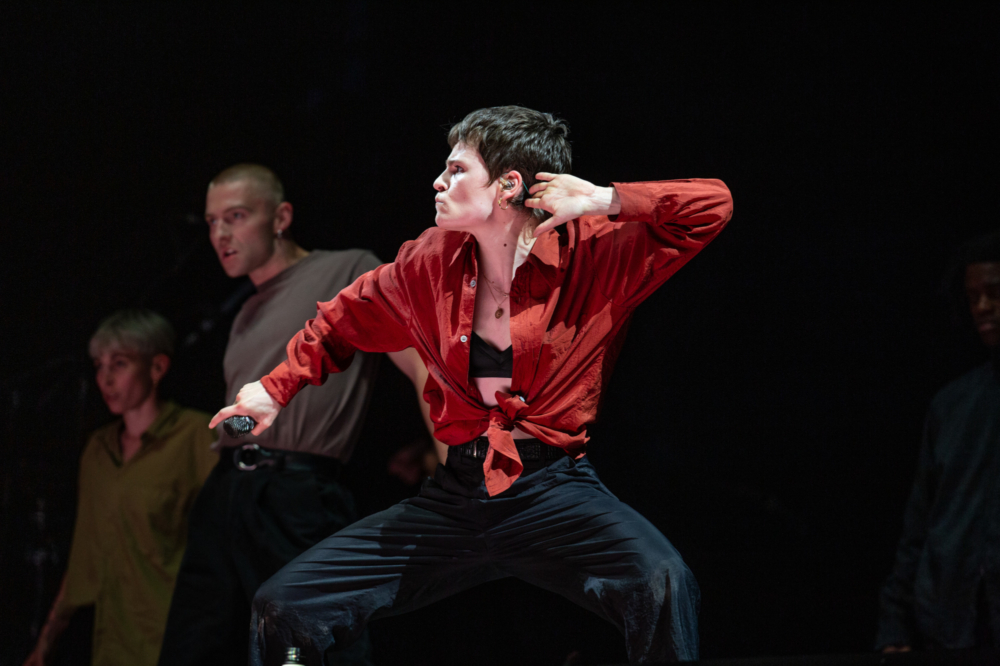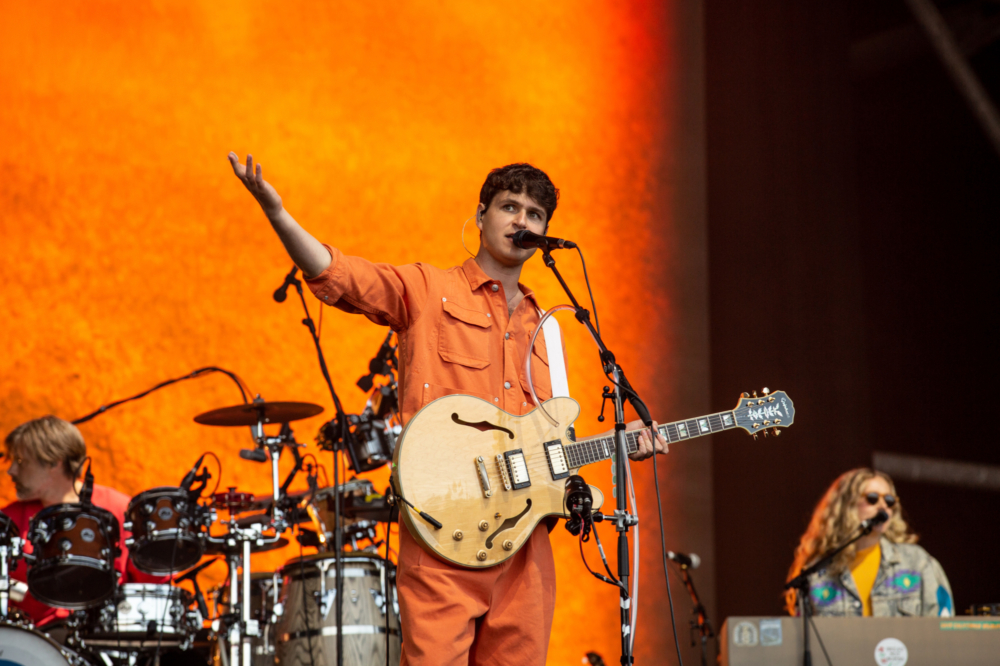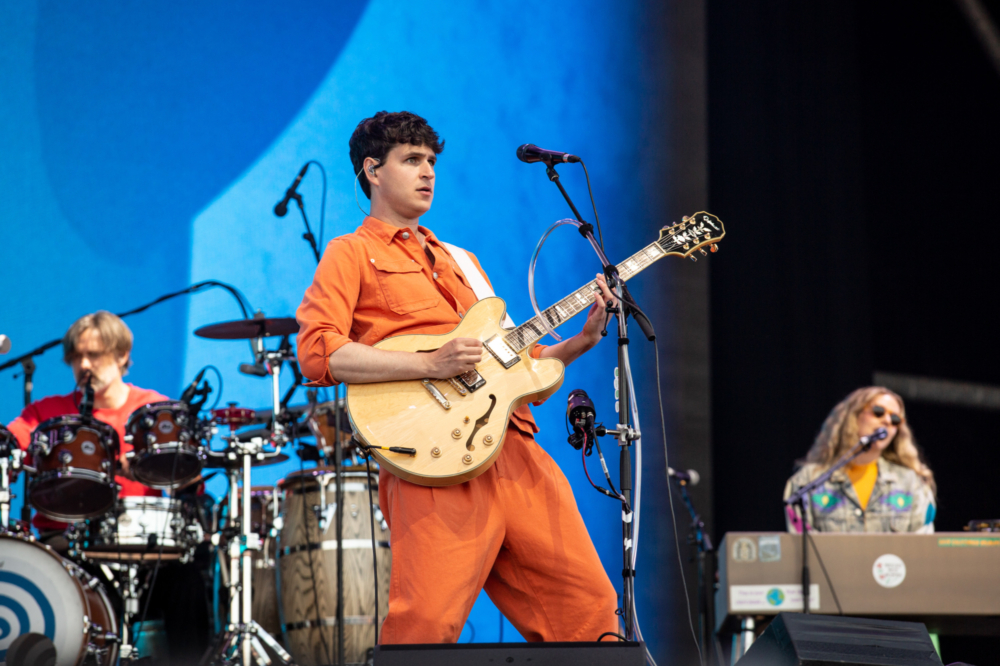 Headliners The Cure are another band who don't go in for tricks. "I've realised I'm going for the award for the person who says the least at Glastonbury," giggles Robert Smith half-way through the band's epic set. But he doesn't need to say anything. Beginning with some of their more atmospheric, conflicted wares (a dark, wonderful 'A Night Like This', an introverted, intimate 'Lovesong'), it's a set that still feels something of a cult concern despite their highest of slots, yet builds into one of the most joyful, unifying moments of the weekend. "It's weird because I've been here over the weekend, and it's weird to be a part of it," says the iconic goth. "What we do is hard to translate here… No wait! It's not! The next half hour is very Glastonbury!". And he's not wrong. Serving up 'The Caterpillar', 'The Walk', 'Friday I'm In Love' (changed to Sunday in the intro, of course), 'Close To Me' and a final 'Boys Don't Cry' in quick succession, the calibre of the band is inarguable; these are legitimately some of the finest tracks our shores have ever produced.
You would imagine, after more than 40 years in the game, that The Cure would be pretty unphased by anything. But, as Robert uncharacteristically leaves the mic stand to wander the edges of the stage, looking overcome with emotion as he ends the set, it's a touching reminder of just how special Glastonbury is – even to the most seasoned in the game.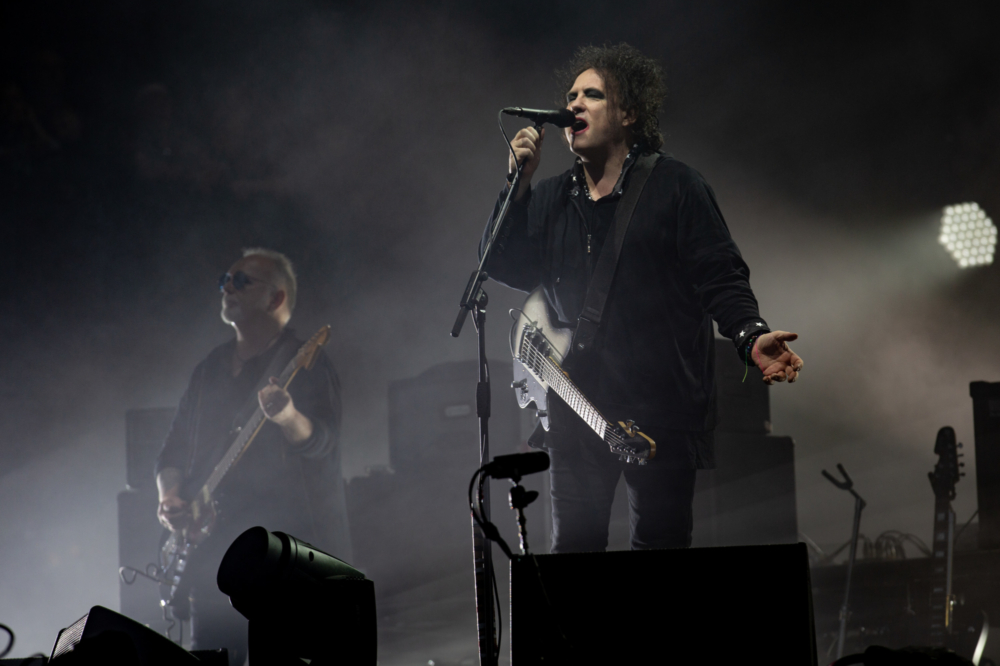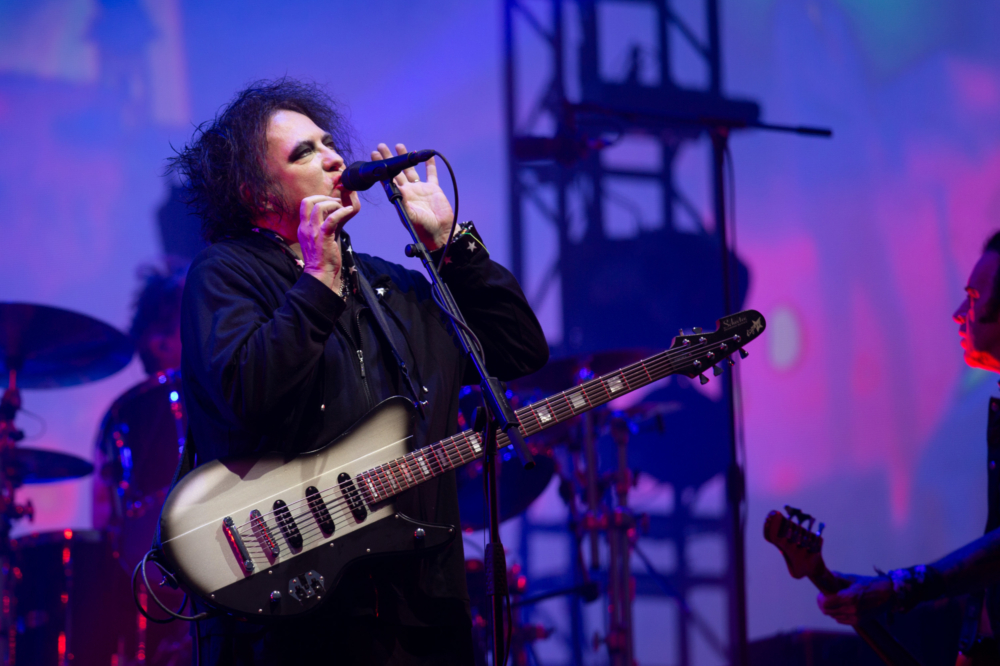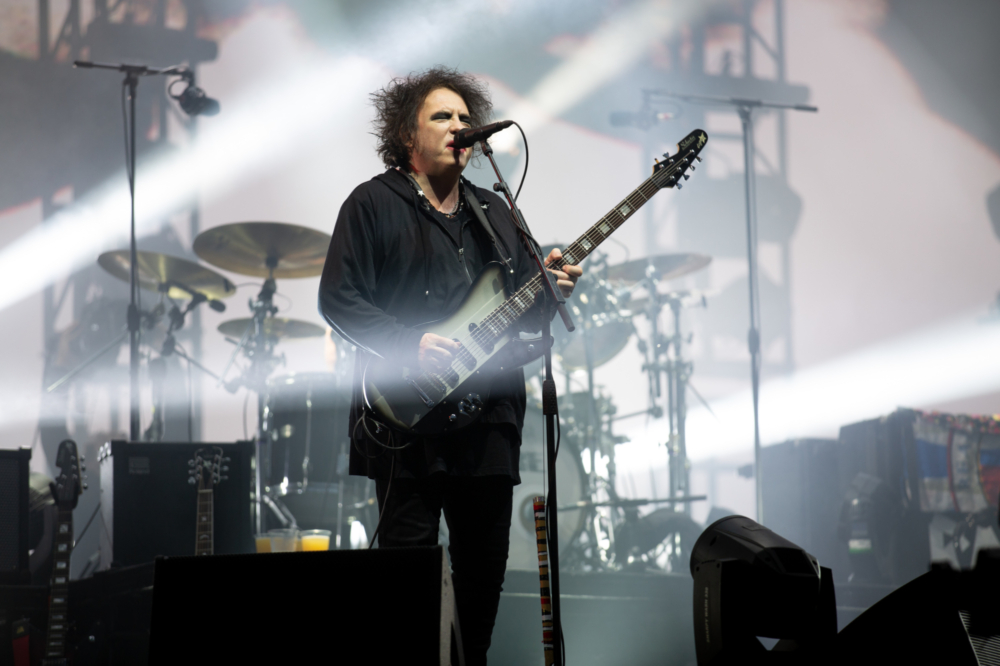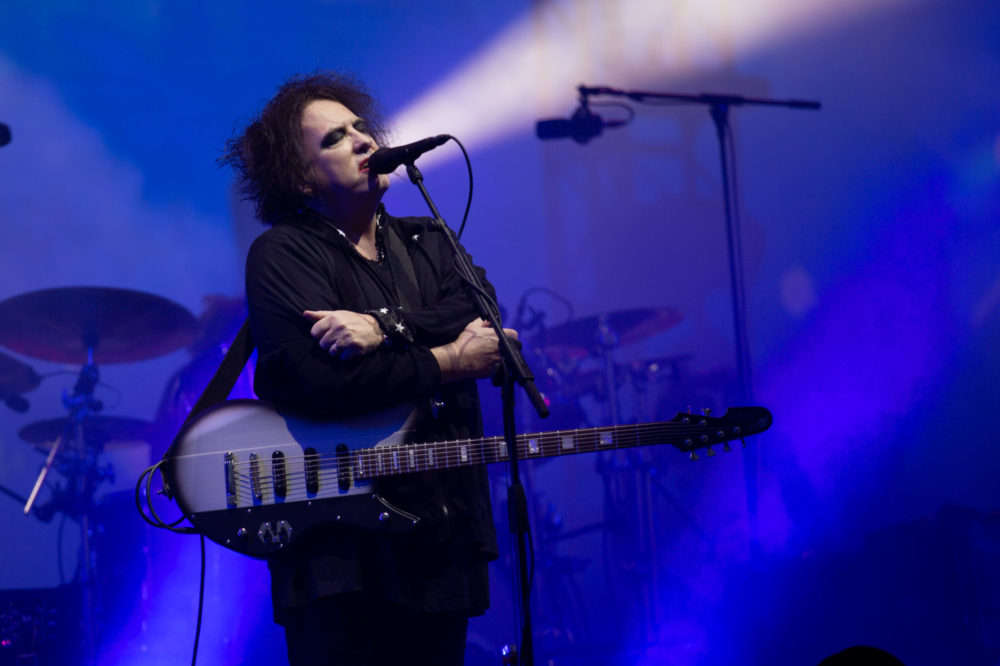 Get your copy of the latest issue
Read More