Live Review
Slaves, The Victoria, London
20th November 2014
There really is no stopping Slaves.
Fresh faced and clean shaven from their TV debut on 'Later… with Jools Holland' and support slots with Jamie T, Slaves seem to have found a new lease of life to their already hyperactive and admirably agitated live shows. With a jagged Hollywood-like sign backdrop on stilts wobbling like milky panna cotta and a visually claustrophobic light show that only accentuates the boys' suffocating intensity; Slaves are continuously selling their live performances as a force to be reckoned with.
An apt way to lead the set, 'Nervous Energy' highlights the young fans' naivety and middle age admirers' nostalgia sticking to the overly excited, sweating walls of The Victoria. As past gig posters temporarily annul themselves from the blu-tack marriages of their East London foundations, frontman Issac Holman only has to speak the first few lines of each song in varying nonchalance in order to receive an overexcited reply back from the crowd. Holman anxiously pounds his drum kit like the hammering of a stubborn pork chop whilst the comedic partnership between Holman and guitarist Laurie Vincent encourages audience participation throughout the band's varying monologues.
Featured as Zane Lowe's 'Hottest Record in the World' at the start of the week, 'The Hunter' induces hypnotic head nods from the crowd as each individual prepares themselves for the impending tantrum of the lead riff. Vincent fluctuates between teeth gritting swings of his guitar to playful thrusts illuminating the band's theatricality as Holman's eyes maintain an uncomfortable, scratchy stare. The looming guitars and catchy, politically induced chorus "you can keep it / we don't want it" even renders a grown man to voluntarily rip apart his own t-shirt until he resembles Tom Hanks in Castaway.
Crowd favourite 'Where's Your Car, Debbie?' sees plastic carnations being catapulted at Holman's face in appreciation before interlude, 'Sugar Coated Bitter Truth' revels in anxieties with lyrics such as "don't trust the flies, they are government spies". Vincent swaps his guitar for a claggy bass line in 'Cheer Up, London' which only highlights Holman's past as a rapper brought to light through fast paced lyricism.
It's from the last ten minutes of the set when you realise how overwhelming the potent potential of this band really is. Teasing with the hectically disorganised 'Hey', the foggy red lighting on Holman only stresses the veins protruding from his forehead and the spit from his mouth as he plummets into the crowd screaming "watch out for those kids / they'll tear you apart." Tried and tested from Slaves' stint of summer festivals, 'Beauty Quest' dramatically concludes the set with Holman's rehearsed speech ending in the catatonic statement "you are all…Slaves". For the entire song, both boys are laid afloat on the Dead Sea of fans, salty from the sweat of the thirsty audience eager for more from this impressive two piece that have a lot to look forward to in 2015.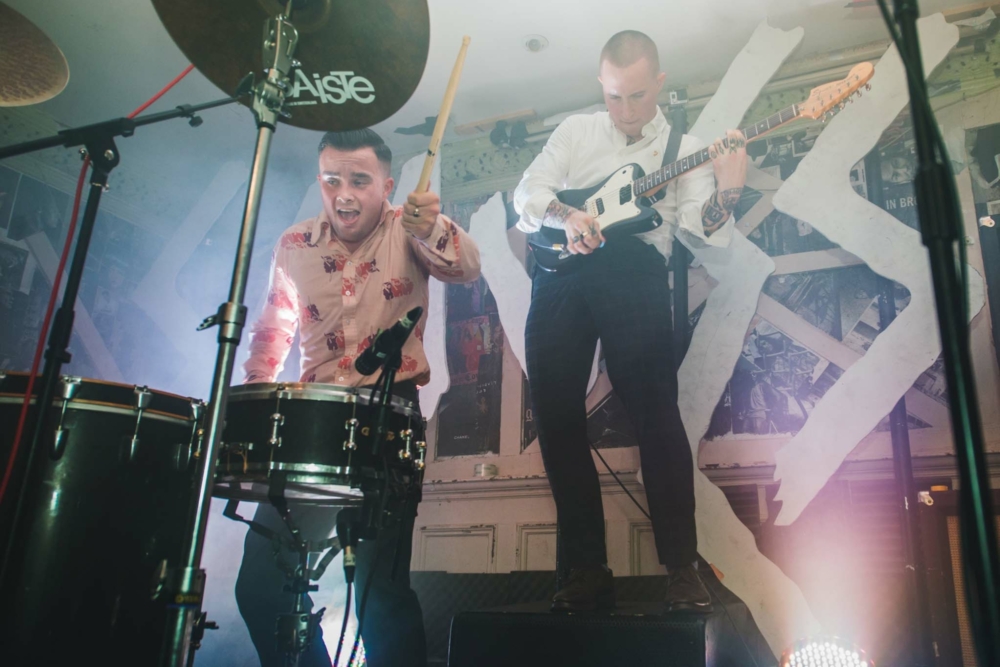 Photos: Carolina Faruolo
Read More