Live Review
The Shins, Hammersmith Apollo, London
29th March 2017
James Mercer and co. bring 'Heartworms' to the capital as part of a European tour.
Released earlier this month, fifth album 'Heartworms' saw The Shins at their most playful and carefree. It also saw James Mercer embrace his position as the band's sole figurehead, and tonight's show at the cavernous Hammersmith Apollo reinforces both of these points.

First returning with new material and a largely new band at last year's End of the Road Festival in September, The Shins appeared happy to be back, but shaky nonetheless. Tonight sees them fully hitting their stride, and drummer Jon Sortland provides a thunderous backbone for Mercer and co to dance over.
Equally sprinkling the set with tracks from all five LPs, Mercer seems as delighted with the nostalgia-tinged grins induced by the likes of 'Australia' and 'Girl Inform Me' as the appreciation given to 'Heartworms' tracks 'Name For You' and 'Mildenhall', and for a band so often categorised as making music for introverts, tonight's show is one ruled by showmanship. It's The Shins' biggest show in London, 15 years since they released their debut album, and as a result there's little space given to self-indulgence across the 90 minute set.
A 5,000-strong singalong to 'Phantom Limb' and a winding, extended version of 'Caring Is Creepy' give way to one of the most genuine encore chants, in the traditional sense, that the venue has seen in a good while. As Mercer and his new band seem so intent on doing, the crowd then get exactly what they want. 'New Slang' is as breezy, brilliant and affecting as it was when it thrust The Shins into the limelight at the start of the millenium, while closer 'Sleeping Lessons' is the band at their most infectiously energetic.
Interjecting a snippet of Tom Petty's 'American Girl' before hurtling the track headfirst into its finale and the show's end, The Shins step up effortlessly to their biggest stage yet. Introvert no more, James Mercer is a showman and a conductor tonight, and Hammersmith Apollo hangs on his every move.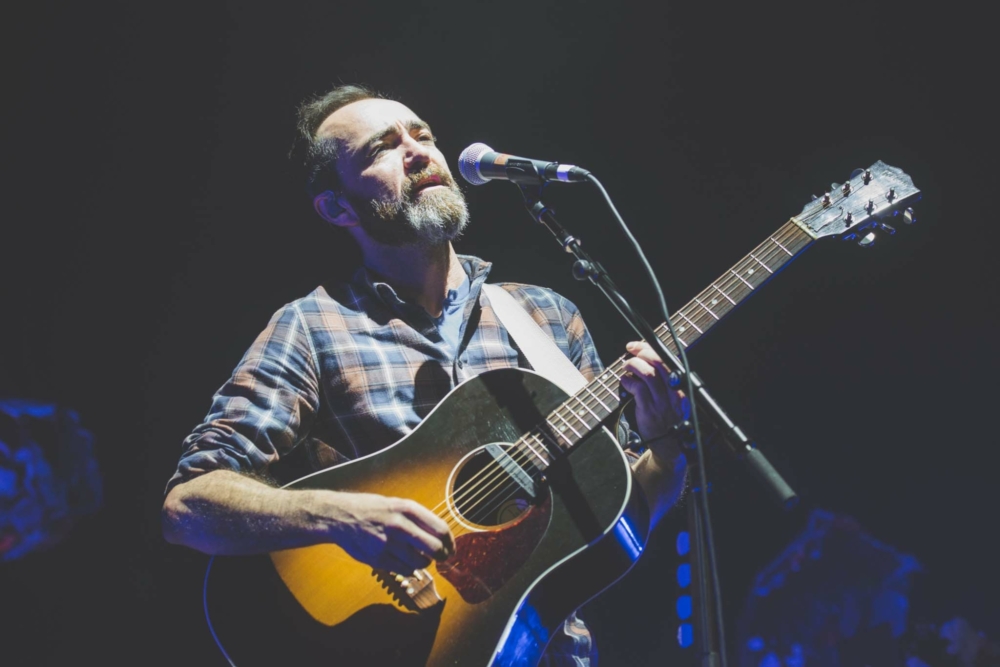 Photos: Carolina Faruolo

Get your copy of the latest issue
Read More