So you think you know…Tame Impala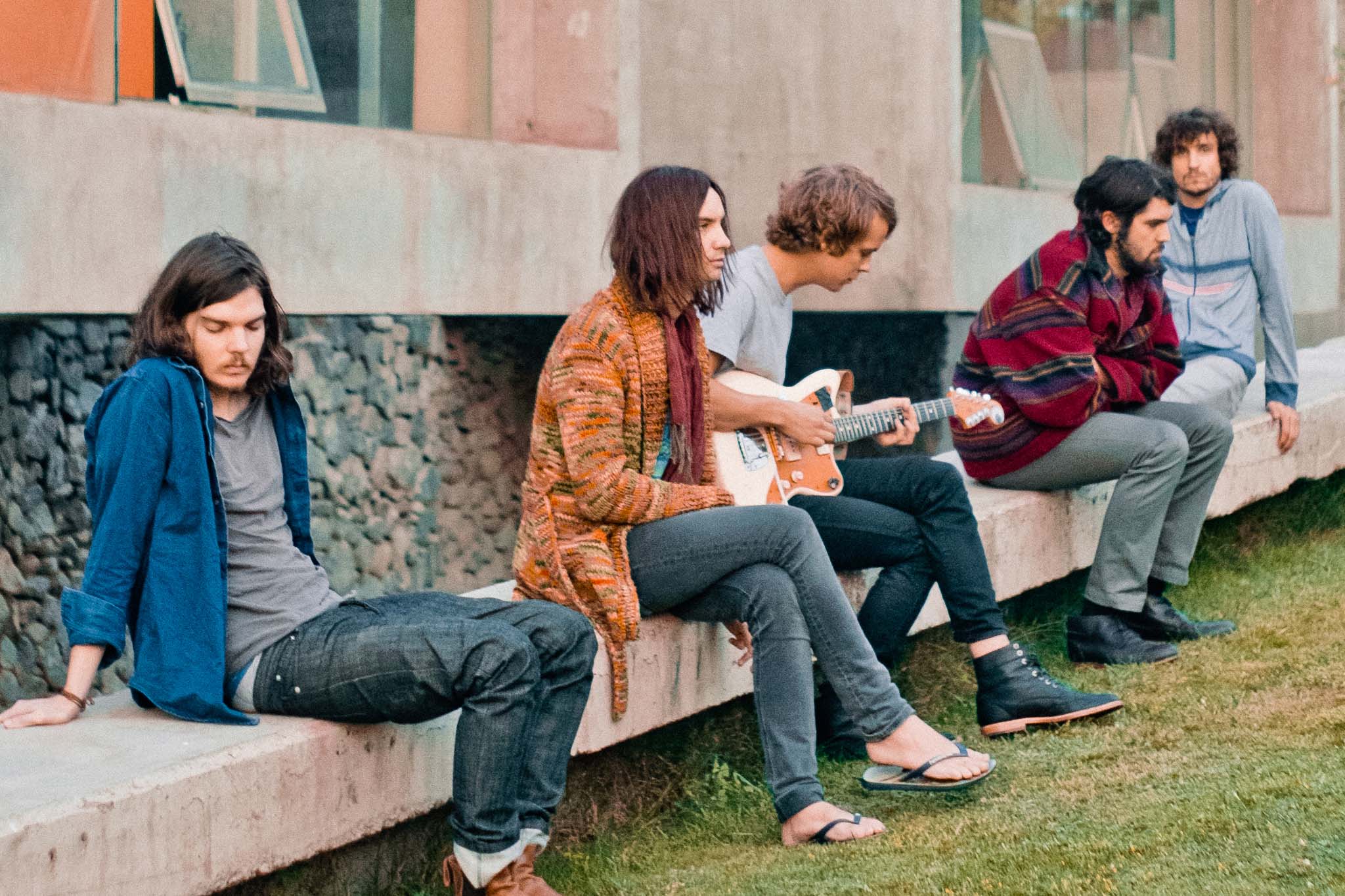 Australia's biggest psychadelic export didn't just spring from nowhere. DIY goes backwards, following the roads that led to Tame Impala.
It all started with a chance meeting at a swing band rehearsal, and a mysterious gig-hosting character named Tanya. Two young musicians called Kevin Parker and Luke Epstein became friends, and started up a band called The Dee Dee Dums. Epstein left three years later to play drums for another Perth-based band called Sugarpuss. His departure made way for a certain Dee-Dums super-fan by the name of Jay Watson. Tame Impala was born.
These days Tame Impala are famed for their furious work ethic as much as they are reverb-drenched psychedelia. Front man, songwriter and mastermind extraordinaire Kevin Parker started writing 'Lonerism' before Tame Impala's debut album 'Innerspeaker' had even been released, and then of course almost everybody knows about Western Perth's second biggest psychedelic export as of late, Pond.
He's something of a compulsive musician, is Kevin. "I'm always recording music," Parker told DIY in 2012 ahead of releasing 'Lonerism'. "If I'm not recording music I don't really find a use for myself..the longer I go without feeling like I've done something, it's like I'm not feeling good." With this in mind it shouldn't be a surprise that musically Kevin Parker and his collaborators have more history than Karl and Susan Kennedy of Ramsay Street. In the spirit of one of his best-known songs, here's a look backwards at all the musical projects that led to Tame Impala.
The Dee Dee Dums
Rumour has it that The Dee Dee Dums' name came about because founders Kevin Parker and Luke Epstein met at a swing band rehearsal. Whether true fact or mythical codswallop, they're a band worth visiting for a few reasons; namely because this is the first ever incarnation of Tame Impala. Listening some of The Dee Dee Dums' material, it feels a little like you only go backwards, because besides being a total stonker of a track, the 2004 demo 'You Haven't Been Telling The Truth', has a certain air of familiarity about it from the off; it contains the riff that evolved into 'Half Full Glass Of Wine' from Tame Impala's debut EP. The Dee Dee Dums would eventually morph into Tame Impala, too, and the name-switch came in 2007, along with the arrival of bassist Nick Allbrook and then-Dee-Dums superfan Jay Watson on drums. Like a sweet little antelope tentatively bouncing across the grassland, on the cusp of springing in bambi slow-motion over a hedgerow into the Next Level Field, The Dee Dee Dums are a glimpse into Kevin Parker's beginnings as a psychedelic front-man, and his quickly developing signature sound.
The Growl
These days Cam Avery is best known as a founding member of Pond, as well as the bassist who replaced Nick Allbrook in Tame Impala. When he first met Kevin Parker, though, he was fronting his own band, The Growl. The clue's in the name; this project is suitably growling, and heavily influenced by garage. At one point the band had two drummers, because why on earth not? Keeping it in the Perth music family, as always, The Growl supported Tame Impala on their US tour in 2012. The band's only album, 'What Would Christ Do??' is entrenched in the tradition of Blues, but somehow, like everything this lot seem to get up to, it's got a weird, bizarre edge to it.
"It's just a forever rotating carousel of advisors and well wishers with varying influence or status."
— Nick Allbrook
Mink Mussel Creek
Coming from an equally scuzzy and psychedelic wonderland, the Nick Allbrook-fronted Mink Mussel Creek sounds like Cream might, if Clapton's addictive guitar trickery got mangled through a fuzzy-felt pressing machine. The band were renowned on West Perth's circuit for their raucous live show, and in 2007, the band busted through that big ol' 100-shows-in-one-year target. Parker and Allbrook's band were given a grant by the Australian government to record an album, but it never materialised, mainly because a professional disagreement meant that Mink Mussel couldn't get hold of their own recordings. Nick Allbrook and Kevin Parker were already eager to get stuck into new projects, though, and Pond and Tame Impala were both born that same year. A long time passed, and finally the band got back together to re-record everything that they lost. A rather belated but seriously overlooked debut album, 'Mink Mussel Manticore', finally came out earlier this year.
Space Lime Peacock
Lending credibility to the claim that Tame Impala met because they were all into swinging (playing the music genre, not the risque hobby) is the short-lived project Space Lime Peacock from 2008. Warped and groovy, like lift-jazz for extra-terrestrials, it's clear that Kevin Parker, Jay Watson and band vocalist Nick Allbrook have always been potently experimental when combined. The female vocals on 'Lend Me Your Knowsack' come from someone elusively known as Tanya. It's clear from various early interviews that she's a big player in Tame Impala's development. The gigs that Tanya and her friends organised in her double garage unit on Charles Street were a central part of Western Perth's psychedelic music scene in the mid-noughties. These nights hosted Pond's first ever show and sets from Impala-related bands Mink Mussel Creek and The Dee Dee Dums - as well as other Perth-scene staples like Whalehammer and Taco Leg.
"If I'm not recording music I don't really find a use for myself"
— Kevin Parker
Allbrook/Avery
It's pretty apparent from the name that the two music culprits behind this project are Pond buddies Nick Allbrook and Cam Avery. Formed around 2011, and active since then in sporadic bursts, Allbrook/Avery write sugar-edged ditties that border on twee, but there's an echoing, chaotic, and slightly fearsome undertone to everything they do. The band supported The Horrors on the Australian leg of their tour in 2012, and 80% of The Horrors also helped out with the recording of Allbrook/Avery's as-of-yet unreleased second album. Apparently The Horrors owed the pair a favour because they rudely threw a bag of pedals at them in Australia; it's more likely that they just wanted in on some of Perth's most talented exports.
Kevin Spacey
Last year Kevin Parker set up yet another spin-off project, wittily named Kevin Spacey. The band was formed to play at a fundraiser for a heavily-pregnant Felicity Groom; another musician friend from Perth who had her car stolen. Along with his friend Cam Parkin, and Pond member and current Tame Impala bassist Cam Avery, Kevin Spacey played drawn-out, improvised jams laden with the same breed of pre-recorded vocal line that Parker uses so often in Tame Impala . The project cropped up again later in 2013, this time called The Golden Triangle Municipal Funk Band. Early this year, the band re-emerged for the third time, playing a show for Perth label Spinning Top under the name AAA Aardvark Getdown Services. What with all the name changes, and the lack of high-quality footage, it looks like this a project that Kevin Parker is still perfecting. As Tame Impala drummer Jay Watson puts it to Western Australia News, "Kevin's been writing all these disco, Michael Jackson megahits that he wouldn't use for Tame because he'd be too sheepish about it." What an exciting one to watch out for.
A melting pot of collaboration, Western Perth's psych-circle flit freely between projects as they please, and it has always been that way. Though Allbrook and Parker mastermind Pond and Tame Impala respectively, starting up offshoots, and pulling in various musical pals from Perth along the way is common practice. "It's just a forever rotating carousel of advisors and well wishers with varying influence or status," Nick Allbrook said, talking to DIY about the interchangeable nature of all of the circle's projects. "It's like the court in Versailles, but without the perfume and make up," he added, "actually, no, it's exactly like Versailles."
The trail of projects continues beyond the lead up to Tame Impala, and well into the present. Pond remain active in their own right. Jay Watson currently has an excellent side-project called GUM, while his Pond bandmate Joe Ryan runs his own spangly show, Shiny Joe Ryan. Kevin Parker typically has approximately ten thousand projects on at the moment, too, ranging from mixing and appearing on records for friends Canyons and Melody's Echo Chamber to a 'long distance' musical relationship with French drummer Julien Barbagallo. Given the ridiculous levels of productivity, it should come as no surprise that Tame Impala and Pond were both spawned by approximately triple the amount of bands, and equally, it's not a shock to find that they're all brilliant projects worth exploring in their own right.