In-depth
Björkophilia: A comprehensive guide to Björk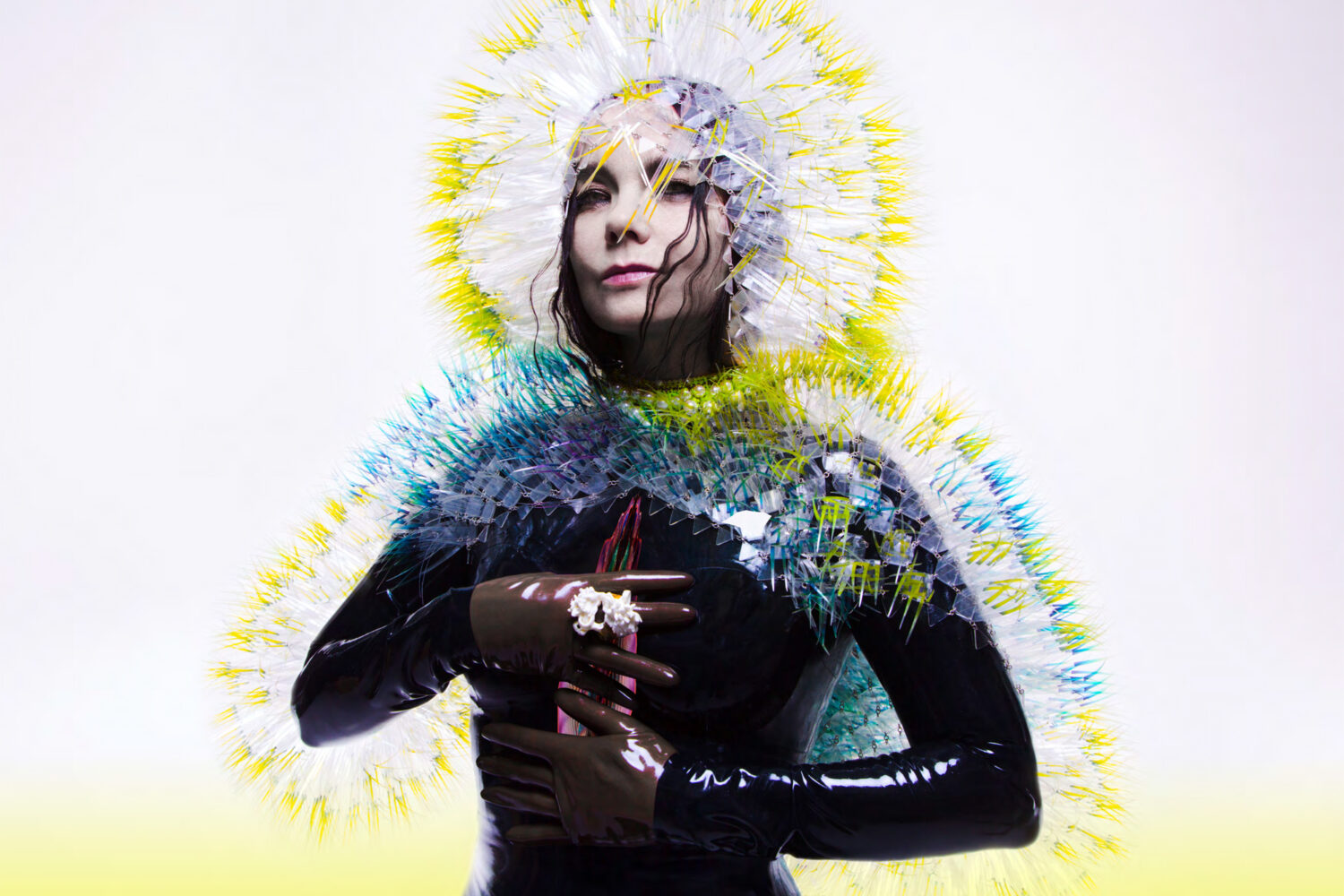 An innovator and one of music's true mavericks, we explore the fantastical world of Björk.
January is traditionally the time of year when the music industry begins to boot back up after festive slumber and things start to get exciting again. Often, these album launches and announcement can be rather taken for granted. The announcement of a new album by Björk, though, demands attention. A leak, just a week after said announcement, even more so. Many artists would be ruffled by a work escaping in an untimely fashion, scuppering their visions of release. Not Björk. Even if she was thrown by 'Vulnicura' leaking, she didn't let on. She cheerfully shrugged her shoulders, wrote a quick accompanying letter, and released the whole thing months ahead of schedule. "I am so grateful you are still interested in my work!!" she wrote. "I appreciate every little bit !!!"
Everything that Björk Guðmundsdóttir has done, throughout her career, is an event; down to the last visual communication or utterance.'Vulnicura', her ninth studio album, promises to be no different. Given her eclectic career, and with the help of new collaborators The Haxan Cloak and Arca, it's more than a little a bit special. 2015 looks set to be another landmark year in the wonderful world of Björk. Indeed, she'll be all over the place this year - there's a career retrospective taking place at the New York Museum of Modern Art and a new book, Björk:Archive, is being published to accompany the show. You never know she might even turn up in your front garden. Diving into the fantastical world of a legendary artist continuing to direct the course of music, here is our guide to all things Björk.
She's been innovating for 38 years
For Björk, making music and performing came naturally at an early age. Born in Reykjavik in 1965, Björk Gudmundsdottir's first musical exposure came at the age of 11. Following her music teachers sending a recording of her singing in a school recital to the one and only Icelandic radio station, RUV, the young performer was soon offered a recording contract and released her first proper album 'Björk' in 1977. It features a charming mix of original songs and covers, and offers an intriguing insight into her musical beginnings. You can already hear her unique voice developing, and it's an album filled with the sort of wide eyed wonder that colours her future career. The album is something of a rarity outside Iceland and serves as early indication that from a very early age, she had a special talent.
A spoonful of Sugarcube helps the music go down
Her first musical steps instilled a fiercely independent spirit, one that remains to this day. Björk soon struck out on her own - leaving behind the label that signed her as a kid - and she started writing her own songs. In the early 80's she formed the delightfully named Spit and Snot, before careering through all manner of genres and other side projects; ranging from jazz fusion to goth rock. These early days were key in finding her distinctive voice, reaching its early peak with The Sugarcubes. The Sugarcubes' sparkling, luminescent indie pop provided Björk with her first European exposure as they enjoyed cult success with their classic first ever-English recording, 'Birthday.'
And so peaceful until…
Following The Sugarcubes' split in 1992, Björk's career went stratospheric. The catalyst for her solo success was moving to London and throwing herself into the UK's burgeoning electronic scene. She formed strong bonds with the UK scenes key players including electronic outfit 808 State and producer Nellee Hooper - who has also worked with Massive Attack and, calm yourselves, Holly Valance. Working with Hooper, she transformed her stockpile of weird and bewitching pop songs she was writing throughout the 80's into 'Debut', her stunning 1993 masterpiece. Neither dance nor rock, it's an utterly captivating record. It was hugely successful setting the tone for a decade of invention and ambitious pop. It was the beginning of establishing the most recognisable persona of the 90s.
I am a grateful… grapefruit
Away from the music Björk has provided more entertainment in her career than almost anyone else you can imagine. Playful and idiosyncratic, she can always be relied on to liven up any event. A guaranteed source of entertainment has been her appearances at awards ceremonies, whether it's dressing up in her famous swan dress at the Oscars in 2001, or declaring herself to be a 'grateful grapefruit' at the Brits. Björk has undoubtedly been a influence on Lady Gaga and the future generation of daring pop stars. Let it be said; a swan outfit beats Gaga's meat dress every time.
All is full of love
Throughout the 90s Björk's run of albums is almost unparalleled. Each record had its own unique spirit, peaking with 1997's remarkable 'Homogenic'. Throughout this period her productions and experimental nature became even more elaborate and striking, a prime example being the oddly touching robotic love story in the video for 'All Is Full Of Love' directed by long time collaborator Michel Gondry.
Declare independence
As Björk retreated from mainstream pop - or, perhaps more accurately, mainstream pop couldn't keep up with her - she further embraced the political activism, too. In 2008 she whipped up a storm by strongly championing Tibetan freedom while performing her incendiary battle cry 'Declare Independence' in Shanghai. That's a move few people would be bold enough to undertake given China's iron grip on the people of Tibet, and the fraught political background. In her homeland, she is held up as an Icelandic hero, and never forgetting her roots, Björk has tirelessly campaigned for environmental issues and the preservation of Icelandic nature. Last year she organised and performed at Stopp's fundraiser show, Let's Protect the Park, which she co-hosted with director Darren Aronofsky. The show raised over £3 million to help build a national park in her home country.
Mutual Core
One of the key characteristics of Björk's long career is her ability to form strong, lasting musical relationships and collaborate with different artists. In recent years, she has collaborated with Dirty Projectors on 2010's 'Mount Wittenberg Orca' EP. Working with her is a special experience, as Dirty Projector's David Longstreth attested to DIY. "She's been a hero of mine for about 15 years. It was mind-blowing, to make an album together, the coolest thing ever," he told us in 2012. "She's incredible, a really kind woman, and just a great artist."
You can also see her influence in all manner of different artists, from St Vincent to PJ Harvey and Radiohead. It's unlikely you'd ever have had a record like 'Kid A' without Björk's pioneering influence. She has even crossed over into aggressive hip-hop, with her voice featuring all over Death Grips 2014 release 'N***s On The Moon'; and likewise, two stunning Death Grips remixes feature on her Biophilia rework album 'Bastards'.
To risk all is the end all and the beginning all

It's a testament to how long Björk has endured that perhaps her most ambitious project is also her most recent. There is no winding down or taking it easy on her watch. Her 2011 album 'Biophillia' is a concept album exploring music's relationship with nature, technology and culture. The album itself is a reaction to the Icelandic banking crisis in 2008, trying to establish a new way of life in surroundings defined by disconnect. Befitting such a grand concept, Björk composed the world's first app album. Less of an album, rather an expansive multimedia project, it highlighted her ability to make transformative music in its truest sense. The concept and app proved to be so successful that schools in Iceland began using the Biophillia app to teach music to children.
Björk met Sir David Attenborough and they had a wild time
One thing that will always be true about Björk is that she will never lose the capacity to surprise or enthral. One man who was recently enchanted with her is British national treasure Sir David Attenborough. Last year the pair met up for a channel 4 documentary inspired by the 'Biophillia' concept, and the two shared discussions about nature and her desire to bring nature to life on stage. It's a pairing that seems odd on the face of it but in reality made perfect sense. Björk had held a long established admiration for the British naturalist going right back to her childhood, describing him as her 'Rock Star' to Rolling Stone magazine. They felt like two kindred spirits as they discussed science, nature, music and life. The documentary is more than just a curiosity, and it provides an excellent insight into her psyche. She has always believed that you can change the world, or at least a little part of it, through music.
Björk doesn't just adapt to a quickly changing musical landscape; she paves the way. While huge artists like Madonna are currently huffing about comparing album leaks to erm... terrorism (really, Madge?) Björk has quietly shaken things up all over again by releasing 'Vulnicura' - the entire thing - on a usual Tuesday night. The verdicts and reactions will arrive in due course; for now, the Björk listening parties commence. A proven innovator, and a cultural icon; Björk, we're all very grateful grapefruits indeed.
Björk's ninth album 'Vulnicura' is out now.