Interview:
Purity Ring: "We've both changed so much"
A lot has changed in the world of Purity Ring. With their new album, "it was kind of like starting a new band," they tell Dominique Sisley.
It's been a long and lonely three years since we were last sucked into the galaxy of Purity Ring. With their debut album 'Shrines', the ethereal Edmonton pair showed 2012 a glimpse of their brave new world – a windswept paradise comprised of magical melodies and crisp, circuitous production. A lot of people called it the sound of the future, but – as is often the way with time – it all ended up going by in a bit of a flash. After a beguiling few moments here on earth they decided it was probably best to pack up their synths and rocket back into their own Canadian cosmos.
Until now, that is. Back with new album 'another eternity', Megan James and Corin Roddick have returned from another galactic adventure with even more of that forward-thinking charisma. And today, having chosen what should have been an inconspicuous landing spot amongst the bustle of East London's Ace Hotel, they still seem light years ahead. Dressed in leather jodhpurs, an impressively huge hat and with an unidentifiable skeletal sculpture pinned to her t-shirt, vocalist Megan looks like some sort of super-svelte space cowboy. "I guess we write really slow, but why not?" she says, her big doe eyes wide with enthusiasm. "It's like, 'Let's just start and see what happens!'"
Although the pair met as teenagers in their icy hometown of Edmonton, it was only after they graduated high school and moved to opposite ends of the country (Megan to Halifax and Corin to Montreal) that Purity Ring began to find its feet. Consequently – and pretty bizarrely – their first record 'Shrines' was constructed almost entirely over email: Corin would send across his backing track, and Megan would then begin working on a responsive vocal demo. As Corin explains the elaborate ins and outs of their old system, he starts to laugh – "'Shrines' was just us each doing our own thing and then smashing it together."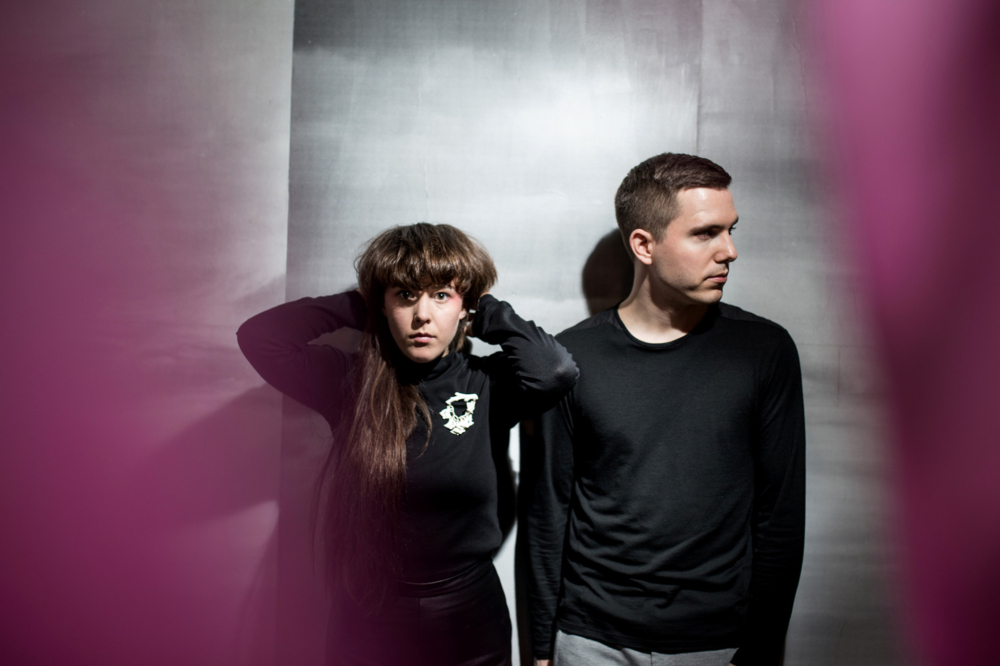 With 'another eternity' though, the game changed. After a solid 18-month break from writing together, the two began to experiment with actually being in the same room. Corin would fly back to Edmonton especially, and the two would force themselves to collaborate face to face only. "It was totally different. It was kind of like starting a new band," Megan remembers. Corin nods sharply. "It didn't work immediately," he adds, firmly but fairly. "It took some time for us to actually learn how to write songs together. I think that's probably the same for any new band, though. It really took us a while to get started, but it was like real songwriting as opposed to just laying a vocal track on top of a random beat. The thought went into it to give each part of the song its own space to shine. That was a big thing."
This mad old novelty of 'working together' has added a new layer of intimacy that is evident all throughout 'another eternity'. There's a sense of fun, frivolity and freedom that wasn't necessarily present on 'Shrines' – and also a dollop more bravery. Megan is feistier; her voice is louder and her lyrics more personal than ever. "I feel like 'another eternity' is, like 'Shrines' was, a phase of my life in the form of an album," she explains. "The lyrics came from the same place, and I think we've both changed so much. We were really young when we wrote 'Shrines'. Not that we're old now, but you change a lot in your 20s." She looks at Corin who nods vigorously in agreement. "'Shrines' was really my first attempt at producing, too. The first single we released was the first track I ever made really. That whole album was very much a learning experience, whereas on 'another eternity' enough time had gone by to build up more confidence as a producer, and just feel like it was something that I could do. So I think that definitely affected the way that it sounded."
It's not like the sound really needed to change, though. When 'Shrines' came out in 2012, it was greeted with a barrage of fawning fans and critical acclaim. There were suggestions that this strange, extraneous pop could well be the sound of the future – the direction that all music was destined to head in. How do they feel now about trying to recreate that same fevered feeling of innovation? Corin gets a little bashful at the thought. "It's just finding unique ways to use things," he shrugs. "That's something that we always aim to do: our goal has been to make futuristic, forward-thinking pop music. We felt that 'Shrines' was futuristic in 2012, and now our goal is that 'another eternity' is futuristic currently."
"It took some time for us to actually learn how to write songs together."
— Corin Roddick
A big part of that forward thinking is their otherworldly visuals – with the childlike and fantastical illustrations of Tallulah Fontaine scrawled across their album covers, and the DIY designs of Megan herself draped across their bodies, there's no denying the importance of aesthetics to their overall persona. "A band is like a brand," Megan asserts. "It's about streaming or listening to it the way most people listen to music right now. You don't pull out the CD and look at the pictures then put the record on. You're watching shit the whole time. Björk even did an app with 'Biophilia', but it was just too soon… She's way ahead of her game." At the mention of the Icelandic icon, both of their eyes glaze over dreamily and Corin sighs – "That's the amazing thing about Björk, but the people weren't quite ready for it yet."
It's an adoration that's not exactly surprising, especially when you take into account how similar their music actually is – comparisons between the two almost feel inevitable. Megan has openly spoken about the significance of the strong female and the overwhelming feminine influence in her songwriting – much like Björk herself. "I'm definitely a feminist, definitely, 100%. I have to be or I would lose too much," she says, delicately. "It's a world of people getting called out – it's not a very sensitive and kind landscape right now, but it can be and I believe in that." Does she hope to inspire those sorts of beliefs with her songwriting? "That's not my intention from the outset, but I can't not imply what I believe when I'm writing something that's very personal and I feel very genuine about. I hope that it doesn't mean that our music is for women – it isn't by any means. I hope that people find what they look for in music across the board. However they identify."
So with the long-awaited release of album number two just around the corner, is there anything they'll be sure to do differently this time round? There's barely a second's hesitation before Megan chimes in. "We need to keep writing. It took too long to get back into it, and I think the only way to maintain our confidence in what we've gained in the last year is just to keep going." Corin agrees, his leg starting to twitch with urgency. "Yeah… After we finished writing for 'Shrines' we didn't write anything again for over a year and a half! It was difficult to get started again. Looking back on it, it's like, why did we stop? There was no reason to." He shakes his head. "I don't want to go a year like that again."
Taken from the March issue of DIY, out now. Purity Ring's new album 'another eternity' is out now via 4AD.

Get your copy of the latest issue