Interview:
Formation: "It can't be anything but pop"
Harking back to golden days, Formation shun nostalgia by pointing forward. It's all in the groove.
On their new EP, 'Young Ones', South London duo Formation give two fingers to the present day and bask in the past. That's not to say they're nostalgia-peddlers, mind you. Comparisons to LCD Soundsystem are no disservice, and they're a pointer to Will and Matt Ritson's groove-packed pop, but there's an extra purpose to what they're doing.
"All things pass, you're gonna die - so take responsibility for what you're doing," says Will, who performs lead vocals and percussion for the project. Half of the EP is about "getting bogged down in capitalism and being fucked over," he claims matter-of-factly. The rest is devoted to the best parties in a generation, the fleeting, mid-teen moments that wind up disappearing as reality checks in. Those days fade into memories pretty fast.
Given the harrowingly real, close-to-the-bone themes circuiting their new release, it's a relief that Formation coat harsh truths in unashamedly catchy hooks. "It can't be anything but pop, really," says Will, before correcting himself: "Until we get to that improvised jazz album."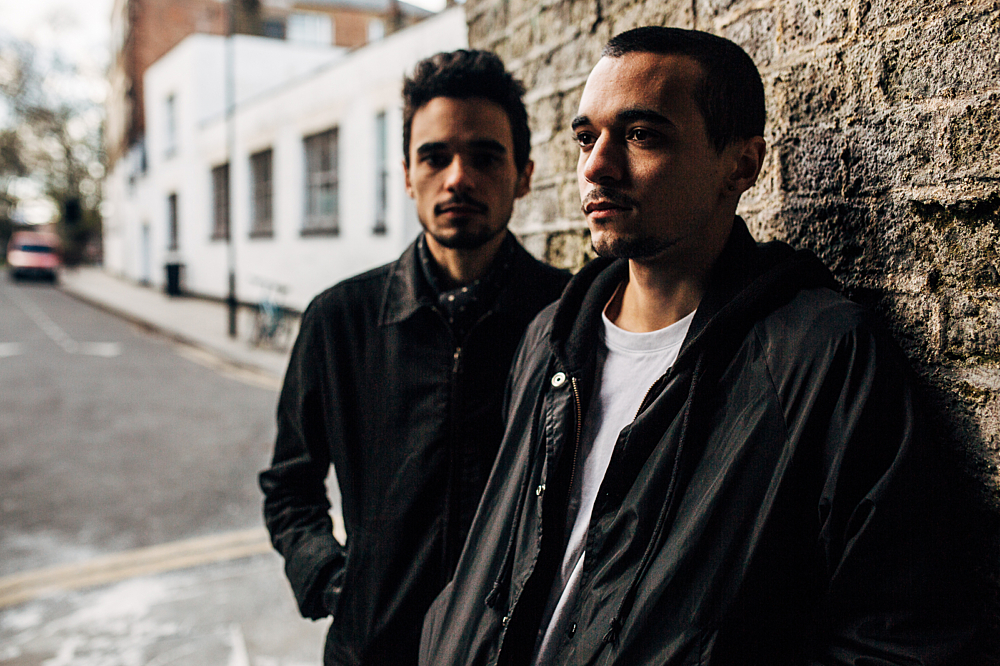 "LCD Soundsystem? That's one of my favourite bands. I'm so down with that. But it's moving further away."
— Matt Ritson
On your EP, you hark back to the golden age of partying - but which days are you looking back on specifically?
Matt: Finishing school. GCSEs. Just being outside.
Will: Building skate ramps, making music. We were heavy into skateboarding. We spent a week learning how to make a pogo stick and by the end of it, we were jumping over tables. We were really tight. There was six of us that used to hang around, in our… ends. Cruising around skating, pushing each other musically. We were doing crazy shit, man. We didn't get into computer games until after that.
What's the first thing you worked on, since you were kids?
Matt: I got on the clarinet, saxaphone. We were in the council of Merton. They ran orchestras and concerts, so we did that. Will was in the top level orchestra there with Ben from Mumford & Sons. They were in the percussion side together. And we started a band with our friend Adam when we were like fourteen. We learnt Red Hot Chili Peppers covers. I started playing bass around then. It was like, what could I play? I didn't wanna play saxaphone. I learnt 'For Whom the Bell Tolls' and it was like, 'Cool, I can do this'. Through Adam's dad, Dave - we used to hang out there and listen to his records. We found Pink Floyd and we went on a journey.
Will: When you hit up on 'Comfortably Numb', that's the next level. You couldn't write that shit. It's what's there on the TV. You remember all the stuff you thought was crap, that your parents would listen to - and it's actually all really good.
So what informed what you're currently making?
Matt: It was a massive melting pot. It stemmed out of the fact that we'd just started playing music together for the first time - bass and drums. We got massively into improvised music, improvised jazz. We did that for a while with friends. Will wanted to do bass and drums by themselves, but improvising basslines - or a single groove - for three minutes. So it'd be a pop track ethos, but it would be improvised.
Will: We wanted to make pop songs, but every element would be improvised. Drums, bass, vocals - it would be exactly three minutes long. So it could be really mad, but it'd still have the pop technicality. But we only got as far as bass and drums, and we realised it was really fucking good. So we started making actual music.
Matt: And then the emphasis from there was to make songs essentially with a groove. The fact that it was based on drums likened us to LCD Soundsystem. That's one of my favourite bands. When someone said, 'This sounds like LCD', I was like 'Wicked, cool'. I'm so down with that. But it's moving further away.
Will: The next track that we've been working on is so heavily influenced by house. It starts out with this neo-soul desert house and it goes into a ridiculous drop. There's a lot of shit, man. 'Take It All Away' for example - that's our producer Jonny. We wrote a song with pretty much the same layout and told him to fuck things up.
Are you still trying to keep it under a pop umbrella, so to speak?
Will: It can't be anything but that, really. That's what music is for us. Until we get to that improvised jazz album. We're not trying to fit ourselves into a mould, but we make what we make. Yesterday I made a grime beat - on a Sunday - hanging out, and it was really good. We just do loads of stuff.
Matt: I've been making something that's quite hip-hop influenced. We've got so many demos now. The ideas have all been progressing past the main emphasis - groove. We're just being inventive. Otherwise it's gonna get boring for us and boring for everyone else.
Will: If we can write a six-minute saxaphone solo on a song, we'll do it.
Matt: Another influence that I like to mention John Maus. It's the idea of trying to be genuine. That's important to us. It's trying to say something greater than your own ego. How's the best way to describe it? I guess trying to resolve your humanity through music. Trying to express ideas greater than your self. It's the bigger theme of trying to deal with being human. A lot of the music stems from a punk place, but instead of being "fuck you", it's more along the lines of 'We're fucked. But let's work through this.'
Will: I really like John Maus. I love the way that he stands there and allows himself to be vulnerable, punching himself in the face. Everything is trying to be seen through their ideas, identity, fashion and music - and he's just trying to appear as human as possible on stage. He has this idea of the body going nuts, raging and screaming the words - intensely being as human as possible on-stage. With that, he can achieve something more than just pop music.
Photos: Phil Smithies. Taken from the April 2015 issue of DIY. Formation play The Great Escape (14th-16th May) and Latitude Festival (16th-19th July), where DIY is an official media partner. Tickets are on sale now. Visit diymag.com/presents for more information.

Get your copy of the latest issue