Album Review:
Slaves - Are You Satisfied?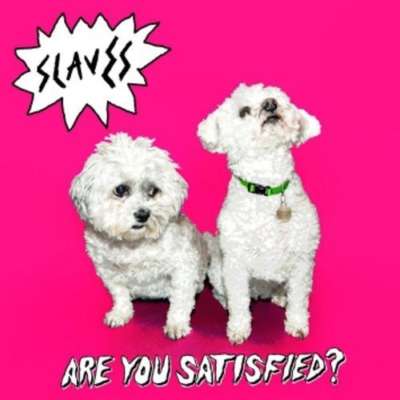 The real charm of this record comes in its additional moments of character.
Label: Virgin EMI
Released: 1st June 2015
Over the past three years, Slaves have done their best to cause a ruckus. On stage, their live show has created both intrigue and fascination while their recent rise to BBC Radio 1 A-listers has left some onlookers mystified. Yet, with a hell of a lot of elbow grease, their brand of bratty, in-your-face punk rock has won them over quite a fan base; and their debut full-length is set to earn them even more.
Starting things off with the familiar notes of 'The Hunter', their opening gambit is strong. Already a fan favourite when it comes to their shows, the satisfying crunching of guitars teamed up with Isaac Holman's screamed vocals introduces the album with a frenetic energy. In comparison, tracks like 'Sockets' and 'Despair And Traffic' offer up the more driven, rhythmic side of their talents before the bellows of 'Do Something' see the duo return to the echoing commands that have become such a facet of their performances.
It's not all about thrashing guitars; title track 'Are You Satisfied?' sits at the halfway point of the record as a moment of respite in the midst of chaos. All acoustic guitars, and raspy vocals, it adds a change of pace to the album as a whole, while proving that the two-piece aren't all about dialling things up to eleven.
The real charm of this record comes in its additional moments of character; the spoken-word interruptions ('Do Something') or soundbite introductions ('She Wants Me Now') which somehow tie the album together even more tightly. There's a humour to this album – from the sarcastic advice of 'Cheer Up London' to the ridiculous high notes of 'Feed The Mantaray' – that set the pair apart from their peers. Here are a band who may be dividing opinions but frankly, they just don't take themselves too seriously. That's their smoking gun.