Interview:
"It's very experimental" - Savages detail plans for live performances at London's Barbican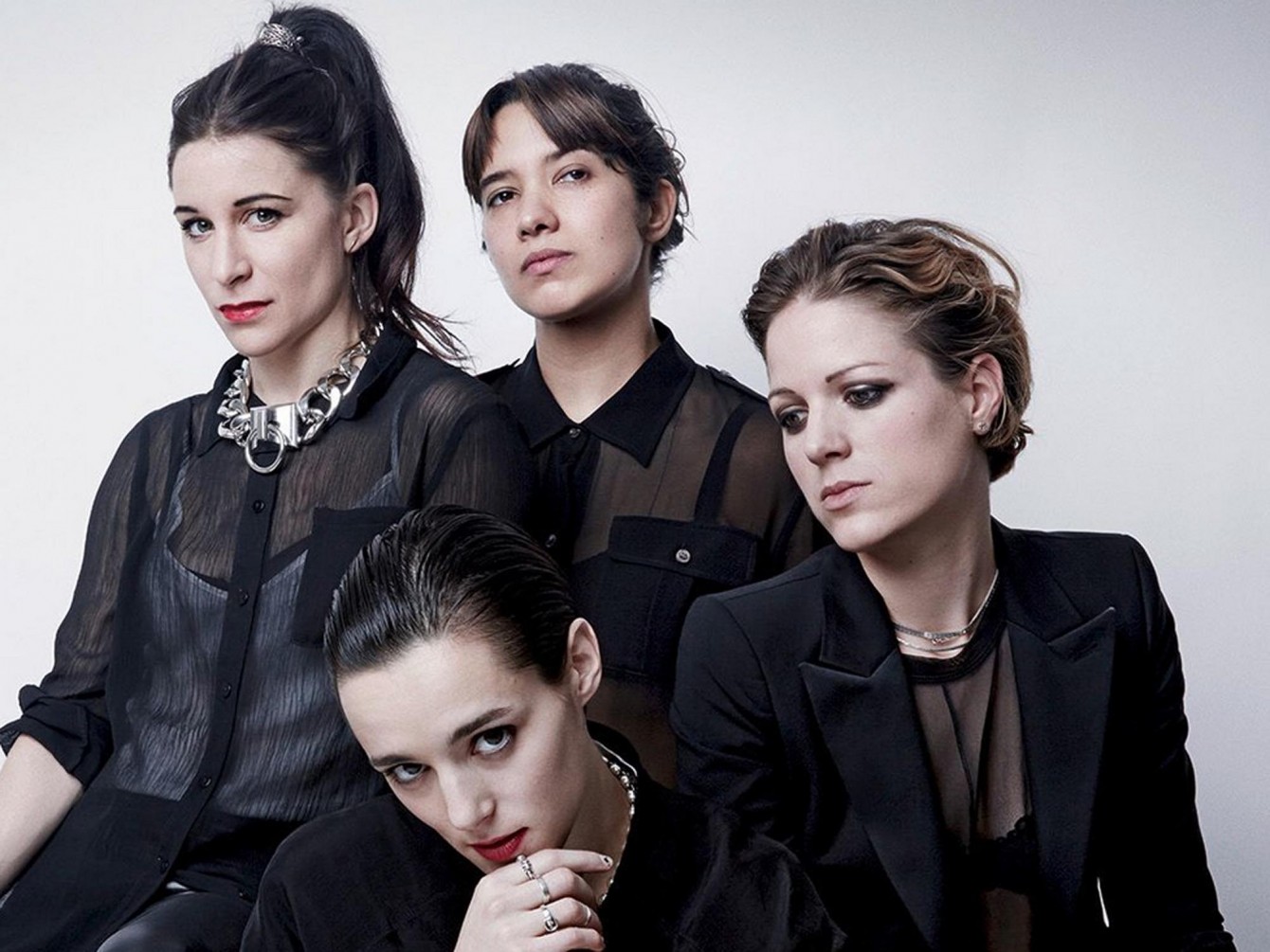 The band's Gemma Thompson and Jehnny Beth tell us about their Station to Station piece ahead of their two night residency.
Later this week Savages are set to host two nights of performance at London's Barbican. It's just one event happening during 'Station to Station: A 30 Day Happening,' a month-long 'living exhibition' curated by American installation artist Doug Aitken. Over the course of the series there's been a week-long joint studio session from artist Haroon Mirza and Factory Floor, a live film score performance by Spiritualized's J. Spaceman, new audiovisual work by Turner Prize winning Martin Creed, and a residency from Mica Levi of Micachu & The Shapes.
For Savages' contribution, they're teaming up with Pop Noire label-mates A Dead Forest Index and dance choreographer Fernanda Muñoz-Newsome. Their event takes place over two nights on the 24th and 25th of July. They'll also appear live in conversation with presenter and writer Ben Eshmade.

"There's an aspect of contemporary dance to it," Savages' Gemma Thompson told us, speaking about the nature of Savages' upcoming Barbican shows. "Doug Aitken originally did 'Station to Station' in North America, and it was basically taking this creative troupe on a train from station to station. We played the show in Oakland, California, and now he's doing the event again at the Barbican."
"It's very site specific," she goes on, speaking in more detail about what Savages have planned. "The Barbican is a building that has a real spirit to it that means quite a lot to us, and they offered us this beautiful space with a pillar smack in the middle. They said do whatever you want."


"It's very refreshing to do these projects as well as having your own direction."
— Jehnny Beth
Gemma also expands further on the inspiration behind Savages' event. "A composer, Georg Friedrich Haas, wrote a piece called 'Haas: in vain.' He's a spectral composer, and he works with light and sound," she explains, "and the piece of music is kind of a protest piece of music. He wrote it to throw the audience into pitch darkness, and he used off-key sounds coming in and out, trying to create a really physically disturbing piece of music, kind of an 'in vain' piece of music. We're using that idea to write a piece of music that's very site specific, using movement and dancers as well."
"It's twice now we've been given the opportunity to produce shows at the Barbican," adds Jehnny Beth, "it's very experimental. 'Words to the Blind' with Bo Ningen was 100% experimental and art based, too. I always say when I get really old, 80 or something, it would be great to carry on playing with Bo Ningen," she laughs. "It's very refreshing to do these projects as well as having your own direction.
For a vague taster of what to perhaps expect, watch a performance of Georg Friedrich Haas' 'In Vain' below.
Station to Station: A 30 Day Happening runs at London's Barbican until 26th July, with performances from Savages on 24th and 25th July. Tickets are available here.