Interview:
Chaos theory - Girl Band: "I threw a spoon"
With their debut album, Girl Band have warped themselves more than ever before, but 'Holding Hands With Jamie' sees the Dublin quartet find method in the madness.
"I don't think we're really a singles band," divulges Girl Band guitarist Alan Duggan. The Dublin noiseniks may have built their name thus far on a series of standalone tracks, individual bricks constructing their now-impenetrable wall of noise, but it was more out of necessity than a stance the four of them ever took consciously. If anything, they've been itching to put forward a proper body of work. "Singles, the tunes are inevitably gonna be a bit more 'single-y'," offers bassist and primary recording engineer Dan Fox, "and there's plenty of 'not that' on our record."
Girl Band's debut full-length is the end result of that mentality – it's hard to imagine anyone pinning early cuts like the buzzsaw 'De Bom Bom' or 25-second mosh-fest 'The Cha Cha Cha' as "single-y," but with 'Holding Hands With Jamie' they've finally descended, cackling, into full-on madness. "I completely forget that it's not that accessible, to people who don't listen to that kind of stuff or who don't get where it's coming from," says frontman Dara Kiely, his slow Irish drawl a world away from the crackling yelp of his on-record persona. "I remember that [US radio station] KEXP session, we played one of the tracks off the album and were like 'oh, this is our poppy song!' and people were like 'this is… this is terrible!' We thought, 'Oh god, you're gonna hate the rest of it!' We thought that was our 'She's The One'!"
Robbie Williams, this is not. Every track on 'Holding Hands With Jamie' stretches noise-rock to its furthest horizons, each instrument warped to within an inch of its life as they clatter against each other. It's a hypnotic kind of chaos; a beautiful plume of smoke rising from the wreckage of a fifty-car pile-up.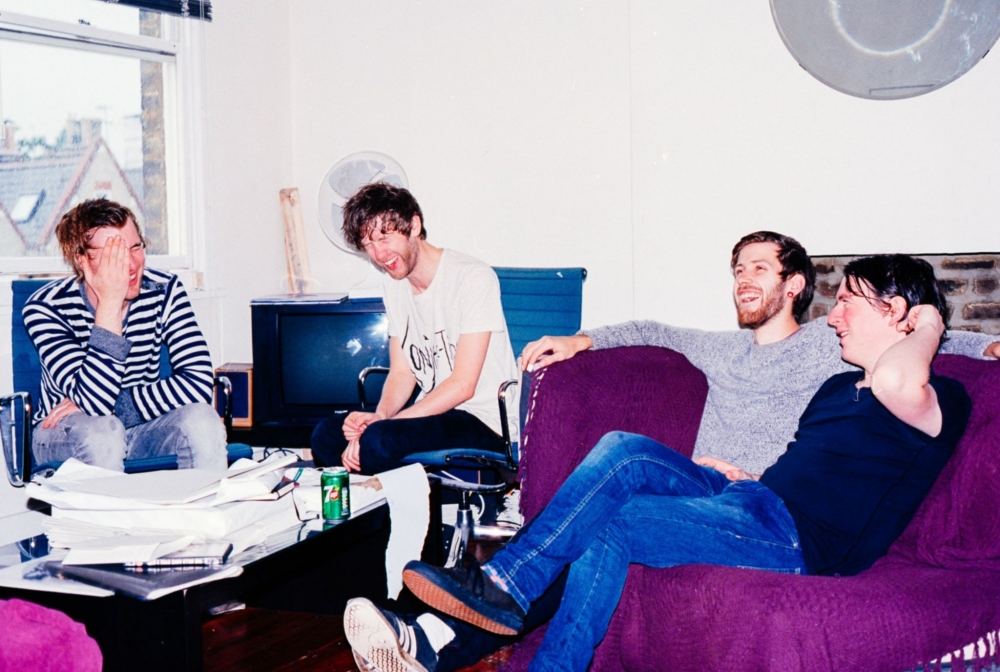 "We're just gonna do an album about tax."
— Dan Fox
Dan laments the "rigid way" of playing that formally learning an instrument relies upon. "The way we write all the songs, it's all together," explains drummer Adam Faulkner, "and it's never even been said that, y'know, 'I want you to have an input!' – it's just natural, we've just all had an input on each others' instruments, and it's a very collective songwriting process."
"I can't play drums," continues Dan, "but it's great to have an input on the drums and then see someone who can play them actually play them, y'know?" Dara picks up the baton; "A lot of the practises are getting Adam, like – Adam'll play a beat and we'll be like, 'oh, I really like that. We've noticed that your left hand is free for like two seconds though…'"
"I got the nickname Buckaroo," Adam shrugs.
The group took that lateral approach to mucking in into the studio too, with Dan himself taking up primary engineering duties on the record. "There's no hierarchy," he states with pride. "No one's coming in like, 'What shall we do, Mr. Producer?' Anyone's idea's pretty valid – it kinda helped that the lock on the studio door was busted – there was a total open-door policy. A lot of mates coming in and out, and people coming in like, 'Oh, that's cool'. If anyone ever chipped in an opinion – like, 'Oh what do you think of that', or 'That sounds really cool' – you take anything on board regardless of where its come from."
"I threw a spoon across the room," laughs Alan, before Dara explains the cause for such reckless cutlery wielding: "For the first track, 'Umbongo', that was the bit with all the metal and percussion and things. Our friend Dennis is a kind of drummer percussion guy, and he gave us loads of parts of cars and stuff. So we all went in and were doing all kinda of chaos noise and stuff, and Al threw a spoon across the room and just clapped." The band collectively snigger at the memory. "It was pretty good! I don't know if you can hear the clap on it – I always listen out for it."
"I like to think you do!" says Dan, and Alan insists, "it's somewhere buried in there!
"There were pipe-cleaners up against broken cymbals, stuff like that," he continues, thinking back to their left-field studio set-up.
"I think with the other experiments stuff's relatively subtle," explains Dan. "The songs were there and then anything that was added into it wasn't like 'this is what it's about now' – it's just to embellish what's already there. I think we already knew what we wanted it to roughly sound like before we even entered the studio."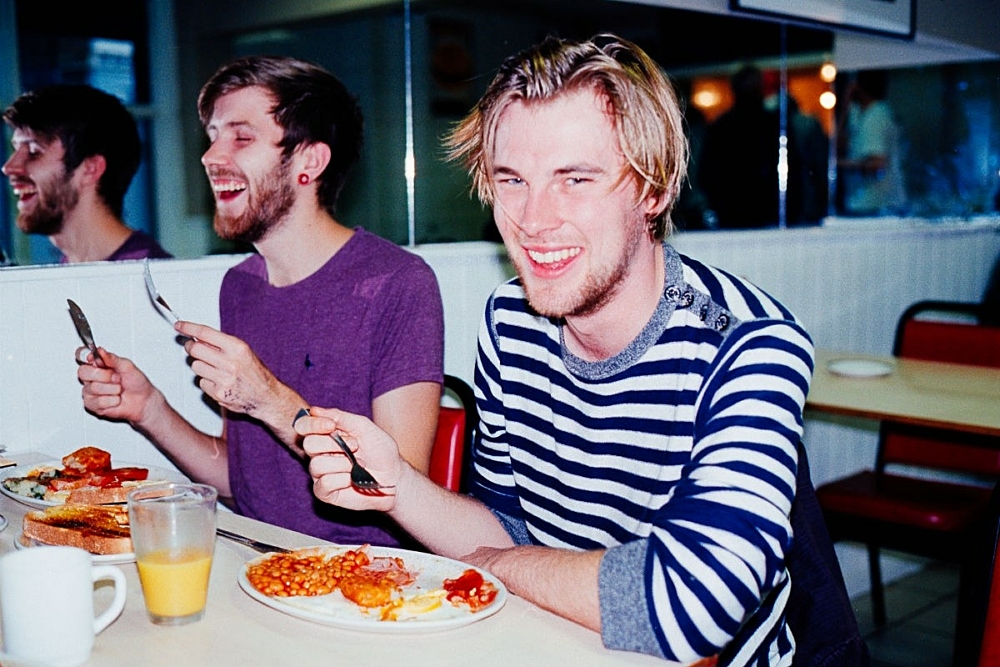 It's not just their penchant for metalwork that gives 'Holding Hands With Jamie' its warped personality though – Dara's lyricism is clearer, and dafter, than ever. "I do all the writing on my own, and they'd say something if they didn't like it… which happens!" he laughs. "There's been a couple of instances where I'm like, 'My god, this is perfect!' and I'd go in and they're like 'Jesus - no, man!'"
"I gather them from notes – about three or four years of notes that I had, that I kinda condensed down, and those words would have triggers for certain moments in my head, so it kinda keeps it fresh when we do them live. It's more about the tone of the song, and then I change it into everything else. So when it's like, 'does that mean that?', if people think something means something offensive or something then it's like 'oh', and we have to change it. But I think about 90% of it goes through! The 10% is the PG-13 stuff, which is for the next album! When we get the parental advisory sticker and I get my real thoughts out! 'Fuck you, Bush!'"
"We're just gonna do an album about tax," teases Dan – "ABOUT 'NAM!" insists Dara. "Just a lot of poorly informed opinions, really…" settles Alan, to peels of laughter.
"Because they're playing all that stuff," continues Dara, "you can feel very limited cause they're not really playing notes."
"Hey! There's a note!" Dan objects.
"He plays G in a song and he's like, 'Is this selling out?'" Dara laughs, "'Are you sure about this lads - this isn't pop music?'
Genres are certainly something that elude Girl Band's sound, though that's not stopped others from tying to pin them down in the past. "Post-goth was a good one!" enthuses Dara when prompted on the worst they've ever been pinned with. "Neo-grunge, too… After-goth. Goth in limbo."
"That's a good title," reckons Dan, "'Goths In Limbo'! Yeah it kinda happens all the time, but y'know, who cares?" he shrugs.
"I think there's a couple of tracks on the album," continues Dara, "there's one or two mellow ones, to some degree. I think it's kinda rounded in a way - it's not all mad noise all the time. It's not all post-goth all the time!"
"'That is soooooo post-goth," mocks Alan, before Dan sighs that "It's gonna be like nu-rave all over again."
"Post-nu-rave!" Dara blurts out, "We're a post-nu-rave band from Dublin!"
"Post-nu-rave revivalist. We're not a band, we're a scene," jokes Dan.
Back in the real world, though, the indefinable Girl Band are prepping for the release of an album that offers something a world away from anything else on the scene – "it's like a blank canvas again for the first time in years," states Dara with a note of relief. "We can go and develop," offers Dan on the band's future. "Even the last songs that we'd written for this record are pretty different from the earliest ones, there's a development in there."
"We'll get there," Dara agrees. "I am getting an organ! Y'know how these Korg synths were kinda cool a while ago?"
"Again, nu-rave!" laughs Alan.
Dara promises "bossa nova drum beats" with a smirk. "We're gonna go for a whole Emerson, Lake & Palmer thing," smiles Dan. "Dara in a giant wizard's hat. Change his name to Tuesday or something."
Waxing Lyrical
Dara explains some choice lyrics from the band's debut.
"Nutella, Nutella, Nutella, No tell her, Nutella, No tell her, no tell" – 'Fucking Butter':
We were sitting in the van once and we were making up weird sounds – we got 'Pears For Lunch' out of it, and "my daughter Paul," that became 'Paul'. We had this idea called 'Nutella saved my life', it was a stupid conversation. I woke up a couple of days later - it was a maaaaad one – and I just saw that and had no reference to it at all. It took me ages to figure out what it was.
That song, 'Fucking Butter' in particular took ages to write. The tone of it's about frustration and stuff like that, and the bit before – the "petit pois" bit – is about the mindfulness aspect of eating one pea at a time. And then it's like "aaaaaah Nutella." Think about it, lads. With extra meanings as well. It's pretty genius actually.
"Spend my time watching Top Gear with my trousers down, covered in Sudocrem and talking to myself" – 'Pears For Lunch':
That's just a fact! It's a really sad fact… I was going through a really hard time with depression and stuff, and I couldn't really write. My mum told me to keep writing, so I'd write something every day and it'd be shit. Then I wrote that and came into them, and I literally just wrote what I did that day. I showed them, thinking 'don't know what you'll think of this'. They just started to laugh and I was like 'oh no!'. It kinda clicked though, in my head.
"Digestive fingernails are sogging from your mug" – 'Pears For Lunch':
I was just kinda disgusted by digestive fingernails going soggy in a mug. Something about disintegrating… it's really about society… [laughs] This is not gonna turn out good.
Photos: Phil Smithies. Taken from the September 2015 issue of DIY, out now. Girl Band's debut album 'Holding Hands With Jamie' will be released on 25th September via Rough Trade.

Get your copy of the latest issue