Live Review
Foals, Wembley Arena, London
16th February 2016
The story of the band's journey from angular indie to gargantuan stadium rock is woven carefully throughout.
To get an understanding of where Foals are at right now, it only takes their opener. 'Prelude''s slow, tickling build of tours gone by has been thrown by the wayside. Any build up is now restricted to the brief half a minute or so it takes the band to stroll nonchalantly onto one of the UK's biggest stages before all hell is let loose. 'Snake Oil' now kicks things off, its unyielding energy setting the tone for Foals as they exist today.
To step back even further, gone also are the days when frontman Yannis Philippakis would stand side-on, too timid for eye contact with his then tiny audience, the set broken up only by the occasional murmuring of a track name. Not now. Now it's a scream of, "fuck yeah, we're gonna have a good time" as he teeters right on the edge of Wembley's massive stage, willing himself into the swirling mass before him (of course he does later become a part of that very mass, because it wouldn't be a Foals show if Yannis didn't go off on a few adventures).
As tracks from fourth album 'What Went Down' lead the charge and prove time and time again that they're made for these big stages, the classics aren't forgotten. 'Antidotes', 'Total Life Forever' and 'Holy Fire' are dispersed equally, the story of Foals' journey from angular indie to gargantuan stadium rock woven carefully throughout. 'Spanish Sahara' as always shows the boys' tender side, though its euphoric crescendo still manages to incite some of the less raucous mosh pits of the evening. From there to a low-key yet still bouncy rendition of 'Red Socks Pugie' then back down into the strained emotion of 'Late Night' marks a perfect blend of Foals' first three albums.
The inevitable encore following 'Inhaler"s final riotous chorus is a show in of itself. With 'London Thunder' all the more personal set within its namesake, the room is lulled into contemplative silence before being ripped limb from limb by 'What Went Down"s unadulterated aggression, within months already one of Foals' biggest numbers. Finally 'Two Steps Twice''s agonisingly drawn-out close builds the room to a fever pitch before coming tumbling down in one final blast of energy before Foals are off. As swiftly as they arrived they're gone, the echo of a band who have slowly evolved into one of the biggest in the country left ringing throughout Wembley's suddenly empty walls.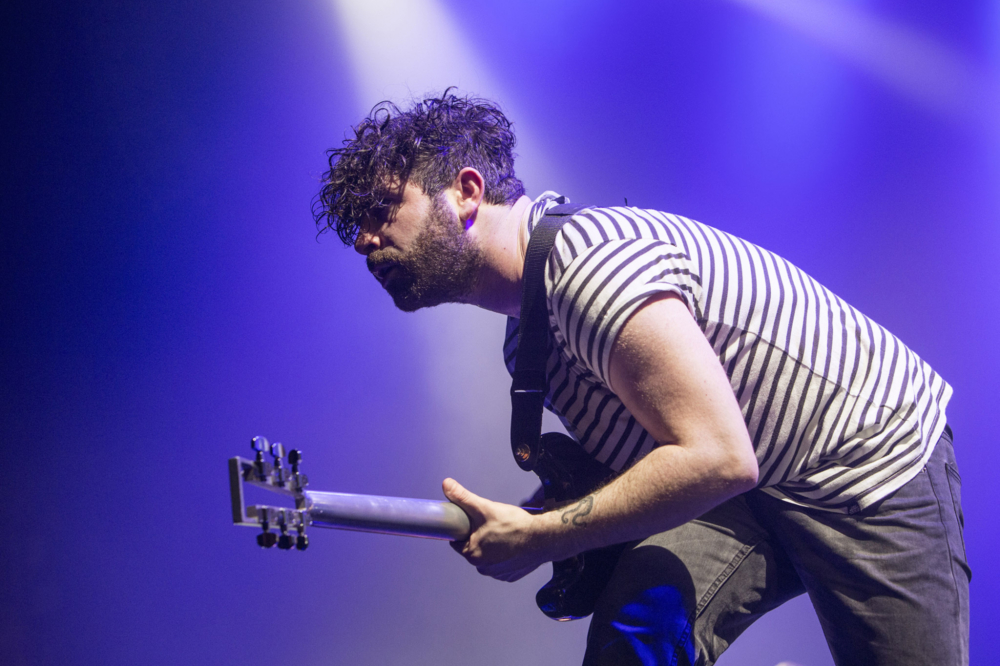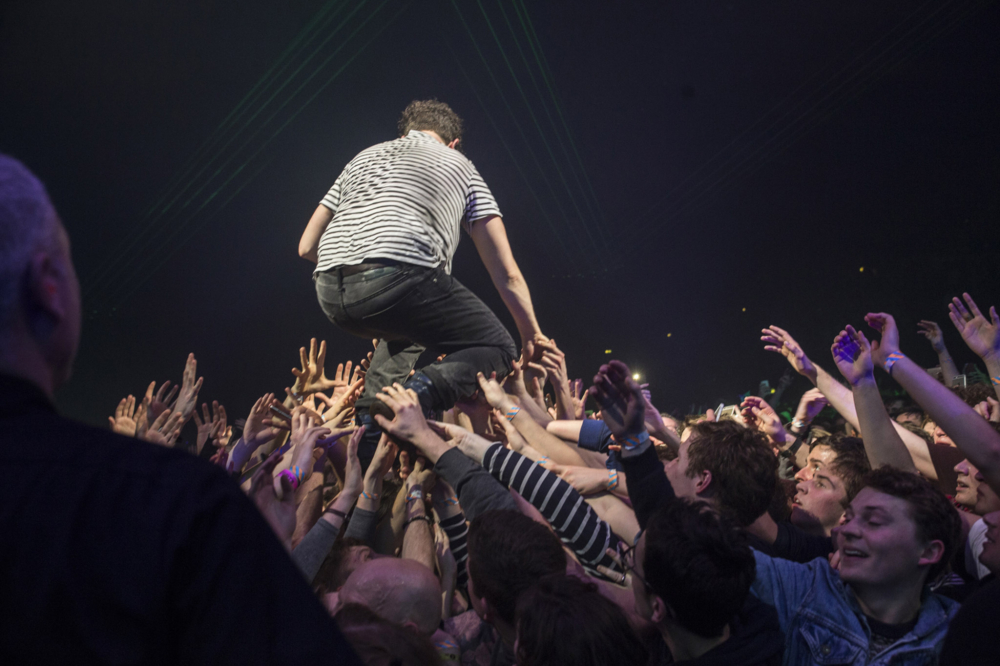 Photos: Jonathan Dadds

Get your copy of the latest issue