Progress report:
The Killers: what the hell are they up to?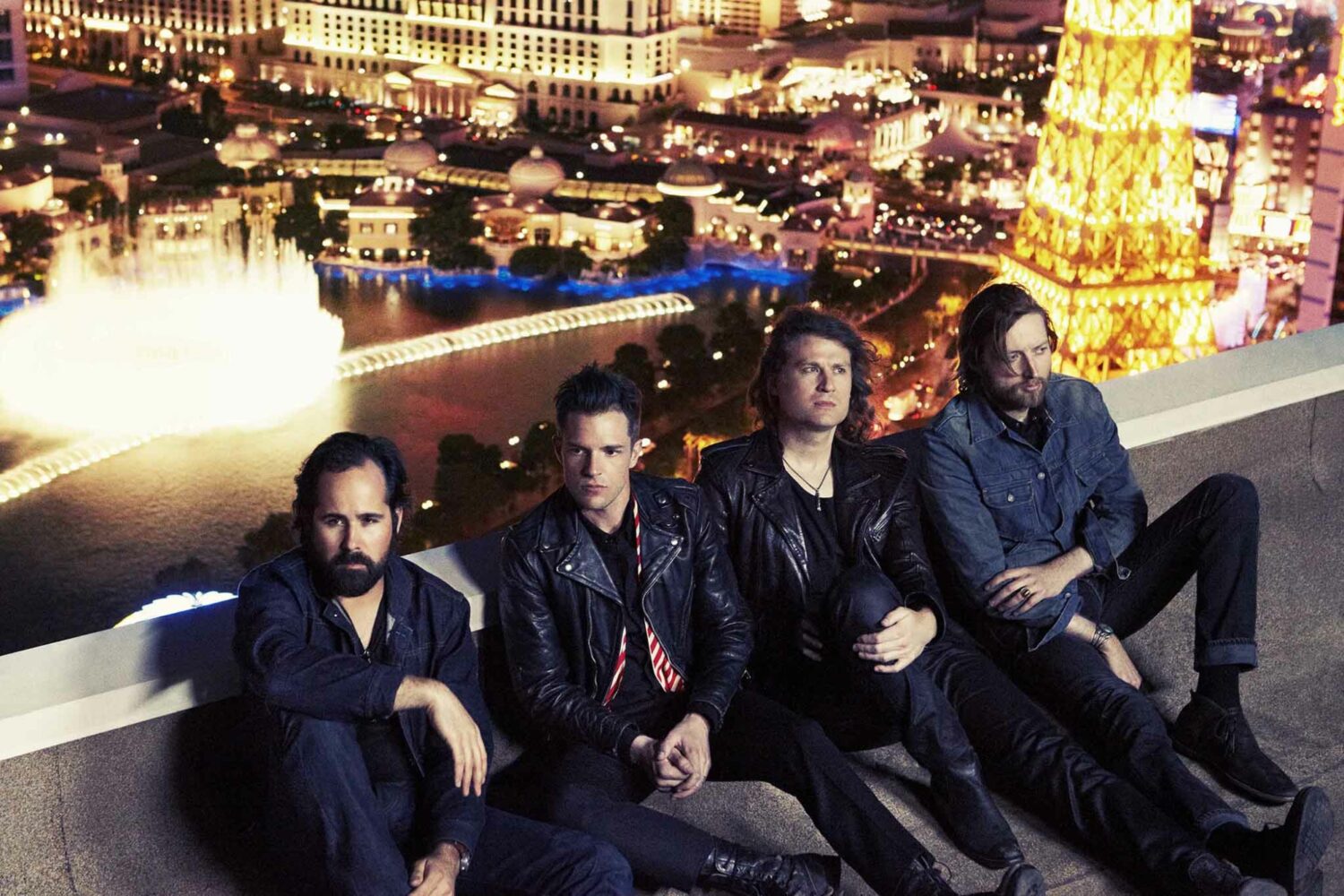 Here's what we know about a band who've been very reclusive of late (not to make a hot fuss about it or anything).
Don't worry - your favourite acts haven't gone properly AWOL. Not unless they're Frank Ocean.
In our does-what-it-says-on-the-tin 'What the hell are they up to' feature, we dig deep to find footprints of the world's biggest bands. They might not be giving away too much about their whereabouts, but that's not going to stop us from putting clues together.
First up is Las Vegas stadium-botherers The Killers, whose fifth album should be right around the corner.
Below, we round-up what they've been doing (in secret and out in the open), and what's next for everyone's favourite human / dancer hybrids.
Around Christmas time, honouring their yearly tradition of getting in the seasonal spirit by dressing up like elves and releasing an Xmas-themed single. It's all for charity, of course. 'Dirt Sledding' was last year's entry, the tenth time in a row they've ditched the leather jackets for Santa suits. Christmas singles are all well and good, but seasons change and fans are getting antsy.
Has there been a radio silence going down?
Not exactly. They've played fifteen shows so far this year, with another three lined up for September. Mostly these are a means of maintaining festival headliner cred, but they've also been an opportunity to debut new material, which has been fairly scarce.
One new song was given an airing in Ontario, back in June. Brandon Flowers does his best emotional-gusto-on-a-piano schtick, it's all very uplifting, and it sounds a lot more back-to-basics than 2012 album 'Battle Born'.
There's been one notable change, up on stage. Bassist Mark Stoermer is no longer touring with the band. He's focusing on solo work (second album 'Dark Arts' is out 5th August), with Jake Blanton filling in.
As for more of the prized material, don't hold your horses in hearing too much before the end of the year. Their last progress report came in December 2015, when Brandon told NME they were "in the early stages" of writing. "It's harder to sift through what's terrible and what's great, because it's so easy to complete a song. So I think that's where you get a lot of bands being complacent and just going through the motions. You get a lot of bands that don't do great things later on, and so hopefully because I'm aware of that we can really do something better and something great this time."

Once they finish their current tour (at Atlanta's Music Midtown on 18th September), it's presumably all hands on deck for LP5. Like on 2006 LP 'Sam's Town', they're in the studio with Flood and Alan Moulder, so expect fireworks. With that, there'll be a lot more headline slots (all eyes on next year's Reading & Leeds) and dramatic stadium-bangers. Get ready for things to kick off in early 2017.
Well, Elton John recently claimed he was planning on writing with Brandon Flowers. Back in February he told Shazam he was "off to Vegas" to kickstart a songwriting partnership the world's been waiting for. Elton, mate - give us the scoop?