Interview:
Time-travelling Dolly Parton meets glitter-punk: get to know Dream Wife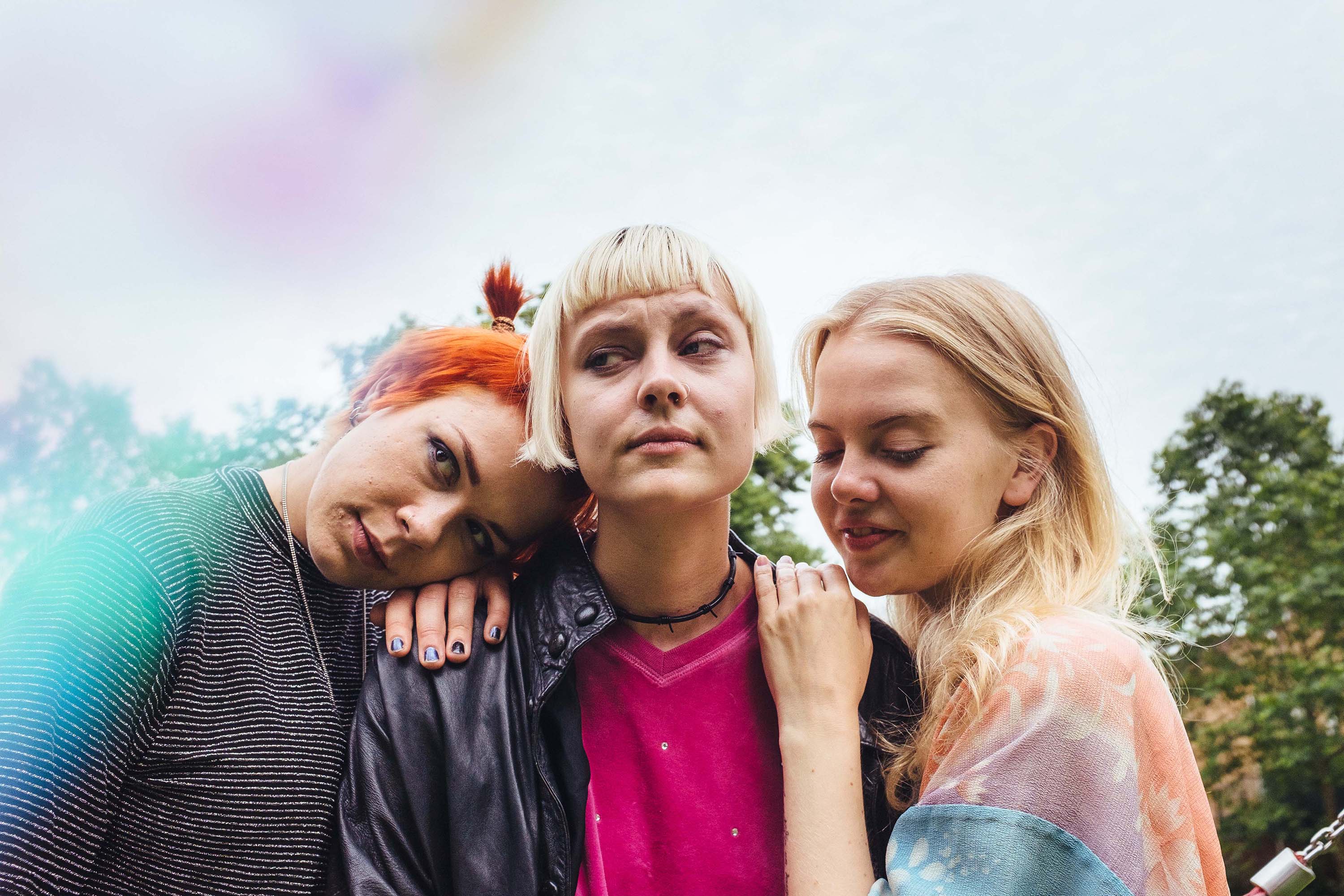 An art project run riot and out of control, this lot have found themselves forming one of the most exciting new bands around right now.
Inflatable palm trees, impromptu Peaches covers, and trashed stages filled with ruined 'space beach' paraphernalia; it's all a standard day for Dream Wife. A glitter-pen daubed collaging together of bright, gaudy obsessions – from Bikini Kill and No Doubt right through to Blondie and Banana-bloody-rama – Dream Wife's music is a tattered scrapbook; and yet their sound is as strikingly recognisable as it comes.
Rakel Mjöll, Alice Go and Bella Podpadec first crossed paths while studying art in Brighton, with rock stardom the last thing on their minds. With the band starting life as a performance piece (oh, and because they fancied going on a jolly to Canada and needed a believable excuse) the trio readily admit they never imagined themselves as band types at all – let alone seasoned riff-wielders in the process of readying a debut album. Yet, here they are.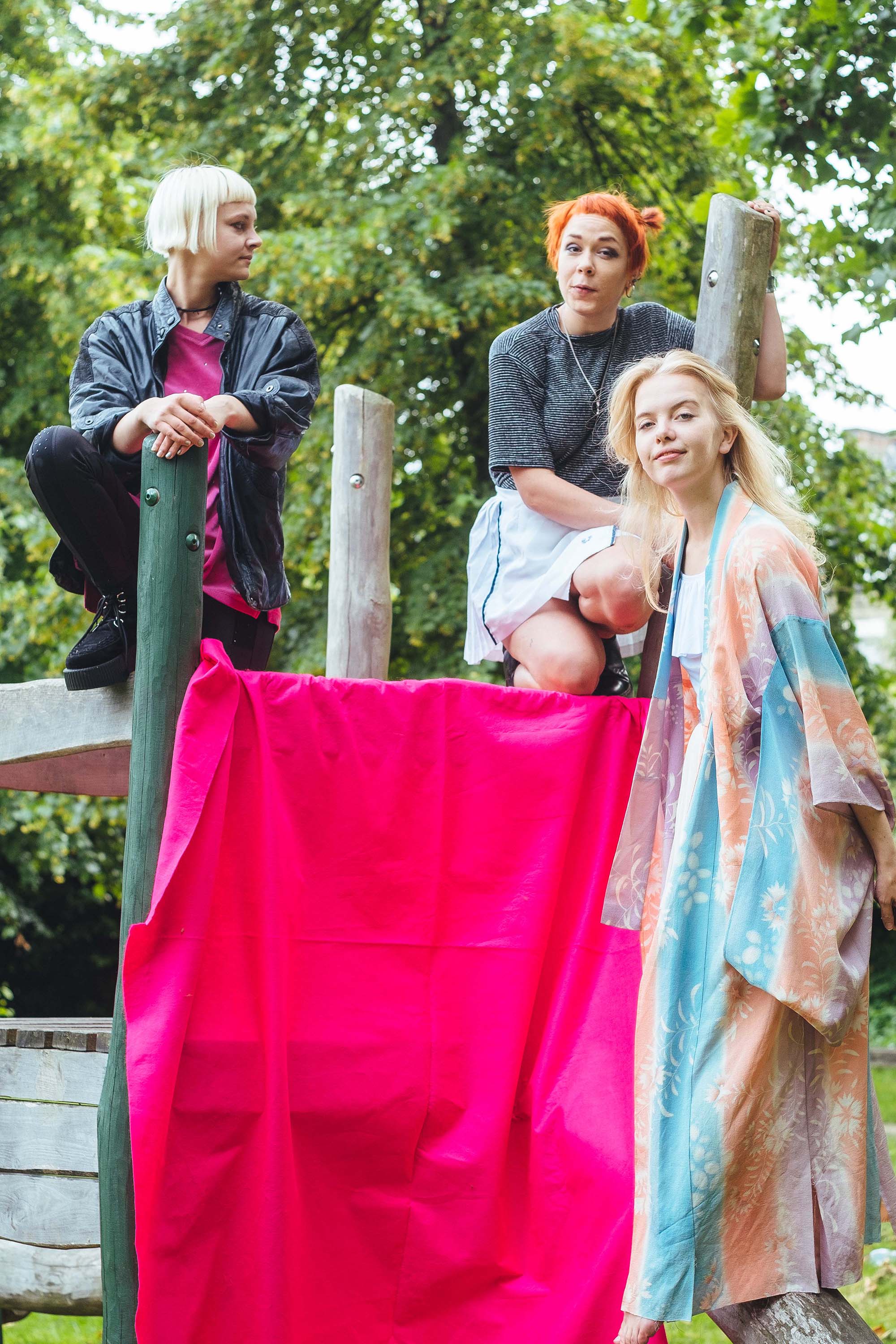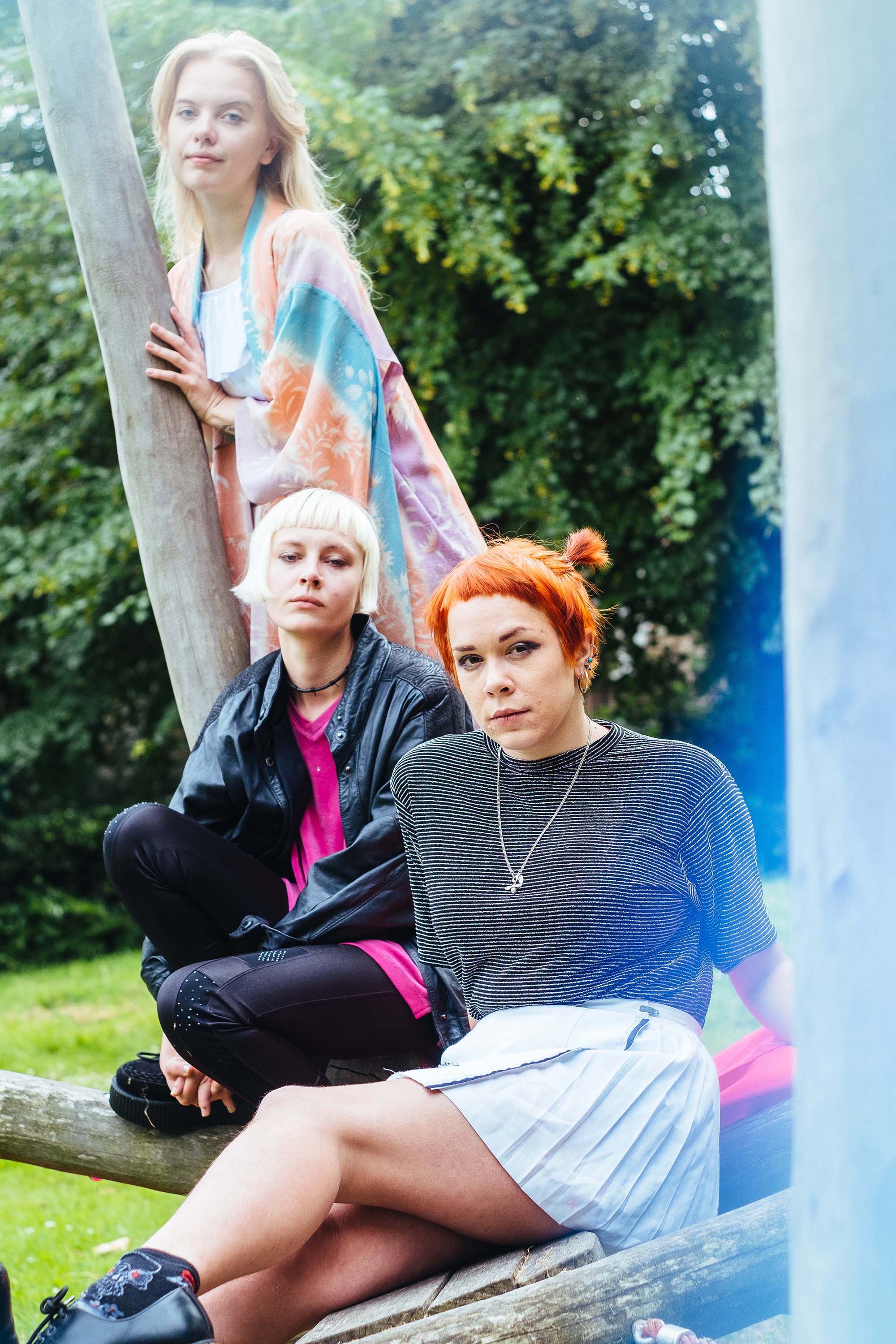 "All the ideas that have been bubbling within us for months are now letting loose!"
— Bella Podpadec
"We had a great time in Canada," says bassist, Bella, looking back on the time the band – before they even realised they were an 'actual' band, that is – spent playing shows across the Atlantic. "Canada was intended as a conclusion and realisation of the performance piece, but writing songs together felt natural, and we were all curious to see how far we could push the project," she adds. "The transition from art project to 'real band' was quite organic; taking the piece out there, playing shows and sleeping on night coaches for a month forged a solidarity between us, we were suddenly a gang of Wives on the road, and we loved it," she says.
"What would Dolly Parton do?"
— Rakel Mjöll
Starting out with no fixed end goal has been liberating for Dream Wife. An unwieldy combination of vulnerability and empowerment, there are few places the band won't explore. Their music veers between taking wounded aim at heartbreakers of the world, searching for family graves in upstate New York, and Rakel's terrifyingly smirk-filled promise; "I'm going to fuck you up." And according to Rakel – who recently moved from the Icelandic city of Reykjavík to spend more time on the band in London – a certain Country legend is an unlikely inspiration for some of her most laid-bare lyrical moments.
"When I write lyrics I often think about Dolly Parton," she drops into the mix with all the casual nonchalance of someone asking for access to the nearest condiment jar. "What would Dolly do? With the rawness to her writing, she's channeling a direct emotion of a time," she goes on. "If it's a few minutes or a night she experienced she can go back there. Dolly the time traveller."
The band recently inked a record deal with Lucky Number (Hinds, Sleigh Bells) on the pebbled beaches during this year's Great Escape festival - "champagne on the rocks," quips Alice, "literally" - and next on the Wives' agenda is cracking on with that debut full-length. "Right now we're in the midst of writing songs for our album," Bella says. "We just started at the start of June so it's all pretty new but going well," she adds. "3 down! 7 to go? Or something like that. All the ideas that have been bubbling within us for months are now letting loose!"
Dream Wife's debut EP 'EP01' is out now.