Interview:
In the studio: Warpaint
After two years apart pursuing other creative projects, Warpaint are back, reinvigorated with third record 'Heads Up'.
In the two years since their second, self-titled album, Warpaint have been busy cutting loose and letting go of all restrictions. Stella Mozgawa – the band's kit-wielding secret weapon – has been playing drums for just about everyone, from Cate Le Bon and Kurt Vile, to SBTRKT and Jamie xx. Jenny Lee Lindberg's been occupied elsewhere too, finding her own voice with solo album 'right on!'. Theresa Wayman's also been working on a solo record with production whizz Dan Carey. And, as if her plate wasn't full enough, she's also got another project, BOSS, on the go with Hot Chip and Yeasayer's Sarah Jones, and Guro Gikling from All We Are.
With the band busier than the world's only ice-cream van during a searing heatwave, you'd have thought a new Warpaint record was bottom of their to-do list. Wrong. The hum of activity outside the band has fuelled 'Heads Up', and with the balance re-jigged they found themselves making a bold, raw and spontaneous return to the unfiltered kinetic energy that fires up Warpaint's central engines.
"I think when people get their own creative juices flowing, it doesn't put as much pressure on the band to be an individual thing," agrees Emily Kokal, taking a chilled day out in Paris amid a sprinkling of European tour dates. "Everybody was so busy doing their own thing, that coming together to make this album was just one more thing to do that was creative," she says. "Being in a band so long, if you don't get those things out your system individually you can get frustrated creatively…" she adds, laughing. "Blue balls or something."
"It's a lot more rough and in your face."
— Emily Kokal
In the past, Warpaint have been meticulous songwriters, poring over things endlessly, zooming in to perfect every microparticle and complexity. Late last year, however, they made a conscious decision to not just switch gears, but to rip out the old system and re-wire completely. Adamant that an album wasn't on the cards, they instead focused on one-off demo releases like 'No Way Out' and 'I'll Start Believing'. New possibilities began multiplying without halt; a sparser, less misted sound taking on concrete shape. The energy fizzing through Warpaint was tangible, and infectious. Accidentally, just five months later, the band found themselves with third album 'Heads Up'. And accordingly, "it's a lot more rough and in your face," Emily says.
"We were never like, 'OK, now we're going to start working on our album'," she explains. "We almost tricked ourselves into making an album really, really fast. We just kept making these songs, adding parts to them, and doing what we do. And pretty soon all these little ideas were an album. This process was really conducive to what music is all about; capturing a moment, and capturing creative energy."
A return to the basic essence of the band is a major pursuit on this record. Building themselves a proper band HQ in Los Angeles – a cosy space they've nicknamed 'House on the Hill' – they were eager to keep things in-house and stripped-back this time around. And, after working on 'Warpaint' with the formidable and hugely influential production figurehead Flood, they hit up an old pal. Jacob Bercovici – who manned the desk for debut EP 'Exquisite Corpse' way back in 2008 – hopped back on ship, in a deliberate move to simplify.
"That was kind of the plan," Emily explains. We wanted to make [the album] ourselves, in our rehearsal space, in downtown LA. We decided we should probably have some help but we wanted it to feel really homegrown and organic, so [Bercovici] was a really obvious choice."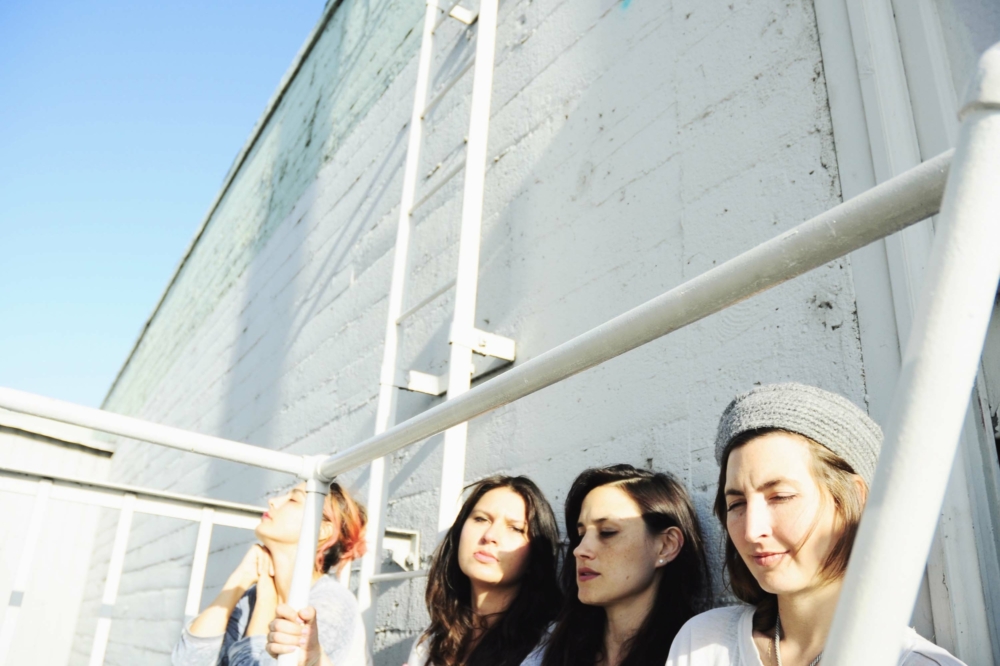 "I don't have to play guitar all the time. Hey, I can beatbox if I like!"
— Emily Kokal
With all members frantically dotting between projects, 'Heads Up' ironically became a very relaxed process. Instead of working songs together from the ground up, they'd rock up at sessions with fragments and half-ideas already assembled. They'd meet for dinner at each other's houses, and wind up tinkering about with new parts for hours instead.

The whole thing was a revelation. "What was really cool about making it was going to our collective band's houses and just hanging out," Emily starts. "We took the rules out the band, and said, 'let's play whatever we want. Let's not try to be strict so we can play this live exactly how it is; let's be creative and do whatever we want'. I don't have to play guitar all the time. Hey, I can beatbox if I like!" she hoots.
"Whatever, just feel it," she concludes, summarising the spirit of the new record. "Feel free. Let's not make each other feel restricted in any way."
With 'Heads Up' recorded, mixed, mastered, your lot, the band are chomping at the bit to get back out on the road with an arsenal of new material. Early airings have been going super well, Emily agrees; the band even found themselves debuting a brand new album track in front of a double rainbow during their Hyde Park show last month. "I'm hoping every time we play a new song a double rainbow comes out," she laughs. "That must be a good omen!"
Warpaint's new album 'Heads Up' is out 23rd September via Rough Trade.
Taken from DIY's August 2016 issue, out now. Subscribe below.

Get your copy of the latest issue