Live Review
Field Day 2017
3rd June, Victoria Park, London
This year's slimmed-down, one-day event also hosted Whitney, Loyle Carner, Death Grips and more.
As with many festivals last summer, Field Day 2016 was blighted by torrential rain. Today, as Loyle Carner prepares to bring his debut album 'Yesterday's Gone' to the main stage in Victoria Park, it's blistering heat that's the (significantly nicer) problem.
There's plenty of soggy souls in the biggest tent for Death Grips though, who thrash their way through a hugely intense hour, creating a mash of bodies that doesn't relent for the entire set. Though the trio are a fully operational band once again after their 'break up' in 2014, every opportunity to see them feels like it may yet be the last, and the vital, once-in-a-lifetime energy this creates makes the show simply unstoppable, despite multiple sound issues.
Undoubtedly the most striking addition to this year's Field Day is the cavernous Barn stage, which virtually engulfs the entire site. Nicolas Jaar pretty much fills it for his afternoon set, with a set as unpredictable and probing as ever. Following Jon Hopkins and Moderat, everything in The Barn feels like a pre-cursor to the festival's calling card in a headline onslaught from Aphex Twin, and though there's some heavyweight sets seen across the day, it's only when Richard D. James enters just before sundown that everything finally clicks into place.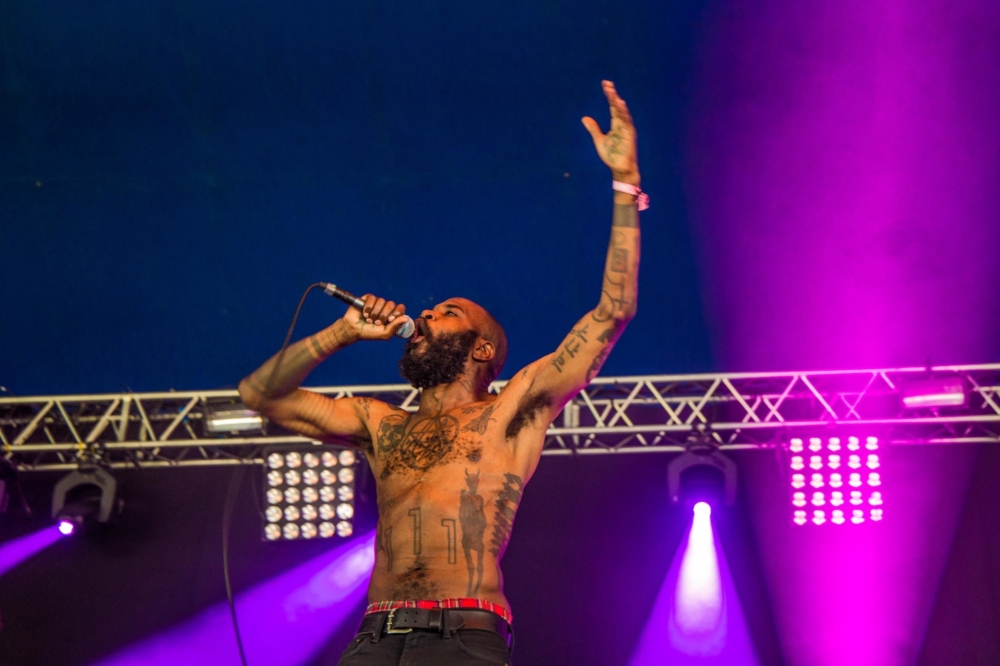 Before his set fills The Barn to the brim, though, things are a great deal calmer over on the main stage with Whitney. It's only a day before debut album 'Light Upon The Lake' celebrates its first birthday, and in that time it's become a firm favourite. It's also perfectly suited to hazy summer evenings like this one, and their early evening set is simply gorgeous.
'Golden Days' and 'The Falls' feel as fresh and sprightly as ever, and judging from the reaction given in the first few rows, the band's cover of Lion's track 'You've Got A Woman' is fast becoming a much-loved addition to their catalogue. While energy levels in The Barn rise and rise across the day, Whitney give those outside a blissful calmer.
Continuing the polarising programs on each stage, it's a whole different story in the MOTH Club tent, where Danny L Harle kicks off the PC Music showcase with all the energy of an excitable puppy. 'Broken Flowers' and 'Ashes of Love' are joined by the title track from Danny's new '1UL' EP, which already looks to be as well-loved, and his twenty minutes or so on stage are absurdly hit-packed.

There's a sense of anticipation around in the minutes before Aphex Twin and his completely bonkers light show emerge into The Barn that will struggle to be matched all summer. The release of tension when he finally does bathe the huge structure in fidgety, intense noise is a completely euphoric one. As the heavens open for the only short-lived shower of the day, the atmosphere in The Barn gets even more intense, before Run The Jewels bring a whole different type of energy out on the main stage.
The rain relents just before Killer Mike and El-P bound their way on stage and proceed to crash through highlights from 'RTJ3'. 'Call Ticketron' and 'Stay Gold' are already regarded as hits by the hugely dedicated throng, and receive as much adoration as 'Lie, Cheat, Steal' and 'Close Your Eyes (And Count To Fuck)'.
Capping a set that champions togetherness and strength, Killer Mike dedicates closer 'Down' to the Labour Party and the bond between band and crowd just grows stronger, a togetherness Run The Jewels can create better than any.
Photos: Louise Mason

Get your copy of the latest issue