Live Review
Dream Wife, Elsewhere, New York
Support came from QTY and Sabri.
Dream Wife are in celebratory mood tonight. Their excellent self-titled debut is just days away from being out in the world, and, as singer Rakel Mjöll happily reminds us throughout the set, they're playing their first show in Bushwick. It's also DIY's first gig in New York and, as you'd expect, the whole line-up is worthy of raising a beer to.
Sabri, the new project of New York's own Sam Sundos, is an intriguing opener. His set is a genre-hopping delight, with he and his band bringing together worlds like the woozy R&B of Frank Ocean and Madchester's loping groove. 'Oh Honey', his only release so far and set closer, is a sterling example of that, dialling back Happy Mondays' 'Step On' into something more luxuriant.
That laidback air dissipates when QTY come onstage, bringing more fire and urgency to tracks like 'Salvation' and 'Cold Nights', which bookend their set. Bassist Peter Baumann is suffering from food poisoning, but, apart from looking a little peaky as he plays, there's little noticeable effect. 'Rodeo' packs even more of a heart-swelling wallop, and a new song suggests the band's second album is one to look forward to - a playful piece of indie rock centred around the lyric "I'm a problem solver, and that's the problem."
In the here and now, though, Dream Wife are justifying the buzz around their debut with… contortions? Rakel turns her back on the crowd mid-set and clasps her hands together behind her, before defying science by bringing them full circle over her head, still clasped, and down to her chest. Even without her stunts, the trio's set is eye-poppingly good - 'Hey Heartbreaker' fizzes with punk energy, while the likes of 'Fire' and 'Love Without Reason' let their pop nous shine through. And then, of course, there's the Wives' now-traditional empowerment moment. "If you spot a bad bitch at the back then tell her to come take her place," Rakel commands before joining the growing group of ladies down the front for 'F.U.U' in a move that still feels special no matter how many times you witness it. We'll say 'cheers' to that.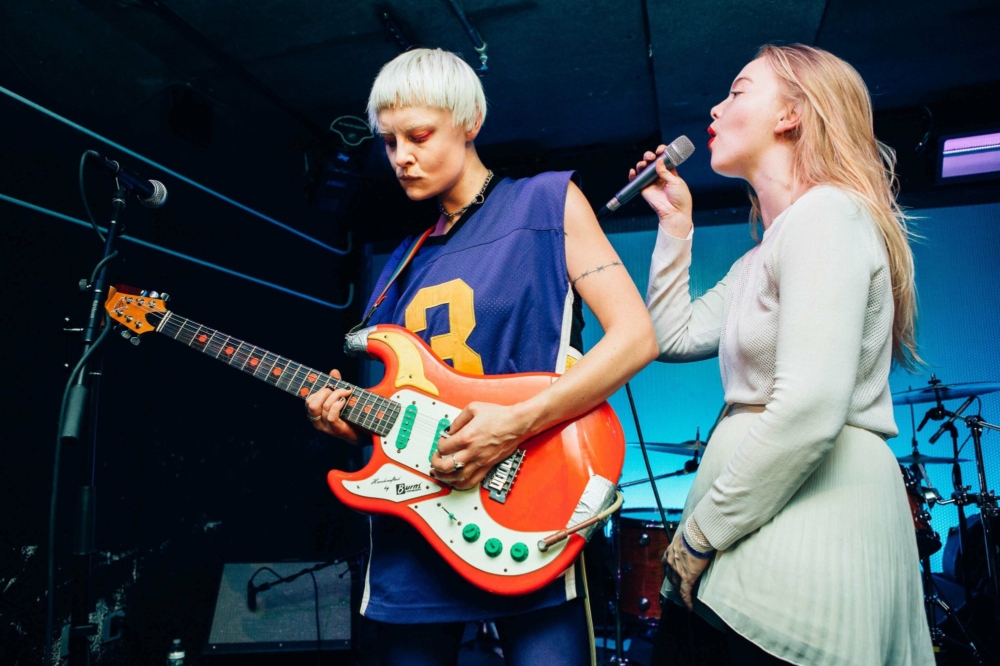 Photos: Coen Rees

Get your copy of the latest issue