SXSW 2018
Stella Donnelly, Shame and more of the best things we saw at SXSW 2018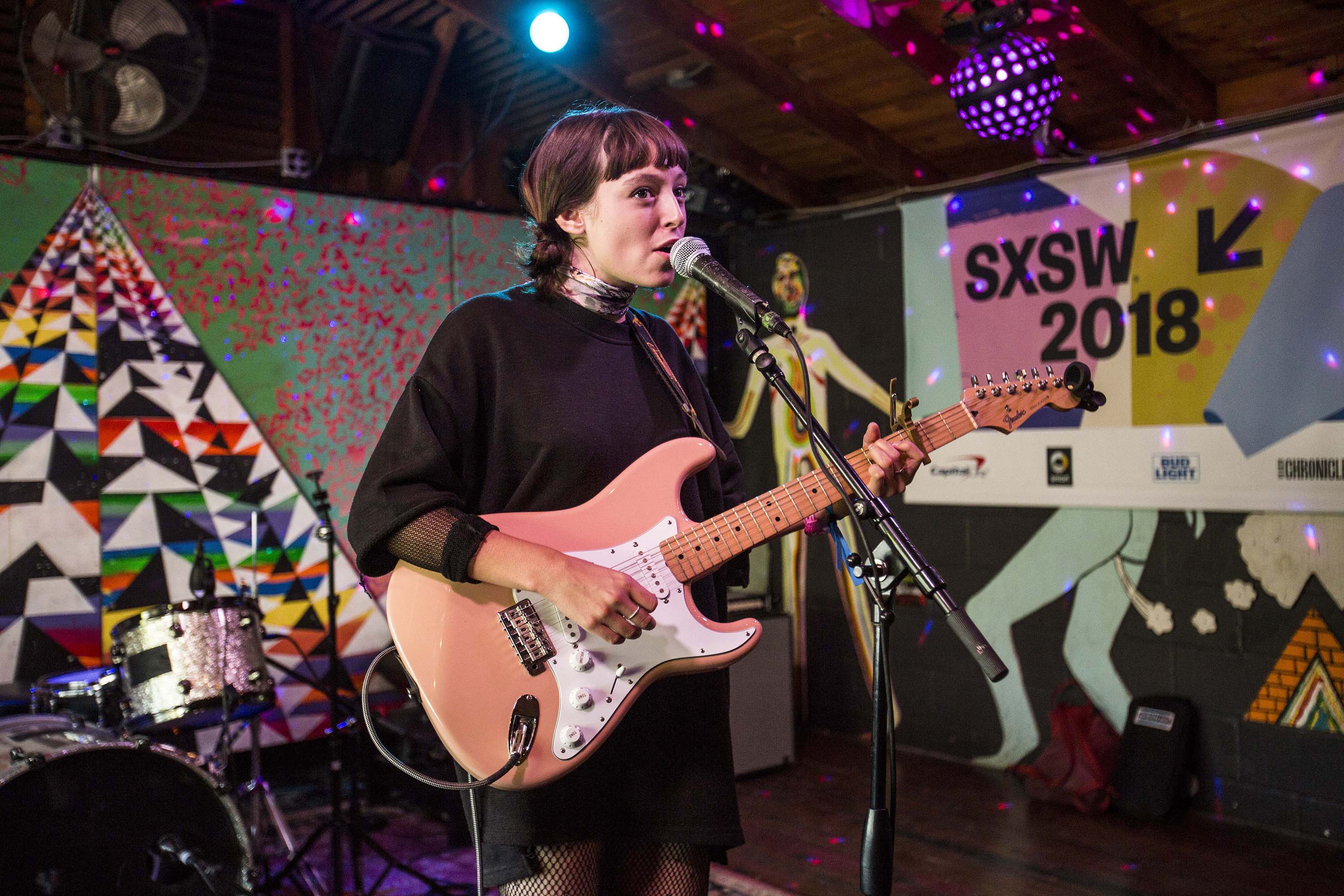 The Austin event is a musical minefield: here, we attempt to navigate it.
Across seven days, in the balmy heat of Austin and with the Beast from the East a distant bad dream, SXSW offers up an almost entirely overwhelming selection of music coming out of every venue, bar, road side and student block available.
Don't get us wrong, not everyone here is set to be the next Lorde. From novelty-outfitted rappers on street corners, to a hipster with a typewriter professing himself to be a 'poet for hire' and a group of old men playing very aggressive violins that we happen to stumble upon whilst having a wee, there's a lot of nonsense nestled among the hype. But oh lordy, is there hype too. Stumble down the main stretch of 6th Street – which remains barricaded off for the whole week because this place is far too crowd for such trivialities as cars – and you'll find 14 solid hours of non-stop bands a day. From the unofficial daytime showcases to the super-buzzy evening hot tips, SXSW is a constant barrage of people and noise.
On the Monday night, DIY teamed up with the British Music Embassy to bring some of the best sounds from our shores over for a big, sweaty showcase at Latitude 30 featuring LIFE, Our Girl, Catholic Action and more. On Wednesday, meanwhile, we headed over to new venue Seven Grand for a party all of our own, bringing homegrown talent (Goat Girl, Suzi Wu) and our Transatlantic chums (Public Access TV, The Britanys and more) together for one intercontinental love in.
But apparently, there's more to life than our own showcases. And so, in that spirit, here's the best of everything else we saw at last week's Texas knees up.
Stella Donnelly
If there was an award for the festival's Most Charming, then Australia's Stella Donnelly would be lapping almost all the competition. Solo and armed only with a guitar, her dry humour – both in song and off – dispels any risk of sombre singer-songwriter-dom, instead imbuing the whole thing with an easy, affable appeal. Whether she's sassing a man who told her she swears too much in the run up to 'Mechanical Bull' - "I'm gonna keep on fucking doing it," she twinkles by way of a punchline – or closing the set with the honeyed, '50s lilt of 'Mean To Me', the sweetest song around about someone being an asshole, Stella is the kind of warm narrator that has the crowd in the palm of her hands. There are weighty moments too – not least in recent single 'Boys Will Be Boys', a dissection around the culture of victim blaming. But, deftly veering between these pillars with a flawless pair of pipes and an endearing amount of chutzpah, Stella's already challenging fellow Aussie Courtney Barnett for the witty social commentary crown.
Anemone
Depending on your natural levels of cynicism, Montreal's Anemone could go one of two ways. For those of the "fucking hippies" school of thought, the psych-pop quintet's free-loving schtick (featuring some Rainbow Rhythms level dance moves from singer Chloe Soldevila) will have your eyes rolling to the back of your neck. On a sun-dappled Austin afternoon, however, you can't help but be sucked in. Channelling a Flaming Lips-esque level of weirdo good vibes, they pepper songs with French and finish by dishing out tambourines and inviting the crowd to dance with them on stage. Grab a flower garland and give in.
Sunflower Bean
Heading into second album 'TwentyTwo In Blue', New Yorkers Sunflower Bean now have a formidable arsenal of material at their disposal. Where cuts from debut 'Human Ceremony' proved them to be a band capable of disparate pleasures - the razor-edged 'Wall Watcher' a sonic mile away from the lilting sweetness of 'Easier Said' - their second goes some way to filling in the gaps. Dishing up semi-title track 'TwentyTwo' and its Fleetwood Mac gauzy softness alongside the classic rock stomp of 'Crisis Fest', the trio's canon continues to take new side streets, while simultaneously connecting the roadmap into one superior whole.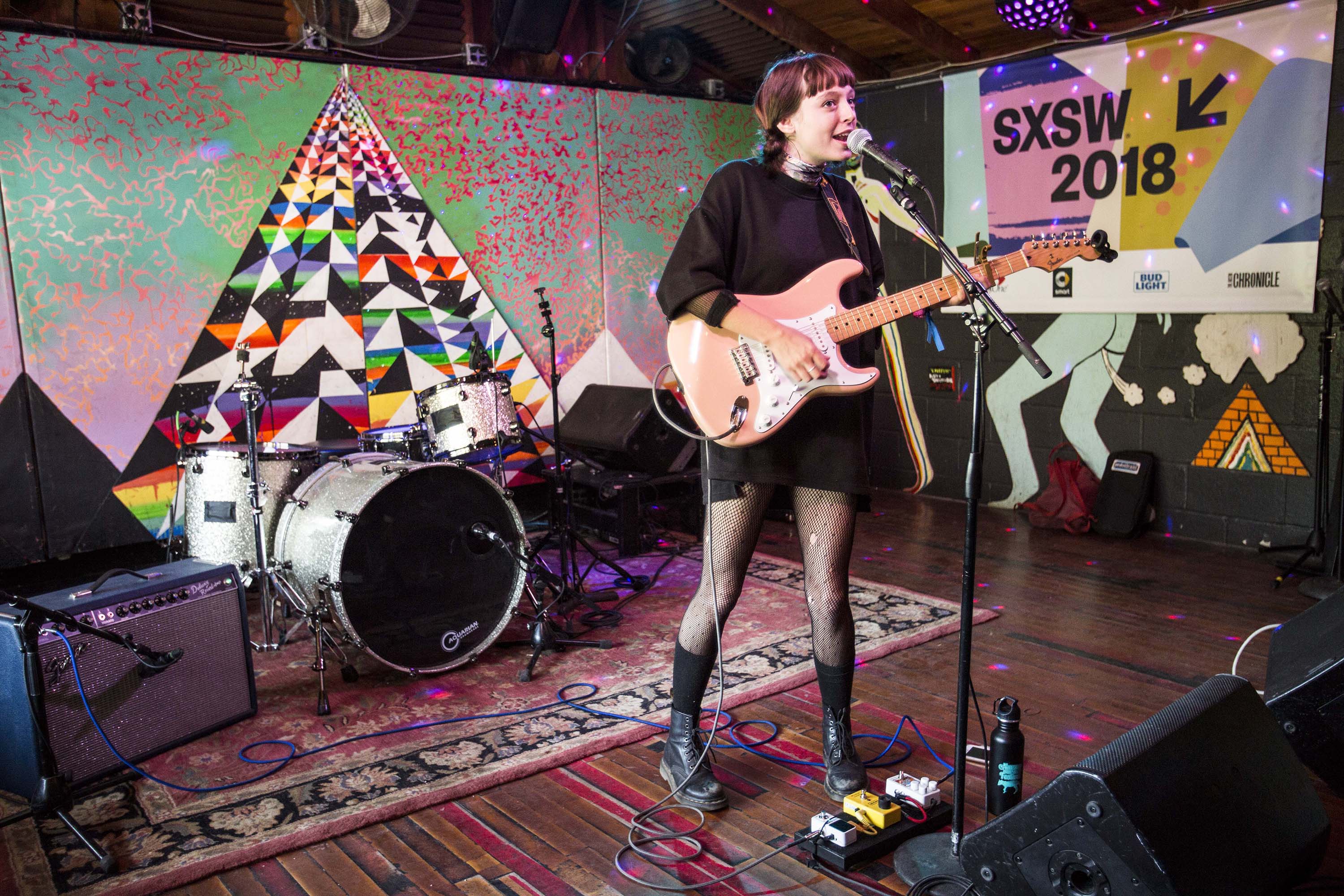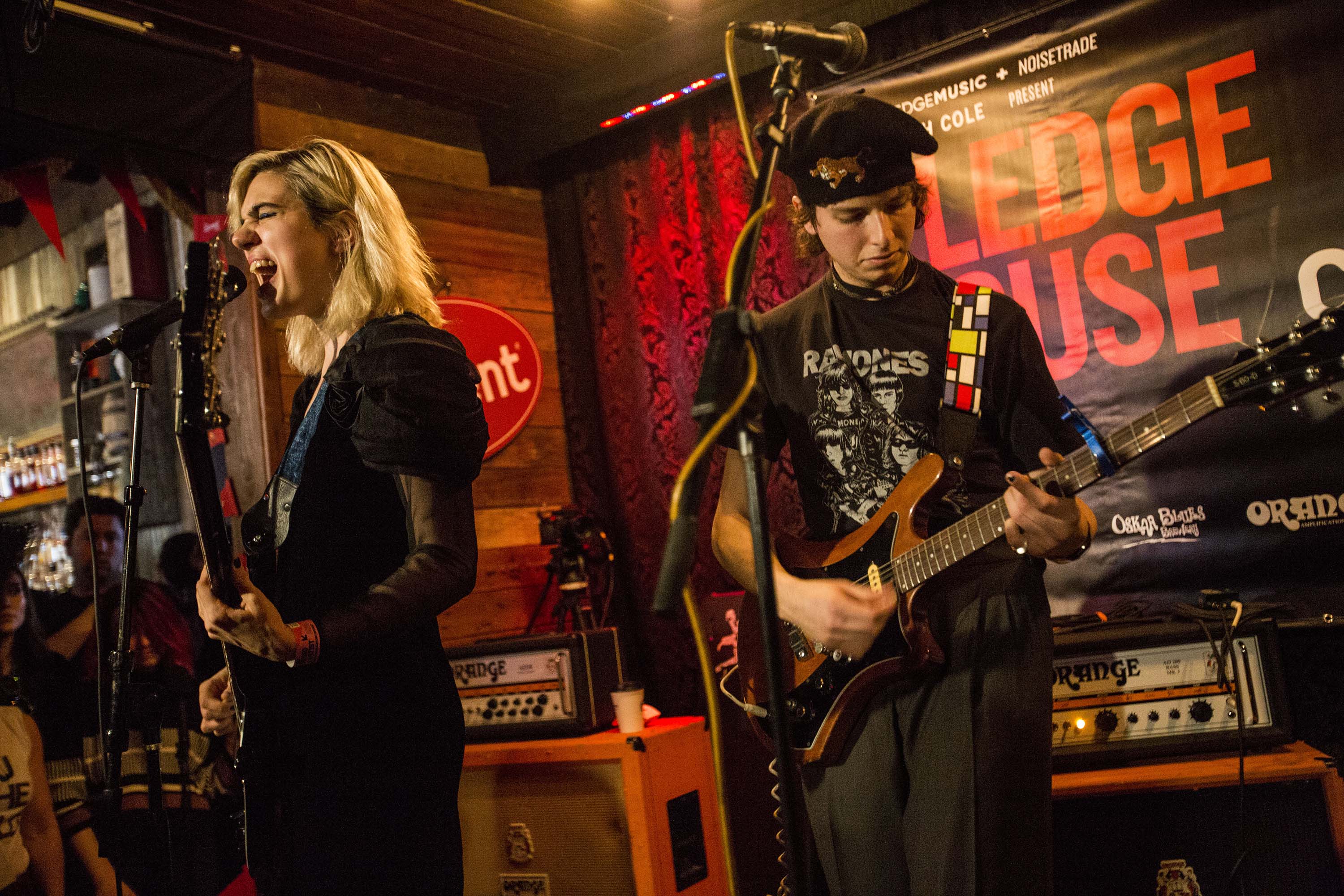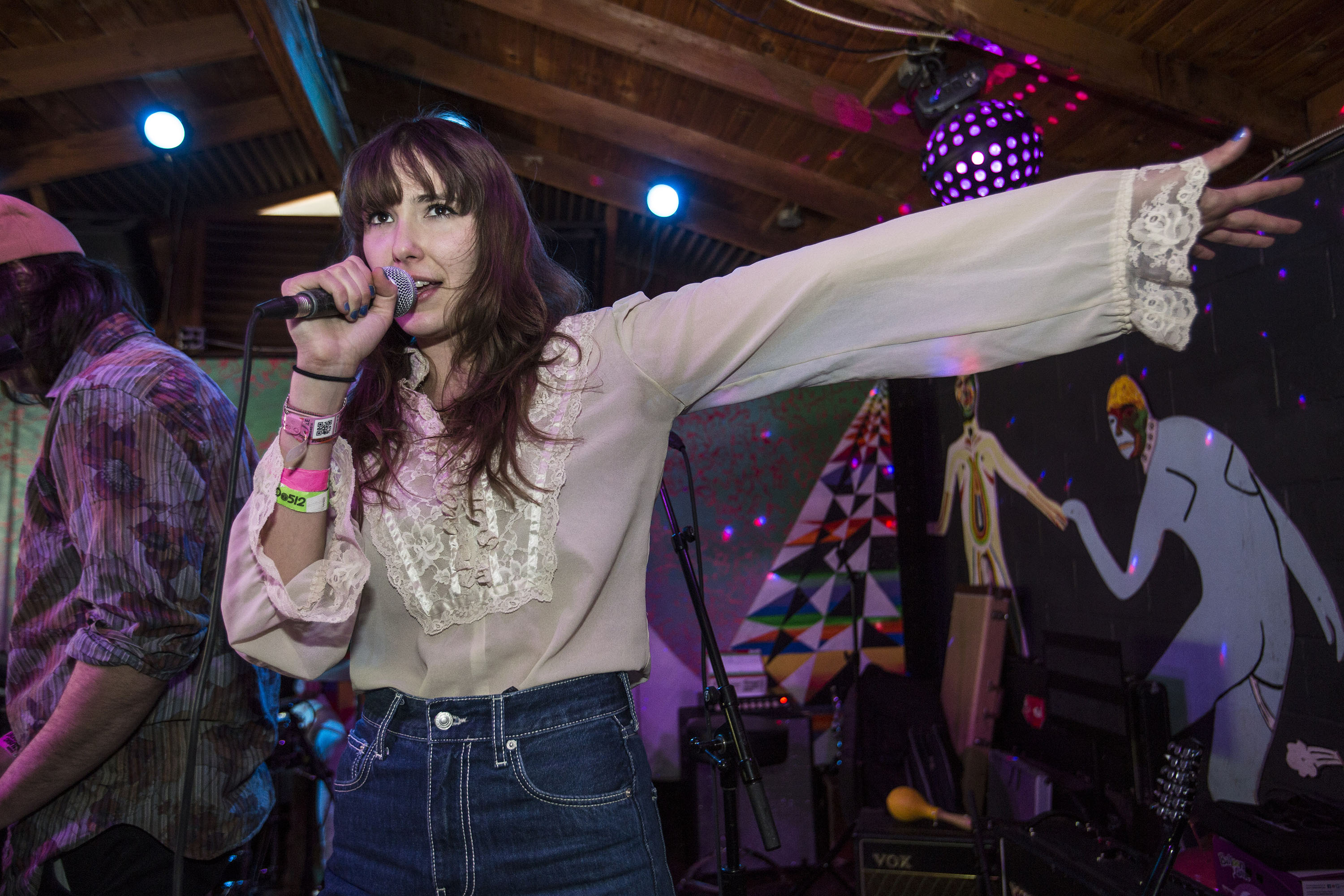 Shame
Of all the UK bands storming to the top of the SXSW buzz charts this year (shout out also to IDLES, Pale Waves, Goat Girl and more), Shame are undoubtedly at the toppermost peak of the pile. Playing a whopping nine shows in three days, you wonder quite how they'll emerge alive at the end of it. Shame, see, don't go quietly into the night. To witness cowboy hat-toting frontman Charlie Steen, rubbing saliva into his bare chest with a delightfully disgusting leer before shouting his bands' sarcastic, searing missives, his whole body taught with wired energy, is to watch someone whose performance is as physical as it is musical. Guitarist Josh Finerty leaps and bounds around the stage, ending rolling on the floor, while the rest are pillars of wired noise. It's an assault of attitude and energy that
gets even the industry-centric SX crowd moshing and crowd-surfing. Part-way through a seemingly endless world tour, no new band can even touch Shame right now.
Pussy Riot
Introduced by famed whistleblower Chelsea Manning and now with imprisoned member Nadya Tolokonnikova back in the fold, Russian punks Pussy Riot's set was always going to be a talking point. Throwing disses at Putin and serving up tracks including 'Straight Outta Vagina' ("My vagina is tough and dangerous/ Shaking up the major labels"), their politics are clear and strong. Musically, it's more all over the place – a blitzkrieg of relentless electro-clash that feels more like a test than a treat. Still, you sense maybe that's the point.
Hovvdy
Pronounced 'howdy' (Chvrches: you've got a lot to answer for...), Austin duo Hovvdy are in their self-professed "comfort zone" here at SXSW. Their sun-drenched slacker rock echoes the feeling, too. Channelling the easy, dappled warmth of Real Estate, they're a mid-afternoon tonic, a softly fuzzy hangover cure to ease you back into the high-octane rush around them.
Jade Bird
Northampton gal Jade Bird might dwell largely in the country world, but there's something in her self-effacing, humour-laden between song patter that brings her into more modern territory. She's even roped half of Mystery Jets into her band: credible kudos, indeed. It's in her rasping, rootsy howl that Jade really packs a punch though, and in closer 'Lottery' ("You
used to tell me that Love is a lottery/ And you got your numbers/ And you're betting on me) she nails the critical trick of expressing an age-old sentiment with fresh eyes.
Hinds
Hinds might be old hands at this SXSW game but, serving up a 2am closing set at an enormous student house party, their brand of ramshackle hedonism seems purpose built for this kind of thing. With crowd-surfers flailing in an endless stream, the simple sing-song charm of oldie 'Davy Crockett' is shouted back with drunken gusto, while recent single 'New For You' slots in easily. Sure, the festival's about discovering the hot new thing, but sometimes a little familiarity doesn't hurt.