Live Review
Arcade Fire, Wembley Arena, London
12th April 2018
As huge-scale arena shows go, this will struggle to be topped.
Arcade Fire's fifth album - last year's 'Everything Now' - saw the band hit a strange crossroads. Following the disco-heavy, huge 'Reflektor', it saw the band ditch their overwhelmingly sincere, passionate brand of indie-rock for something drenched in irony. Complete with a bizarre, saturated marketing campaign, it seemed to sit at odds with the band's back catalogue to date - a catalogue that made them one of the biggest, most critically-acclaimed bands in the world.
In the minutes preceding the band's arrival on stage for the second of their three nights at the cavernous Wembley Arena, the corporate schtick is out in full force; fake adverts for fidget spinners and 'Electric Blue' eyedrops adorn the panoramic screens on their boxing ring-style 360 stage, and when the band finally do appear, it's via a path made in the crowd, announced as if they're taking to the ring for a world heavyweight championship bout - it's grand, outrageous, and pretty hilarious too.
When the six-piece (plus added session players and long-time violinist Sarah Neufeld) do make it into the ring though, all 'Everything Now'-related facades fade away and Arcade Fire return to what they've always been: a passionate, connected, compelling live band.
'Everything Now"s title track - greeted as a classic - is followed seamlessly by 'Funeral' highlight 'Rebellion (Lies)', still thrown out with every ounce of gusto that it was back in 2004, with Will Butler galloping around (and at some points off) the stage, battering a drum like his life depends on it. It's followed by 'Reflektor' highlight and disco-drenched stomper 'Here Comes The Night Time', and the stage becomes a revolving circus; drummer Jeremy Gara sits in the middle, spun around at intervals, while his bandmates circle around him from song to song. The 360 stage is utilised perfectly, with no corner or section of the arena feeling shut off from the action.
'Everything Now' tracks are thrown out sparingly across the set - 'Put Your Money On Me' is an ABBA-esque bop, thrown out side-by-side with the glitzy 'Electric Blue' - and feel far more harmonious alongside their older counterparts than they do on record, before 'Neon Bible' tracks 'No Cars Go' (a rousing, furious singalong) and 'Ocean Of Noise' (a slinky mid-album cut that sees the crowd ordered to get their phone lights out) flow into 'Funeral' highlight 'Neighborhood #1 (Tunnels)' without a hitch.
As stage production goes, the 'Infinite Content' tour is constantly compelling; the still-gorgeous, Blondie-esque shine of 'Sprawl II (Mountains Beyond Mountain)' is greeted by an equally glittery outfit change from Régine Chassagne and a flood of light off two adjacent, enormous glitterballs, while encore track 'We Don't Deserve Love' sees Win Butler clambering through the crowd to a raised platform, gathering adoration with every step and amping up the community feel of the show even more. The boundaries between crowd and audience - especially at an arena show - have never been more blurred.
When Arcade Fire stumbled unknowingly into becoming an arena band on the tour for 2010's 'The Suburbs', they pulled it off purely because of their unwavering passion and draw as performers, a crazed rabble pouring every ounce of energy into every single note. The production took a while to follow them, though, and tonight it truly arrives: Arcade Fire have never needed flash visual accompaniments or added pomp in order to connect with an audience, but when the two are brought together tonight, it elevates their show to being one of the best in the world.
Jarvis Cocker joins the band onstage for a run through 'Cunts Are Still Running The World', a song dedicated by the Pulp legend "to everyone outside this room", before they finish on 'Wake Up' a track that feels as enormous tonight as it did on first listen over a decade ago, a truly uniting hammerblow.
The band leave as they came, through the crowd and leading a singalong to David Bowie's 'Rebel Rebel'. As the audience file out, Win and co can still be heard in the distance, running through verse after verse and dishing out high fives to everyone they see as they reach the arena's far end. It sounds like they could play all night. While 'Everything Now' saw an Arcade Fire feeling disconnected from the world and from their audience, tonight shows them to have never been closer. As arena shows go, this will struggle to be topped.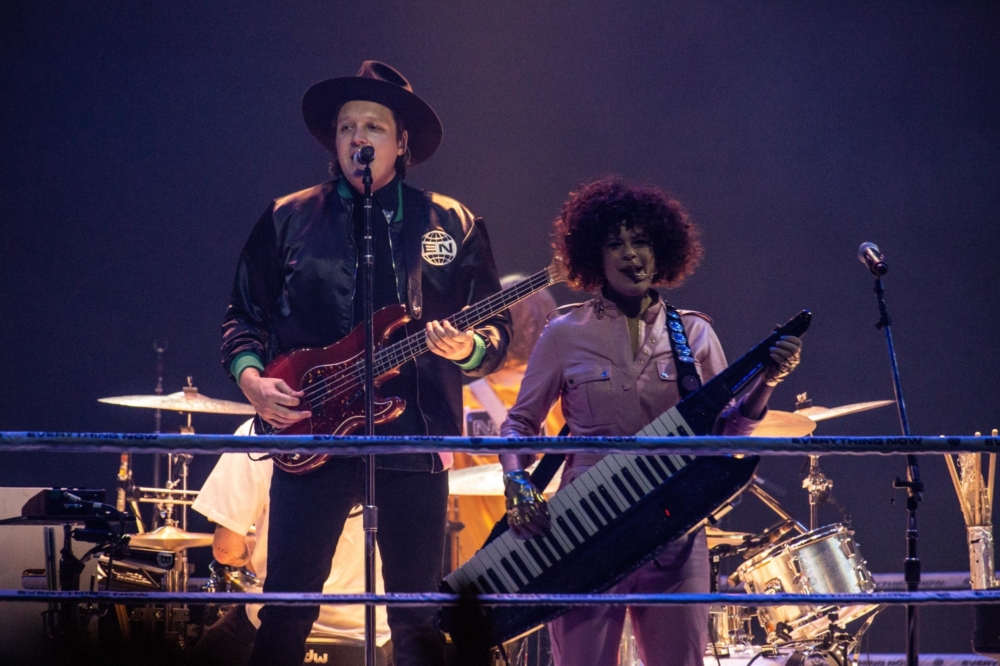 Photos: Emma Swann / DIY

Get your copy of the latest issue