Festivals
The Big Moon, Superfood, Yowl and more bring the noise for Jager Curtain Call at All Points East
Lady Bird, LIFE, Sports Team and Sweaty Palms also took to the Jagerhaus for our DIY-curated day at the festival.
Last year, DIY teamed up with Jager Curtain Call to curate a full day of musical treats on the Jagerhaus stage at Bestival. This year, it's the turn of new East London weekender All Points East, and as hordes of lads mill around to the sounds of Catfish and the Bottlemen outside, we've got a little pocket of, if not solace, then at least a decent whack of raucous good times to be found by way of an antidote. Unsurprisingly, it's packed all day.
Kicking off proceedings with the flamboyance and theatricality of a Glastonbury headliner rather than a 2pm opener, Sports Team are a gloriously grandiose proposition from start to finish. Spinning witty yarns of quintessentially British surburbia, they're part Pulp faded glamour, part Pavement slackerisms, all served up in a playfully tongue-in-cheek package. In frontman Alex Rice, they've got a natural born show off and he's all the better for it; prancing and posturing around the stage, regularly splaying his arms in a fully Christ-like crucifix manner, he's an obvious proponent of the 'dance like someone's definitely watching' school of thought. They are, and they bloody love it.
Glasgow's Sweaty Palms (one of this year's Curtain Call focus bands – watch this space) follow, with a set that channels the murkier end of South London's finest. Like a deliciously scummy Fat Whites from the north, their particular family's clearly been raised on a diet of Buckfast and cigarettes; by the end, they're all fully tops off (or should that be taaaps aahf), and howling into the night.
Kent boys Lady Bird might only be one EP into their still fledgling careers but, judging by today's ravenous crowd, there's already a mighty appetite for their short, sharp stabs of social commentary. With a circle pit throughout and the crowd even singing back as-yet-unreleased tracks, the trio return the energy with gusto, spitting out cuts from said EP 'Social Potions' with vein-popping intensity. "They're like The Streets on speed," we overhear one excitable crowd member yell. It's not far off.
LIFE are next, and though singer Mez Green's references to hometown Hull
might be a fair way away from their origins, the quartet's politically conscious punk resonates as strongly in the capital as in the North. Now gearing up towards the beginnings of LP2, they've got a couple of newies in their arsenal to pepper debut 'Popular Music"s wired blasts. Recent single 'Grown Up' is a rallying battle cry, while another fresh offering hints that they've got the darker side of the indie dancefloor in mind.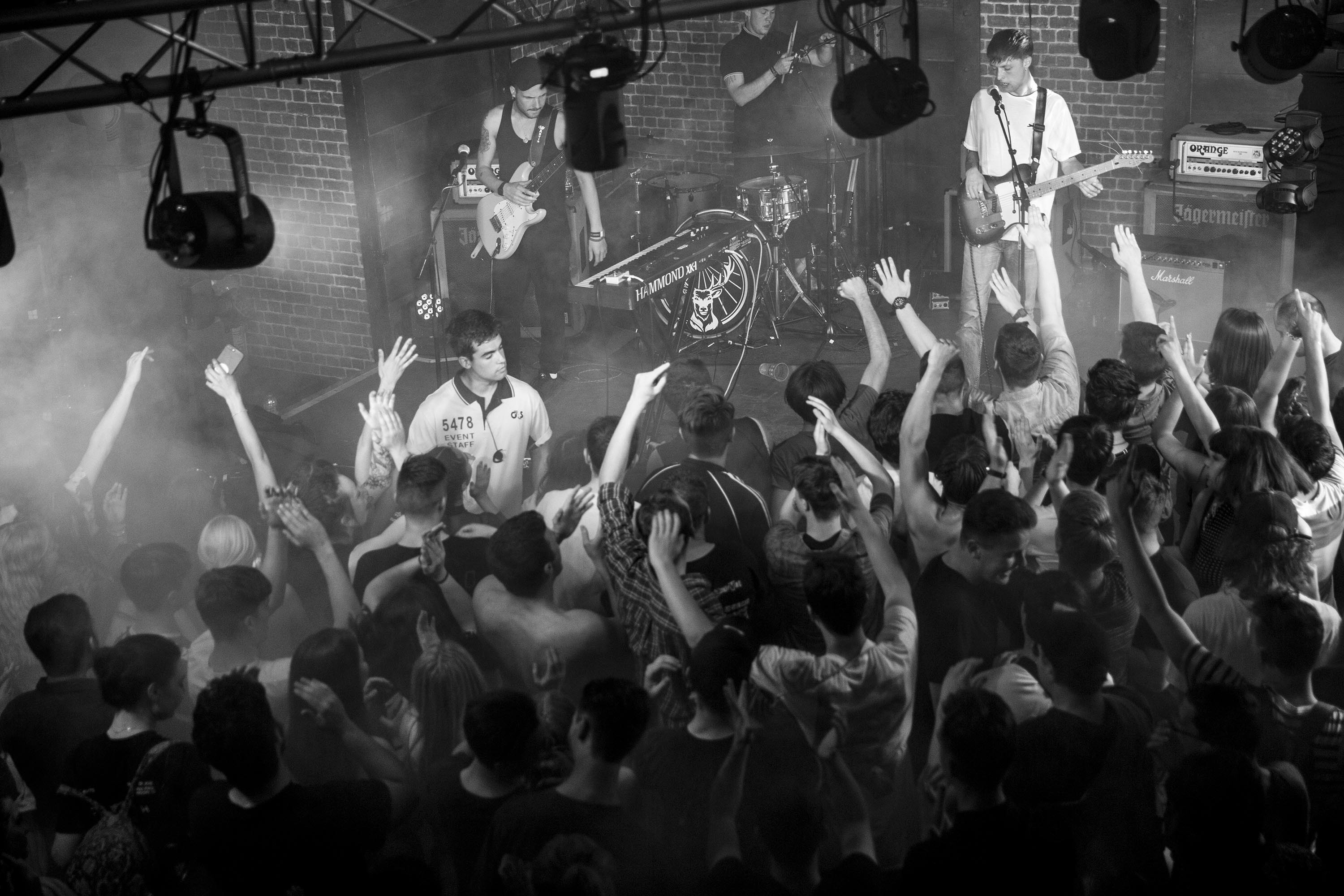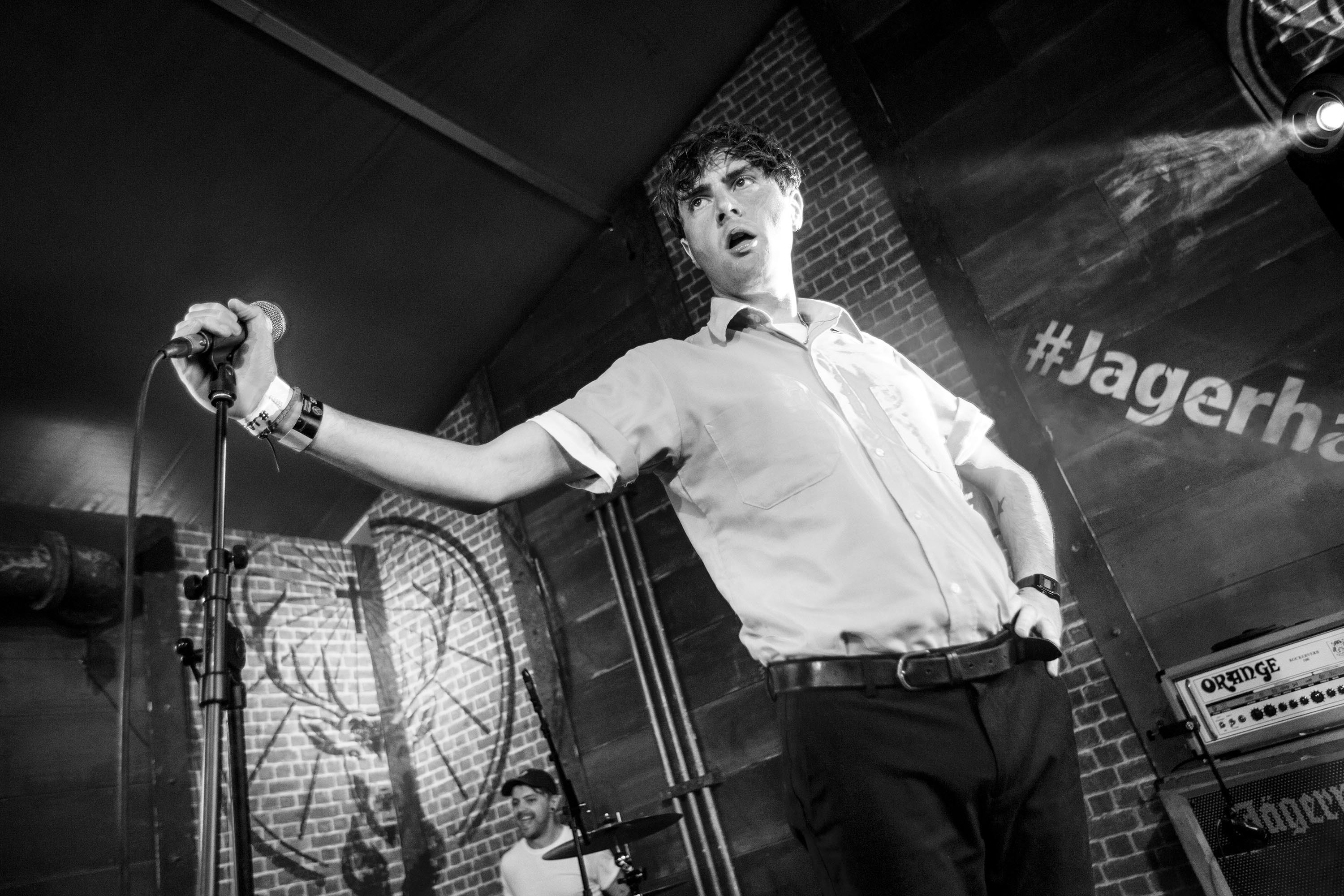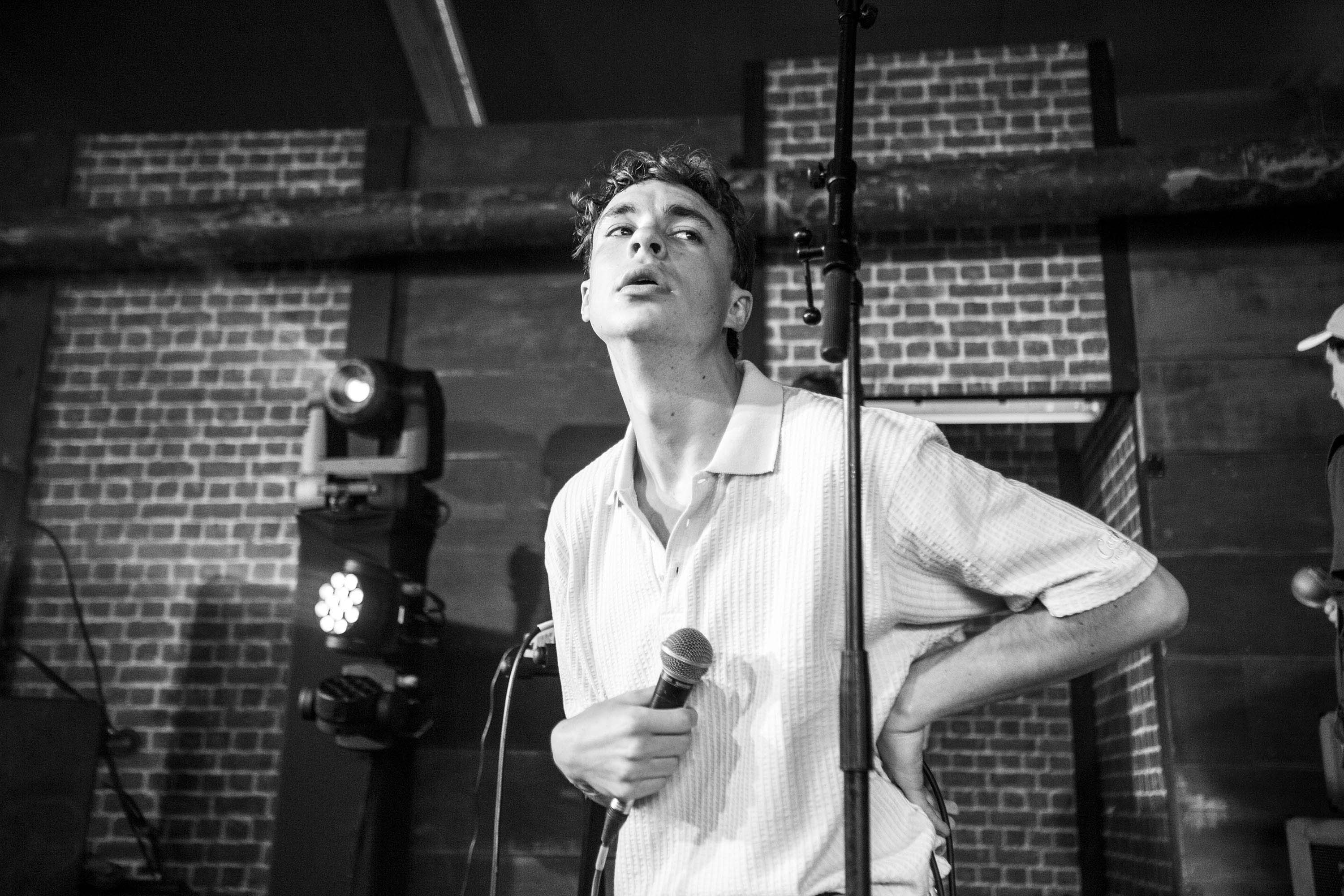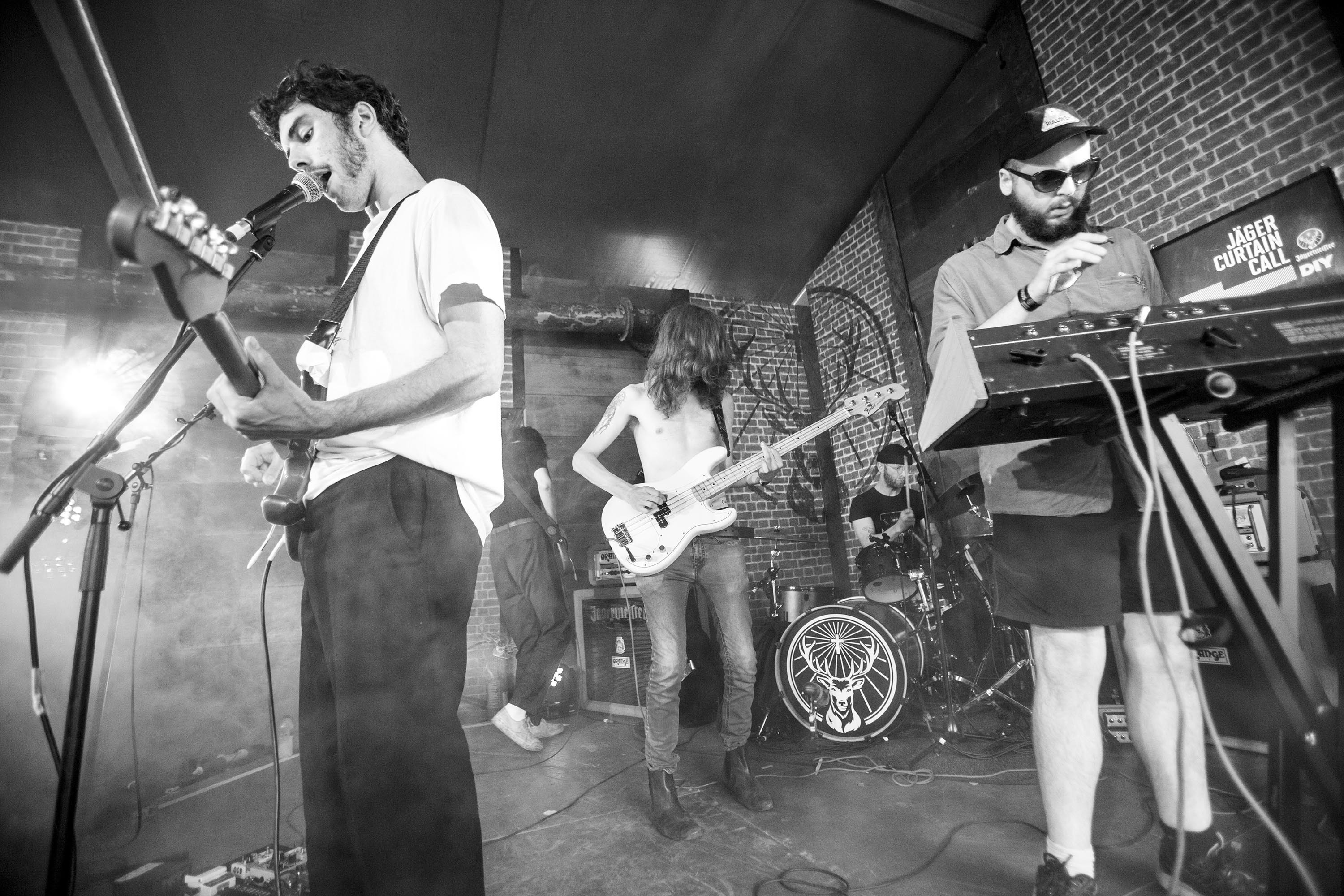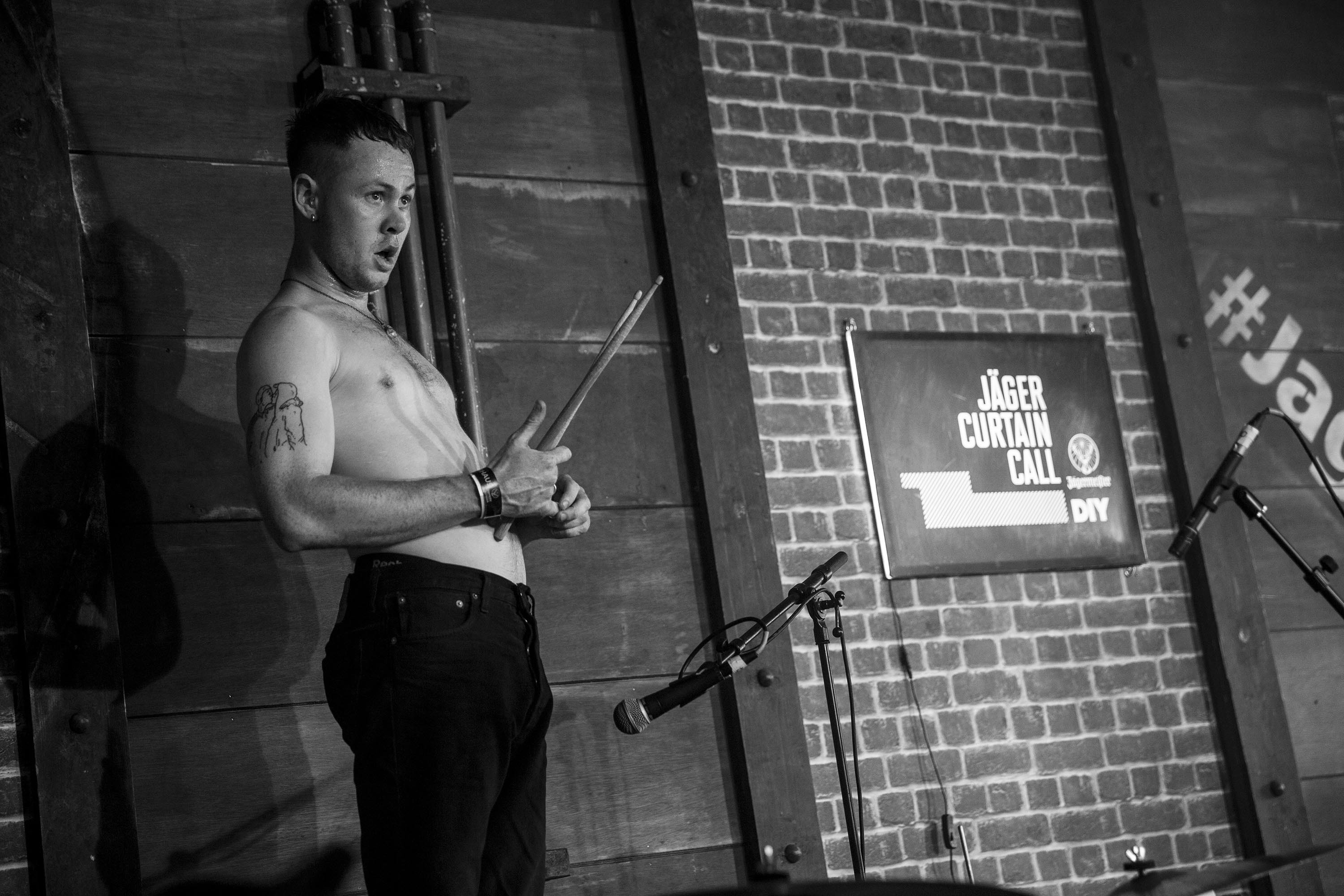 Onwards to Yowl, who follow the previous night's sold out homecoming headline with a set that proves exactly why people are queuing up at the door for the South Londoners right now. If the dirgy, dirty earlier moves of 'My Headache Likes To Speak' and 'Saturday Drag' set the quintet up as natural peers of the area's current crop, then the band have spent the last six months proving that they're a far more varied and curious bunch than mere angry young men. 'Warm (In The Soft White Fire Of Modern Living)' is a wonky, twinkly thing, while frontman Gabriel Byrde splits his time between aggressively lurching around the crowd and melancholically lamenting his own internal monologue. Yowl continue to grow more intriguing by the day.
With the stage packed and a queue snaking down the field, Superfood need no introduction today. With second LP 'Bambino' now all grown up and in its second year of festivals, there are no lulls in energy or unknown newies to be found; instead, Dom Ganderton and Ryan Malcolm lead their band through a short, succinct set of summer jams, cherry-picking the feel-good hits from a career that's already full of them. The sample-led strut of 'Where's The Bass Amp?' is still as infectious as on first listen, while a final run through of their eponymous anthem 'Superfood' concludes proceedings all too soon.
It's left to The Big Moon to close out the stage, and if there's a more joyous way to end a day then we're yet to find it. Forever an effervescent bundle of grab-your-pals good times, as headliners they ramp the vibes up to bursting. Throwing out a cover of Bonnie Tyler's karaoke classic 'Total Eclipse Of The Heart' midway through a set that's basically one big sing-along already, Jules, Soph, Celia and Fern are the merry pied pipers of their own feel-good indie tribe. You'd have to be the biggest buzzkill of them all to deny this lot.