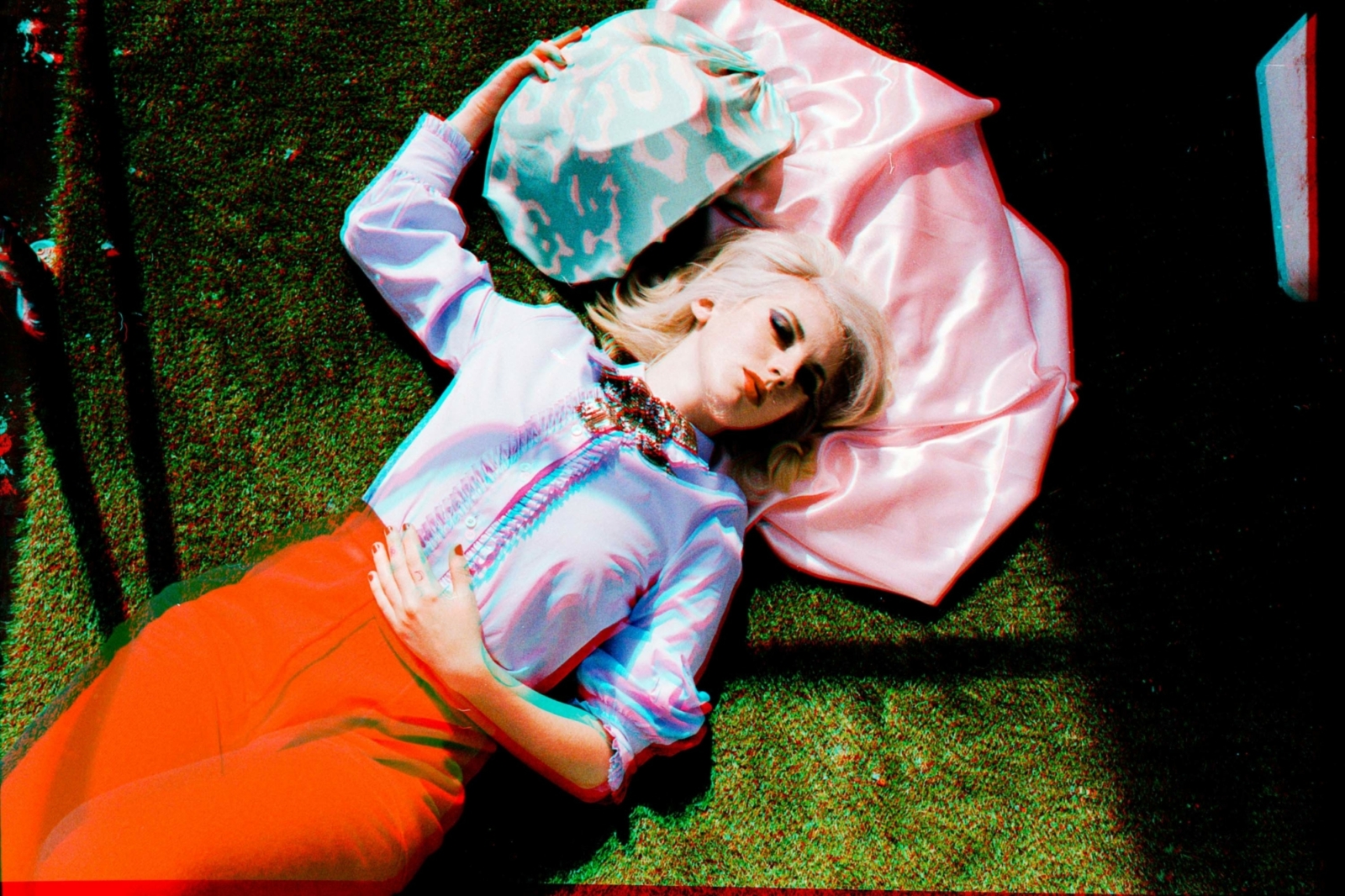 Daydream Believers: Black Honey
Coming four years and four EPs since they arrived on the scene in a haze of attention-grabbing mystique, is Black Honey's debut album worth the wait? Well, we put them on the bloody cover didn't we…
Ever since Izzy B. Phillips was young, she's suffered from vivid nightmares. Often so bad she'd spend entire restless evenings awake, the lack of sleep would then cause her to hallucinate. "My dream-space is a really vivid experience for me," she accepts now, sitting cross-legged in her childhood bedroom in Crawley – a space filled to the brim with dressing-up box-esque piles of clothes, books, pictures and general treasure trove ephemera.
Eventually, doctors suggested that she should start to keep a journal, documenting the figures her overactive imagination conjured up. Finding that it helped clear the clutter of her mind, she continued the practice. Now, she's got an entire shelf full of them; she's currently filling up number 43. And though the idea ostensibly began as a logical solution to a problem, it led to a much bigger discovery. "I realised there was a direct correlation between creating something and me coping with my own existence," she continues. And so it began.
These days, though the exercise remains the same, the contents of those entries has changed dramatically. Instead of the crude, dark drawings that populated those first books (and trust us, some of them are genuinely quite harrowing), nowadays Izzy's journals are filled with rambling diary entries scribbled from the back of a tour bus. Though they might still just be "normal person dramas", they're dramas taken from a world that's becoming increasingly less normal by the day. And as Izzy, guitarist Chris Ostler, bassist Tommy Taylor and drummer Tom Dewhurst gear up for the long-awaited release of Black Honey's self-titled debut, things aren't likely to get any more average, any time soon. But first, let's rewind a little.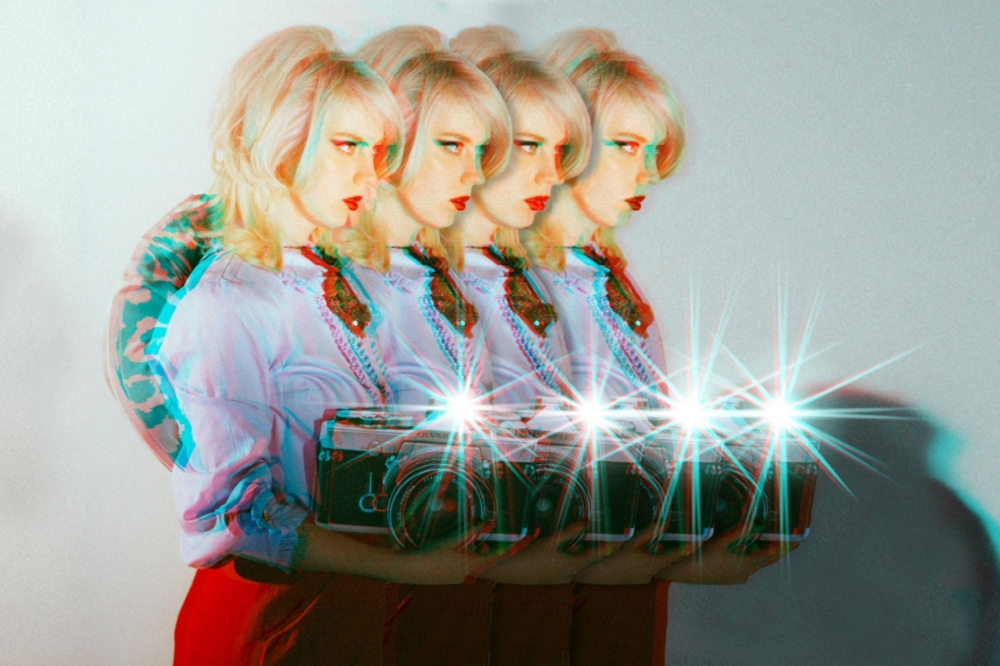 "
Building a family of reprobates is what I want from a band, and I can't think of a band that does it better than Black Honey.
— Izzy B. Phillips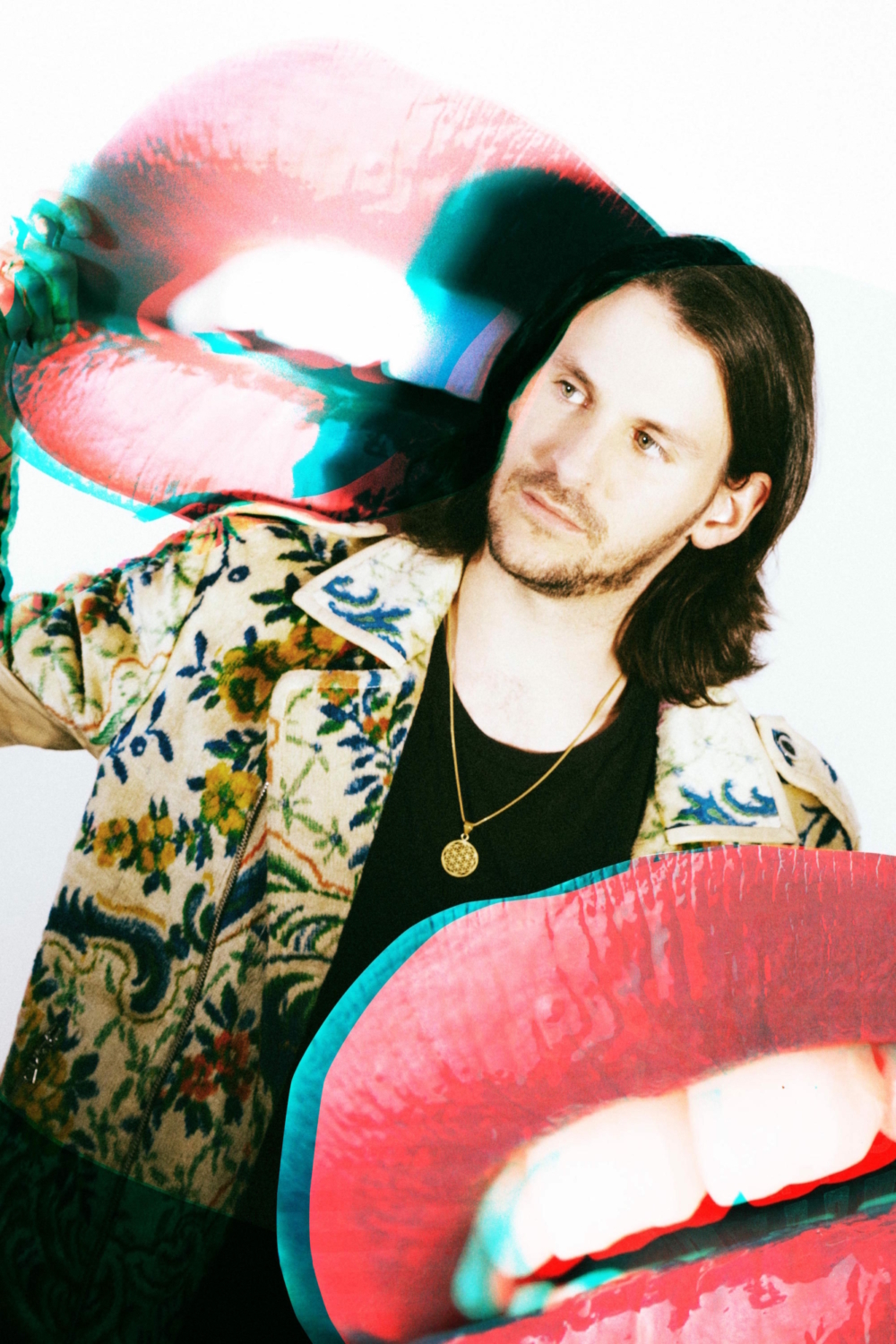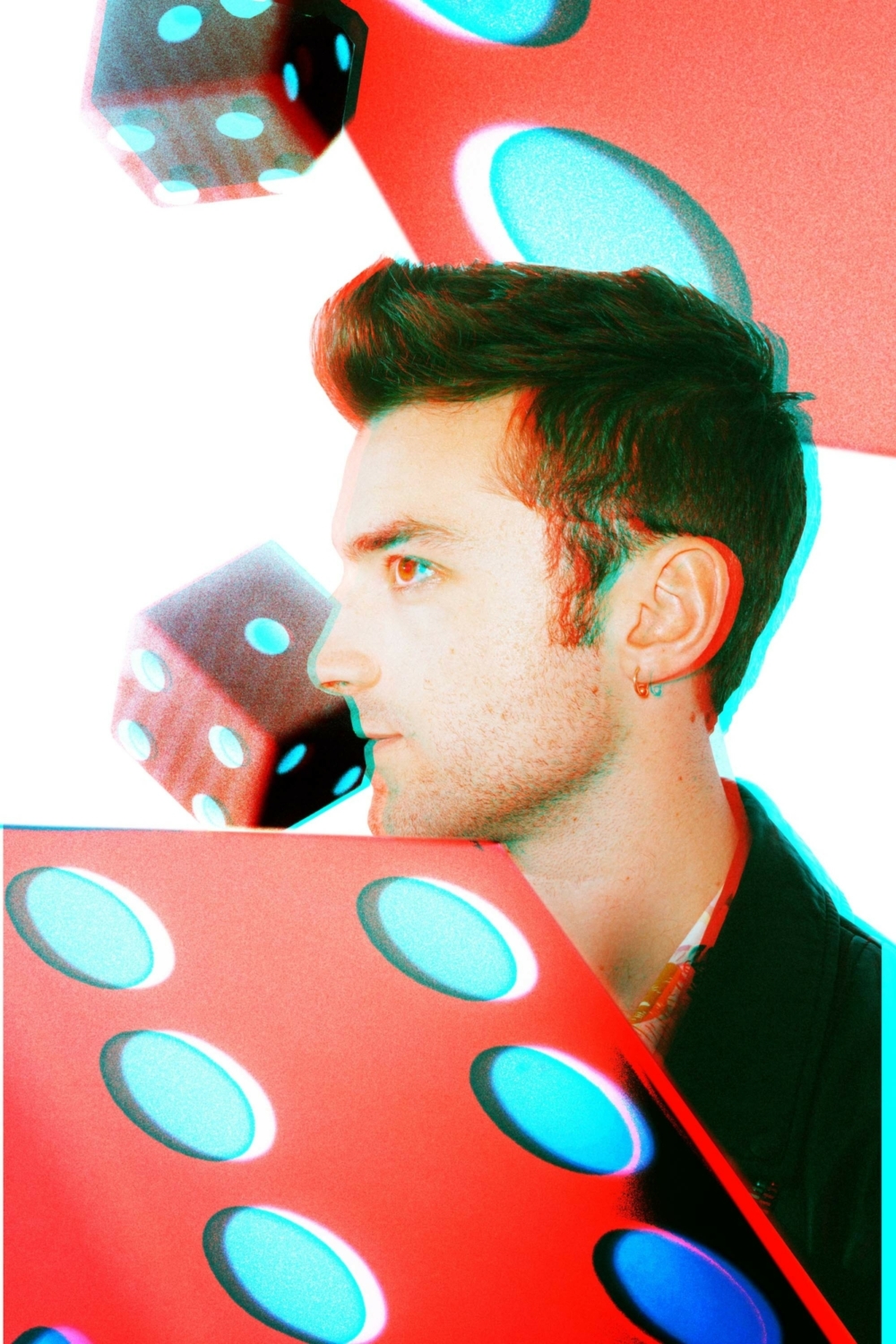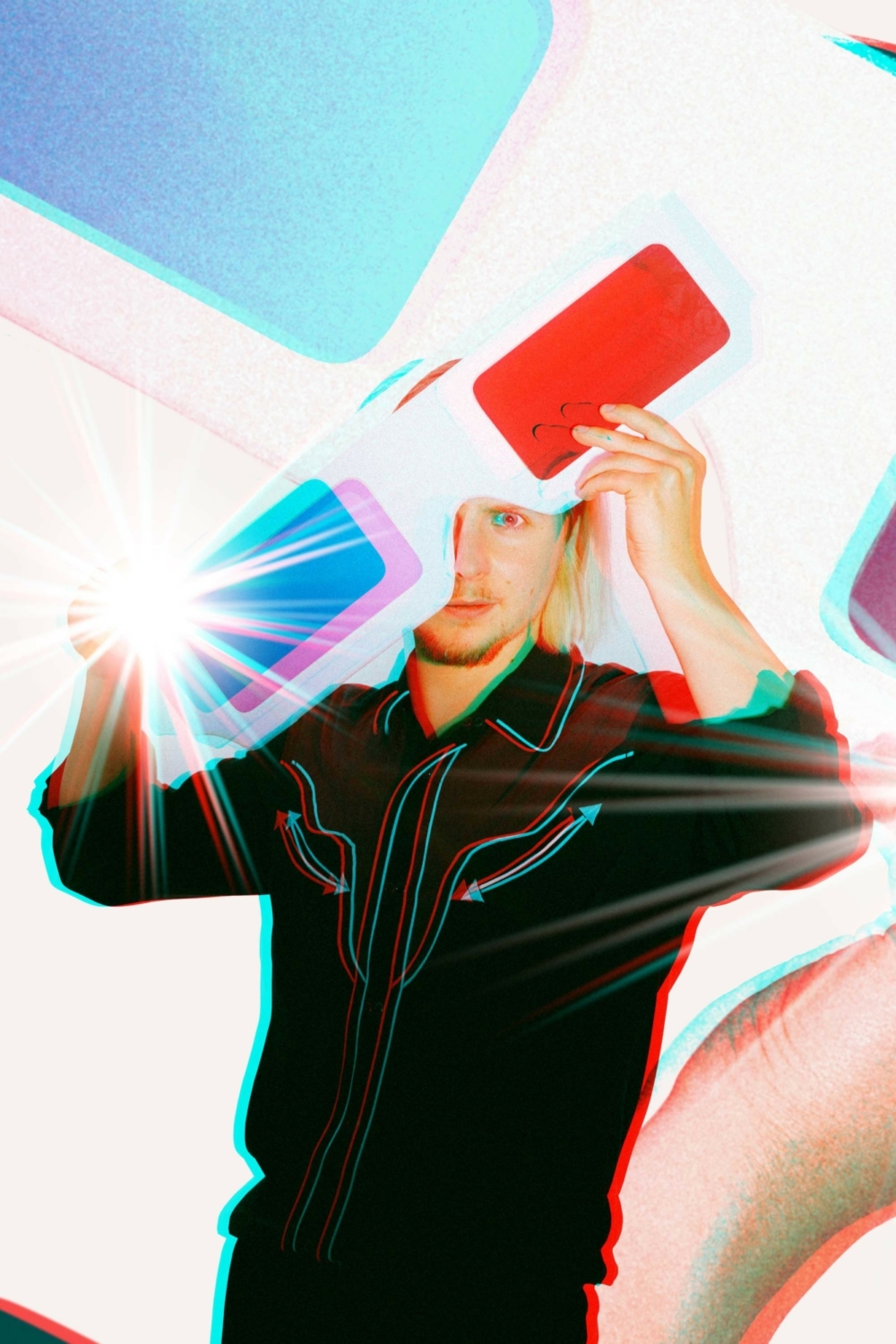 When Black Honey first appeared back in 2014 with debut track 'Sleep Forever', cloaked in an aura of mystery yet exuding an intoxicating sense of cinematic drama and fantastical escapism, the quartet seemed like they'd arrived fully formed. Posting a dial-in, direct access hotline number in lieu of a traditional press release and offering up alluring artwork filled with pastel hues and vintage collages, their introduction was remarkably self-assured for a brand new band. Except, of course, they weren't. "It felt like all of the growing pains and the mistakes and the identity [issues] had already happened," explains Chris, as we join the rest of the band in one of their favourite Brighton boozers for the second stop of our cross-town Honey tour. "We knew what we wanted to be and we knew where we were going, so we made the new band and it all just fell into place because we'd already done the experiments."

Those experiments had actually begun several years earlier, in relatively unassuming fashion. Izzy and Chris met at uni. Izzy enjoyed the fact that Chris had professed to wanting to be the next Matt Bellamy ("It was such a fucking whack-job thing to say after one lesson, but I really liked the ambition of it"). Chris originally thought that Izzy was "a bit of a dick". Eventually they found their wavelength and started writing together. Soon Tommy joined, originally playing drums. Alongside a string of never-quite-right bass players, they started making music, first under the truly terrible moniker What's Your Vice?, and then as the substantially better Kill Moon. At some point between the two, Tommy switched to bass and they recruited his housemate Tom on drums.

Gigging relentlessly around Brighton and making small inroads outside of their city, they knew the line-up was right but things still weren't clicking into place. "We were about to give that up. I remember doing the gig where we met our agent and manager and we didn't give a shit at that point," remembers Tommy. "We were all wearing sunglasses indoors and were completely smashed," adds Tom. "Everyone said, there's something about you but your identity's not coming through," Izzy recalls. "They said, go and study how you brand it. So we went away and were literally in Tom's room with the cheetah from our artwork, brainstorming name ideas. I originally said Honeyblood, but that was already a band. Black Honey spoke to us, because it was bittersweet, light and dark, beautiful but iconic with the history of Black Sabbath and Black Rebel Motorcycle Club and 'A Taste of Honey' and everything that we loved about rock'n'roll." And so they drew a line in the sand, kept the songs that had already started to subconsciously go down this new route and upped their game. Welcome, Black Honey.


"
The ambition's always been there but now we feel like it's closer.
— Chris Ostler
If it's the kind of origin story that could sound calculated from some bands, then from this lot it strangely makes sense. Never one to shy away from being endearingly extra, the world that Izzy's created for her and her bandmates is one that's meticulously curated. Cribbed from the great and good of pop culture past, it's filled to the brim with loving reference points and playful twists on old tropes. A happy accident, it most certainly is not.
Back in the singer's bedroom, she's waxing lyrical on the iconic status of cheeseburgers (bear with us...) "Cheeseburgers are iconic because they're so fucking weird but people are obsessed with them," she muses. "I like that they're an emblem of the fast food chain; it feels Pop Art. I got obsessed with hotdogs for the same reason." Iconic is a word that keeps popping up today. These fast food emblems: iconic. The Milky Bar Kid? Iconic. Earlier, while mixing up an actually-quite-impressive cocktail, she sends us out to look in her garage. In it, among the detritus of Black Honey paraphernalia (busted TVs; an unholy amount of merch; you know the drill), is a life-size pink coffin. "It'll be iconic," she grins. "£300 for a glamorous death? Bargain."
The natural conclusion, you sense, is the hope that Black Honey too will wind up stamped with that brush. It's not an entirely ridiculous idea. "There's a really good phrase in this book called 'The Art Of Theft' that basically says, if something's been said before, say it again. It's the idea that all art is theft," she continues. "I used to really offend myself saying that I needed to create something so original, but you can't pluck originality out of thin air. In that book they speak a lot about your creative genetic parents, so I would say mine are Andy Warhol and Kurt Cobain, or Blondie and the Milky Bar Kid." All iconic, let it be noted, but also all pulling from different directions. And if it takes balls to really understand, accept and harness the lineage of where you've come from, then it takes bigger ones to ride that trail through to your own new terrain.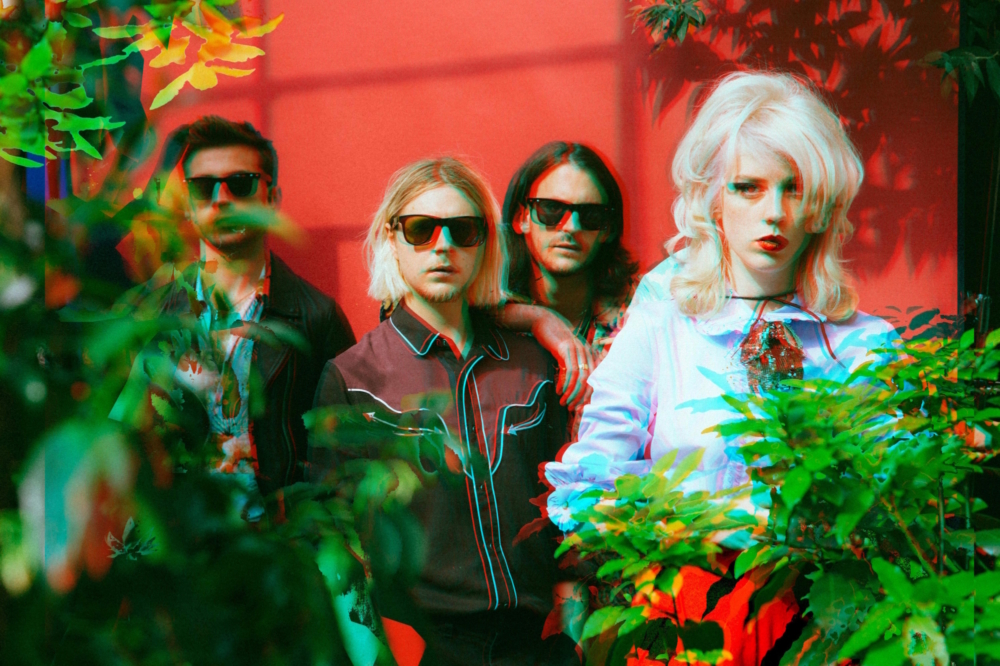 "
We made a Frankenstein's monster!
— Izzy B. Phillips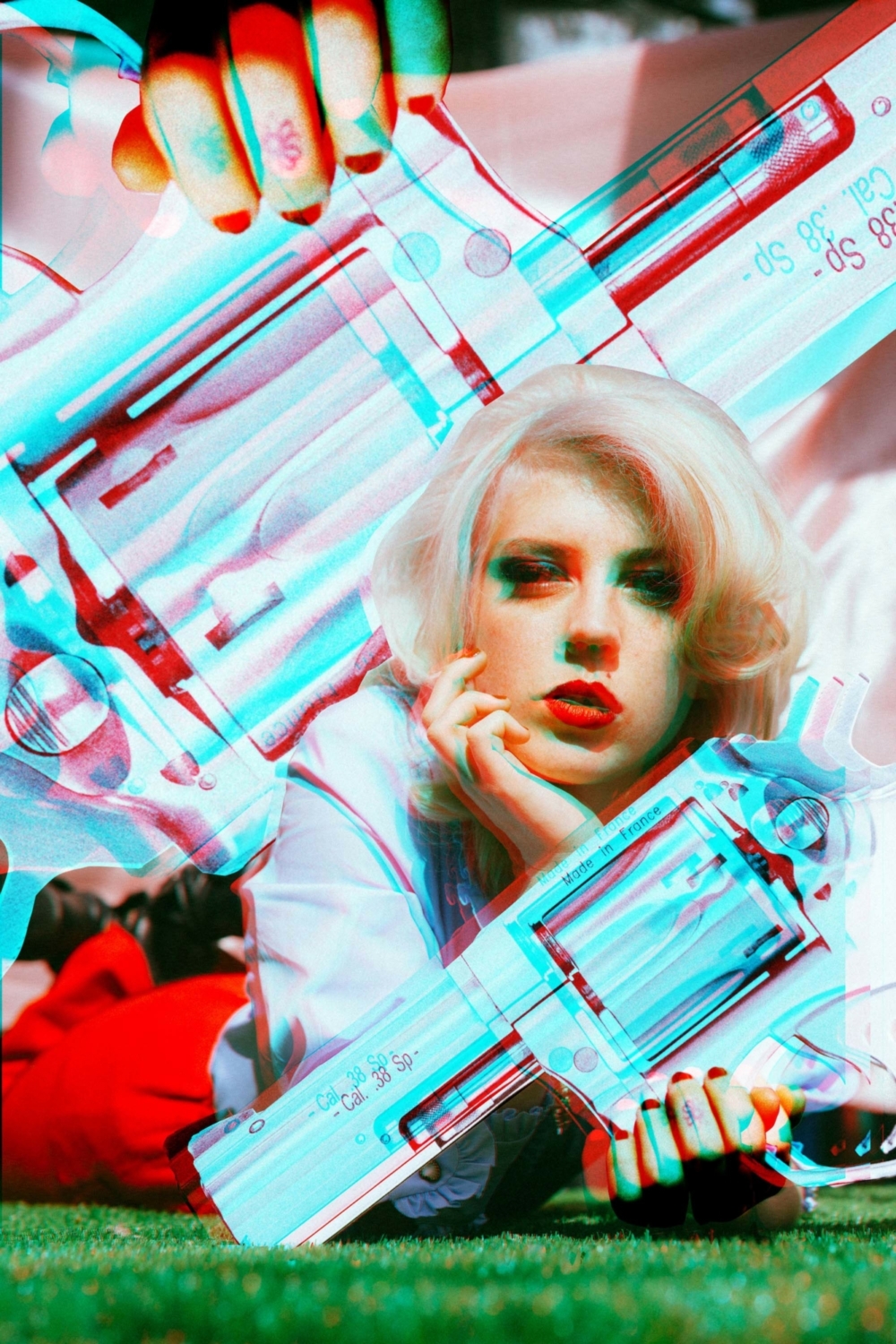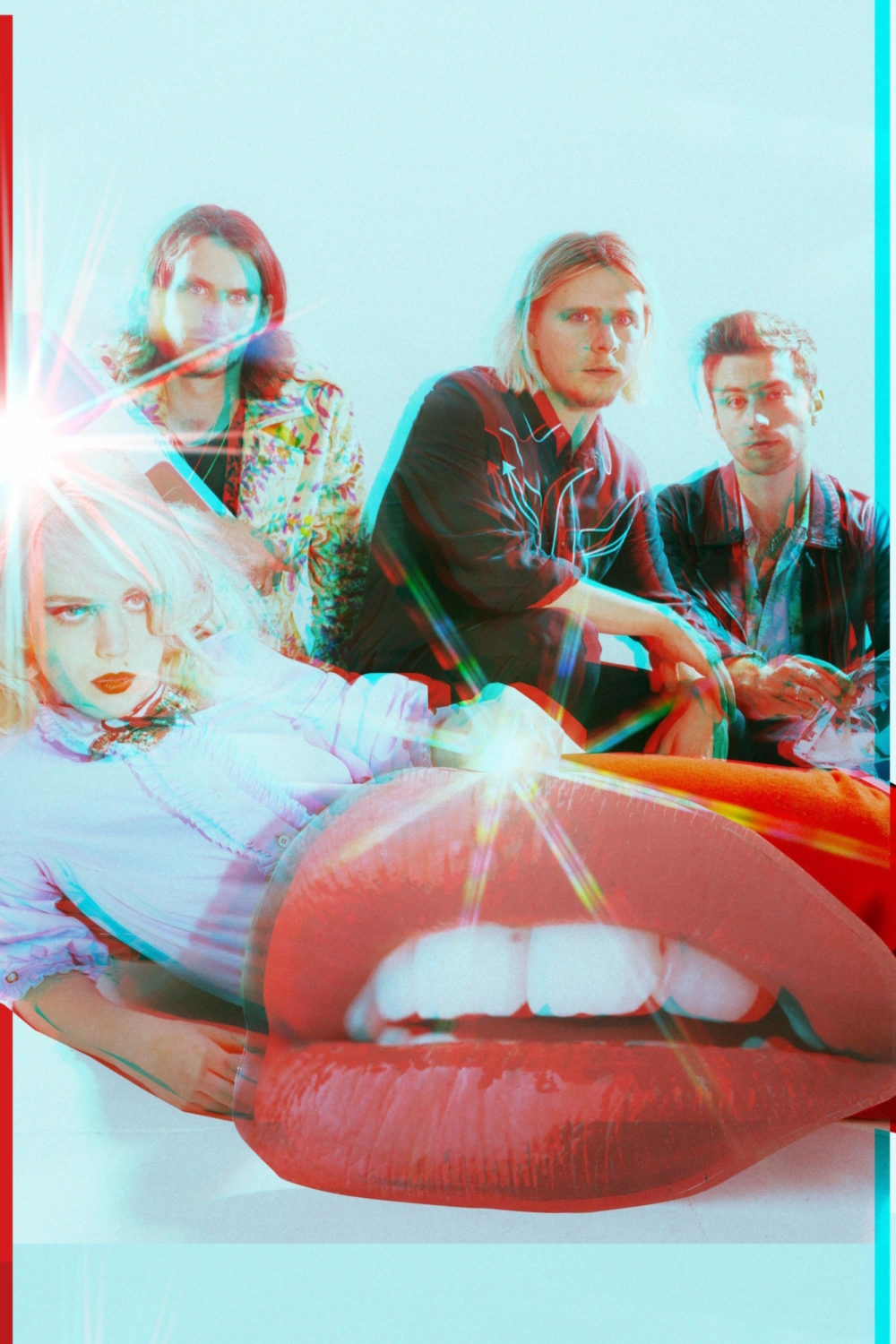 Cut back to the pub (come on, keep up…) and if there's an idea that crops up as often as icons, then it's that of the band as a gang. Though it's understandable why people might regard Black Honey as a one-woman operation - and, let's face it, no-one at this table would disagree that it's Izzy steering the ship - there's a dynamic within the quartet that quietly confirms that all the pieces are as important as each other. "Our relationship as friends is almost more or as important as the actual art that we're creating," she says. Izzy might be the wide-eyed dreamer, but without the presence of the three boys (Tommy, the deadpan realist; Tom, the affable pragmatist; Chris, the perky, excitable midway point between them all) there'd be no posts to tether these ideas to. More than just grounding foils though, they're also just a fun bunch of humans, the four of them. It's why when people sign up to The Bad Black Honey Club (a concept that's fast turning into a real-life fan community), they're not just pledging allegiance to an escapist ideal but to the tangible, important relationship at the heart of it. "Building a family of reprobates is what I want from a band, and I can't think of a band that does it better than Black Honey for me," Izzy impassions. "There's something so powerful about a group of friends who are unbeatable. You can worry about your insecurities until the cows come home, but if you're on stage with your best fucking friends having your fucking moment, there's no feeling in the world like that."

"Tom has this family house in the arse-end of Normandy and I never feel more like a band than when we go out there and record songs in the day, and then someone will cook and we'll play Scrabble and get drunk," she continues. "I think for all of us," picks up Tom, "the best times have been sitting in there, getting lost in being a band and being artists and in that world. You have two weeks of that, where there's just you in a room, and then when you go on the road it comes across."

Now, however, it's not just on the road where all of these ingredients are set to merge. As well as playing word games and getting pissed, Black Honey's French sojourns have also helped yield something larger – a debut record that takes all their early promise and explodes it out into bigger, bolder and more ambitious terrain than even they may have originally expected. See, though the interim years may have seen their peers race ahead of them in terms of release dates, they've discovered that there's merit to playing the long game. "I think when we came out, if we'd have been snapped up by some big fancy label, we could have put an album out straight away and it would have been a collection of stuff that we'd put out haphazardly and at the time we would have jumped at it," Tommy admits. "But the way it's worked out, it's forced us to think things through and [now the record is] a work in itself."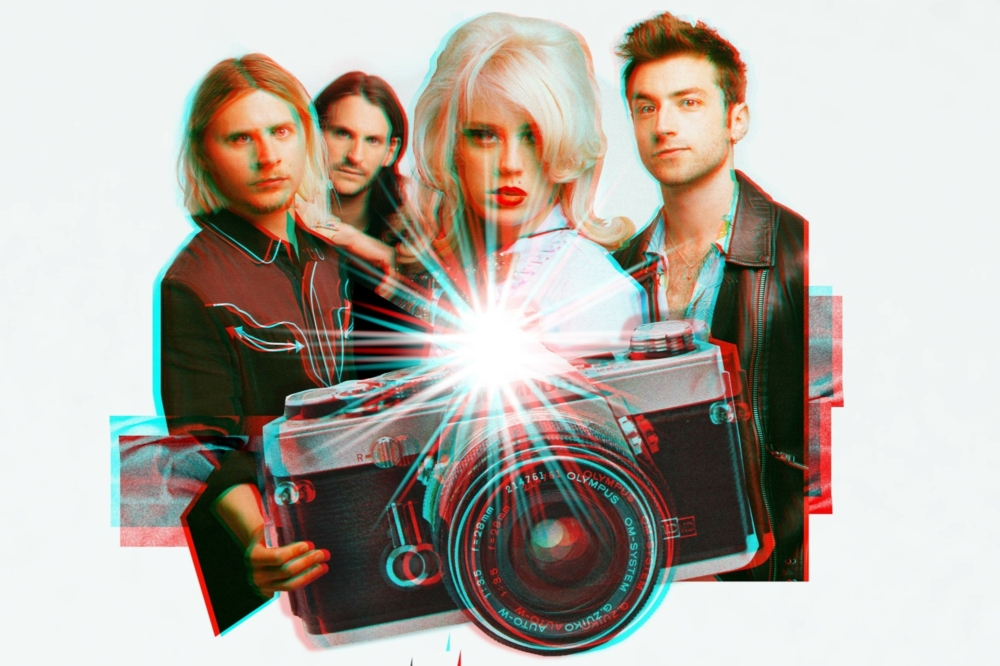 "
You can't pluck originality out of thin air.
— Izzy B. Phillips
Influenced by the size and scale of the increasingly massive stages they found themselves on as part of a huge, game-changing European tour with Brighton buds Royal Blood, Black Honey returned to the UK with fire under their bellies. "It closed the gap in our brain, that tour," explains Chris. "The goal has always been to have the best career in music that we can, but doing that made it way more attainable and closer to our reality. It rubbed off on us and I think our mindset's been different since then. The ambition's always been there but we believe we can achieve it a lot more. Now we feel like it's closer." Having spent two months watching their old pals walk out and slay arenas every night, the quartet realised their ambitions were perhaps starting to outgrow the metrics they'd always been subconsciously working within. They weren't the only ones thinking it, either. "Our management said to us that they knew we had a pop song in there," nods Izzy. "They sat us down last year and said, what you're writing is really cool but what happens if Black Honey tries to write something bigger?"

If the initial question posed something of a lightbulb moment for the band, then the corresponding answer proved a more time-consuming one. In true Black Honey style, the quartet set about their new mission with an admirable work ethic, studying pop music, conducting a series of "dogshit experiments" with new sounds and beats and generally casting aside their old parameters in favour of a try-anything mentality. Eventually, it began to yield fruit. "It's a recalibration of perspective - starting to look at the pop thing and then thinking, how do we fit into that?" Izzy begins. "Pop is the goal. But if you take a band that's grown up in a rock world and stretch the muscle as far as you can, then something magical happens. We made a Frankenstein's monster!" Tom summarises: "The album is that sweet spot of us challenging ourselves as far as we can but still being ourselves to a point that we think is now bang on."


You'll have heard the first taster of Black Honey mk II in the form of recent track 'Bad Friends'. Instead of the swooning headrush of old single 'Corrine' or the spaghetti western twangs of 'Spinning Wheel' (both absent from the album, alongside most of their already-released material), it landed with a grinding throb – part badass Charli XCX pop, part industrial iciness. Next up, the band are preparing to release 'Midnight' – already a new live set standout and easily the most sparkling, unashamedly radio-friendly moment of their career to date. "'Midnight' to me is Saturday Night Fever mixed with Tarantino, with Justice remixing it and Abba top-lining it, with a John Bonham fill," notes Izzy. Translated, it's simply a fucking massive disco banger.


"
It's about being a villain, not a victim; it's about taking your pain and [owning it].
— Izzy B. Phillips
The most telling hint as to Black Honey's new big-screen thinking, however, comes in their choice of producer. Rather than a classic big-shot indie type, the band opted to work with Emre Ramazanoglu – these days acclaimed for his work across various genres, but coming from a background originally rooted in hip hop. "The eclecticism of hip hop was the main point; how it, as a genre, cherrypicks from everything and how we collage our art from a songwriting perspective [is quite similar]," explains Izzy. "It's about multi-sourcing."

And, while 'Black Honey' veers off in different sonic directions at every turn, taking this eclectic, curious approach and applying it to big pop numbers, sassy indie stompers and sweeping love songs in the same breath, there's never any question as to who the band are at the centre of it all. Having whittled and honed their patchwork of influences into one of the most fully-formed, intoxicating and immediately-identifiable packages of any new band out there, now they can put it all to work in whichever way they want.

The golden thread that links it all? Izzy, of course, has a theory. "It's about being a villain, not a victim; it's about taking your pain and [owning it]. Black Honey is escapism at the end of the day, but it's rooted in reality. It's rooted in your experience in your day-to-day world. I don't believe I live in a peachy palm tree universe, but my that's my way of coping," she affirms. "If you're asking what I want from a rock star or a pop star, then I don't want Britney that's clean cut, I want Britney that's being a nightmare. For every high I've had in my life, I've had ten times the sadness, the heartbreak, the torture and self hate. But who wants to be a fucking victim? If you're a villain, then you're the trophy from your own life."

Iconic.


'Black Honey' is out 21st September.