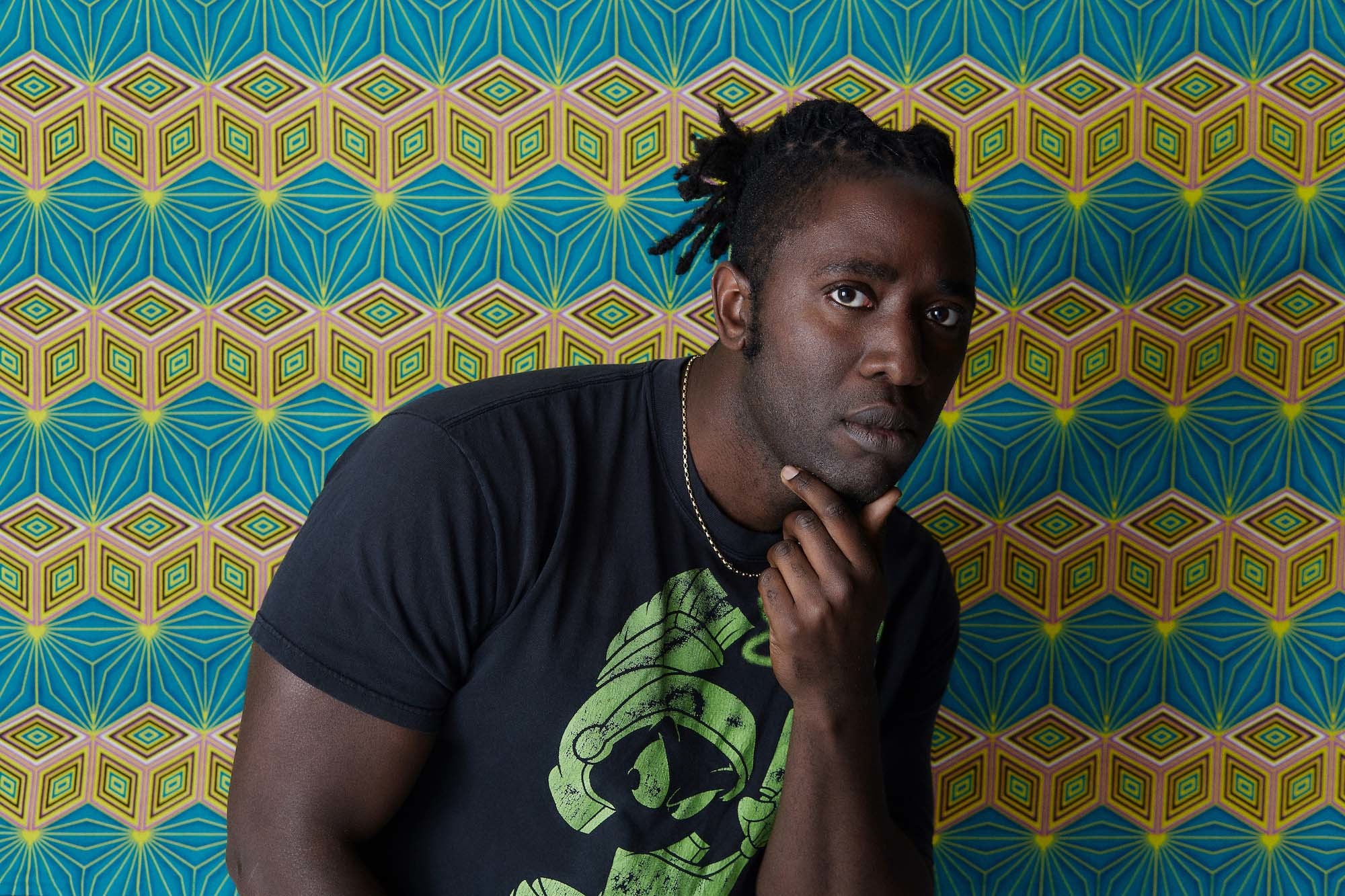 Photo: Asia Werbel
Interview
Party For One: Kele Okereke
Following a recent foray back with the old gang, Bloc Party frontman Kele Okereke is returning with new solo album '2042' - a searing look at race, identity and culpability.
Kele Okereke exists in a world of quiet chaos. He is preparing for a trip to LA to meet his second surrogate child, the builders are round, and there is nowhere in his house where he can get decent reception. Dinner is in the oven, and his parents are about to walk through the door. Creative ideas are flitting about his brain, slotting into their relative folders: Bloc Party; Solo; Miscellaneous. Life, as he puts it, is good.
"A big thing in my life is balance. I'm a Libra, so traditionally, I tend to have two different perspectives at one time to feel fulfilled," he explains. "With that in mind, it made perfect sense to me to be out touring [Bloc Party's debut] 'Silent Alarm' while at the same time working on the new, something that is an antithesis."
Said "antithesis" is Kele's fourth solo effort, '2042'. A celebration of Black-British identity, it subverts the far-right criticism of growing multicultural communities and turns it into something beautiful, addressing the ugliness of racialised society while sharing the nuances of his own Nigeria-meets-London upbringing. What results is the perfect clash of cultures, infused with a bouncy energy that recalls his first band's earliest work.
"I was listening to a lot of different things – a lot of West African afrobeats, Yemi Alade, Mr Eazi, Wizkid. I was listening to a lot of T.Rex as well; I've become slightly obsessed with Marc Bolan and watching his interviews," he continues. "There's something kind of mystical that I glean from watching him and listening to him speak, and the references in his music. As much as the record is quite beat orientated, I was keen for it to have this almost kind of glam rock strut, which I think we really achieved on songs like 'Between Me And My Maker' and 'Cyril's Blood'."
Kanye West's 'My Beautiful Dark Twisted Fantasy' was also a big influence. "For me, that record has a very playful messing of genres, which was something I really wanted to get across with this record - a definite playfulness and a confidence," he explains. "I can't overstate the fact that I am a massive fan of his and have been since 'The College Dropout' – referencing him in my music isn't an attempt to start beef, it's just a sense of heartbreak over what happened with him last year."
Whispers of said beef stem from '2042''s lead single 'Jungle Bunny', a confrontational take on the higher echelons of black celebrity who close their eyes to the realities of racism. In it, Kele details police brutality and racial profiling, with a critical spot saved for a certain man who goes "home to your house in Calabasas / And your wife and your kids safe in the knowledge / On a gated street where life is sweet / But no one looks like you." At face value, it seems like a direct dig at Kanye, but the singer says the message goes way deeper, recalling everyone from OJ Simpson to A$AP Rocky, whose comments on the redundancy of the Black Lives Matter movement seem somewhat ironic considering his recent jail stint.
"It seems like the most arrogant delusion when black entertainers feel they're above talking about race."
"I feel like that attitude is something we've seen quite a lot recently with African-American entertainers. Race has actively played a factor in how A$AP Rocky was treated: I wonder if his attitude to the community has changed," he ponders. "It just seems like a delusion really, the most arrogant delusion when black entertainers feel like they are above ideas of talking about race. Have I ever felt that I was above discussions of race in my work? I mean… I don't think so. That's not who I am.
"I grew up in a West African household, where my parents were immigrants - my domestic world was very different to the world I encountered when I left my house and went to school. So with all the success and the fame and the money I have encountered over the years, there was never a sense that I was leaving my roots behind. I'm proud of where I've come from and the lessons my parents have taught me about identity. It was never an option for me to bypass that."
In a world where progressive conversations about race, sexuality and gender are slowly becoming more commonplace, it's easy to underestimate just how revolutionary Kele and Bloc Party were at the turn of the century. 2006's 'A Weekend In The City' tackled terrorism and racialised stabbings, homosexuality and hedonism, all delivered through a palatable medium of infectious indie that felt as at home on a dancefloor as it did in a lecture hall. A rare black man in a predominantly white space, his approach to songwriting was a bold one, slipping important conversations into everyday consciousness. Nobody else really did what they did, but it never seemed like a choice - Kele simply had too much that he needed to say.
"I feel like I couldn't personally live with myself as a black artist if I didn't articulate what I was seeing," he explains. "I felt, certainly with 'A Weekend In The City', that I was maybe trying to cram too much in. So with [2008 follow-up] 'Intimacy', I was afforded a certain amount of luxury in space, being able to fashion an idea and live with it and see what the music afforded. That changed the songwriting process for me, and it's been something I've flirted with over the course of the albums since. With '2042', there were certainly some lyrical phrases that I wanted to capture but I was conscious that it all needed to work musically. There was a lot of rewriting, but I think I achieved a happy balance."
Again, we return to the idea of balance. Splitting his time between making a new Bloc Party record, scoring another musical (to follow January's Leave To Remain, a show about interracial gay marriage), and already demoing the follow-ups to '2042', Kele is also about to welcome great change in his personal life. "Another baby is coming at the start of October, so I think there's a certain amount of getting ideas off the ground before my world is turned upside down again," he says. "I've had to learn to be super disciplined – previously I could spend all day and all night working on music, but now I have to be super focused on working in times where I'm not with Savannah [his first-born]. In terms of what I'm singing about, I feel like that has changed too. There is a sense that as an artist and a human being, I need to assert what being black and British means to me, and by extension what that will mean to my children." It's a noble intention, but there's no denying that we live in bleak times - does he worry about the world that he's bringing them up in?
"It's my responsibility as the non-white parent to prepare them for that - a world in which, right now, the most powerful man in the world is a racist, and the Prime Minister in our country is a racist, and an unapologetic one at that," Kele explains. "That's where this album has come from - trying to create a sense of black Britishness that isn't reductive and isn't just a caricature of what the white masses feel that being black is about. I don't claim to have the monopoly on the black experience and I wouldn't want anybody to think that, but I do have a perspective and I do have a voice. I feel like I have to put this out there in the most unapologetic way possible. It's what we need: we need more stories."
'2042' is out 8th November via KOLA.