Album Review
Mush - 3D Routine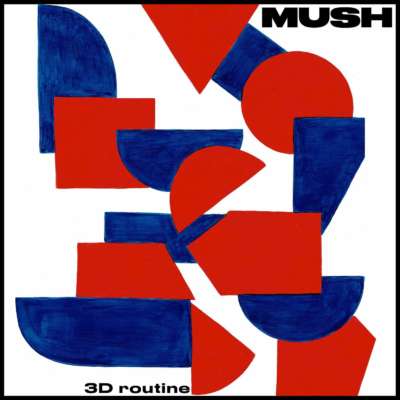 As debuts go, this is an impressive mission statement.
Label: Memphis Industries
Released: 14th February 2020
Mush have already carved out a reputation for eschewing compromise, between their chaotic early live shows and the fact the Leeds group made their breakthrough when the nine-minute 'Alternative Facts' was heavily rotated by Marc Riley on 6 Music. It closes proceedings on '3D Routine', but before that, we're taken on a deeply idiosyncratic rollercoaster that slaloms through styles; they sound like a weirder Pavement one minute on 'Existential Dread' and 'Coronation Chicken', and then suddenly veer off towards crunching, Tom Morello-esque riffery on 'Fruits of the Happening'. The title track, meanwhile, is at once groovy and impressionistic, bringing in flecks of brass as the guitars duel, whilst 'Eat the Etiquette' and 'No Signal in the Paddock' take a loose approach to traditional time signatures. A quick scan of the track listing suggests a steep political bent to '3D Routine' - 'Island Mentality', 'Poverty Pornography', the decidedly-forthright 'Hey Gammon Head' - but Dan Hyndman's lyricism is sufficiently oblique that repeat runs are necessary to get a genuine sense of Mush's approach to the skewering of the ruling class. Like the rest of '3D Routine', it's very much designed in their own image - as debuts go, this is an impressive mission statement.
More like this