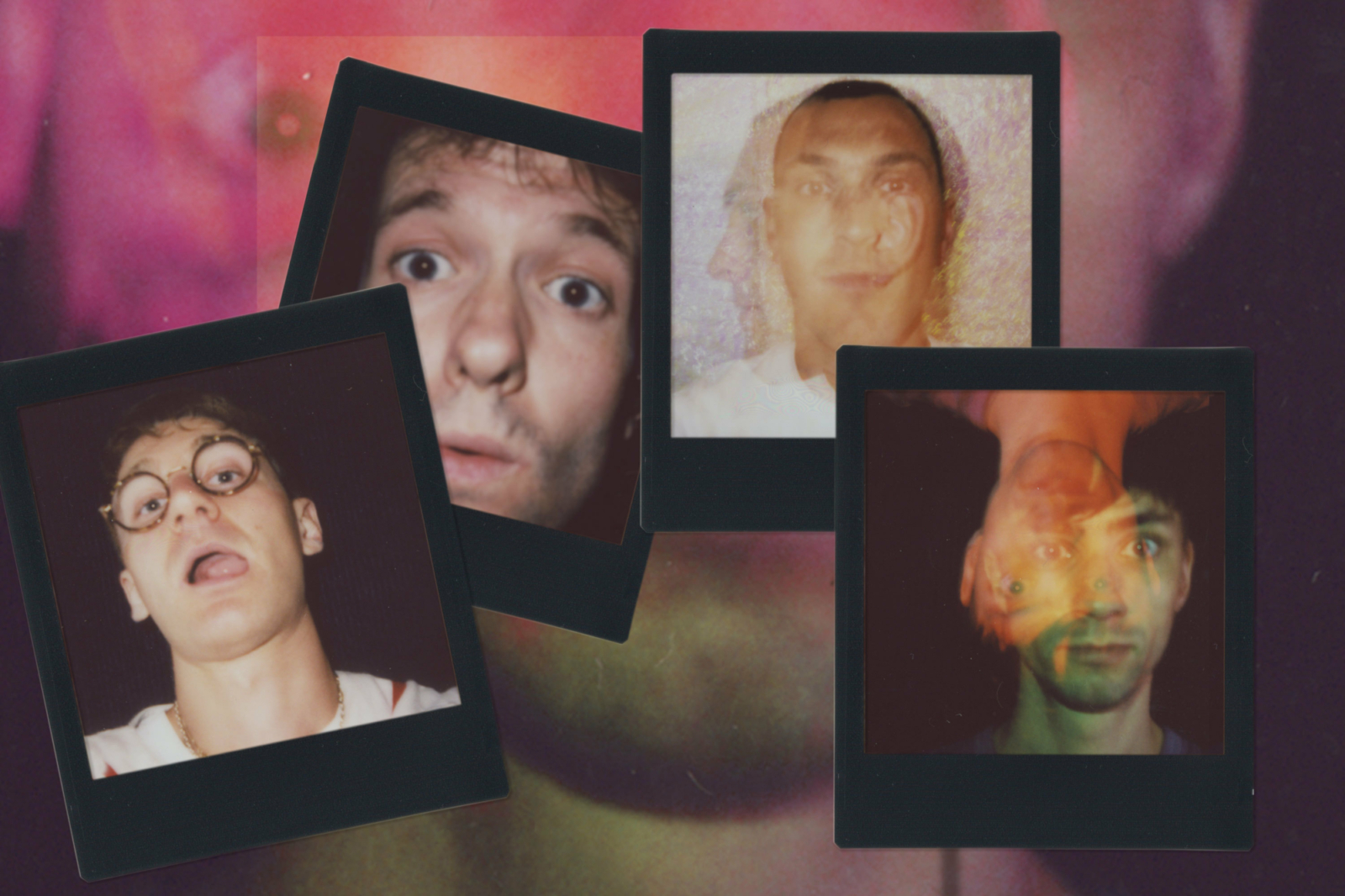 Youth in Revolt: Glass Animals
'Dreamland' could have been Dave Bayley's existential crisis album. Instead, Glass Animals' latest is an exercise in the power of positivity.
"There are a few moments in life where you'll always remember exactly where you were and what was going on, like 9/11. This was one of those moments," reflects Dave Bayley.
In July 2018 Glass Animals were riding high off the back of their Mercury-nominated second album 'How to Be a Human Being'. Having completed relentless tours across the USA, Europe, South America and Australia, the Oxford band were set for a full summer of festivals, with a series of XL shows marking a final victory lap at the end of the year. But then tragedy struck. Drummer Joe Seaward was hit by a lorry while riding his bike in Dublin, suffering a severely broken leg, a fractured skull and brain damage.
"You know how bleak the prognosis is when you see something like that," he continues, describing the bloody scene he witnessed at the hospital. "He's my best friend. I've known him for like, 15 years. The future looked really fucking doomed. And [without Seaward] I was pretty aware that Glass Animals might be gone, too."
But only two years after that catastrophic event, Glass Animals are returning with an album distinguished not by its vulnerability, but by its strength of character. 'Dreamland' is a record that displays a remarkable sense of maturity; written during a period of deep, personal reflection, it feels starkly intimate at times. And yet, despite its often-heavy lyrical themes, it feels alive with the same kind of vibrant, genre-mashing energy that made the band such a crossover sensation in the first place.
Joe's recovery wasn't straightforward, admits the singer, speaking over Zoom from his studio in East London. "I don't know how much you ever really recover from something like that. It was a really traumatic injury. He can run and drum again, and they're the two things he loved doing the most. But it was really fucking bad." And so, having put the band on pause during Seaward's rehabilitation, Bayley's return to Glass Animals required a change of perspective.
Songs from the band's previous release were built around characters they had met on the road (taxi drivers, stoners, and other colourful personalities). But, off the back of a life-changing event, the singer was forced to look inwards for what would become his first purely "autobiographical" album. "The accident was definitely a trigger to write more personal things," he explains. "I wasn't out meeting anybody, I wasn't making new memories, and I wasn't out doing fun stuff with friends. In a hospital you see a lot of relationships reforming through people sharing sad stories and memories of their loved ones. Families come together who may not have spoken to each other in years, and it gets you thinking about your family and friends, and the weird things that have happened.
"I started looking back into my own memory because even if some of those memories are dark, or weird, or sad, that's where you find your comforts. There's still a bit of comfort in the fact that somehow you survived that, and it's OK."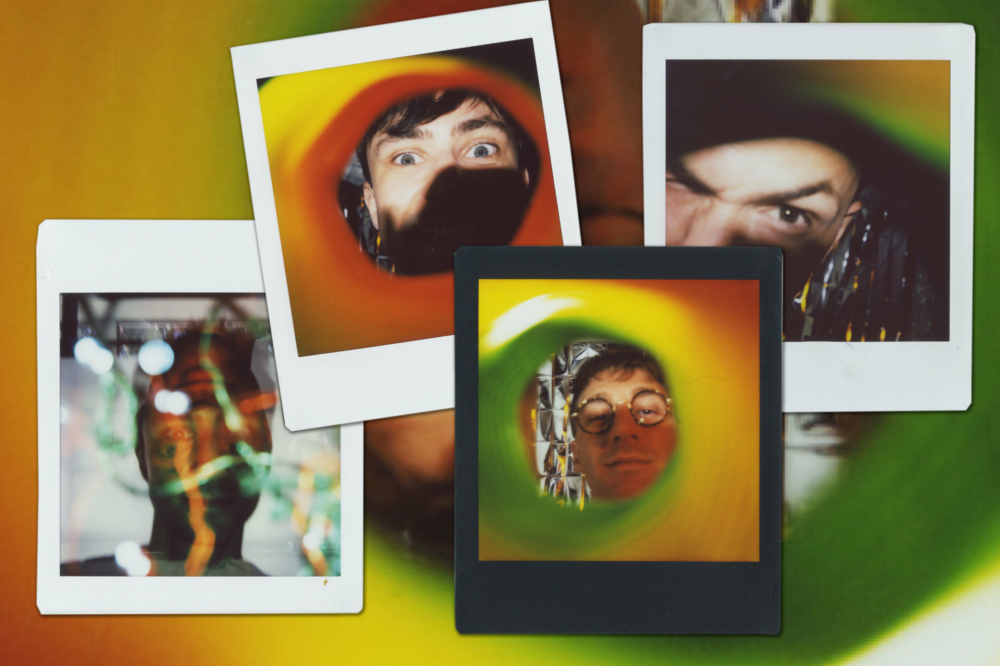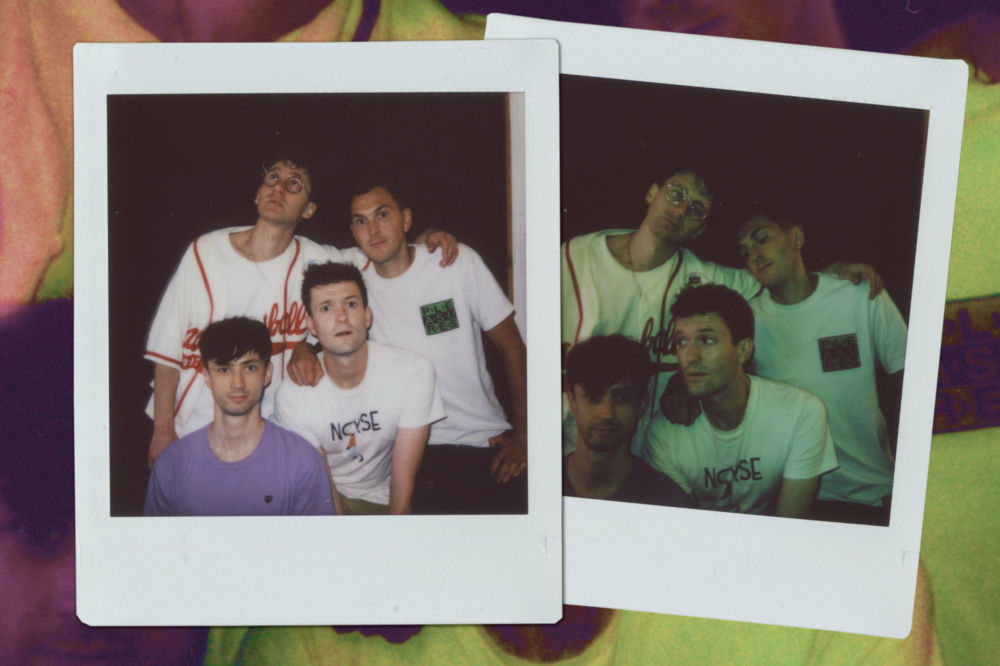 "
You start off in life as this naive piece of marble, and people slowly chip away. Eventually whatever kind of weird, misshapen thing that is left is you.
— Dave Bayley
Joe Seaward: from A&E to the PRC
Joe didn't know if he'd be able to play music again after his accident, so when the band finally hit the road in November 2019, it was a moment of triumph for the drummer. On a day off in Beijing, the band celebrated in style:
"We had time to do one thing, so we went to the Great Wall of China," says Dave. "You can get a toboggan down the Great Wall and it is rapid."
"They were on a metal track, but they flew down the mountain," adds Joe. "But I was just loving being back on the road with my friends. Standing on the Great Wall - whatever has happened in your life - is just a moment."
Inspired by the dismissive remarks of his childhood teacher Mrs Brooks ("Wake up, Dave, you're in dreamland again!"), Glass Animals' latest captures and reflects on some of Bayley's earliest memories as a child growing up in Texas. It chronicles pivotal moments of his life, chartering a course that leads right up to his present-day standing as the creative heart of the band, and hip hop's unlikely collaborator du jour.

The titular opening track is described as a "table of contents" for all that follows. A twinkling melody evokes the image of a child playing with toys, while an obscured vocal hook seems to call out from the depths of a foggy old memory. The bedroom pop feel hints at a young, naive ambition, but then the rich, hi-fi sheen elsewhere on the record feels glossy and contemporary. Combined, these two styles of production signpost the breadth of the journey chronicled within.

The album is chock full of playful melodies and pre-school sounds, harking back to Bayley's formative years. Take the bubbly synth refrain and xylophonic chimes of 'Hot Sugar', or the sweetly naive fantasy of two bickering pieces of fruit on 'Melon and the Coconut'. And then there's the endless pop culture references that litter almost every song: The Karate Kid, GI Joe dolls, '90s video games like Doom and Quake. The album is anchored, meanwhile, by Bayley's mother's voice - a recurring presence through a series of interludes ripped from home videos.

"Through all the ups and downs, the weird and confusing shit, she was always there to stabilise things," says Dave. In this context, these audio snippets feel like a kind of hand-holding device that guides the listener through the childhood traumas and heavier subtexts that appear elsewhere.

Songs like 'Helium' and 'Heat Waves' explore past relationships with a heavy heart, while the brooding lament of 'It's All So Incredibly Loud' peaks as Bayley repeatedly cries "I'm breaking down". But the album's darkest moments go even deeper. "I feel like I've gone really far into all the problems, torn all the plasters off, and those wounds are just there, all bloody, and that's it," he explains. Sometimes it's liberating, but at other moments it's more about acknowledging that "things are pretty fucked up".

Having eagerly walked DIY through the tools and toys that line his studio (including a Mellotron, a "Beatles bass" and a Super Nintendo), when the frontman begins to talk about album track 'Space Ghost Coast to Coast' his energy notably changes. He rests his hands on his head as he rocks on his chair, looking up at the ceiling pensively.

"It's about a friend of mine who I was really close with growing up. I moved to England eventually, and we lost touch. And then…" Bayley hesitates. "And then they tried to do a school shooting. He brought a gun to school and it's just like… How can someone change that much? How can someone who was so kind do something so horrific?"

It's not the only song that delves into difficult places. 'Domestic Bliss' is, as Bayley tells it, based on one of his earliest memories - one that had a huge unconscious effect on his life, even though he was only a small child when he witnessed it. "My friend's mum used to pick me up from school and we'd drive to where they lived. It was a weird place - dogs in cages and stuff - but you don't understand it that age," he begins. "She'd go inside, and we'd hear shouting coming from inside the trailer. Half an hour later she'd come out crying, blood on her nose. I remember just thinking that something incredibly awful was happening, and we should get the hell out of there."

As much as they're essential to his story, the singer's upbringing, he's keen to emphasise, was not defined by these events. It's a "flip-flop" record, he says. "I can never really tell [if it's happy or sad], but I do think that overall it is optimistic." And there's a tangible narrative submerged in 'Dreamland' that does feel like something of a great success story.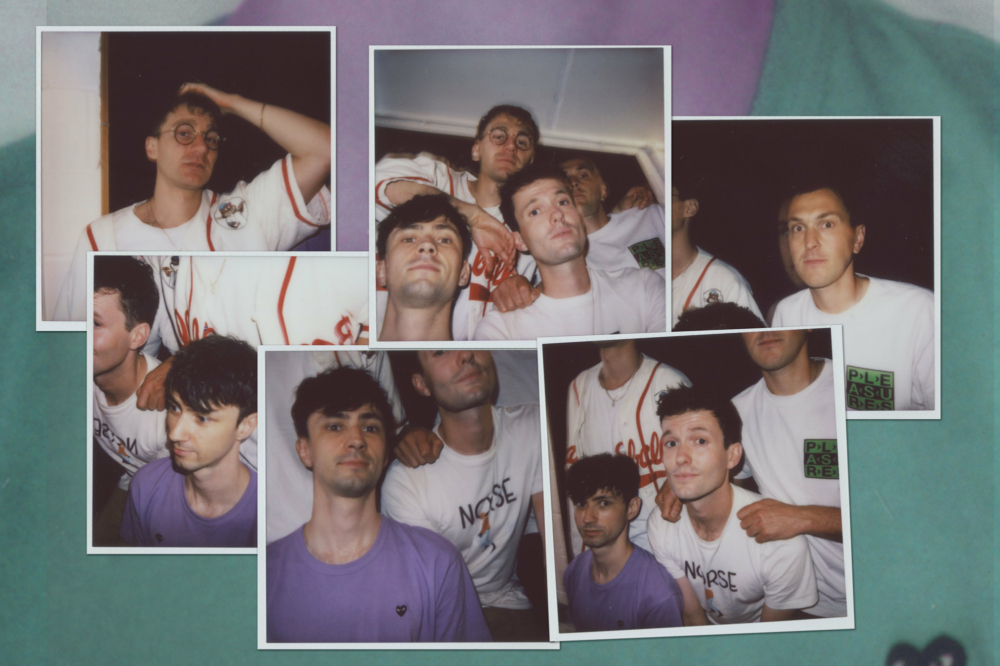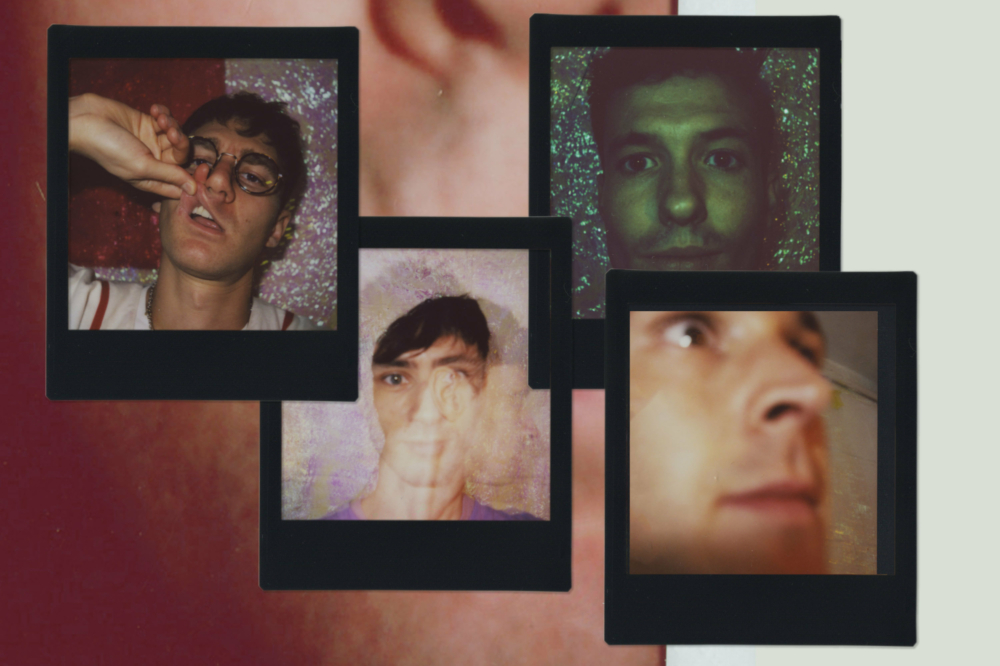 "
I feel like I've torn all the plasters off, and those wounds are just there, all bloody, and that's [the record].
— Dave Bayley
Stemming from the earliest days of Glass Animals, Dave has, over time, managed to cultivate a thriving career as a hip hop producer and collaborator. The lineage of this unlikely path (for a white, Jewish person, at least) can be traced in the subtext of the album. "You're taught to behave a very certain way in Texas," he says. "As a boy, you're meant to play American football, to be a sort of hero sportsman or a 'Donald Trump' or some shit. But I wasn't. I was really young for my year, so I was really pathetic and because of that I struggled.

"I found music. I think that's where most people who don't quite fit in turn to," he continues. "I had a boom box, and I just used to tune into this hip hop station that played The Neptunes, Missy Elliott and Busta Rhymes. I was obsessed with Eminem. And that's how this whole project started - I just kind of wanted to do a beat tape, and have someone rap or sing on it, but I could never find those people so I ended up doing it myself."

The influence of those early sounds is palpable on singles like 'Your Love (Déjà Vu)' - a grooving R&B number that harks back to the early '00s - and 'Tangerine', which riffs on the insatiable organ bounce of Drake's 'Hotline Bling'. Like that track, itself built on a sample from Timmy Thomas' minimal 1972 funk and soul single 'Why Can't We Live Together', Glass Animals' approach ultimately works through its fusion of a traditional band set-up and a production style of an entirely different complexion. "I tried to get a lot of the stuff that The Beach Boys and The Beatles would have used," says Dave, referring to the album's basis in the music of his youth. "But I was trying to imagine how Dr. Dre might have done it, resampling those old Casio keyboards and sonic elements, and making them into something different."

It could easily have gone the other way, he jokes. "The only other radio station in the weird little city I grew up in played Christian country music. They played Creed, and Nickelback. I thought about doing an album based around the sounds of Creed, but I backed out of that…"

Landing a collaboration with Florida rapper Denzel Curry on recent single 'Tokyo Drifting' was undoubtedly a coup in legitimising Glass Animals' genre-hybridising approach; with its trap-style hi-hats, rap verses and booming, brassy refrain, it almost borders on grime. But unlike Bayley's other collabs in the hip hop world, many of which landed on his doorstep after the band's 2014 single 'Gooey' became an unexpected hit in America, getting Curry involved took a lot of work. "Joey Bada$$ had got in touch when we were in New York playing some summer show in Central Park, and 6lack had reached out by just sending me a bunch of fire emojis on Twitter. But with Denzel it wasn't easy," he remembers. "I basically nagged him over the internet via every avenue possible until he replied. It turned out he doesn't even check his own social media, but one of my friends played him the beat and he was like, 'This is sick, what is this?!'."

Dave is visibly still chuffed to have pulled it off. As the conversation drifts towards the album's physical release, he unexpectedly brandishes a Denzel Curry nunchuk at the web cam, before listing off all kinds of merchandising miscellanea that the band have in the making: "We've got a cereal bowl coming, we've got spoons, PEZ dispensers with our heads on them… all these things I liked as a kid.

"It's meant to be like all the shit in your life in a tornado around you," he continues, now referring to the album art, which features Bayley's golden head floating on a canvas of neon text and 3D-printed objects. Inspired by the '90s aesthetic of the vapourwave microgenre, it was designed with the explicit intent to induce feelings of nostalgia. But the overall image is ambiguous. Holding his head in his hand, Bayley's profile offers a mixed message.

"It was a painful process - writing this record, going in so deep," he nods. "I was just in a weird fucking headspace the whole time, trying to find the weirdest stuff and dig it up and think about it. But you start off in life as this naive piece of marble, and people slowly chip away. Eventually whatever kind of weird, misshapen thing that is left is you."

Opening and closing with the same twinkling 'Dreamland' melody, the lingering message of the album seems to be that these experiences will repeat themselves throughout eternity. "It's a continuous cycle of life," says Bayley. But despite all the mental and physical anguish at the foundation of Glass Animals' third record, the band's innovative appeal proves to be equally enduring.

Because as the old saying goes, when life gives you lemons, you make lemonade. Or, as Dave puts it on the title track, "you go make an album and call it Dreamland".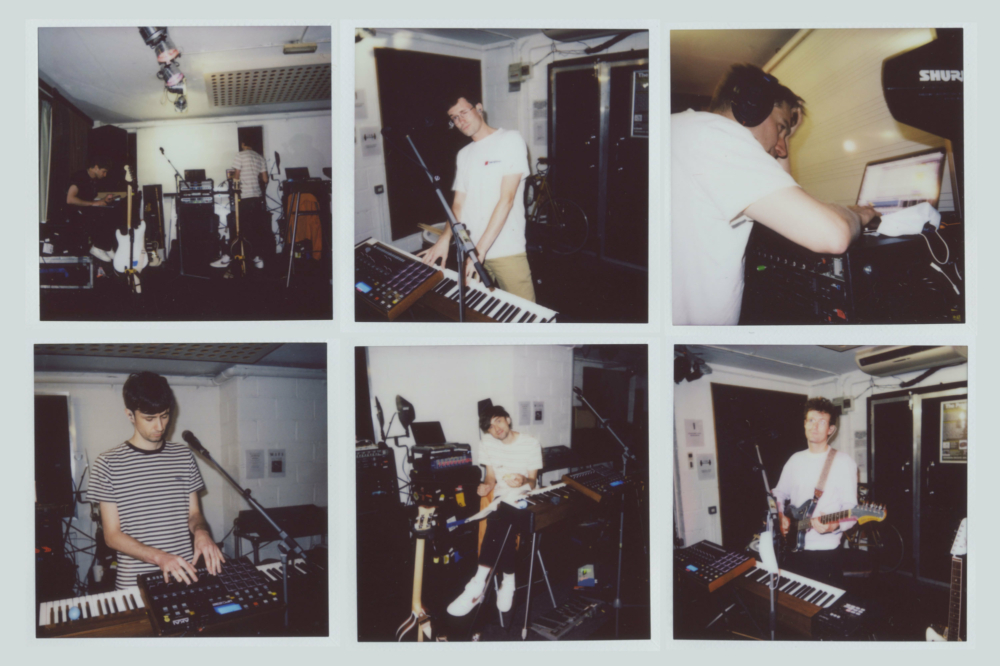 'Dreamland' is out 7th August via Polydor.