Album Review
Dream Nails - Dream Nails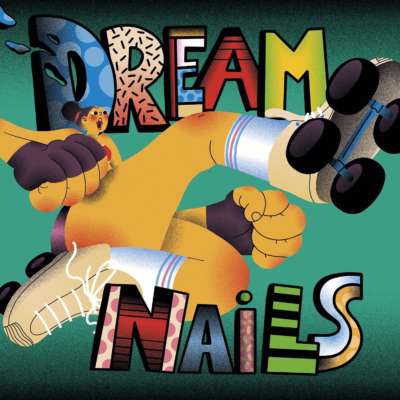 There's an effervescent sense of fun that fizzes throughout.
Label: Alcopop!
Released: 28th August 2020
That they've chosen to subtitle the lead single from their debut record 'Chirpse Degree Burns' is evidence enough of Dream Nails' playfulness. Sure enough, the track in question, 'Text Me Back', is a giddy, witty pop-punk treatise on the pitfalls of modern dating. There's an effervescent sense of fun that fizzes throughout here on an LP heavily indebted to the work of Kathleen Hanna, both in its sound and its politics. In terms of the former, it lands somewhere between the feral thrash of Bikini Kill and the pop polish of The Julie Ruin; the former on 'Vagina Panic' and the simmering 'Payback', the latter with 'Swimming Pool' and 'Jillian'. Dream Nails' view of the world is one seen through a queer feminist lens and it's something they wear on their sleeve, to the point that the record is punctuated with skits that reveal the themes of the following tracks and that might be a touch redundant, particularly when they do an impressive job of putting their anger into words on cuts like the furious 'Kiss My Fist', a broiling response to the homophobic attack on two women on a London bus in May 2019. It's a striking indicator that there is more to Dream Nails than just freewheeling rock'n'roll boisterousness.
More like this