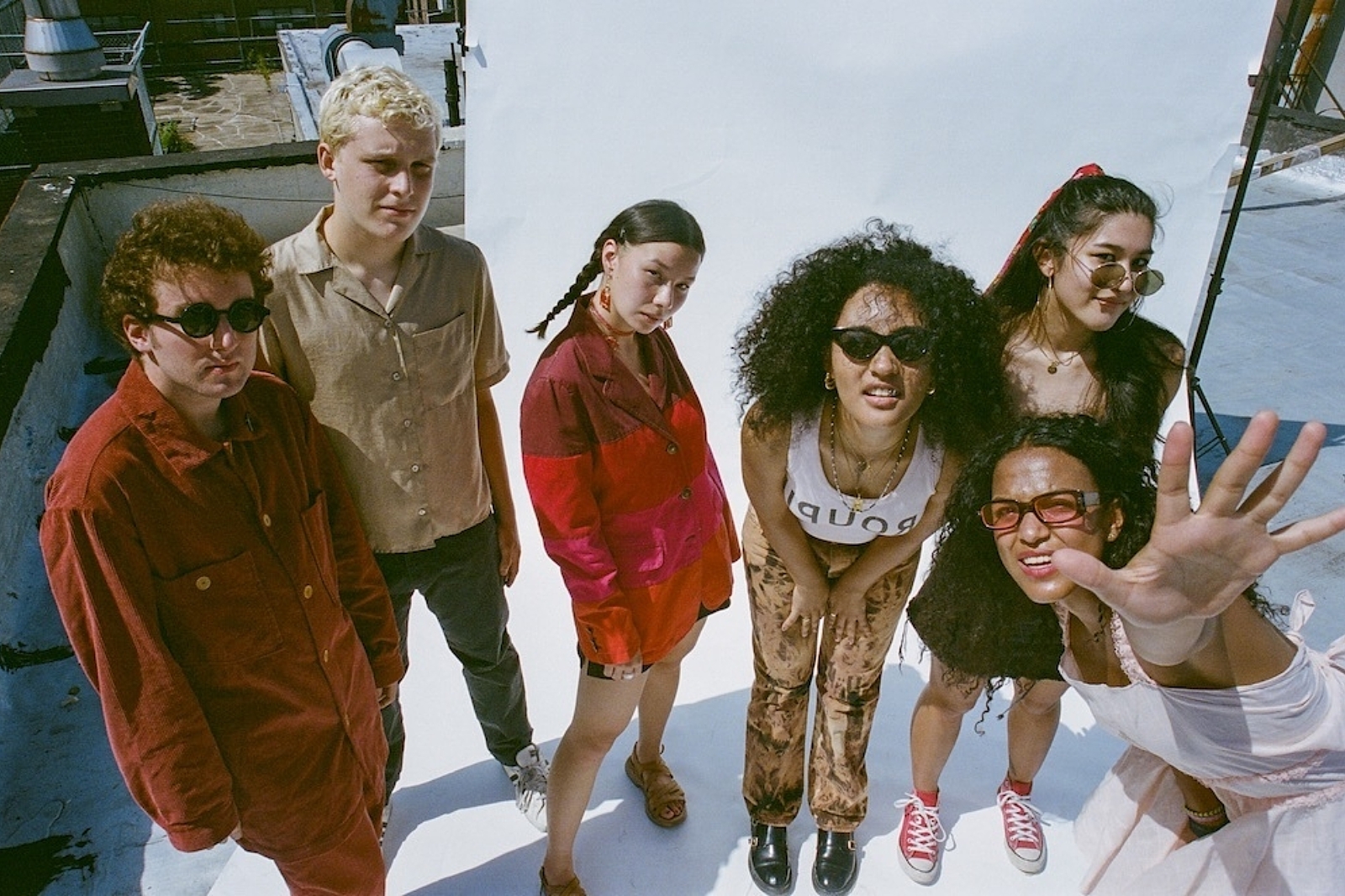 Photo: Sophia Wilson
Interview
MICHELLE: "Each band member has such different pools of genres that they can reach their tentacles into"
An eclectic bunch of New Yorkers, rewriting their own version of how to be a band.
The first time all six members of MICHELLE were in the same room, their debut album had already been released. "We didn't meet each other until the day of our first show in the middle of November 2018," reflects singer Layla Ku. "We were all strangers!"
Having been wished into existence earlier that year by producers Julian Kaufman and Charlie Kilgore, the collective formed as the result of a crackpot plan to conjure up a record (September 2018's resultant 'HEATWAVE') that would document Big Apple life in two weeks flat. They assembled a group of singers that they separately knew - some well, others more peripherally - and set up a series of homemade recording sessions, with no more than one or two of the four MICHELLE vocalists included at any one time. Songs would often be written and recorded on the same day and, by the end of the fortnight, all of the ten tracks had been locked down.
Was it touch and go to get it finished in time? "Really, it was just barely, by the drawstrings of our ten year old sweatpants," laughs Julian. "There was still a lot of post-production to be done afterwards."
As a band, MICHELLE reflect the modern reality of a city like New York, bringing an eclecticism of interests, upbringings, ethnicities and sexualities together; it electrifies their music with an unconstrained, pan-genre freedom, where slick R&B, cool jazz and angular rock all jostle for supremacy. The diversity of the sound matches the diversity of the six members' personalities: Julian, they describe as the helping hand - the guy that "brings the sauce" - and Charlie as the "mad scientist", whereas Layla is "the commissioner", Sofia D'Angelo "the star", Jamee Lockard "the student of the month" and Emma Lee "the triple threat" (dancer, visual artist and singer). "If we were all given the same track to write on, I think we would all create very different songs," says Jamee.
Recent singles 'UNBOUND' and 'SUNRISE' mark the first two glimpses into the group's as-yet-unnamed second LP that's currently in the "cutting down phase". Their first original album for Transgressive (who also re-released 'HEATWAVE' earlier this year), the band enthuse that the production is set to be much larger this time around due to the additional gestation time for the writing process. "We had the time to craft this thing in a way we didn't before, which will hopefully be rewarding," says Emma.
A quick straw poll of favourite artists throws up names as far reaching as Karen O, Womack & Womack, Julie London, Kate Bush and Noname, and while there's a unifying thread of optimistic, summer-ready joie de vivre to their own music so far, none of these reference points seem off. "Each band member has such different pools of genres that they can reach their tentacles into," explains Charlie. "It's like only having one type of ingredient in your fridge, it's just not realistically going to happen. Everyone in MICHELLE is very jealous of everyone else, that's kind of what keeps the wheel turning."