Album Review
Nick Cave & Warren Ellis - Carnage
4-5 Stars
A jewel in the Cave-Ellis cannon.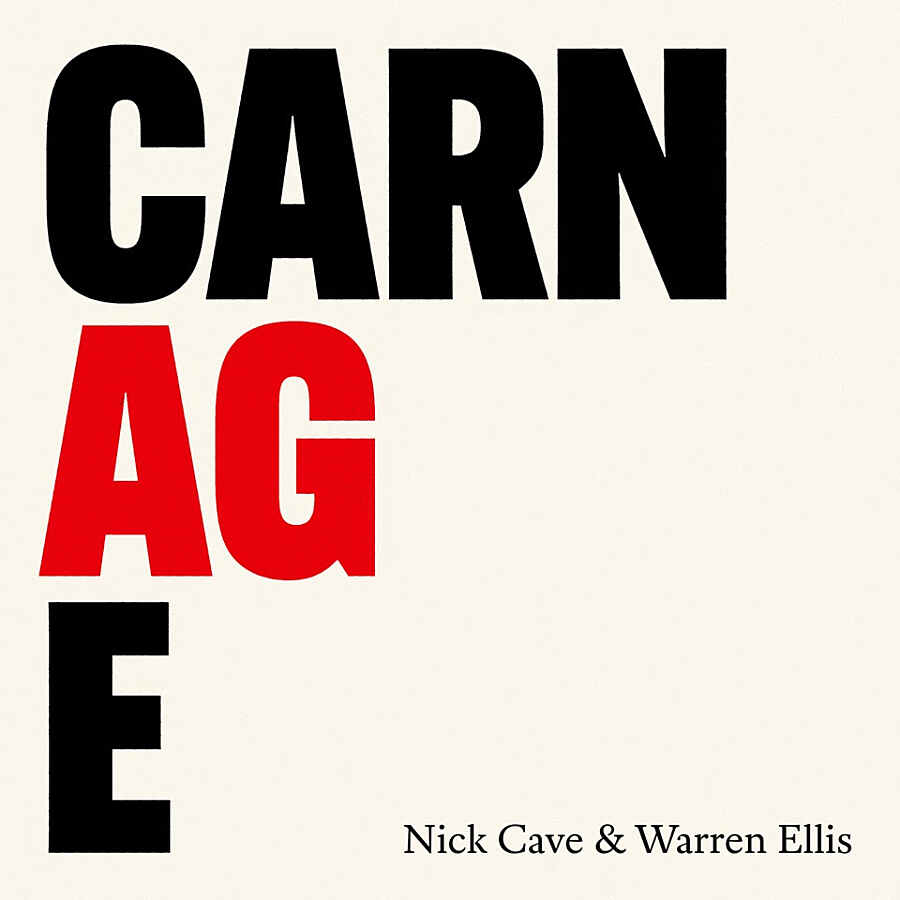 Nick Cave has had many outlets over the years. The Birthday Party, The Bad Seeds, the middle-aged primal scream of Grinderman. 'Carnage' is billed under Nick Cave & Warren Ellis, a moniker usually attached to the duo's work on film scores which has included Hell or High Water, Lawless and Wind River.
Nick's approach to writing took something of a turn following 2013's 'Push The Sky Away' from storytelling to abstraction, with song structures unbuoyed and freeflowing atop Warren's hypnotic synth-loops. 2016's 'Skeleton Tree' was a spectral, haunting document while 2019's 'Ghosteen' was steeped in biblical imagery and folklore as he processed the tragic passing of his son Arthur. Things come full circle on 'Carnage' as the same logic is applied to the pair's most enthralling and unhinged work since 'Grinderman II'.
Opener 'Hand Of God' finds Nick playing a crazed preacher at a sermon as Warren's synth throbs restlessly beneath. Pure mania ensues midway through - choirs repeat the title like a mantra as strings descend and dramatic vocals build on a rising tide. Squeals of guitar spurt across the jostling synth-bass of 'Old Time' as wild strings crash in and out of sequence. These instrumentals wouldn't be out of place on 'Yeezus'.
Written in lockdown, it wears the weight of 2020 on its sleeve. On 'White Elephant', Nick directly refers to the Black Lives Matter protests as he casts a scene of a white hunter sat on his porch with an elephant gun. "A protester kneels on the neck of a statue / the statue says I can't breathe / the protester says now you know how it feels and kicks it into the sea," he spits in his half-sung, half-spoken word delivery. Midway through, the track flips, becoming suddenly hopeful and communal, calling for a return to the kingdom in the sky; an image that stalks the lyrics of 'Carnage'.
Another frequent image is that of the balcony, which you presume is Nick's writing spot. He sits there "reading Flannery O'Connor with a pencil and a plan" on the title track. Closer 'Balcony Man' finds him in his usual spot again - "I'm the balcony man / where everything is ordinary until it is not". These little glitches in the matrix flashes the mundanity that's anchored us all throughout this time, but he turns it on its head as he counts his lucky stars; "this morning is amazing and so are you".
Alongside the mania, there's a romantic side to 'Carnage' too. The escapist meditation of 'Albuquerque' sources light in the shrouding darkness of lockdown. "And we won't get to anywhere, baby / unless you take me there", he sings gently as strings hover across a striding piano and choir.
'Carnage' is a jewel in the Cave-Ellis cannon. A thrilling piece of work that sources a sweet-spot between the unbound introspection of the Bad Seeds' recent work and the furious fire lit beneath Grinderman and The Birthday Party. The creative streak the pair have been riding the past decade shows no sign of slowing down.