No Small Feelings: Soccer Mommy
On new album 'Sometimes, Forever', Soccer Mommy is leaning into the darkness and the light in equal measure.
For Sophie Allison, known musically as Soccer Mommy, the chaos of feeling everything, all at once, and in quick unpredictable succession, started to make more sense when she imagined it as an ebb and flow. "Whatever I'm feeling is always all-consuming, like there's nothing else, there never was, and there never will be," she says. "But then I'll switch to another feeling really quickly. It's a constant push and pull, a back and forth between different feelings and states of mind. They contrast each other, but I think they can coexist."
Her last album, 'color theory', was organised around its unifying namesake. On it, Sophie mapped a course through sadness, sickness and mortality through textures of blue, yellow and grey. However, on this month's follow-up 'Sometimes, Forever', she leaves behind theorising for acceptance, acknowledging instead that, while her thoughts in a given moment may not last forever, these big feelings will always come around and that isn't going to change. As she states today: "You won't be sad forever, but you also won't be happy all the time. Things come and things go, and they always will."
There's a contradiction inherent in the title's combination of words - "sometimes" and "forever" - that sits at the crux of the album. "I found myself trying to create these strange contrasts," Sophie begins to explain, then taking the track 'newdemo' - a lilted, vaguely synthetic guitar number that opens out into a glistening, light-filled chorus - as an illustration. "The song is full of these fantastical descriptions of apocalyptic scenarios," she continues. "But the chorus then takes you into this major lift, where the song almost feels hopeful. The lyrics describe a dream of salvation, but then twist back to this realisation that a dream is basically a lie you tell yourself. Is it worth hoping for salvation when that hope isn't real, or is it just a waste of time?"
Sophie thinks these contrasts are also a natural part of love, that love is born from darkness as much as light. "I've been in a relationship for six years and it's very happy, but happiness alone doesn't encapsulate love," she says. "For example, 'With U' is a song about being devoted to someone and feeling affection for them all the time. But part of that is wanting to be there for the dark parts, to take on that person's pain and be someone they can lean on." Indeed, 'With U' reads like a love song, but sonically is harsh, robotic, almost computerised. "Your crystal eyes cut deep like a knife, and they're teaching me how to bleed," she sings. "But I'll take the pain, feel it every day, just to have you look at me."
"[The album] is about being in darkness, but still being able to dream of hope and light."
Punch-to-the-gut lyrics like these are core to the Soccer Mommy sound, which grows from stormy, grungy rock to clear-eyed emotional candour. Her debut album 'Clean' began her career with softer traces of bedroom pop and indie rock, however for production on 'Sometimes, Forever', Sophie called upon Oneohtrix Point Never (aka producer Daniel Lopatin) - the experimental electronic mixer behind The Weeknd's 'Dawn FM' and film scores for Uncut Gems and Good Time. The collaboration was born out of a desire for the new, to push the boundaries of what Sophie thought possible for Soccer Mommy's sound. "We wanted to try something different, a little more raw," she explains. "I had a big-picture idea of what that was, but it was hard to pin down. I liked that Dan wasn't a 'rock' guy, or recording bands very much. It was nice to have him add things that took us in a completely different direction.
"Dan has such a talent for composing and arranging in an interesting and beautiful way, using sounds that make their own worlds and feel stylistically specific," she continues. "It became clear that we had a lot of the same ideas, and that together we were really nailing them." Sophie describes their shared desire to add "interesting magic" to the songs, to "get really creative with it, without always needing this end goal for every weird little idea." "The band did a bunch of shoegazey guitar lines with backing vocals, and then Dan went Megamind on it with different instruments and techniques," she recalls. "We were doing a big record, but it also felt like making something in your house - you know, when you're grabbing things and piecing everything together as you go. Getting there was very natural, in part because the songs just lent themselves to it. We didn't even need to make some songs super eerie - the demos were already very much pushing that way, waiting to be fleshed out."
She points to 'Darkness Forever' as an example - a humid, claustrophobic vignette that opens with the lyric, "Head in the oven didn't sound so crazy". A reference to the death of Sylvia Plath, it's one of a few nods to the writer on the song. "Lithium readings making me dizzy," sings Sophie. "Words from an artist killed by her inside / She tried to set the evil on fire".
"I wrote it in a moment of crisis when I was actually thinking, 'I get it, a little bit', about the head in the oven. This idea of heat and fire purging away everything that's destroying you," Sophie shares. "I wanted to paint this picture of a person burning down their house while inside of it to expel all the evil. A song like that couldn't not be super eerie. The demo had this dragging beat, a dark, heavy guitar riff and a haunting vocal. It's meant to sound like someone sharing their last secret."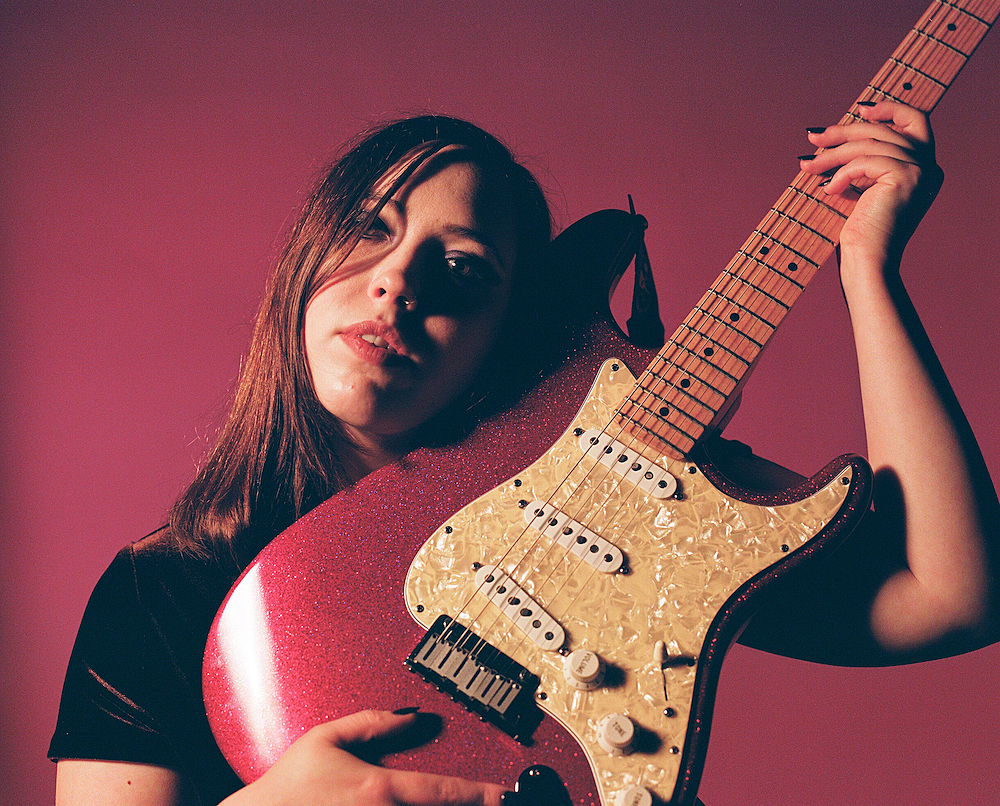 "We were doing a big record, but it also felt like making something in your house - you know, when you're grabbing things and piecing everything together as you go."
Another track that lent itself easily to rich sonic interpretation is 'Unholy Affliction', which details Sophie's distaste for the mercenary, careerist aspects of the music industry. "We didn't know the full direction the song would go in, but I knew I wanted it to have this mechanical, rock thing going on. I feel like Dan heard what I was going for, and took it further than I could have on the demo but kept the same energy. It was cool realising, 'Oh my god, this is exactly the feeling I wanted it to have'."
This triumph of capture is especially important for Sophie, who has always been driven by a desire to articulate the things that feel indescribable; "I want perfection / Tight like a diamond," she sings of this on 'Unholy Affliction'. "It definitely drives my songwriting. There's nothing more satisfying than writing a verse where you wouldn't change a single word," she nods. "It's that feeling of being able to make something perfect, something eternal. Even when you don't get it right, that just reignites the fire in you."
Sophie paints 'Sometimes, Forever' with a precision brush dipped in jet blank ink, unflinching in her demand for specificity whilst patient and assured in her delivery. The songs arrive confidently at their conclusions, and she speaks of the lessons she's learned with a calm quiet, a sense of faith. "It's about being in darkness, but still being able to dream of hope and light. Then you might actually be able to crave darkness even in the brighter moments. You know it's around the corner, but you're used to it. You're not as afraid of it."
'Sometimes, Forever' is out 24th June via Loma Vista.