Album Review
Brockhampton - The Family
3-5 Stars
Billed as the band's final album, 'The Family' is an alluring, Kevin Abstract-heavy affair. But as ever with the group, is this truly the end?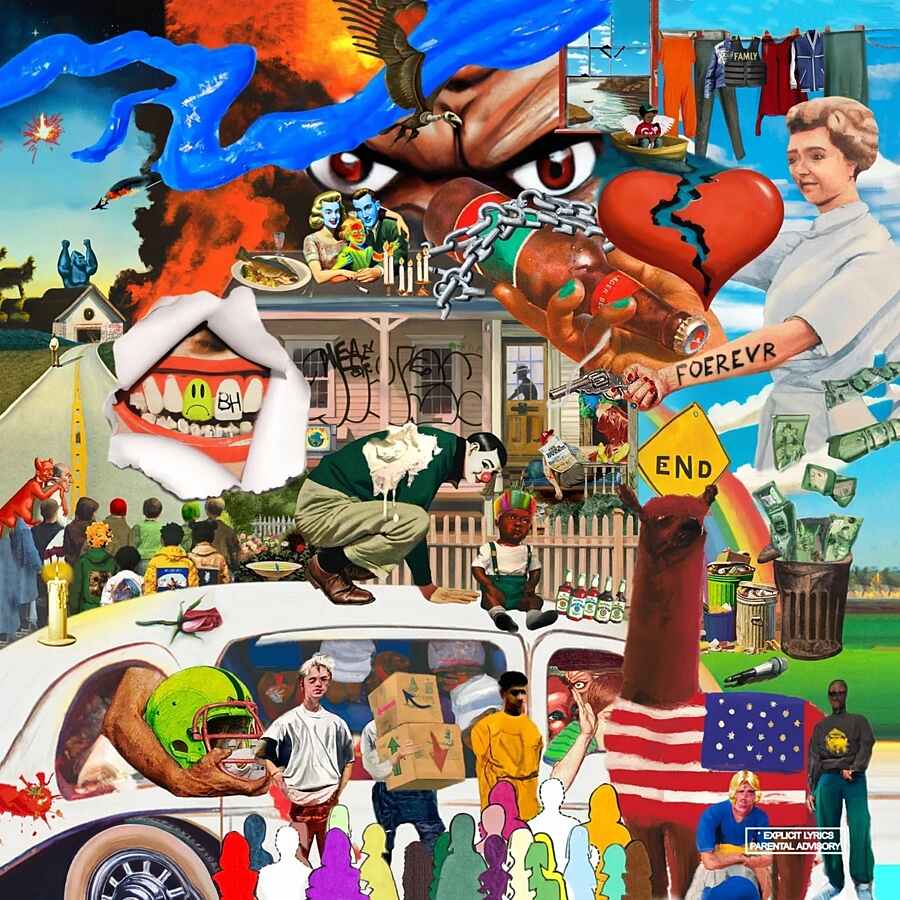 Brockhampton have always been unpredictable. Beginning life as a bunch of kids bonding over music on a Kanye West forum 12 years ago, few would have guessed that the group would go on to become one of the most buzzed-about and forward-propelling collectives over the past decade. Against the odds, they managed just that.
Armed with their tagline "the best boy band since One Direction," their experimental, genre-blurring and - perhaps most notably - inclusive ethos to music and community has attracted them just the sort of ardent fanbase that they previously would have formed a part of for their own musical heroes. But the road hasn't always been smooth. From founding members being kicked out to multiple shelved albums via perceived fractions in the group perpetually dissected online, Brockhampton's legacy is one peppered with obstacles and difficulties; release delays, tour cancellations and long-running rumours of an imminent split have all had a look-in. But, through it all, they seem to have been a group that thrived under chaos.
2018's 'Iridescence' was created in a mere ten days at London's Abbey Road studios after scrapping the originally-announced 'PUPPY' and went on to become their first chart-topping album. And while rumours and personal tragedies would surround the band, 2019's 'GINGER' and last year's 'Roadrunner: New Light, New Machine' arrived as two emotionally rich and impactful LPs showing growth.
Cancelling their tour at the beginning of this year, the band soon confirmed an indefinite hiatus following their Coachella performance, but just when we thought it could be all over, a clip played as they left the stage. They'd be dropping a final album this year. "I love you guys and I miss you guys," de-facto leader Kevin Abstract said in the visual. "Basically, like, I went to New York, made something. It's not a solo thing, it's a group album. It's about the group, it's about… that's all I'ma say."
Enter 'The Family': billed as the group's final release and a record that plays like an unwieldy and unravelling ode to all the twists and turns of Brockhampton's journey. Led almost entirely by Kevin, the 17 tracks chart the collective's story - past, present and future. "I had to save the truth for the last shit," he states on upbeat opener 'Take It Back', over a pitched-up backing instrumental that's reminiscent of Drake's 'Tuscan Leather'.
Elsewhere, the band give fans an inside peek on some of the hurdles they've faced along the way. The thumping 'Gold Teeth' hints at inter-group tensions ("Do we see each other? / Hardly") and label obligations, while 'All That' tackles expectations and the pressure of fame, as well as the group's past dramas."The show is over / It ended overseas / Take those plaques down / It's time to move on / Call up my real family / It's time I go home," Kevin notes on 'Good Time', before 'The Family' sees him spit fire over melodic backings, joined by bearface on vocals towards the songs end: "You tried to keep it alive / But I'll be fine".
With bearface providing the only non-Kevin Brockhampton vocal, it's hard for the album to create a true family portrait with its main characters missing ("The group is over without being on the album," Kevin spits on 'Big Pussy'). The absence of most of the group feels jarring at times; a catalyst that undoubtedly prompted Kevin to release a statement to fans upon its release, saying: "Over the past few years, the members of the band began to move our separate ways and focus on our individual careers and passions. With this project, a few of us were inspired to make something that would bring closure to the past, and set the table for all of us to finally be able to explore our individual futures."
Instead of a big group ensemble, on 'The Family' Kevin favours sped-up soul samples and late-90s, early-00s mixtape flow, which almost feels like a love letter to the music that Brockhampton were raised on (a song is even titled 'RZA', named after the Wu-Tang Clan head honcho). The final track - aptly named 'Brockhampton' - marks the longest offering on the whole record, as Kevin sums up the band's rise to fame, relationships with each other, and his own personal issues, specifically struggles with alcohol that impacted the group. Dedicating lines to each member over a string-lead backing, the odes quickly turn to a yelling of "The show is over / Get out your seats!", before the track ends on a poignant note of "After all that we've been through / Breaking up is hard to do."
That all seems to be that, then. However - as unpredictable as ever - just as 'The Family' gets released on streaming services, the band begin to tease a surprise second final album; their own version of "a Frank Ocean", per se.
If 'The Family' is indeed to be a final act, it would be a bittersweet but ultimately triumphant final bow from the group. As the band have previously said, "All good things must come to an end", but with Brockhampton - and the rumours of another new record imminent - who really knows?