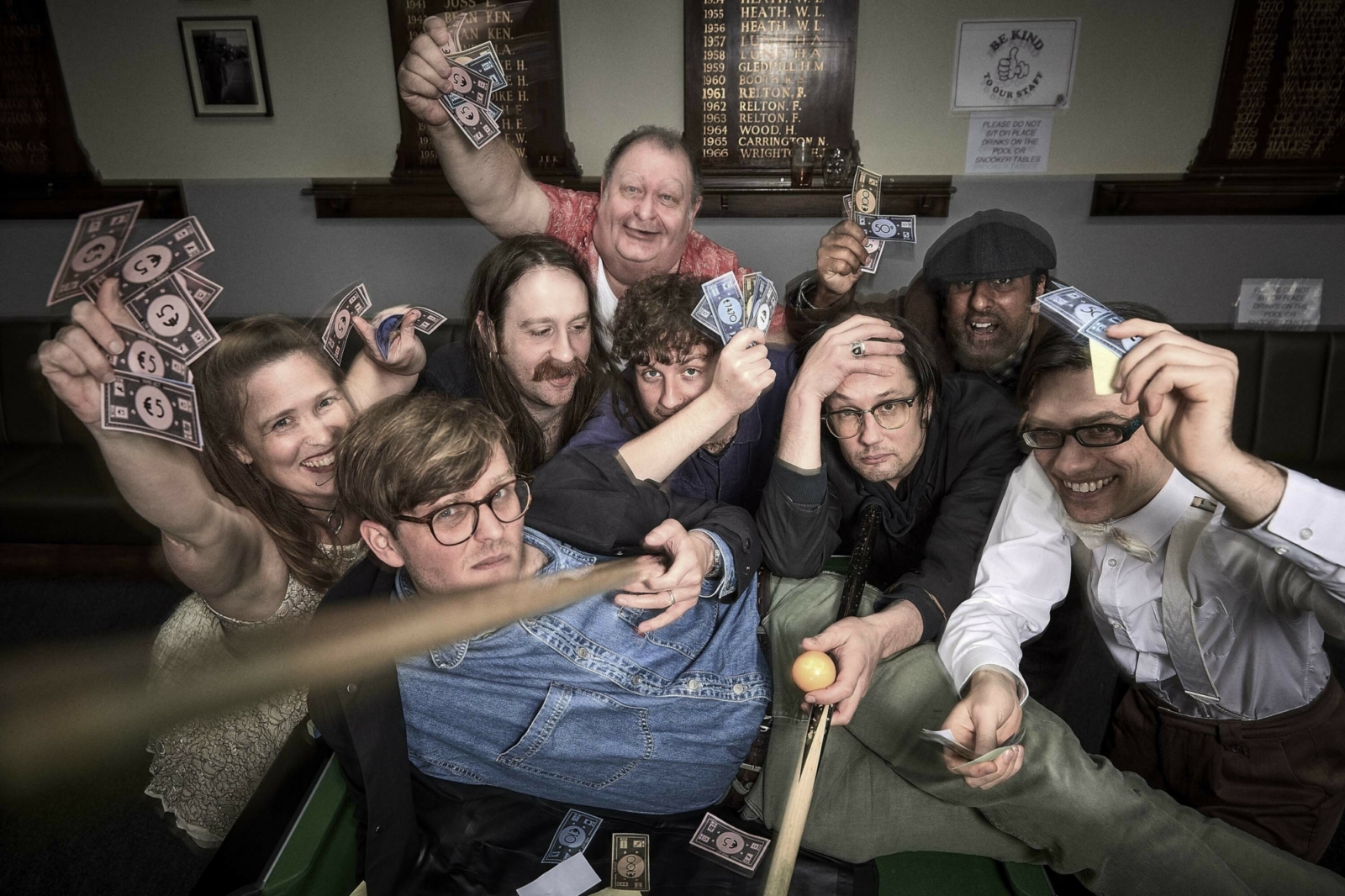 Class of 2022: Yard Act
At the juncture between social observation, surrealism and stand-up sits the captivating yarns of Yard Act. With imminent debut album 'The Overload', they're ready to unfurl the next chapter.
"You kind of know when something's different…" ponders bespectacled Yard Act frontman James Smith, pint in hand, as the detritus of party poppers and burst balloons from today's cover shoot gets swept up at local haunt and Leeds institution, the Brudenell. "Even [when it was just] online, I was completely aware that it was a different response to anything I'd ever had before. Then when it opened up, speaking to other bands - bands I really like and consider our peers - I realised that maybe they saw us slightly differently to how they saw themselves. Then I did think, maybe there's something going on…"
See, in some ways, Yard Act are the very definition of an overnight success story. April 2020 debut single 'The Trapper's Pelts' was released a mere three months after James and bassist Ryan Needham decided to start a project; 'Fixer Upper', its follow-up, was intended as a demo but immediately started to gain enough traction to give it an unexpected life of its own. By the time the band - completed by guitarist Sam Shjipstone and drummer Jay Russell - were allowed on post-pandemic stages for some of their first ever gigs together, they were already playing to hungry crowds of actual fans. Following a recent performance on Later… with Jools Holland and several completely sold out tours, their debut album 'The Overload' will land via their own Zen F.C and major label Island Records on 21st January - barely two years since Yard Act began.
Individually, however, it's none of their first rodeos; a Leeds supergroup of sorts, with members previously playing in Menace Beach (Ryan) and Post War Glamour Girls (James) among other local stalwarts of the scene, Yard Act have enough experience under their collective belts to sense when the tides are shifting. They just weren't to know that, after years of quasi-successful attempts at breaking through to the wider musical world, the project that would finally land would be their most unassuming and haphazard one so far.
"I feel like this whole band's been born out of absolute chaos," grins Ryan. "If we'd have been following the normal routes, it might have been jaded and boring, but everything was done in such a different way to anything any of us have done before; it doesn't feel like a trodden path because everything's been different."
"It was probably the first time starting a band since I was 18 where I didn't have any ambition for it, and it instantly connected," James nods. "It's a reminder that once you put something out there, you don't have control over it. I'll always go back and remind myself that we put out a Logic demo that we recorded in Ryan's print studio when we were pissed and people liked it."
"
I've never found myself an interesting thing to talk about, even though I'm quite egotistical…
— James Smith
Get Up, Stand Up
Before starting Yard Act, James occasionally performed his own hybrid cross between stand up and poetry at the Brudenell - we'll let him fill you in…
"I did a couple of gigs supporting poets, and within 20 minutes of trying to plan a set I realised I couldn't stand po-faced and read out serious words. So I started writing really daft short poems that I counteracted against more serious ones; it was like stand-up but I was hidden behind a piece of paper so I never had to claim I was doing stand-up because the second that you say, 'I'm a stand up' people expect to laugh.
Maybe it's slightly out of fashion now because Trump's not in power, but I rewrote 'Stan' by Eminem word for word but from the perspective of Donald Trump writing a letter to Gil Scott-Heron, but getting him confused with Phil Collins. I knew it had a time limit on it, but it was quite good…"
There's an attitude of rolling with the punches and prioritising fun that permeates everything Yard Act have done so far. If the first rule of improv is to answer any question with "Yes, and…", then the quartet's willingness to throw themselves in has improvised a path that feels refreshingly uncalculated for arguably the most talked about breakthrough guitar band of 2021.


Throwback a few years, and James was gamely dressed up in a cowboy hat, bootcut flares and a leather jacket, doing his best Beck impression for a New Year's Eve party tribute band. When Yard Act needed a new drummer, he remembered the sticksman from that night: enter Jay. Even the band's increasingly signature style of lyrically-dense tales that sprawl over the music, often continuing on into the silent gaps or past the end of a chorus, was something that happened by chance.


"Ryan was sending me demos, and I would have blocks of words, but the demos would run out and I'd just carry on talking. The words just surpassed the amount of music available, but I didn't stop," James recalls. "It's a weird way of doing it, and we didn't realise it would become a Yard Act calling card."


The tales themselves - from the wife in 'Peanuts' who invents a deathly allergy to explain the constant no-shows of her imaginary husband, to the subject of album track 'Tall Poppies', who never leaves his hometown and is better or worse off for it, depending on your perspective - range from the pithy to the poignant. At all times, the frontman deals in specificities and detail, fleshing out characters that could easily populate a sitcom (and are soon to populate a 50,000 word novel that James has also written - no biggie) into lyrics that land somewhere between spoken word and stand up. "And a drunken uncle at a wedding," chips in Ryan.


"I've never found myself an interesting thing to talk about, even though I'm quite egotistical," James notes, with a typical glint in the eye. "I'm clearly quite interested in myself; I don't think I'm one of those people who doesn't care what people think of me, I'm really quite self-conscious and I analyse my own actions quite a lot. But equally I don't think that's an interesting thing to talk about.


"And more so," he continues, "I do just really like people; I find people so funny and so curious, even the knobheads - everyone's a knobhead at some point, nobody's [solely] a knobhead or nice, that's not a thing. People are so complex, and it's not black and white. I've got people I'm friends with now who I thought were dicks for months on end, and then you get past the barrier they put up because they're scared and you realise they're actually really nice but they've just got problems that cause them to act in a certain way. Graham [the two home-owning character from 'Fixer Upper'] loves his wife, you know?"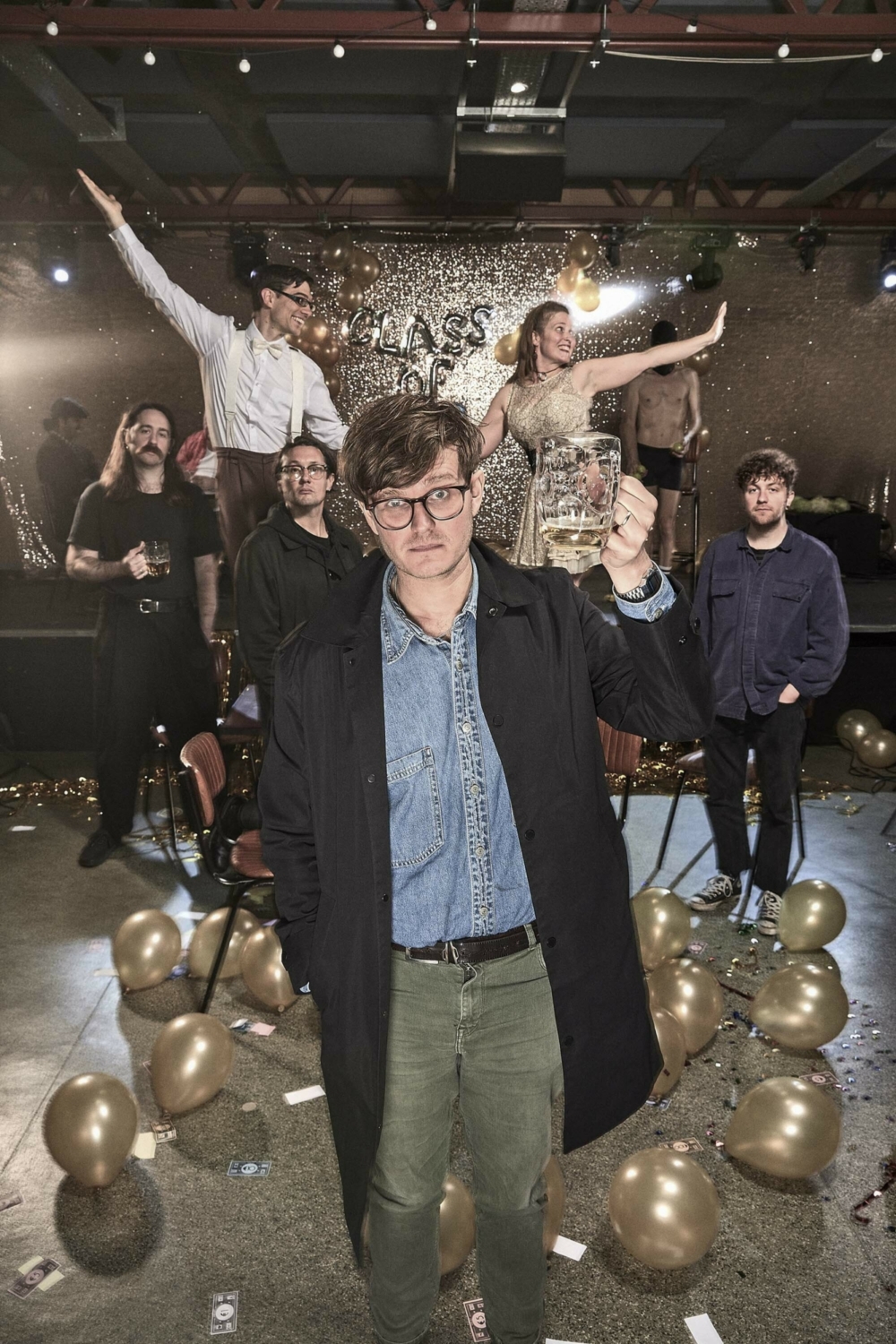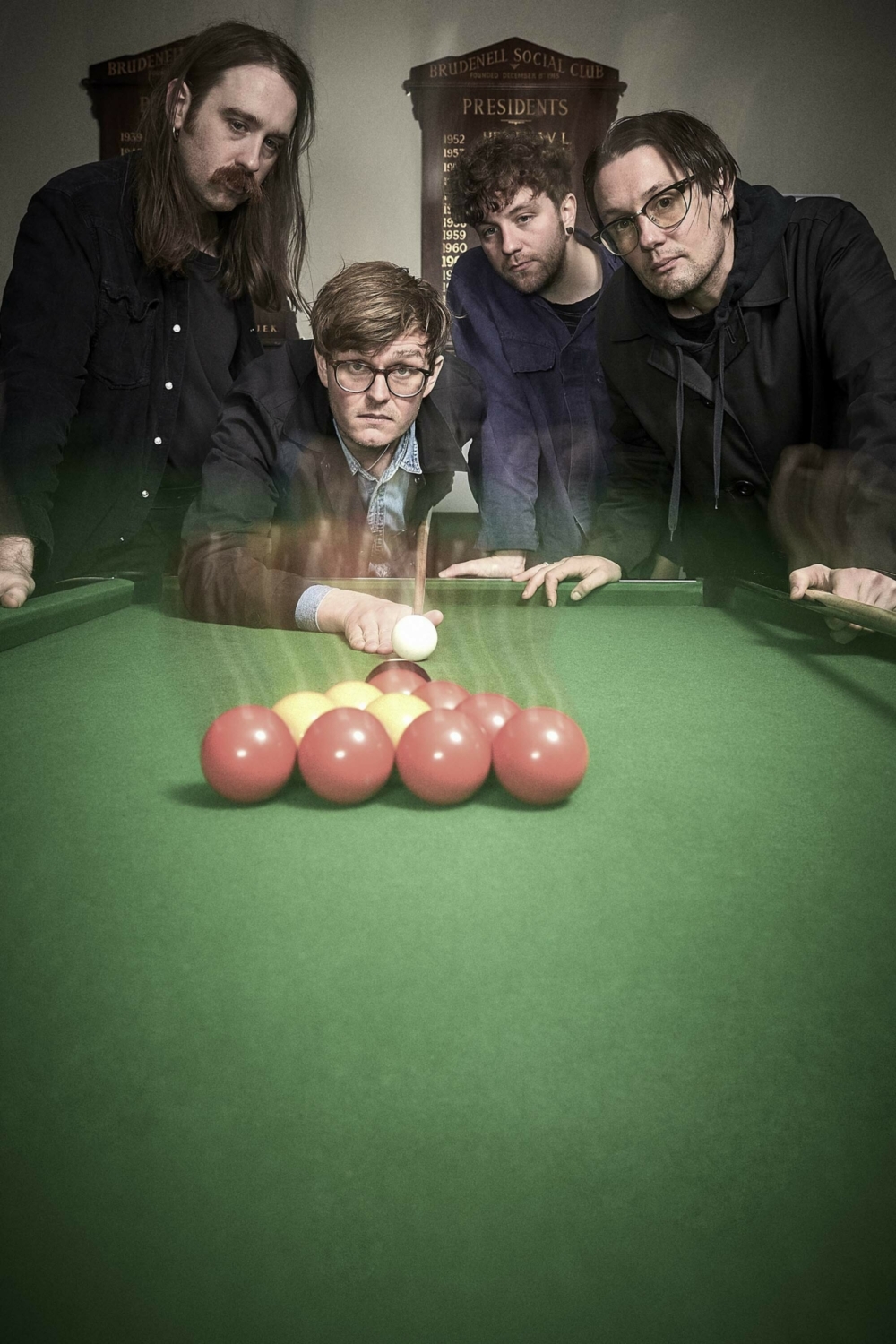 "
I feel like this whole band's been born out of absolute chaos.
— Ryan Needham
Making Moves
Who: Leeds punks with a one-of-a-kind, exhilarating frontman.
In three words: Next big thing.
Achievements so far: Being crowned Elton John's favourite new band and headlining DIY's Class Of 2022 tour. Are the two connected? We could never say…
Most likely to: Call you out on your bullshit while simultaneously making you dance uncontrollably.
It's this determination to show the nuances of humanity with warmth and generosity that sits at the heart of Yard Act's storytelling. There's a kitchen sink quality to the way James writes that can be funny, sad and slightly chaotic all at the same time. Born in Warrington, yet with the band regularly hailed as 'quintessentially Yorkshire', he's aware of the danger of stereotypes and not falling into their traps.


"You can get typecast because of where you come from and I've seen it with Yard Act time and time again," he notes. "The whole thing is a balance of playing up to it and owning it because that's what you are, but then also not letting people assume that's what you are, and that's the hardest thing to do."


What Yard Act undoubtedly are, however, is a group of mates who've struck the perfect balance of humour, or - as James succinctly puts it: "I ain't bothered about being serious, but I don't want it to be a joke." Their videos so far have seen them dressing up as magicians, waving fistfuls of YA-branded Monopoly money, and cavorting around car boot sales that could be plucked out of an episode of The League of Gentlemen (10 points to whoever spots the video extras who've also turned up for today's shoot).


When DIY is sent over a copy of 'The Overload''s lyric sheet, it's amusingly had all the album's swear words and naughty bits highlighted in bold - presumably, we ask, to flag any faux pas before the BBC complaints department gets involved? "Oh yeah, on Jools Holland they were like, 'You can't say 'fuck' but you can say anything else'," regales the frontman. "Can I say 'cunt'? 'No you can't say cunt…' So anything but fuck or cunt? OK well, there's two dickheads in the second verse… 'No'." He pauses. "So can I say 'sucking each other off'…?"


Musically, the band are also far more interested in fun than their early post-punk categorisations might suggest - although, says Ryan, "we definitely got on at post punk to get to the next station." "We knew it was having a moment, it was quite calculated," winks James, "but Pulp and Blur are way bigger than the post punk thing for us; I don't think people realise how much that's influencing the music. I fucking adore both of those bands."


"I rip off Elastica so much, they're my favourite band ever, and I've been pretty tactical about the rips but they're there," Ryan continues. "It's funny, 'cause bands are asked what they like, and they say Donna Summer even though they sound like The Fall." "Oh you like Nina Simone? That's cool," picks up James, now a few pints down. "Why can't you play the piano then? Why can't you sing? Why aren't you AMAZING?!"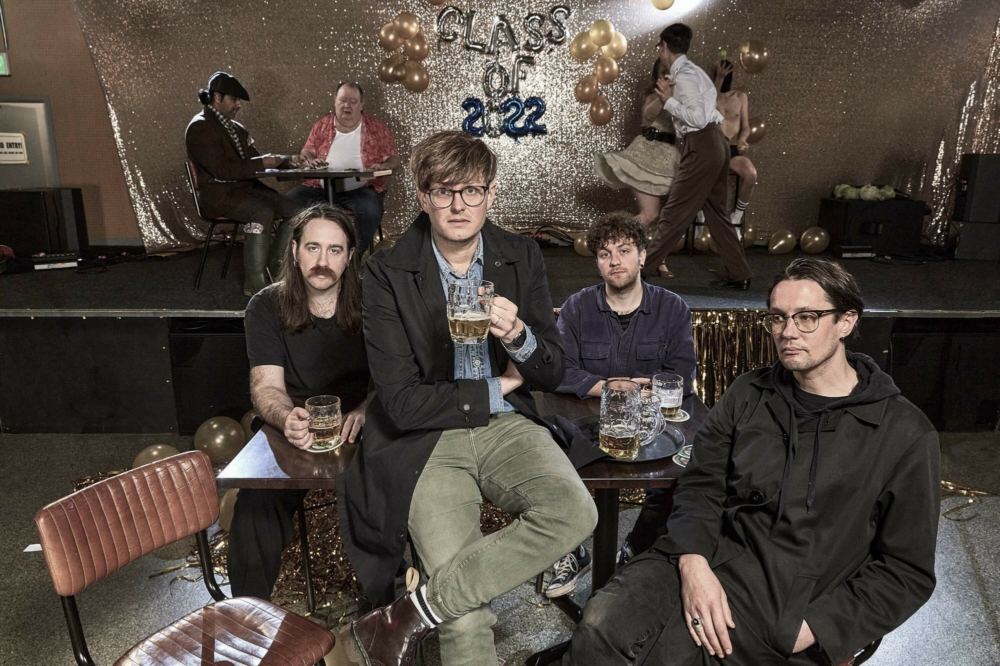 "
I ain't bothered about being serious, but I don't want it to be a joke.
— James Smith
Rolling into 2022, however, now is the time when, even for Yard Act, things start to get serious. After a year that's seen them perma-playlisted across BBC 6Music, tipped by every music outlet worth its salt and named by Elton John as one of his favourite new acts ("I feel like we manifested it, we played 'Bennie and the Jets' every day in the van for six months and then he appeared"), everything is in line for 'The Overload', and Yard Act in general, to do very well indeed.


Their debut is a record that backs up the hype, too. From the angry skulk of 'Dead Horse' - the only track where James admits that he "puts the boot in a bit" ("Occasionally, when you're in a foul mood, you need to be like, 'Fuck off, you're a fucking idiot and I'm right'"), through the strange, deadpan ping-pong of 'Rich' to the anxious rattle of 'Quarantine the Sticks', it manages to pair unlikely hooks with cheeky eyerolls at every turn, packing as many words-per-minute as a well-paced rapper, but delivering them with knowingness and Northern charm.


Yard Act might have seemingly come from nowhere, but undoubtedly it's all the years of graft - both on and off stage - that have enabled them to get to a place that feels so seamless. "Sometimes very young bands break through with a style and a sound, and they're naturally really fucking cool and are themselves. But most of the time there's a front, whereas there's definitely not a front with this band," James nods. "Yard Act is the first band where I really feel like I've got the balance of getting all my emotions right, which is 10% fucking anger, 60% laid back and reasonable, and then 30% sarcastic and cynical about everything cos that's a really good way to deflect from what you're feeling. I'm just completely satisfied with the man I am. I'm more content than ever to just be a 30-year-old bloke who's not that interesting unless he's pretending to be a character on stage for a bit."


And though the frontman might tend towards the self-effacing, you can tell that neither he nor his bandmates are taking any of this for granted. Having seen the mids and the lows of being in jobbing indie bands for years, now the highs are finally arriving, Yard Act are milking them for all the fun and high-jinx they can get. Not that they're not dreaming big, mind… "I've had an idea that Elton gives Bernie [Taupin] the week off and I send him some of my lyrics to see what he does with them," James decides before breaking into an Elton-does-Yard-Act version of 'Fixer Upper'. The way their trajectory is hurtling forward, the idea doesn't even seem all-that insane.



'The Overload' is out on 21st January via Zen F.C. / Island.


Yard Act play our Class of 2022 in January! See the full run of dates below, and grab your tickets here.

JANUARY
Friday 7th – Hull, The Polar Bear w/ English Teacher + Deadletter
Saturday 8th – Birmingham, Institute 3 w/ Lime Garden + Panic Shack
Sunday 9th – Bedford, Esquires w/ Lime Garden + Malady
Friday 14th – Oxford, The Bullingdon w/ English Teacher + Daisy Brain
Saturday 15th – Stoke, Sugarmill w/ English Teacher + Cathy Jain
Sunday 16th – York, The Crescent w/ English Teacher + Low Hummer