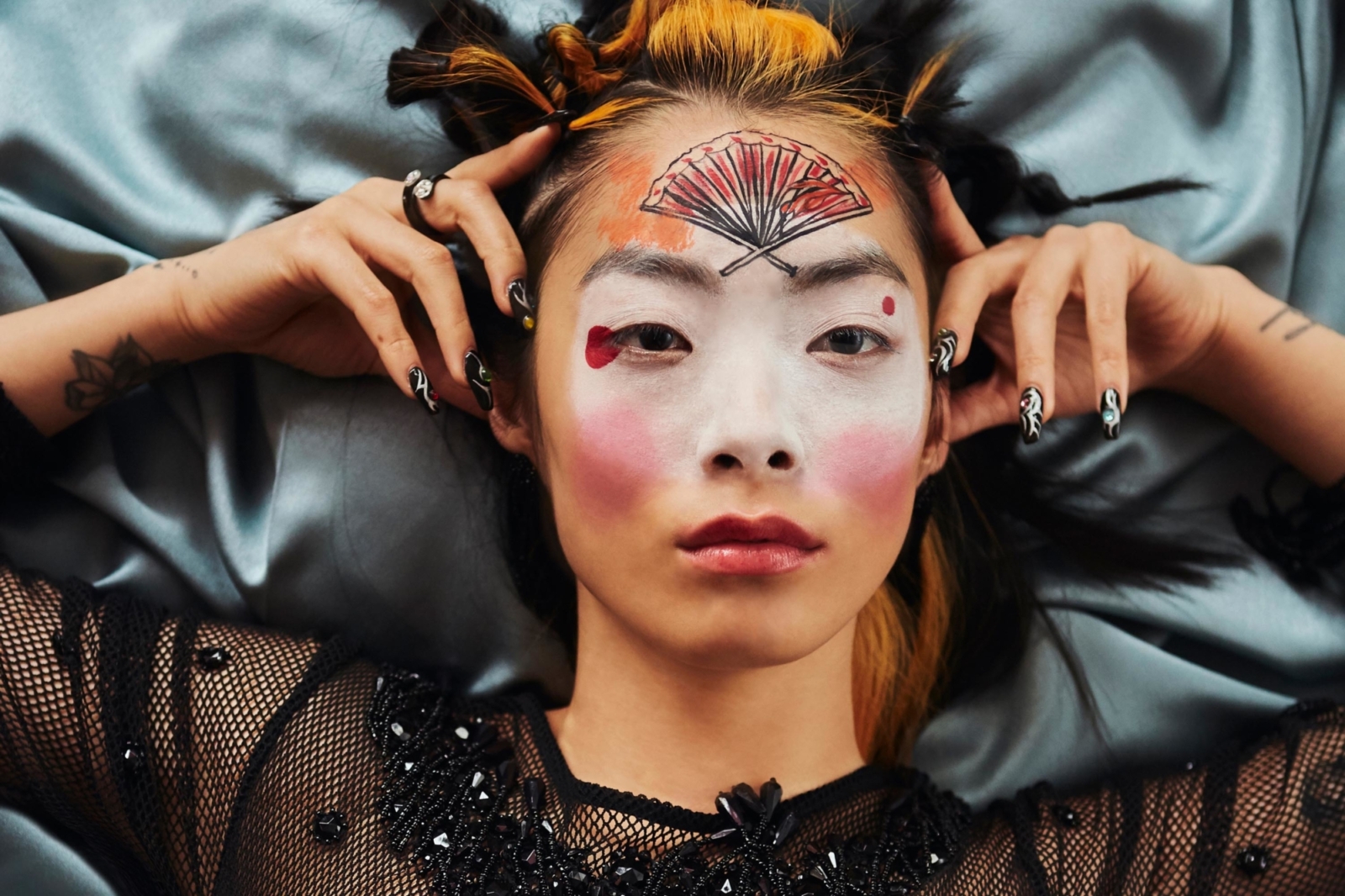 Family Portrait: Rina Sawayama
Reaching in to examine her multi-cultural background, family history and queer identity, Rina Sawayama's debut is a complicated, compassionate (yet catchy) portrait of an artist embracing herself.
Fresh off a red eye from LA, we meet Rina Sawayama at the kind of Bushwick loft-cum-photo studio you can't help but imagine a character from Girls living in. Huge glass panes are swathed in thick pink curtains and a 70-hour loop of meditation music plays in the background; conversation in the room flits from astrology to the singer's recent experience meeting Rihanna (she smells great apparently) to a local Korean tattoo artist she asks her team to DM on Instagram.
A listen to Rina's forthcoming debut album 'SAWAYAMA' might give off hints of an ostentatious personality at first, each song on the album taking a hard left turn to find its own way to shine. The bouncy synths and glitzy beat on recent single 'Comme Des Garçons (Like The Boys)' are reminiscent of '90s dance tracks, while distorted guitars and snarled vocals introduce elements of nu metal to 'STFU!'. But, despite the high octane pop music she makes, the singer is reserved and attentive in person. She's deadpan at times - "You know smaller heaters exist?" she jokes, eyeing the comically large one dangling from a corner of the room - and quietly supportive at others. When it's time to pose for photos, meanwhile, Rina's experience as a model (she has worked with Adidas, Samsung, Versus Versace, and more) is evident. Fluidly shifting from one pose to the next, she anticipates directions from the photographer before they're even articulated out loud, quietly singing along to Kacey Musgraves' 'Golden Hour' between takes.
Rina was born in Niigata, Japan and moved to London at the age of five with her parents, where she attended Japanese school until she turned 10. She says that attending that school, where she learned Japanese, calligraphy and dancing, was one of the happiest times of her life. Yet though she ultimately loved her high school, which she describes as a nurturing, multi-ethnic environment, her transition from Japanese school to state school was jarring and formative. It was her first introduction to her and especially her family's otherness. "When I changed school, my English wasn't that great and I remember being very frustrated that I couldn't communicate myself to people around me," she recalls. "I think that's when I realized how frustrating it was for my mum. My English as a kid got better quickly, but my mum took a while to improve and I remember my impatience towards her and other peoples' impatience towards her, which is a horrible feeling. The way that people deal with your parents can frame how you start to deal with them, which can be horrible."
"
I steer away from the classic heteronormative love song, but at the end of the day I think everything is a love song.
After her parents' divorce, Rina was raised primarily by her mother, with whom she shared a room until she was 15. Her mother, an interior designer, would sleep at 10pm and wake up at 2am to work on the laptop the two of them shared, and Rina says she has many memories from this period of just seeing her back from her bunk bed. "She's a big part of this record," she continues. "I felt like we had a really tricky relationship. I think a lot of people with single parents can agree it's like you're like their best friend, their worst enemy, their sister, their mum, and their child all at once. My mum had a really hard time with her marriage to my dad. I would hear about it a lot, and then my dad would say another thing. The record is about how I just didn't understand who was right and what the truth is. And it was kind of about creating my own narrative."

In person, the singer mentions her mother - details about the Japanese countryside where she's from; stories about the haunted London house she used to live in where neighbours blasted EDM at all hours of the night - often, sometimes in response to questions about the record but also casually, to whoever she's chatting with. It feels like her mother is a central figure in her life both because of how she represents the Japanese culture that Rina loves, but also because of how much she sculpted her interests and life choices in opposition to what her mother told her to do. When asked who encouraged her most to become a singer, she says in a perverse way it was her mother, who didn't want her to be a singer professionally. "She knows that I would never listen to her advice growing up," she notes, "so if she said one thing I'd do another. I feel like it was like her little plan to say 'don't do music as a profession'."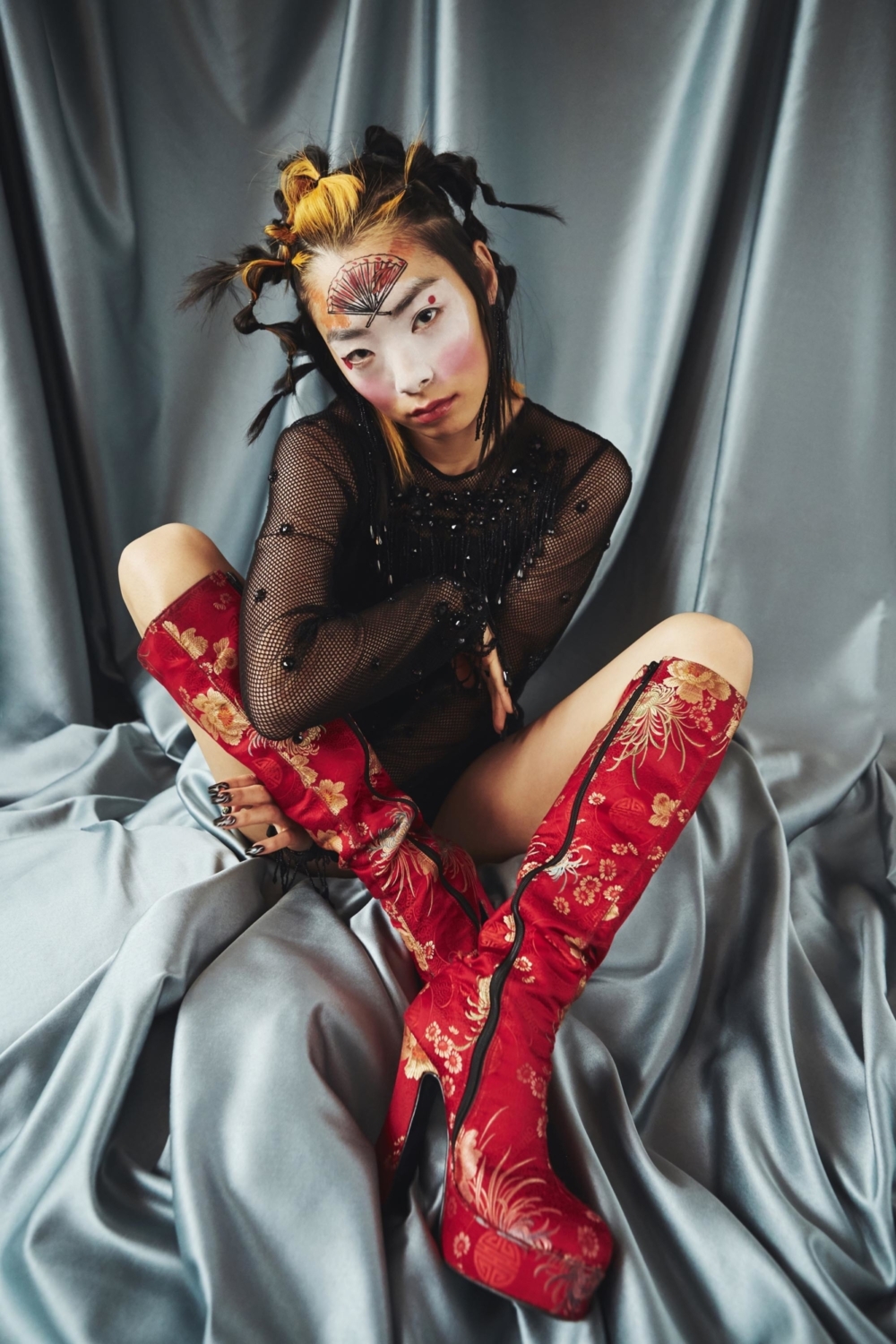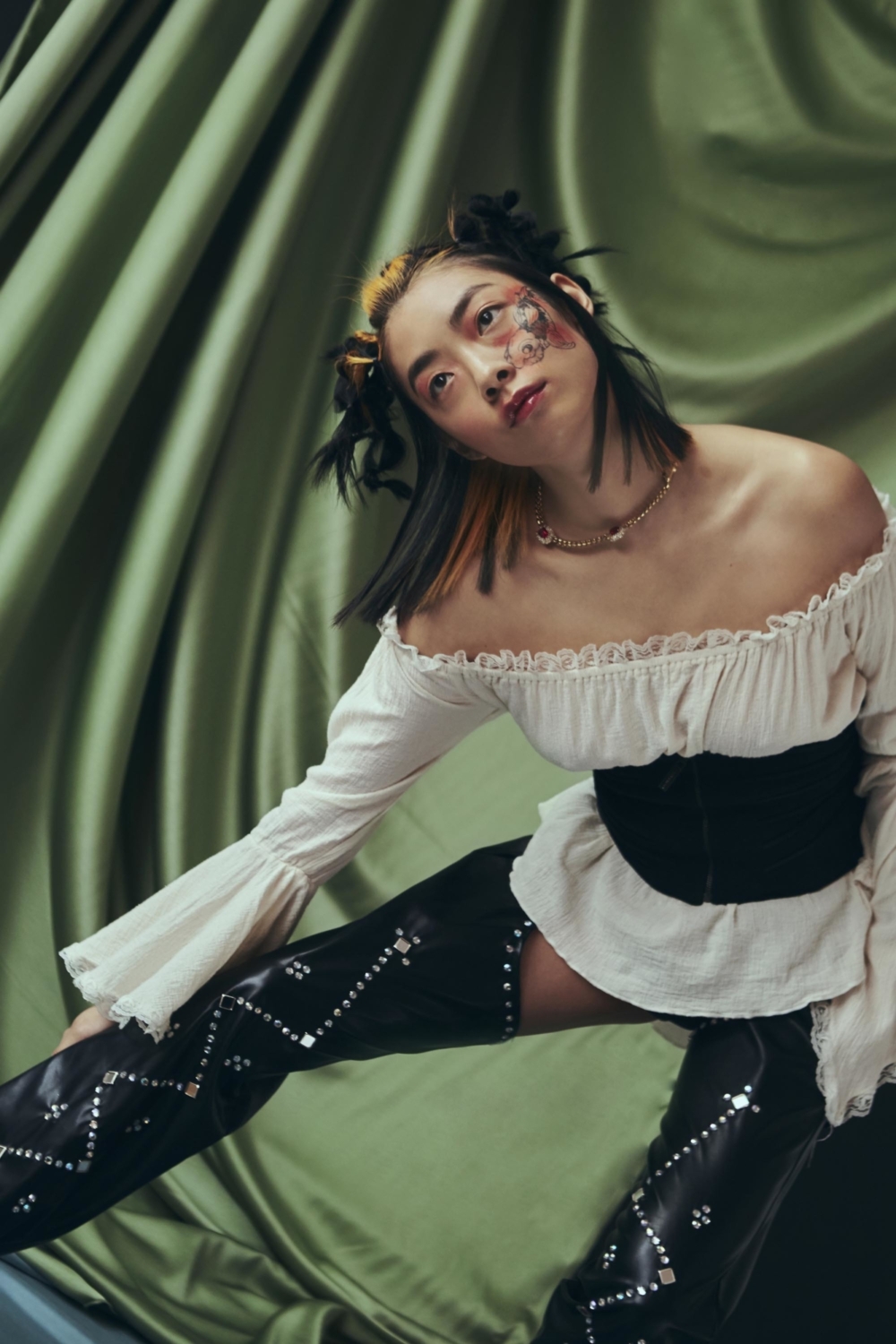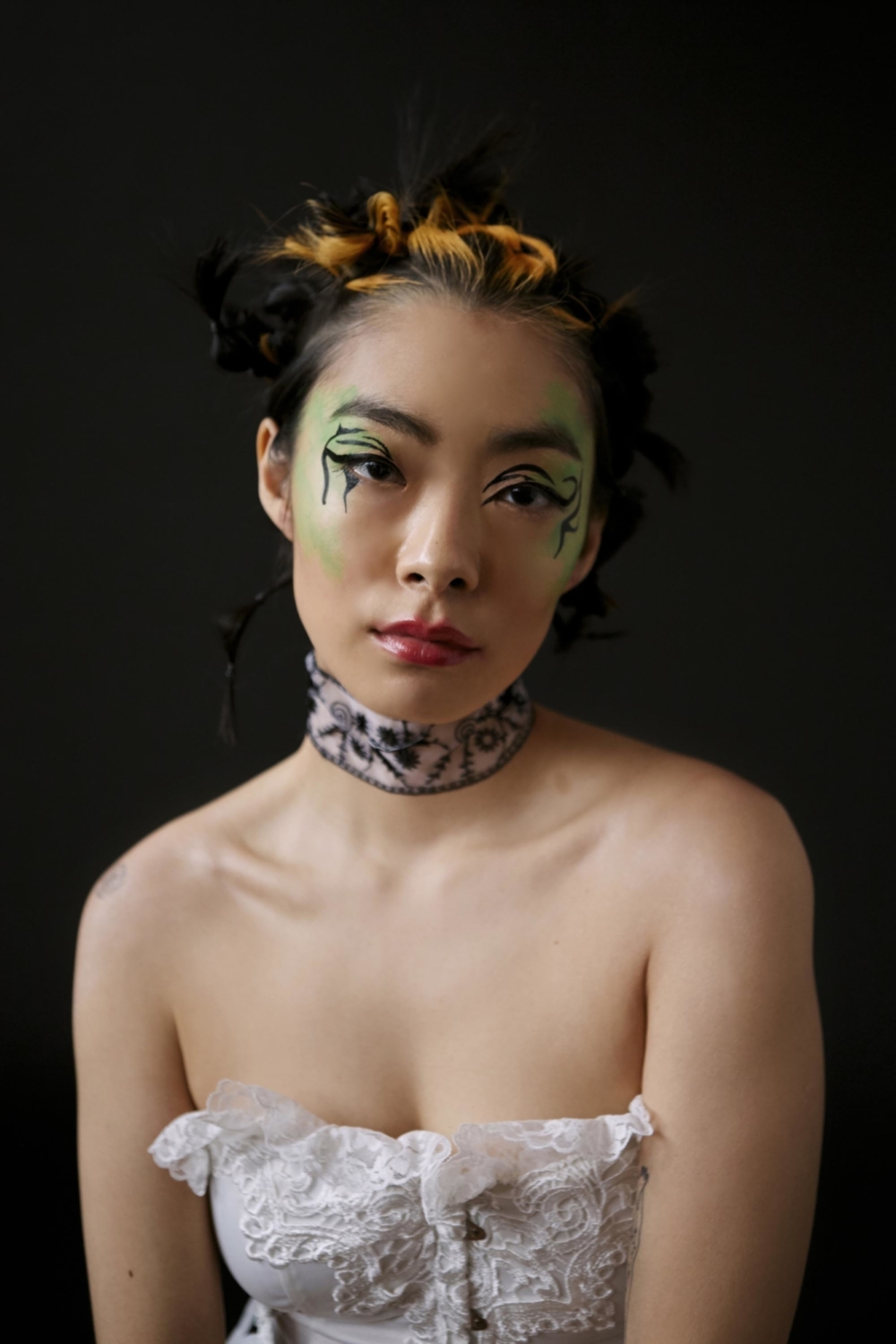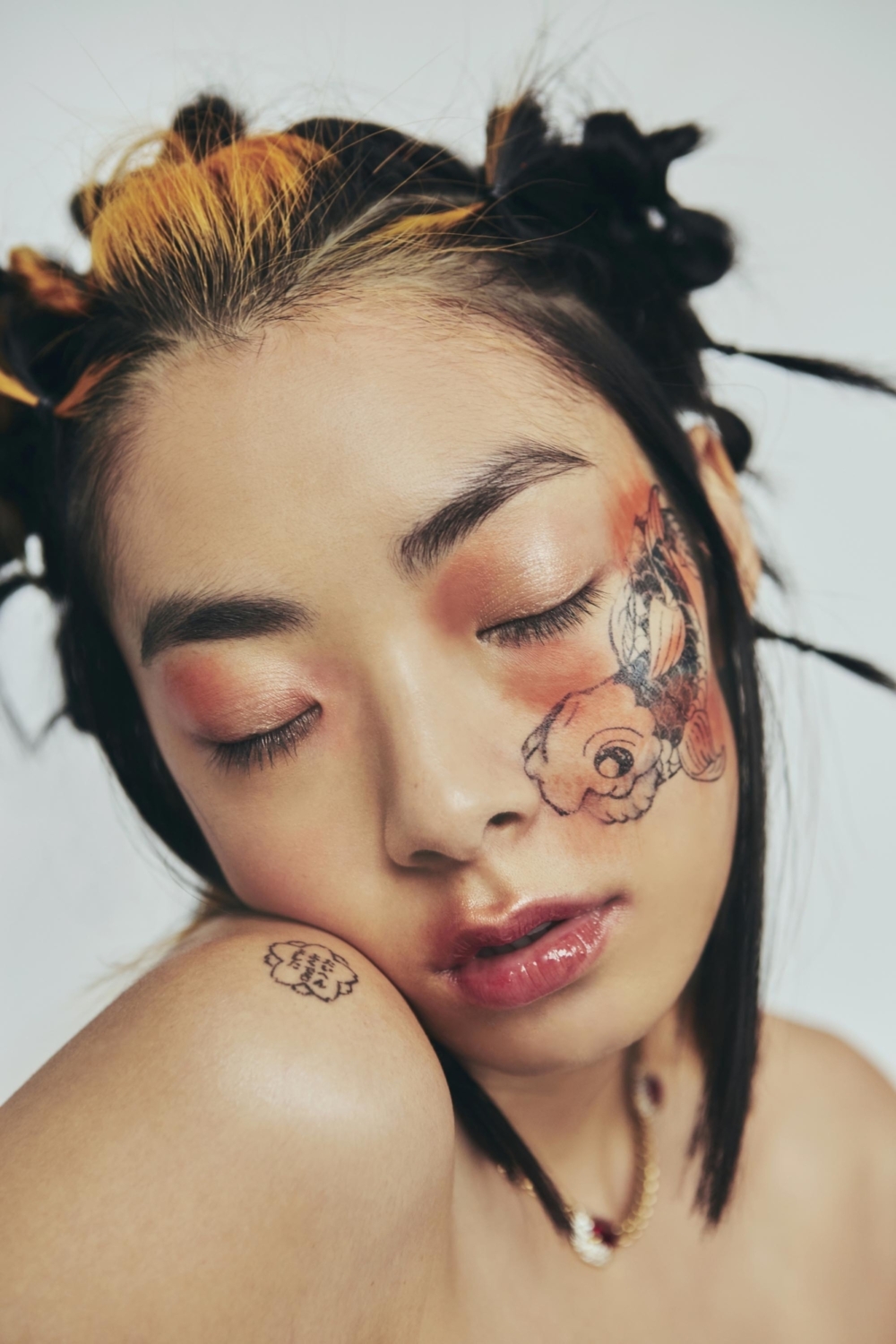 "
When you see the kind of people your fans are, you're like, 'Oh I don't have to do something more generic'.
Rina's relationship with her family grounds one of 'SAWAYAMA''s central struggles: to find peace at the intersection of her Japanese and British identities. The album begins with 'Dynasty', in which she vows to break the chain of intergenerational trauma she observed in her parents, and ends with a piano interlude her mother used to play at home. In between, songs are peppered with abstract references to her parents' sadness, vocal samples of conversations, and lyrics that explicitly detail frustrations with her mother's overprotectiveness.

This is the singer's first time getting personal in her lyrics. Her debut EP, 2017's 'RINA', was a multifaceted exploration of the many emotions social media users experience when scrolling through a feed; the lack of physical intimacy, the opportunity to form community, the exhaustion of wading through the facades other people create and project. The songs were written in the first person, but were universal to the point of being anonymous. They could have been written by any 20-something with a smartphone. When she released the EP, she even explicitly detailed her distance herself: "I can't write about myself, so I write about other people and then make it academic."

Having studied psychology, sociology, and politics at Cambridge, Rina still approaches songwriting academically. She prepares lyrics and melodies before going into the studio, today citing books such as Jenny Zhang's Sour Heart, Crystal Rasmussen's Diary of a Drag Queen, and Jon Ronson's So You've Been Publicly Shamed as source material. But, as she's gained experience as a songwriter and touring musician, she's become more confident in the appeal of her own story. "A lot of people start writing songs in the bedroom when they're young but I literally didn't have that privacy," she explains. "I was in my 20s when I started writing full songs, and [it's only] in the last 3 years I started writing personal [stories]. Touring gave me the confidence to write about myself. When you see your fans and the kind of people that they are, you're kinda like, 'Oh I don't have to do something more generic. They totally understand my growth and all want me to succeed'.'

Her fans, named 'Pixels' after her Internet-centric first EP, equally get support from her music, too. She publicly came out as bisexual through 2018's saccharine pop song 'Cherry', a process she says was nervewracking because of how much ingrained biphobia she still grapples with. She wasn't sure if anyone would care if she came out, but has found that, in fact, many fans care about the song deeply. Debuting the track before it was officially released, even from that first performance she recalls feeling like her audience connected with it instantly; since then, she's received countless messages from fans explaining that it helped them come out. "I performed at a corporate show and I felt like it didn't go very well. But then someone came up to me and she was like, 'Oh I'm so glad I got to see you because last year I came out as trans and my name is Cherry and I was listening to the song when I was coming out'," she smiles.

Rina wrote 'Chosen Family', the album's only ballad, as a homage to her community of queer friends. They regularly meet at a dim sum place she won't name because "that will ruin it" where they know other people who work in music and fashion won't find them, and she's effusive when talking about how much support they provide each other. "It creates this different narrative to Hollywood portrayals of amazing coming out stories," she says. "My friends and I don't have that story at all. I still haven't properly come out to my parents. I never had that sit down moment with them. That's not always possible and having each other for support allows us to create our own queer stories."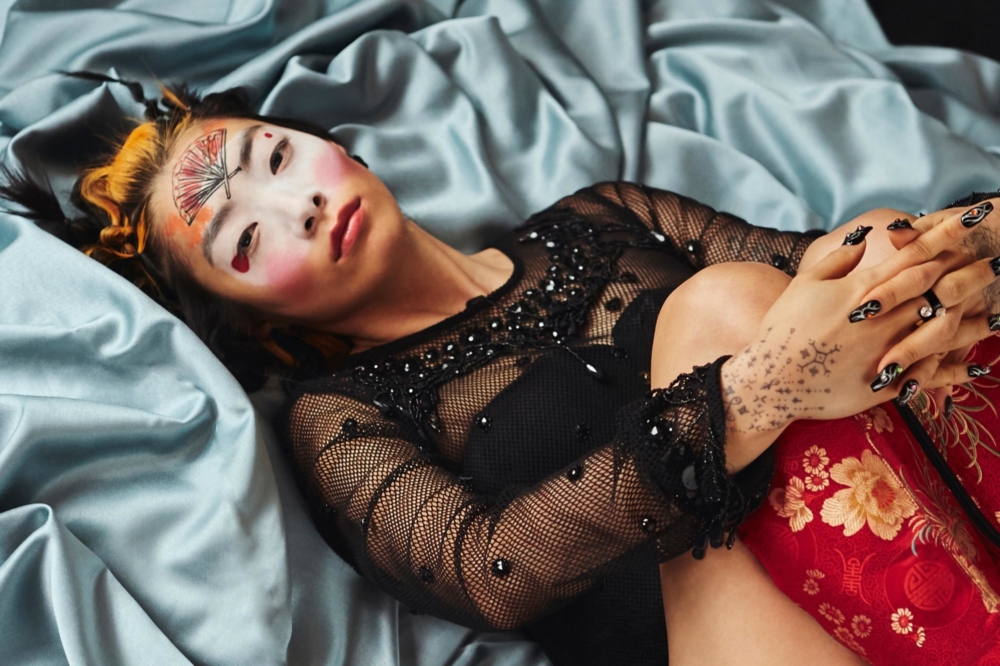 "
The record is about how I just didn't understand who was right and what the truth is.
In addition to a sonic expansion ('RINA''s sleek '00s-pop was far more streamlined than the eclectic amalgamation of genres on 'SAWAYAMA') and a shift from the abstract to the personal, the singer's full-length debut also ventures into a broader range of subject material more explicitly than ever before: 'STFU!' is a kiss-off to white men who are casually racist towards Asian women, 'Fuck the World' expresses climate change anxiety, 'XS' is a critique of capitalism.

But, as in conversation, Rina's best points don't always announce themselves loudly. 'SAWAYAMA' is a political album not just in the moments that it identifies itself as one, but because of the ordinary emotions and experiences it elevates, ones that are rarely written about in pop songs: the ways teenage daughters hurt immigrant mothers in their search for autonomy, the complicated perspective Asians raised in the West often have of their family's countries of origin. Rina's portrayal of the Asian diasporic experience acknowledges that there isn't always an easy way to repair the damage done to our relationships with our families, and that we have a lot of unlearning to do before we can communicate meaningfully.

'Paradisin'' - one of the album's highlights - is a Trojan horse of a song, a bubbly pop track that masks layers of childhood anger and resentment. A teenage Rina begs her mother to stop checking in on her via MSN messenger and just let her "have an unforgettable time of my life"; the song recognizes her frustration, while also showing how overdramatic it was.

It's a sentiment that will resonate with most people who remember being hyperbolic and shortsighted teenagers, and yet it feels distinctly Asian because, for many children of Asian immigrants, their parents symbolise the set of cultural practices they feel they have to shed to fully belong in white-dominated spaces. If Mitski's 'Your Best American Girl' is an empowering anthem of overcoming internalised shame, 'Paradisin'' is its equally important prequel, one that documents and contextualises the root of the shame. "Because we shared a laptop, my mum would go on MSN if I wasn't answering her phone calls," she remembers. "She would just go and talk to my friends and be like, 'Where is Rina?'. It breaks my heart thinking about how mean I was to her. There's a line in 'Paradisin'' where she's threatening to send me to boarding school but we can't afford it. She literally said that all the time. I'd be like, 'We can't, we're fucking poor, we can't afford it anyway!' and I'd call her a bitch. I regret that a lot, obviously. There is no black and white. [The song is] a celebration of a bit of a mess."


Similarly, she wrote 'Tokyo Love Hotel' as a critique of Western tourists who selfishly use Japan as a means to their personal self discovery without treating the people who live there with equal respect. But, it's also an incredibly nuanced critique of herself and her ingrained Western gaze, too. In another song on the record, 'Bad Friend', she sings about a trip to Tokyo that went disastrously wrong. While the focus of the song is the deteriorating relationship, she mentions drinking and getting kicked out of bars throughout the city. "I wrote about how Westerners come to Tokyo and have a great time but can be very disrespectful to Japanese people," she says. "But if you go back to 'Bad Friend', I was that person. I was taking my Western brain there and thinking it's OK to get so drunk in a karaoke booth that I was naked, just causing havoc."

For someone writing so personally for the first time, Rina is remarkably adept at it. There's a new weight and texture to the songs that make up 'SAWAYAMA' that comes from her ability to both articulate her frustrations and take accountability for her place within them. There's no clear resolution or catharsis here, just the embrace of relationships at their messiest, and a willingness to keep loving people through it all. "I guess I do steer away from that classic heteronormative love song, but at the end of the day I think everything is a love song," she says. "Most songs are about love, whether it's love for the planet, or love for your family or love for your friends."


'SAWAYAMA' is out 17th April via Dirty Hit.



Styling: Lidow Archive
Hair & Make Up: Lauren Citera