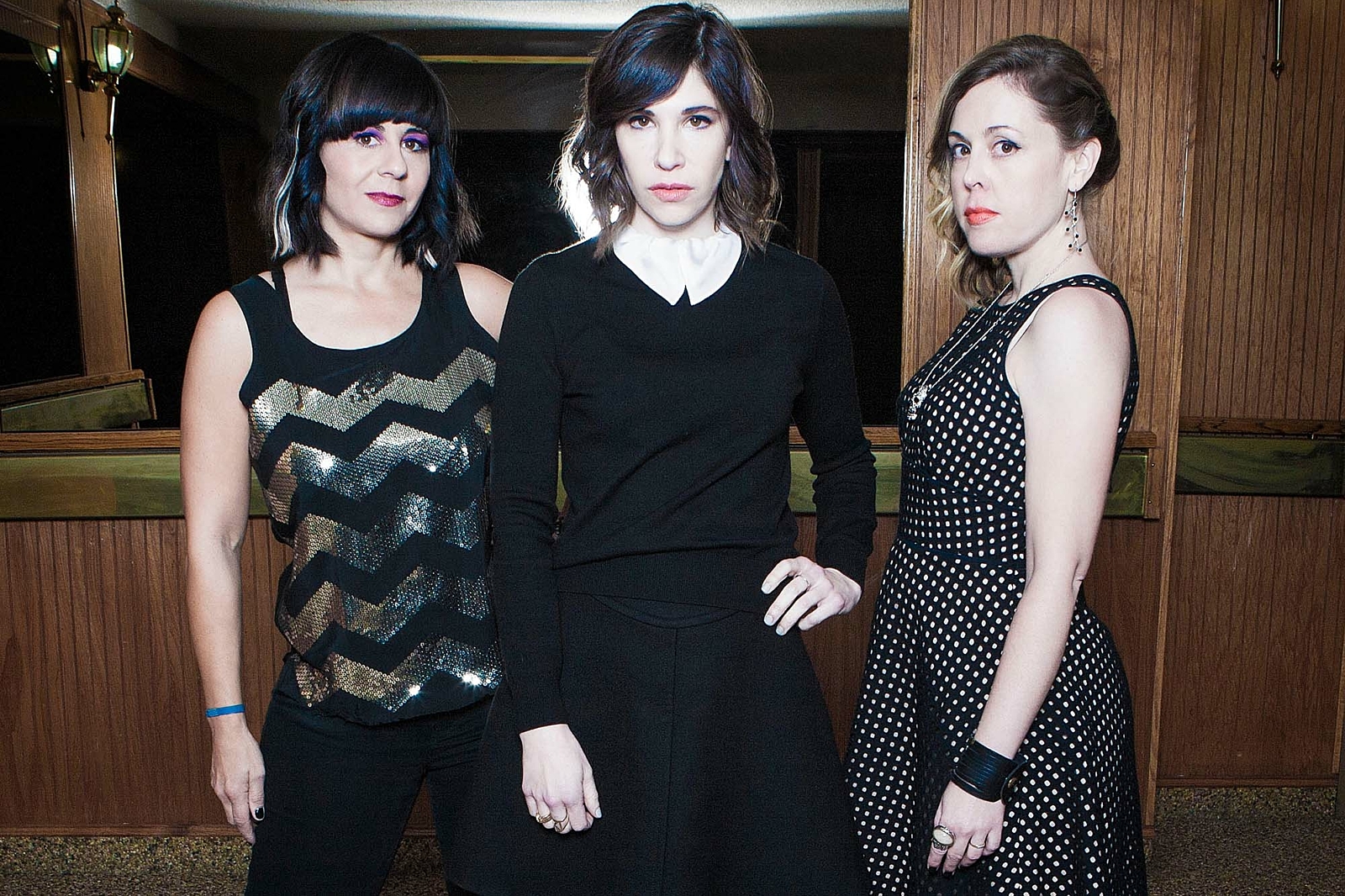 Sleater-Kinney: "How can you make something new if you think everything good has already happened?"
When Sleater-Kinney announced their reunion late last year, the internet went into meltdown: the band are back with a new album, and they're as forthright as ever.
"I'm so self-conscious about birds!" exclaims Carrie Brownstein, suddenly. "There's a dress I wanted to buy which had these little lovely birds on," she qualifies, "and I was like, I just can't. I ruined birds for my friends," she sighs, with faux-regret, "and I've ruined birds for myself."
Carrie Brownstein is notorious for many different outlets these days, from her parodies of pernickety feminist bookstore owners and chaffinch-adorned designer goods on US sketch show Portlandia, to the now-disbanded Wild Flag. When she walks down the street these days, she most likely hears "put a bird on it!" almost as frequently as shouts of "Sleater-Kinney!" Her bandmate Corin Tucker, too, wields a fearsome stand-alone reputation; her tuned-down guitar and vocal barrage of wild, unleashed vibrato unlike anything else on planet Earth, let alone the universe. Drummer Janet Weiss meanwhile has forged a path as an untouchably immediate musician and a force of pure, pummelling nature; both on Sleater-Kinney records, and with her other bands, Quasi and Wild Flag.
Today Corin Tucker snorts with derision when asked about that time Sleater-Kinney were proclaimed "America's best rock band" by critic Greil Marcus. "Now we just want to be the greatest jazz band in America," she laughs; "something to work towards on the next record," archly quips Carrie in response. Likewise, Carrie is modest about the contribution to political dialogue that Sleater-Kinney made with albums like 2002's 'One Beat', a record that arrived under the Bush administration and amid the grieving aftermath of 9/11. They're more forthcoming about their ideological core feminism and social change; less so about their status as uncompromising flag bearers for the movement. Sleater-Kinney generally couldn't give two hoots about being cornerstones of music past, or being remembered from eras long replaced by high street stores selling overpriced Beavis and Butthead t-shirts. They are a band that only exists in the present, and there is one word that Carrie Brownstein and Corin Tucker return to time and time again today. Relevancy.
On Sleater-Kinney's last record, in 2005, the band infamously called nostalgia a whore in their tirade against industry puppets and shameless imitators, 'Entertain'. Their rhetoric might have softened a little ten years on - mainly through containing fewer cuss-words - but their stance remains firmly the same. "It's not an interesting place to create from," says Carrie, bluntly. "It's a rabbit hole to go down a path where [nostalgia's] a motivating factor, or to be in a place where you feel like the past is better. That's a very diminished way of existing in the present tense. How can you work from there?" she asks. "How can you make something new if you think everything good has already happened?"

It's the logic behind why Sleater-Kinney aren't just back blazing a trail on the reunion circuit, or slapping a greatest hits collection down on the counter. Far from it, they're back with 'No Cities To Love'; yet another Sleater-Kinney album that magically seizes on the precise moment it operates within, and creates an entire cracked sonic mirror out of the chaos. "Relevancy is a very important element to longevity," explains Carrie. The decision to record together again was not one that the band took at all lightly. "It's been percolating for a few years, and it took a while to carve out the time," Carrie says. "It wasn't on some kind of timeline - it could have taken years to write ['No Cities To Love']. You know, it had to be very intentional." "Yeah," nods Corin. "We wanted to come out with a new record. We worked on it until we had an album that had something new to say."


"
Now we just want to be the greatest jazz band in America.
— Corin Tucker
'No Cities To Love' certainly has plenty of that, and then some. "I always think of Betty Davis - she's a funk singer - and she has this song called 'The Anti-Love Song'," says Carrie, shedding light on the album title. "It is actually about love, but you put the word 'no' in front of it and you still think of all the everywheres and nowheres, and how you sit within a given space, how you relate to context and yourself, and the people you love," she ponders. "When you tell someone there's no cities to love, you think about all the cities that you do love. It's more about claiming the things that you do love, because it forces you to, as a title. You're like, no! That's not true! "

Unrest, worry, and barely tensioned anxiety continually threaten to topple over into anger on 'No Cities To Love', and it's characterised by barbed, spiky guitar lines, While Sleater-Kinney's last record 'The Woods' was vast, expansive and cavernous, there's an almost claustrophobic tautness to its follow-up. "Expansion does not exist on this record," agrees Carrie, "except in little moments. We wrote it in a very airless, soundproofed space," she says, referring to her narrow basement space in Portland. "It has an airless quality to it, the playing, which I think has a buttoned up anxiety."

Buttoned-up anxiety is a fitting emotion to hold up next to an age that doesn't really know what to do with itself. 'No Cities To Love' is concerned with striving to take back agency, and occupying a new shape in a world that keeps on blurring the boundaries and withholding the rulebook from all but the super-rich. "It's a search for connection and it's about understanding the power of relationships," says Corin. "To me the creature of the album is questioning, and very hungry," she adds. "I think it's couched in a very aggressive form, though," adds Carrie. "Even when the subject or scene isn't angry, it's very unforgiving. The guy who designed our album artwork was working on it, and listening to the songs, obviously," she pauses, smiling. "His kid came into the room and said, 'oh, you're playing music by the crazy band!'"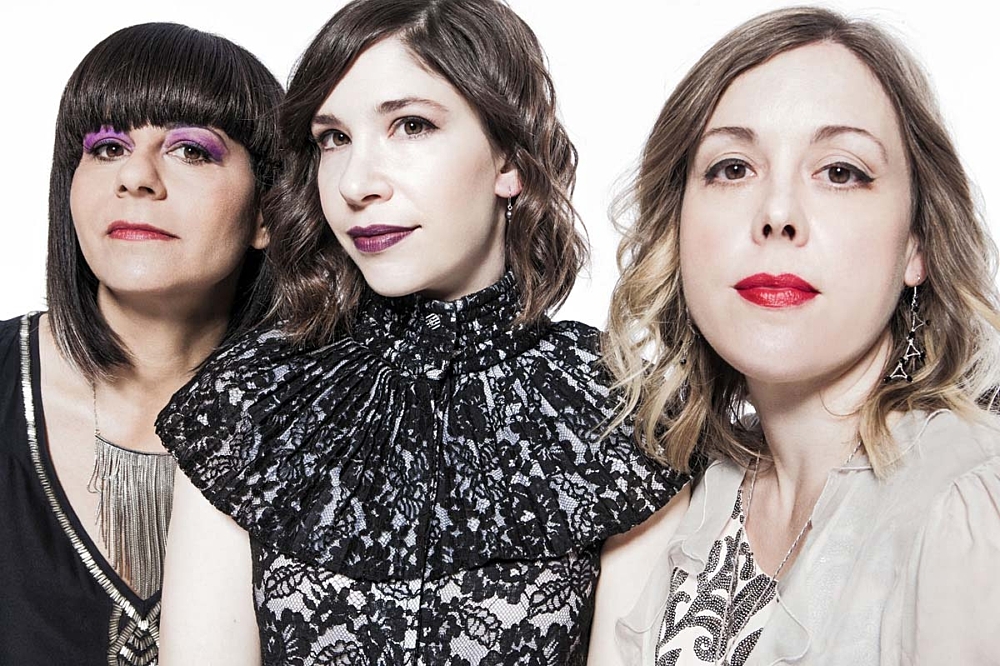 Back in 2005 Sleater-Kinney sang "reality is the new fiction," and they may as well have been predicting the advent of social media. "Realness does have a tenuousness to it [now]," agrees Carrie. "It's like there's an invisibility if you don't document. A lot of this record is about power, and a sense of finding yourself," she adds. "If you feel a sense of other, or outsiderness, you try to find these shapes, or roles, to fill. That can be a very alienating process. Ideally the space that you find for yourself, the shape that you end up filling, is yourself. A couple of the songs are about that sense of being half-formed and blurry, and trying to find solidity of shape."

One such moment is the anthemic declaration that "no outline will ever hold us" on 'New Wave', accompanied by the grisly notion of humans being raw materials; fodder for the churning capitalist meat machine. On the title track, Carrie sings about wanting to walk out to the edge of her own life, leaving her body behind as a souvenir. Bodies on this album are everywhere but never quite complete, missing limbs or existing as weird empty voids. On the first single 'Bury Our Friends' they're "stitched-up and sewn", while 'Price Tag' takes a different tact; the voice of a mother who does everything she can to follow the rules and fit into the prescribed mould. Try as she might, she just can't assume the right shape. There's no way to win, even if you play the game to the letter.

"She will never achieve what she's trying to achieve," explains Corin, expanding on 'Price Tag'. "Even though you've followed all the rules, and done everything that you're supposed to do, your job still won't provide what you're looking for. Corporations in America switch people's hours - especially working moms' - to be less than 40 hours a week. There were huge stores like Walmart doing it. The idea that having a strong labour voice is no longer necessary in America anymore…" she clearly pauses to emphasise, "is bullshit."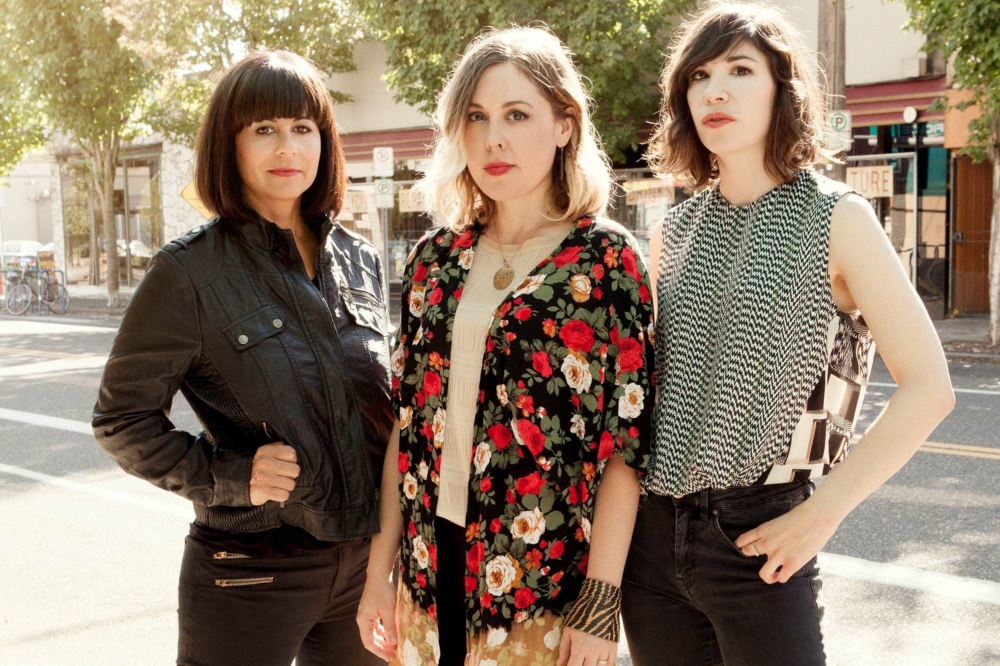 "
I think it's one of our best records.
— Carrie Brownstein
The solution being to break the rules and play by entirely new ones? "Absolutely," answers Corin with total certainty.

Sleater-Kinney don't just treat rules with a vagrant disregard; they continually advocate changing them entirely. 'No Cities To Love' is no exception. George W. Bush might be a nightmarish figment of the near-past, but the so-called War On Terror is still raging, and across the Atlantic protesters are out lining the streets of Ferguson and New York, railing against police brutality. Inequality is still the currency of society, and despite the progress that has been made since Sleater-Kinney last made music together in 2005, their concerns remain every jot as relevant. Not only do they have something new to say on this album, they have something absolutely vital that needs to be heard.

"There's still such an unrealised existence in the United States," says Corin. "It's such an incredible dichotomy; this promised land, for certain people. Other people will never be able to achieve that. That frustration is still there, and the inequality. We have to speak up about it, because if we just let that kind of privilege exist with wealth in America, then as a country we've failed," she says, "absolutely failed."

'No Cities To Love' contains "an element of wanting to do something that isn't binary or defined by a shape that is familiar," adds Corin. "[Society's] resurgence of negativity and violence has to do with this fear of huge shifts where the binary is starting to break down a little bit," expands Carrie. "That's very scary for some people. Hierarchy is very comforting for a lot of people. It benefits some, and completely degrades others. When iCloud was hacked, you know, those nude picture leaks, there was this idea that women's bodies are just available and objectified and made into commodifications." It's another idea slam bang wallop at the centre of this record. It's not an easy dialogue to start up, and progression will be slow, but, Carrie adds, "people are starting to speak up. I think that the collective voice of power from the feminine is scaring the shit out of a lot of people," she says with a glint.


"I think it's so incredibly important that more women are feeling free to speak out, and to say that it's unacceptable," says Corin. "There are new ideas and ways of re-defining our interactions with each other. The whole yes means yes campaign for colleges," she continues, referencing sex education in schools, "it's brilliant that we're reinventing how we start to interact with each other. Let's make it like a weird French play where people are like 'Do you want to have sex with me?'" she laughs. "It's obviously really funny and awkward, but let's make these relationships that we have with each other very specific and observed, and very public. It will be awkward and we'll laugh in 20 years, but re-examining that is important."

Besides their tongue in cheek quest to become the best jazz band in America, and their deadly serious pursuit of musical and social progression, Sleater-Kinney's parting goal is an unlikely one; to return to The Planet, a fictional venue in America's unofficial Most Ludicrous Gay Soap Opera, The L Word. At the height of their success, touring 'The Woods', Sleater-Kinney played 'Jumpers' on the show., and they'd go back and do it again "in a heartbeat," says Corin. "We'd open for a band at The Planet. Who wouldn't?" she adds, with a barely-maintained poker face. She can't keep her composure any longer, and howls with laughter. "Everything about that is so silly," laughs Carrie.

It all returns to Sleater-Kinney's favourite word: relevancy. They might roll their eyes, but they remain one of the biggest rock bands in America, and they connect with everyone equally - even noughties teenagers watching episodes of atrocious TV programmes. Whether the person picking up 'No Cities To Love' is brand new and arriving to the band for the first time, or a die-hard from the very beginning, Sleater-Kinney "want people to see this album on its own terms, and hopefully it holds up." "I think it's one of our best records," assesses Carrie, and she's right. "I am very proud of the fact that we put out six great records, and then our first is kind of like 'we're here'," she laughs. 'No Cities To Love' simply holding up is surely the understatement of the year, and it's only just started.

Taken from the February issue of DIY, out now - order your copy below. Sleater-Kinney's new album 'No Cities To Love' is out now via Sub Pop.