Bestival 2014
Ahead of Rob and Josie Da Bank's Desert Island Disco themed bonanza, DIY takes a look at the jam-packed line-up.
It's the home straight, and the end of festival season is approaching faster than a drunken crew of onesie-clad revellers making a beeline for the main stage headliner. Helping to sound summer's final trumpet fanfare is the mighty Bestival. Every year Josie and Rob Da Bank shake the Isle of Wight awake with a tonne of music, strange tucked away venues, and a fancy dress theme dreamt up in the mind of somebody with a kaleidoscope for a brain. This year it's a Desert Island Disco, and what with the ferry ride to aid things, it shouldn't be too hard to imagine that it's a summer holiday to an island in the South Pacific rather than just off the coast of Portsmouth. We can't sort out the Lei garlands or caipirinhas at DIY – but what we can sort is our comprehensive picks from Bestival's bursting-at-the-seams schedule. For everything else, the full line-up is right here.
Big-name Legends
Topping the bill this year on Friday are the Polaroid-shaking, Ms. Jackson offending Outkast, returning to celebrate their 20th Anniversary. For Nile Rodgers-featuring Chic's Sunday slot, it's being billed as a 'Desert Island Disco Finale'. Also perching right up the top of the bill is Beck, along with hip-hop veteran Busta Rhymes, who is surely going to be, urm, busting some rhymes. Sophie Ellis Bextor nicely fulfills Bestival's quota of slightly cheesy nostalgia. Last, but most certainly not least, young and older hearts alike should run free, squarely in the direction of the legendary Canti Staton.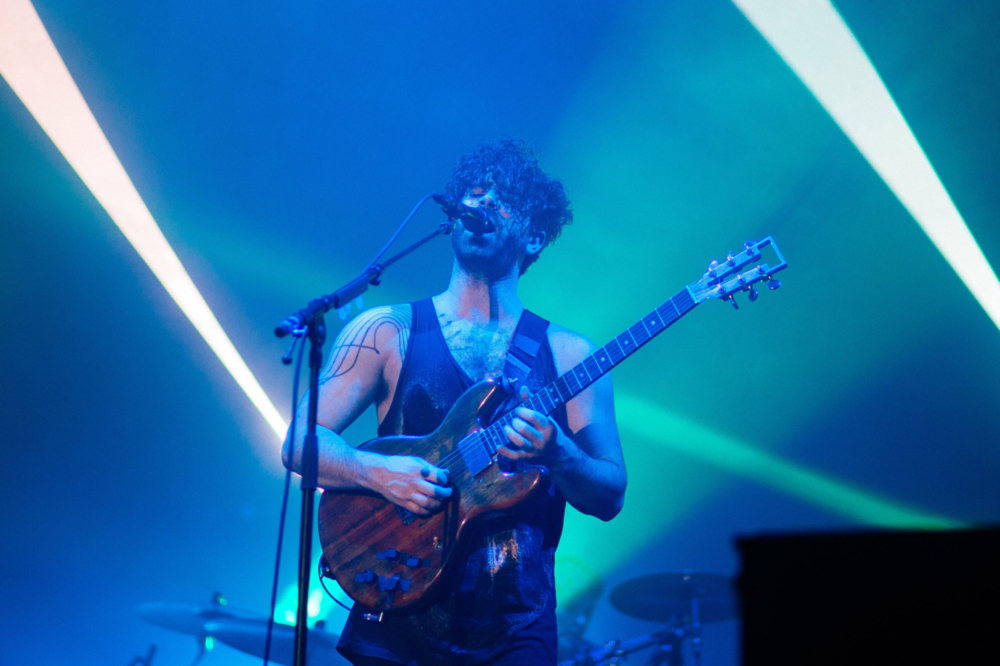 Rising Stars
As per, Josie and Rob Da Bank have done a stellar job of curating Bestival's line-up, and between the old favourites and the festival rookies, there's plenty more to see, with Cate Le Bon, Wild Beasts, La Roux, and much more all crammed onto the schedule.. Saturday night will be a big milestone for Foals, stepping into the esteemed boots of headlining a major festival, For Wolf Alice, it's bound to be a similarly important moment, wrapping up a triumphant summer, and cementing their status as one of the most exciting bands in the UK right now. Darkside's final hurrah before going on hiatus should be totally spellbinding, and tUnE-yArDs is bound to be a bizarre and otherworldly spectacle. Chvrches are another one to pencil in, and following their set this weekend, it won't be a surprise to see them headlining second stages at future festivals.
Fresh Faces
Bestival has a bit of a reputation for booking dream legends – the festival has played host to The Cure, Stevie Wonder, and Elton John in the last three years alone. The Da Banks also have a knack for new talent, though. Bestival is a popular setting for huge numbers of breakthrough sets from rising artists, and this year that trend looks like it'll continue. One of these moments might just be due for mysterious London outfit Vaults. Nai Harvest are worth checking out, along with Happyness, IYES, Beaty Heart, and the rather excellent Hockeysmith. This year there's a brand new stage called Invaders of the Future, too, where you can catch the likes of The Wytches along with Say Lou Lou, and Kate Tempest, who is hotly-tipped for a Mercury Prize nomination.
So there's music, but what about the Restival?
It always seems to go this way; the clash finders are meticulously highlighted, and the watches are in sync to the nearest nanosecond. Somewhere along the way, though, you set off for BBC Introducing, and somehow it all goes to pot, and you find yourself in a giant teapot watching a band of zombies play covers of The Cardigans instead. It's all part of the fun, and Bestival isn't short on non-musical distractions. Traditional favourites The Wishing Tree and Ambient Forest are staple sideshows, while The Swamp Shack (R.I.P old friend) has been replaced by the Reggae Roots stage, and an entire beach. This year Martin Creed is bringing his installation 'Work No. 204: Half the air in a given space' to the Magic Meadow, for anybody wishing to dive around in a tent full of giant balloons while looking arty at the same time. The Bardfoolery of fringe favourite Shit-faced Shakespeare, with one rogue drunk hiding among a classical cast, looks set to be hilarious. For anyone gutted to have missed out on tickets to Kate Bush's London shows, Bestival's tribute, Fake Bush, is mandatory. There's Caravanserai, too, a camp built from old bits of caravans, where there's apparently going to be circus and trapeze antics. For a quiet hour of respite, ensconce to the Knitting Tent, or a gigantic and rather bizarre looking tower called Oberon's Observatory, which looks out over the whole festival. All this is only for starters, so get exploring.
There's plenty more that we've not got room for, but they don't call it Bestival for nout. We'll see you there, and meanwhile take a break from packing bags for the Isle of Wight's own Club Tropicana, and take a listen to DIY's Picks of Bestival playlist right here: