Dua Lipa: Blow Your Mind
With her debut album finally out, Dua Lipa talks whiplash, rabbits, and having a detachable head, obvs.
It's been a long time coming, and now Dua Lipa's debut album is finally out there in the big wide world, making trails like a pop flavoured Pokémon. Clearly filled with excitement about the release of herself-titled first full-length, and raring to zombie walk on her next tour, Dua hops on the phone mid-way through her massive tour, for a quick natter about cute rabbits, detachable heads, adultery bops, and almost getting whiplash during a video shoot. What else?
Congratulations on having your album out! How are you feeling?
I'm ecstatic. I'm over the moon. I can't wait for everyone to hear it. I'm just excited to see people's reactions and see how people are feeling.
Do you feel relieved now that's here?
Yeah, absolutely. It's exactly like that. I have no words, really.
It does feel like it's been quite a while coming.
Well, I've been working on it for the past three years, nearly, so it's all a bit mental. I've got so many mixed emotions happening, and there is so much of my life that I've put on to that album.
'New Love' came out in 2015, but do you still feel like that person you were then?
I haven't changed. That's still a massive part of my life, and that song in particular still relates to me now to this day. I remember the reason why I wrote it and everything behind it. So, all these songs mean so much to me. I still feel like the same person, I've just grown in a different way.
Do you still feel like a new artist, then?
Yeah, because the album has only just come out. There's a lot that comes with developing a new artist, especially with streaming and everything that's happening. It just takes a while; you're a new artist for a long time and it's not what it used to be like before.
Were there any moments where, over the past few years, you felt like going, 'Sod it, I'm not putting an album out'?
No, I always wanted to have an album out, and it was always a really big part for me. All the artists that I really fell in love with and that I really loved all had albums, and that was the reason why I was so in love with them. I had to have my own album. It was really important to me.
Has the record taken a few different shapes as it's gone on?
When you're working on something for a really long time, you keep looking for missing pieces of the puzzle. I just kept on writing until I felt like I had written enough. And because I kept on releasing so many songs so that people could get to know me, I also felt that when the album did come out I wanted to have lots of new songs. That's why it took so much time — I just wanted to make it sound fresh and new.
Were there any tracks on the record where you originally didn't like the songs but have since come around to them?
No, actually. I guess, for me, I had to be really certain and proud of everything that I've done. Before putting anything out, I had to make sure that I really loved it and that I loved performing it, and that it was a good representation of who I am.
'Be The One' is quite literally amazing. But are you fed up of hearing it now?
I've been performing it a lot. I think it's more that, to begin with, it was a song that I hadn't written, and on ['Dua Lipa'] it was more of a side thing. I just wanted to perform so many of my other songs, but I guess now I love it. It's such a feel good song, but I'm not bored of it - it's a miracle! But the way that 'Be The One' has grown as a song…I've gone from territory to territory and experienced different crowds. At Europe the song was really big, and then when I did my Shepherds Bush show everyone knew 'Be The One'. It was really exciting to get something different from it.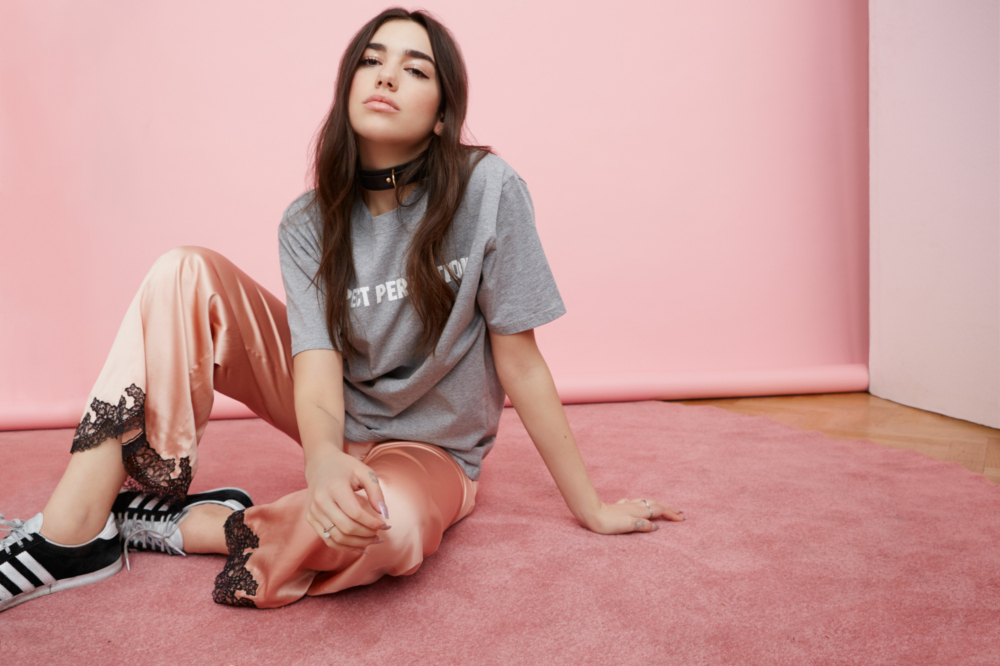 "Most of the time when I'm performing I do a zombie walk. It's my thing"
— Dua Lipa
A lot of the singles have been upbeat, but the album isn't that jolly at all. Are you okay, Dua Lipa?
I say that a lot of my inspiration comes from sadness, and I am okay, thank you. I find it the easiest and most therapeutic to be able to write about my experiences in that way, and that's how I get things off my chest. It used to be scary when I'm writing about a certain experience and I'm worried about the person I'm writing about will find out it's about them. But I'm no longer worried. I'm really okay with people knowing certain songs are about them. I just feel good about it. But yes, I'm okay. It's just a way of me getting all my feelings out.
That sounds liberating…
It gives me so much clarity. I can then understand why certain things happen in the way that they have, and I'm able to finally put it out on to paper. It makes me okay with the situation.
Can you tell us about what the "bad" in 'Bad Together' means?
Well, it's about understanding someone's flaws and them understanding mine, and if we're the two worst people on the earth at least we can relate to each other, and be bad together.
It's sweet, but why are you the worst?
Sometimes in a relationship there's so much messing around. You don't know if that person likes you or if they're seeing someone else. I guess it's that confusing bit before you realise you're with someone or not.
It does sound, at times, like it could be an adultery bop.
An adultery bop? [Laughs]. What do you mean?
Well, we've been bad adulterers, and now we can be adulterers together?
Yeah, I mean, a bit of that too…
There are also a few religious references in 'Dua Lipa. What is it about religious iconography that makes such it so good for referencing?
I think it's just a beautiful way of describing things. I'm not really religious, but I'm just inspired by it. It's beautiful to be able to describe something as heavenly or taking those connotations and describing a bad situation as hell. I love the descriptiveness.
You've worked with a couple of artists on the album, Miguel and Chris Martin from Coldplay. Chris, however, doesn't have a credit. Why is that?
It's because it's weird to have "featuring Chris Martin" on a song. It feels random. Even on Kanye's song, 'Homecoming', he's not credited. He's got such a distinctive voice that I think people will just know.
Let's talk about Miguel. In the video for 'Lost In Your Light' video you both fly. Who was better at flying?
D'ya know what? I think I was pretty good, I must say. I'd give myself a 7 out of 10. It is really hard to fly on a harness. I've done it once before and that was a disaster. But I had a day's practice. But Miguel was really good, too.
There's one moment in that video where you get pulled back very quickly, and it looks like health and safety should have intervened.
[Laughing] Whiplash!
We were worried!
Oh babe. It was totally fine. I'd done lots of practice, and it was really fun to be flown around in the air.
There's also some dance routines in that video, too.
It's kind of like a zombie walk. But most of the time that I'm performing I do a zombie walk anyway, it's my thing. That's my stage move. But I think I'll keep doing bits in the next few videos.
You know what, everyone loves a dance routine.
Everybody wants a bit of choreo. Well, we'll bring elements of that into the live show when I do my album tour. But I don't think the zombie walking is going to be the vibe.
"There's nothing in the pipeline with Pitbull for now. I'll do it when I'm as big as J.Lo"
— Dua Lipa
You have collaborated with a few people. Was it important to make sure that they were all distinct?
Absolutely, and before I did lots of features I made sure that I had released lots of my own songs so that people knew what I could bring to the table. Alongside that, when I first worked with Sean Paul I liked it because it was something different. He's an artists that I really love and that I've listened to for a lot of life. Working with Martin [Garrix] was really cool because EDM isn't something that I'd personally put on my album, but it still felt like a part of me. Then I worked with Miguel. It's just that my taste in music ranges so much from so many different things that my inspirations come from different places. I wanted to work with different artists because I love and appreciate all different types of genres.
So when is the Pitbull collaboration happening then?
There's nothing in the pipeline for now.
Everyone should do it at least once…
I'll do it when I'm as big as J.Lo.
We'll hold you to that!
Please don't [laughs].
There's only one ballad on the album, 'Homesick'. Were you hesitant about including one?
No because I love them. I love ballads, I love singing along to them. They're really emotional. As long as I could put my own take on it, and that it didn't feel that far away from what I do. I feel like the ballad still touches on my personal style, musically.
Your fans on Twitter often turn pictures of you into memes. Do you like that?
I really love it. It's so funny. There are some that are just awful pictures of me, really bad ones, but it's okay. You take it on the chin. I think you need to be able to make fun of yourself as well.
It does come from a place of love, too.
Absolutely, and they all mean to so well. It makes me giggle.
Talking of funny photos, there's a press photo where you're holding a rabbit. Why are you holding a rabbit?
Because it's fucking cute.
Was that it?
That's literally it. I was like, 'Hey, we should bring a rabbit.' We actually had two different rabbits, and I wanted a rabbit. There's nothing extra behind it all. It was more that I just wanted a rabbit.
Are you a big rabbit fan, then?
I don't have any, but I think they're cute. I actually saw a picture of a model holding a lamb. It was super cute, and I was like, 'I wanna do something with a really cute pet. Can we get a lamb?' But I settled for a rabbit.
So for the artwork for album two, you should go to a farm and just take some pictures with the animals.
That's where you'll find me. Just me in a pigsty.
Just mucking out.
Super chic [laughs].
Would you say you prefer taking pictures with vehicles or with animals?
I…um…prefer to take pictures with animals? I don't know really. This is a weird question.
You're known for wearing nice shoes and for wearing chokers. But if you had to give up wearing chokers or fancy boots which would you give up?
Fancy boots, for sure. I feel like my head might roll off if I don't have a choker on.
It is the Dua signature, after all.
It's just so that people will never know whether I have an interchangeable head or not. So I have to keep it up. Different bodies same head.
That would be so handy.
It's like, "Look, I can't get out of bed today. So leave my body here, and put my head on another body that's willing to get up."
Realistically, having two heads would be more useful because then you could be at two places at once.
That would be really good, but let's start small and then we'll dream big.
Now that 'Dua Lipa' is out, would you say that you have the whole popstar thing figured out?
No because I feel like I have a lot of work to do and that there's a lot of work to be done still. I don't think that I'm a popstar yet, but I'd like to be.
Dua Lipa's debut album 'Dua Lipa' is out now.


Get your copy of the latest issue