From The Magazine
First Love, Last Love… Farewell to The Maccabees
As The Maccabees embark on their final farewell dates, we rallied up musical mates Jamie T, Mumford & Sons and more to bid them goodbye
Ever since the urgent charge of 2005 debut single 'X-Ray' introduced The Maccabees as a band brimming with passion and wide-eyed excitement, Orlando Weeks, Felix White, Hugo White, Rupert Jarvis and Sam Doyle slowly but surely buried themselves deep into the hearts of the indie nation. From the youthful, twitchy energy of debut 'Colour It In' (see p20 for more on this one), to the heart-busting anthems of 'Wall of Arms'; the slow-burning leap forward of 'Given To The Wild' to 2015's superlative 'Marks To Prove It' – the expansive, soaring climax of all that had come before – The Maccabees were a band that blossomed and progressed in the classiest of ways. Never making a bad record and translating them into the kind of cathartic, joyful live shows that, by summer 2016, had earned them a rightful spot as major festival headliners, it felt like, after a decade, the band had finally earned their deserved place as one of the UK's finest.

But then… well, you know what happened next. So now, with eyes having temporarily dried, we find ourselves on the eve of the band's farewell tour: eight dates up and down the country and then it's all over. It's going to get emotional.

See, more than just a band capable of crafting a bucketload of infectious classics, The Maccabees have always been a group with that extra emotional je ne sais quoi: the kind that grabs you by the heart and fills you with the warm affection of an old pal. We're not the only ones who think so, either. So here's to The Maccabees: truly one of the special ones. From DIY, and some of the band's musical nearest and dearest.
Jamie T
"I first saw The Maccabees play was in a little club in Brighton around 2005. They were all out front in a line, crammed onto this little stage and the place was going wild. I thought that they were one of the best bands I had ever heard. Seeing those guys gave me belief that it was still possible to have an effect on people in that traditional band type capacity.

Lyrically their music is rich and the sound has become more three-dimensional as time's gone on. In an industry built on 'the next big thing', it takes a certain class to amass a catalogue as thoughtful and precise as The Maccabees have. 'No Kind Words' [in particular] has a special place for me. I think it kind of caught me off guard when I first heard it and I found myself sobbing on public transport.

They came on tour with us in the early days and they'd already blown up by then; they could have headlined that tour themselves. The fans had a great time because it was like double headline slot and we enjoyed it because… well, we got to see The Maccabees play every night."
Ben Lovett, Mumford and Sons

"Being a teenager in the 00s, loving music and going out to indie clubs basically meant that by default you were a Maccabees fan. I remember losing my shit when they asked us to play some shows with them [back in 2009]. It was by far the biggest and best thing to happen to us by that point. Probably still is.

I remember driving in a van together to play a show (maybe in Winchester?) and hearing 'No Kind Words' get spun by Zane Lowe for the first time. Darker, rockier, bigger; it was super exciting. They've never tried to make the same record twice, and yet you always know a Maccabees song when you hear one.

They taught us everything. 2009 was amazing; they were generous and inviting and so much fun. We've subsequently done a bunch more touring together and it's honestly like touring with brothers, as cheesy as that sounds."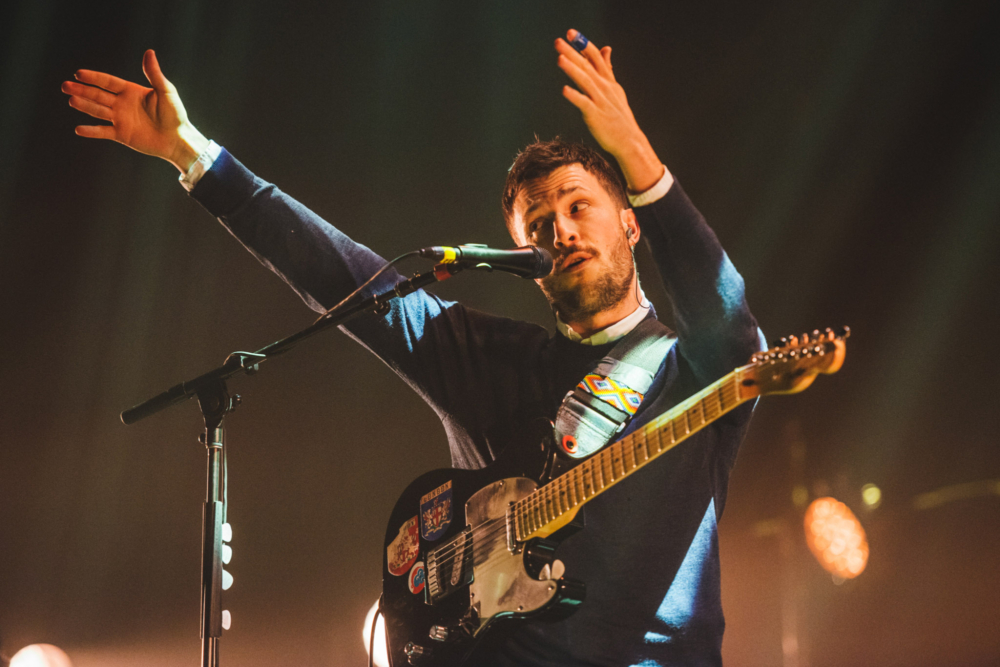 Tom Meighan, Kasabian
"I loved that band, and you know what? As people, I'm telling you now they're so sound. When we toured together that was the first time we'd met, but we got on amazingly. I thought Orlando was a charismatic frontman – very odd and very engaging. And I love the brothers [Hugo and Felix]; they're amazing, they've got a certain look about them. The Maccabees write really unique pop music, and they had an edge to them. Lush melodies, but with this pop edge.
I remember one night we proper got on it. I've got this stereo backstage and I remember us fucking going crazy, screaming along to loads of Beatles, loads of 60s rock'n'roll, screaming at each other with shit flying around. You know: one of those nights. Most nights were like that anyway. Nothing new there. Then when they got a Number One album, I bought them a bottle of champagne when we were in Budapest. It was lovely. I'm gutted they've split up."
Soph Nathan, The Big Moon

"'Colour It In' came out when I was 15, and it made a huge impression on me. It soundtracked a time in my life, and I get a wave of nostalgia listening to it now. Supporting them in 2016 was a huge tour for us, and I kept thinking 'if only I could go back and tell my teenage self that this would happen'.

They're a very genuine band. There's a lot of kindness in their lyrics, a sense of care and compassion that I've always found really endearing. They're a really interesting group of people too; the combination of the five of their personalities and talents is what makes the band so special."

Blaine Harrison, Mystery Jets
"The first time I met Felix was at an early Jets show down in Brighton. He was simultaneously collected and confident whilst bouncing off the walls with excitement, which is exactly how we felt about our band too. So we went to see them at The Borderline - it must have been late 2005 - and they were red hot. The Maccabees were perfect from the get go. 'X-Ray', 'First Love', 'Precious Time': these weren't the kind of songs that you'd expect on a band's first record.

I think one of the things that the Jets and The Maccabees always had in common is that family band factor. There's nothing like hearing music played by people bonded by blood, and Felix and Hugo played in a way that was unique to them. The counterpoint between those breakneck drums and the floating inflections in Orlando's voice created this very ethereal but urgent sound. They looked like a proper gang too, although because they all wore hoods at that time you could never tell who was who.

'Marks To Prove It' was a love letter to South London and the changing face of the city they sprung from. What a record to go out on."

Kristian Smith, The Magic Gang

"I was really young when I first heard The Maccabees. My older brother had discovered them before they put out their first LP and managed to obtain early versions of 'X-Ray' and 'Latchmere', probably through Limewire or something (sorry lads). Then they were one of the support bands at the first gig I ever went to and I remember being blown away by their energy. After that, I saw them religiously at Reading Festival and other places for years and it never disappointed.

I love the way they're able to evoke really emotional vibes in a pure yet non-sickly way, which personally I think is a really impressive feat. Tunes like 'Tissue Shoulders' and 'First Love' have this chaotic but simultaneously beautiful tone.

Working now with Felix [through Yala! Records] has been amazing to be honest. He's a great person in general and incredibly supportive. We're very fortunate to have someone as a boss who has the experience and knowledge of being in a band for quite some time; he's full of good advice and stories."
The Maccabees start their farewell tour - sob - tonight in Birmingham, before finishing up with three nights at London's Alexandra Palace.


Get your copy of the latest issue