Get To Know
Get To Know… LUMER
With their debut EP 'Disappearing Act' out now, meet the Yorkshire post-punks.
Hello and welcome to DIY's introducing feature, Get To Know… getting you a little bit closer to the buzziest new acts that have been catching our eye as of late, and working out what makes them tick.
Recently we've met Oklahoma duo Sports, London-via-Yorkshire post-punk outfit DEADLETTER, Sweden's newest pop talent LOVA, Irish songwriter Kynsy, and now we're introducing you to post-punks LUMER!
Sharing their riotous seven-track debut EP 'Disappearing Act' today, lead vocalist Alex Evans says of the EP, "The entire writing process felt incredibly easy. It takes, whoever can be bothered to listen, down a bitter road of different experiences and what we despise in the world. It talks of love, hate, hope and death, and ultimately the personal things that affects the majority of people's lives."
We sent them over some qs to find out more.
Describe your music to us in the form of a Tinder bio.
Alex: Loud, obnoxious and, at moments, rather fiery but overall lacking ability with our 'instruments'.
Will: Like an acid trip, there are good rides and bad rides but it's guaranteed to be full of surprises.
Ben: 6"4, Living for the grind #COYH
What's your earliest musical memory?
Alex: I think my earliest musical memory was singing Elvis in my pants before school when I was very young. I got a triple CD of all his music and repeated the first few tracks with a hairbrush in hand and this awful plastic guitar. Then bands like The Beatles and The Kinks started to become part of my morning routine.
Will: I remember having to put up with the above routine whilst trying to get him to come to school.
Ben: It's got to be belting out 'Suspicious Minds' with my Dad in the car on the way to school, Elvis was big in my house so much so my brother at aged 3 cried at the dinner table when he found out Elvis died years before.
Who were some artists that inspired you when you were just starting out (and why)?
Alex: One of the big ones when we first started was Bauhaus, which led us into a bit of a 80s goth phase I guess. Other than that, when we first started it was always about going to local gigs at The Adelphi in Hull. I remember seeing Protomartyr there when they supported Eagulls and they changed the way we played ever since.
Ben: For me, in the early days it largely depended on who was playing in Hull and what music we were getting exposed to, bands like No Nothings, Vulgarians, Weirds and Cannibal Animal had a huge impact on us, as well as Eagulls, Protomartyr and Autobahn playing a big part, we were really heavily influenced by the bands and music going on around us as well as an aggressive goth phase.
You're from Yorkshire! What do you think of the music scene there at the moment?
Alex: In some ways, it's hard to tell with having no way of going to gigs or seeing bands live. I think the most notable is a band we grew up around, appropriately named Cannibal Animal. There is also Polevaulter from Huddersfield, who sounds like what I'd imagine taking Meth is like - in all the best ways. I would also say Will's other band Autosuggestion who we always, again appropriately, have treated like younger brothers. Of course, BDRMM as well, especially with their new album 'Bedroom' which is mint.
Ben: The scene in Yorkshire is always strong, it's hard to think of a time when there hasn't been great bands coming out of God's County, at the minute I've been listening to a lot of Yard Act, Treeboy and Arc, Polevaulter in Leeds, and over in Hull our nearest and dearest BDRMM and Cannibal Animal.
Are there any other artists breaking through at the same time that you take inspiration from?
Alex: I would say Do Nothing because their music seems so intelligently written. As an admirer of lyrics I think I definitely take a lot of influence from them.
Will: For me, there's a band from Rouen, France called Unschooling. I can't say I know a lot about them but they have a tightness that's admirable. They make some cool noise.
Ben: Loads of great bands started around the time we formed, Lice were a big favourite of mine from the first time I heard Human Parasite I loved them, consistently incredible live and loads of great music, I could talk about this band for days.
Who would be your dream collaborator?
Alex: This could definitely be a number of names from a 'scroll-esque' list but I think working with James Murphy of LCD Soundsystem would be amazing. He just seems to be incredible in everything he does. I would probably also say James Ford due to the whole host of brilliant albums he's produced. Maybe John Cale because he was in the fucking Velvet Underground. So yeah, one of the James's or perhaps a John.
Will: Yeah I'd definitely agree that there are tonnes of acts that would be great to collaborate with. A lot of those that immediately come to mind are unfortunately no longer with us like Rowland S. Howard and Lou Reed.
Ben: I love Spray Paint, they've done some great collaborations, notably with two of my favourites, Protomartyr and The Rebel, all three of those artists would be great to work with.
Musically or otherwise, what are you most looking forward to this year?
Alex: I just want the terrible, monotonous routine of isolation to stop taunting us so we can try to find just a shred of normality. The pub near my house keeps winking at me too, so I cannot wait to endure many a night of covid-free amusement there. Hurrah!
Will: Aye, I can imagine Alex is probably just looking forward to not eating my cooking.
Ben: There doesn't look much hope for gigging any time soon unfortunately so i'm holding out for the start of the Super League.
If people could take away one thing from your music, what would it be?
Alex: I would want people to take away whatever suits their life at that moment, I guess. The more people who take something away from the music, the more likely I can take myself away from working on a zero hour contract.
Will: I suppose you have to count your blessings though; my brother has a higher wage doing the same job, but that's another story. Anyway, like what Al said, it'd be good if people did get enjoyment from our stuff. It's easy to be critical in this day and age, so if someone truly enjoys our music, it's definitely a treat, but at the end of the day we're not actively seeking people's affection.
Ben: It's hard to say, the music isn't inherently happy or uplifting, but hopefully there is some enjoyment taken.
Read More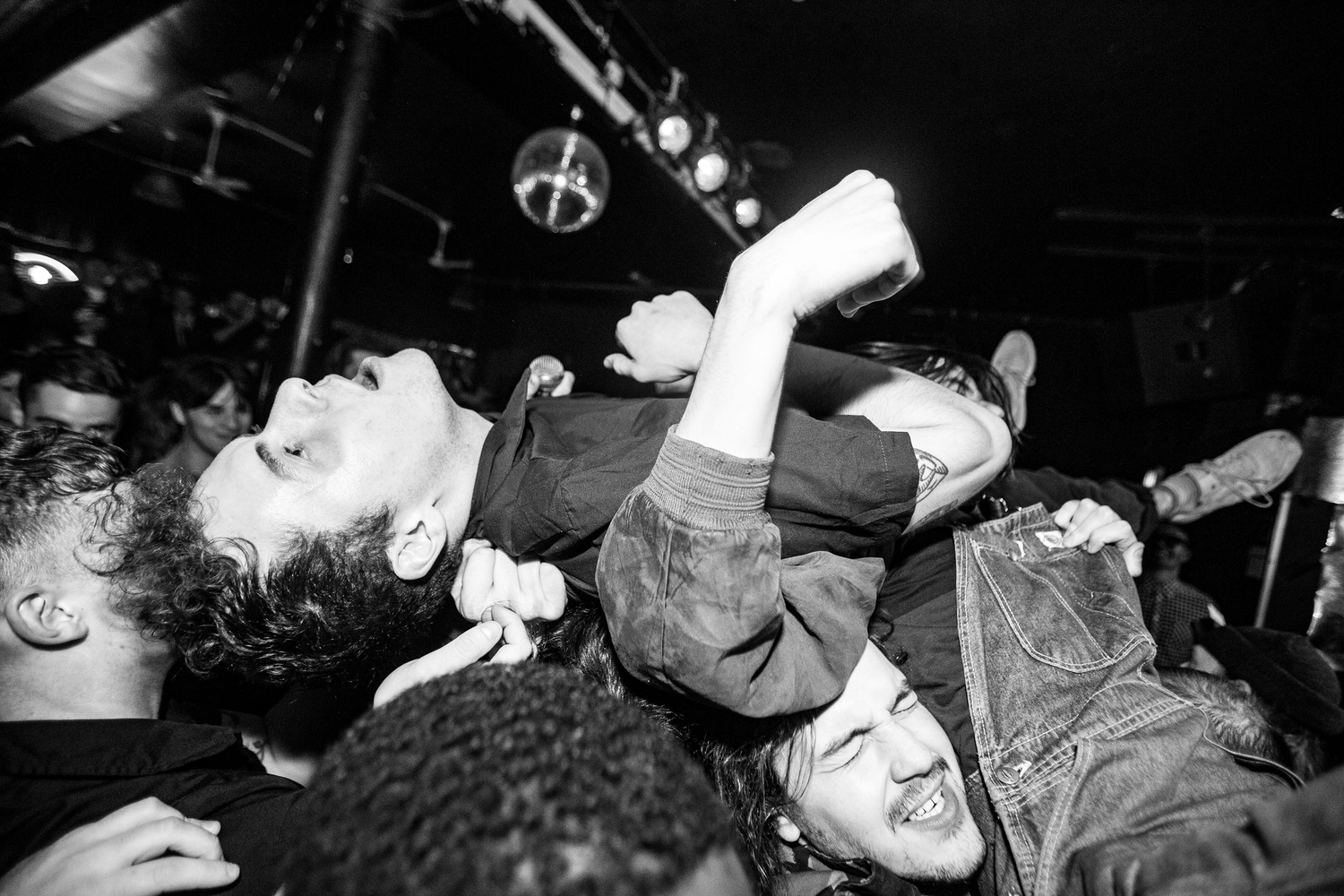 The sold-out bash at The Lexington was one to remember.