Remember your lines: Rehearsing 'Another One' with Mac DeMarco
Photographer Laura-Lynn Petrick spent two weeks in the company of Mac and his band as they prepared for shows. See her exclusive pictures now.
Most people would kill at least three likeable acquaintances to spend a day in the company of Mac DeMarco. Photographer Laura-Lynn Petrick spent two entire weeks following him around. Instead of basking in his glory and laughing at all his jokes, she took some shots of Mac and his band as they rehearsed the songs from his off-the-cuff mini-album 'Another One'.
Retreating to Far Rockaway, Queens, Mac and co. fleshed out songs that were recorded in one two-week burst of free time. Speaking to DIY about the release and how it differs to 'Salad Days', Mac said: "I was pretty grumpy… Back then, I'd get blackout drunk every single night, sometimes when we were still on stage. I've reeled it in a little bit, but not that much."
Below, you'll find photos of the rehearsals, provided exclusively by Laura-Lynn, alongside her own account of what went down. She was there to experience the rush of fans who'd just discovered Mac's home address and wanted to bring him gifts.
At 4am, late July in Mac DeMarco's Rockaway home, the yard is covered in fluorescent tents and the house is dark, with various bodies sleeping on the couches. By the morning, though, the birds are chirping. The smell of strong coffee and the laughter of Mac's sweetheart Kiera McNally comes through the screen windows; the melodic chitter chatter of a full-house of musicians. Over the course of the day, Mac's band - Pierce McGarry, Joseph McMurray, Andy White, and new addition on keys, Jon Lent - all arrive into town and pitch up at Mac's to rehearse his new album 'Another One'. Matt Volz - mastermind of fellow house-guest Juan Wauter's videos - musicians Tall Juan and Mike Collins (Silk Rhodes), and comedian Mikey Kampmann (2 Wet Crew), are all living in the other rooms of Mac's Floridian-style beach home. Mac's place is a very full house, full of love, full of food and crammed with wild personalities.
The band ease into the day at a slow pace, sipping coffees, going to the beach, dipping in the ocean and hitting up the local Stop 'n' Shop. Despite being a subway ride away from crazy Manhattan, it feels like one big camping trip. The band's rehearsals start early afternoon, and span until about dinner time. The boys work hard, playing sets over and over, during the hottest days of July. The album closer, 'My House by the Water' contains Mac's home address, and while the band rehearsed, fans were ringing the door bell throughout the day, popping in at regular intervals, and bearing gifts of coffee, bagels, donuts, you name it. Some hang about and watch the band rehearse, or sit in the backyard for hours, waiting for a moment to chat with Mac. One afternoon, perhaps 15 different kids sit in the yard, and even a couple of their dads.
The songs from the new album pair so nicely with the beached up surroundings, and this place's relaxing influence is clear on 'Another One'. The occasional skewed cover would happens in the rehearsal room, which is also known as the 'Florida Room', as it's surrounded by windows overlooking the peaceful bay and JFK airport. As the evening draws in , Mac and his guests tuck into feasts, hit the beach again, and cool off with some drinks, before passing out in various areas of the house and yard.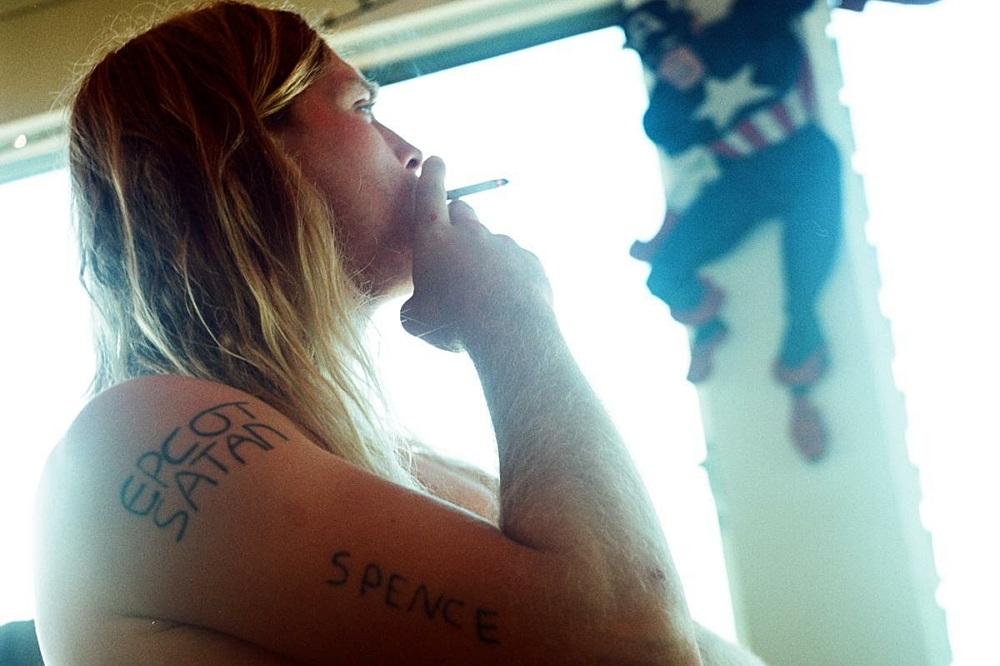 All photos: Laura-Lynn Petrick.

Get your copy of the latest issue