Neu Sound Of The Down Under-ground
A new, vital young scene is bubbling up in the Australian underground right now: we speak to all the key players to find out just what's in the water down under.
We've been noticing a trend in 2018. From highlights of showcase festivals such as The Great Escape to the buzziest London shows of the year so far, a majority of the most exciting musical happenings have had one thing in common: they've all come from Australia.
For a good while now, the majority of music from down under that's made its way to our shores has been distinctly Kevin Parker-shaped. Tame Impala's lead has seen the emergence of the likes of King Gizzard & The Lizard Wizard, Methyl Ethel, Pond and more; bands with escapism at their core, and a psych-heavy, otherworldly quality.
Alongside the likes of Courtney Barnett and Julia Jacklin - who have also proven Australia as a hotbed for wonderfully dry but affecting singer-songwriters, there's been a definite face to the country's musical output.
This year, though, has seen a brilliantly strong, diverse and socially-conscious new crop of bands cutting through the woozy, dream-like jams the country's become known for, and giving the Australian youth a new voice.
From the beautiful, biting alt-folk of Stella Donnelly to the gritty, unhinged punk of Amyl & The Sniffers via the brilliantly fun, bratty pop of Haiku Hands and Hatchie's drive-time pop-rock, the new Australian wave comes in all shapes, sizes and genres. We've spoken to the lot of them to find out just why the country is producing some of the world's most exciting new bands.
Tackling rape culture and heartache via sparse folk songs delivered with lashings of dry humour, this Perth-based songwriter is determined to make you feel.

KEY TRACK: 'Boys Will Be Boys'
Upon watching Stella Donnelly's sets across her extensive UK tour this Spring, two things stood out. Firstly, the biting social commentary of her songs, presented most strikingly on 'Boys Will Be Boys' - a commentary on rape culture and victim blaming that's softly delivered but with a message as strong as steel. The second thing that was abundantly clear, though, was the brilliantly dry humour she introduces these topics with, hammering home her message while simultaneously making people bend over laughing.
"I try and keep it pretty fun on stage, so I have fun too," she tells us over the phone from her native Perth, two weeks after getting back from her extensive UK, European and American tour, and sitting down to craft her debut album. "If I played those songs every night and didn't try and make it fun, I'd end up looking like the guy from Black Books," she giggles. "I'd be miserable!"
"A lot of people come to my gigs and expect it to be quite sad and serious," she elaborates. "And that's fair enough, because the EP has a tiny bit of fun in there but it's mostly just misery," she deadpans. "I try and keep it light when I perform. Make people laugh a bit, get them vulnerable, and then hit them with some heavy shit. And then I make them laugh again so they forget it ever happened."
Read the full DIY interview with Stella Donnelly here.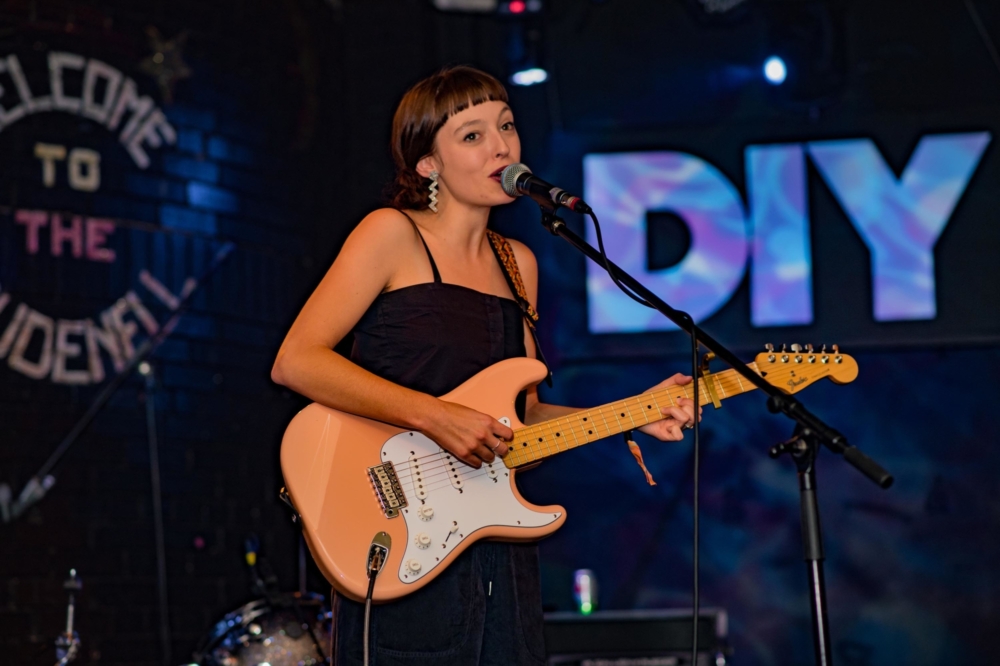 A blistering highlight of this year's Great Escape, and with unadulterated fun at their heart, this three(ish)-piece collective will make you dance like no others can.
KEY TRACK: 'Not About You'
Your shows are always brilliantly fun, riotous affairs - was it always the plan to put fun at the heart of the band?

Mie Nakazawa: At our very first show we came on wearing fat suits, so it seems so!
Claire Nakazawa: There's no time or space to be introspective in this project.
Beatrice Lewis: It's a balance of having a really, really good time, but also delivering messages that have some connection and meaning. I've found that these messages often feel a bit in-your-face, but I think if you're also dancing and laughing at the same time as thinking about something really important and serious, it's easier to digest and work through.
Mie: We came together at the same time through the same desires and the same urge to explore the collaborative process. We all get a kick out of letting loose and expressing ourselves. It helps the crowd, too: we're essentially saying 'We're losing it up here! Come join us!'.

The sound is a melting pot of a load of different styles - are you coming at the band from different scenes/perspectives?

Beatrice: We do have similar but different tastes, but where our tastes intersect is the sweet spot. I live in Melbourne and the other two girls come from Sydney, and the two cities have quite different music scenes.
Technicolour, sample-led weirdo pop, complete with dance routines and lots of them.
KEY TRACK: 'Boyfriend (Repeat)'
What kind of vibe are you trying to create with Confidence Man?

The vibe is a little bit silly and a little bit sexy. I suppose what we're trying to do is make a mix of all the good stuff we like. The fun elements in 90's music culture, disco bass lines, talking heads-y lyrics, sassy girl group content….in salad everyone knows all you want is the cheese and the bacon bits. So what we're doing is taking all the good stuff like the bacon bits and making hits.
When you first started out, where did the band fit in with what else was going on in Melbourne?

There's lots of dance music in Melbourne. Brisbane is a bit more rocky. And Sydney is for bankers. So we fit in more with the Melbourne music scene. I'd say there's always been a good healthy mix of music on radio over here, maybe more indie rock than anything else.
There's a obviously a big fun, performative element of the band live - what influences that?
Fashion, vogue-culture, madonna, goth eye makeup, Iggy pop, good French cheese and sugar's dad who's a botanist. All the good stuff.
Melbourne bunch putting a new spin on dreamy, indie melancholy.
KEY TRACK: 'A Quality Of Mercy'
'A Quality of Mercy' seems to have a lot of British '80s influences like Echo & the Bunnymen, Psychedelic Furs etc. Is that a period that resonates with you?

Of course, but I think that people think we sound more '80s than we are just because we don't like to use distortion pedals or swing our guitars about like Nirvana. I also think what we're trying to say as a band is quite modern, even if we do so through a medium that is sometimes anachronistic.
What are the scenes that are thriving in Melbourne currently?

There's a really thriving punk and garage scene going on in Melbourne. It's one of the few places in the world where people don't turn their noses up at the first sight of a guitar. What works in Melbourne is there's a strong sense of community in music. You'll find bands of different genres all sharing a lineup together and it'll be packed. It's a much broader church than what I've seen elsewhere in the world.
The new, full-band project from acclaimed Aussie alt-folkie Julia Jacklin.
KEY TRACK: 'Fuckin'n'Rollin'
Phantastic Ferniture is a lot more lighthearted and spontaneous than your previous music - where does that come from?

Liz Hughes: When you hit your 20s, things just feel more serious. It's like suddenly you have to have to be achieving things non-stop. Phan Fern was our kind of defiant way of championing the haphazardness of that time. Sometimes you just gotta remember to have fun.
What's exciting about Australian music to you right now?
Julia Jacklin: I'm really liking Tropical Fuck Storm, RVG, Jen Cloher and Laura Jean just released an album called Devotion and it's just so good. Just some really incredible lyricists working hard down here at the moment. There's always been great music here but maybe we weren't very fashionable in the international scene for a long time. Obviously Courtney Barnett and Tame Impala helped kick that into gear.
Liz: I think having role models really helps. Just seeing musicians who have stuck it out and are a bit older and it's all paid off really helps young people to keep doing what they're doing. I think it's mostly people noticing what was already there.
Rolling Blackouts Coastal Fever
Blissful surf-pop from Melbourne hiding a vulnerable, giving heart.
KEY TRACK: 'Talking Straight'
Can you give us a brief potted history of how and when the band started?

We kicked around in a high school band for a while. We played here and there, recorded here and there but never really did very much. When we started playing shows in around 2013 we started to find our own sound pretty quickly. To our surprise and our friends' surprise, we actually didn't suck.
Do you find yourself more influenced by artists from abroad than ones from Australia?
We've always listened to bands from all over the place. But I think we've always been most influenced by bands from home. Old Australian bands, mates bands. We've wanted to make something particular to where we are from.
For ages, the only Aussie music that made it over in the UK really was Tame Impala-style psych stuff. Now there's loads of bands coming through. Who should we be keeping an ear out for?

All of the above. Loose Tooth have their new album Keep Up coming out soon. They were over in the UK recently, supporting Courtney Barnett on her UK tour. They write great big scuzzy pop songs. Recommend their new tune, 'Keep On'.
Sun-drenched dream-pop for fans of Mazzy Star, Cocteau Twins and the genre's finest.
KEY TRACK: 'Sugar & Spice'
What's the Brisbane scene like? Is there a lot of opportunity for new artists?

Brisbane's pretty small, but people are making a bit of dance music. There are a few guitar bands like Sleep Club and Sweater Curse but there's totally opportunity there. I joined my first band when I was 18 and it opened up a whole new world for me. There's a pretty thriving scene, especially a few years ago when I first started in bands.
Tell us a bit about your first moves as Hatchie.

Hatchie's been going on for about a year. I'd been working on it for a year or two before that, but only a year publically. It's been crazy and I'm still in shock over the fact that I'm doing this now. Nothing but great things have happened since then. Playing shows overseas, going to SXSW in Austin, signing to Heavenly - it's been blowing my mind.
Brilliantly snotty '70s-inflected punk of the most chaotically hedonistic variety.
KEY TRACK: 'Mole (Sniff Sniff)'
There's a real 70s influence in the band - where does that come from?
There's a lot of good music that came out of the '70s and '70s Australia especially. In terms of the aesthetic. I'm not too conscious of it. I'll wear something because I think sick, these jeans compliment my ass or this haircut is sick or these shoes are comfy. Lots of good stuff came from the '70s but just as much good is coming from music and clothes now.

What atmosphere do you want to create at a Sniffers show?
Just [something] energetic and sweaty. It's fun for me when people get into it. I want everyone to have a good time, including us.

Recommend us some good new Aussie bands, please!
Here's some, most are on Bandcamp. Look 'em up. NASHO, C.O.F.F.I.N, Parsnip, UBIK, Miss Destiny, Peter Bibby, ORB, Vertigo, No Class. Anything on Antifade record label.

Get your copy of the latest issue