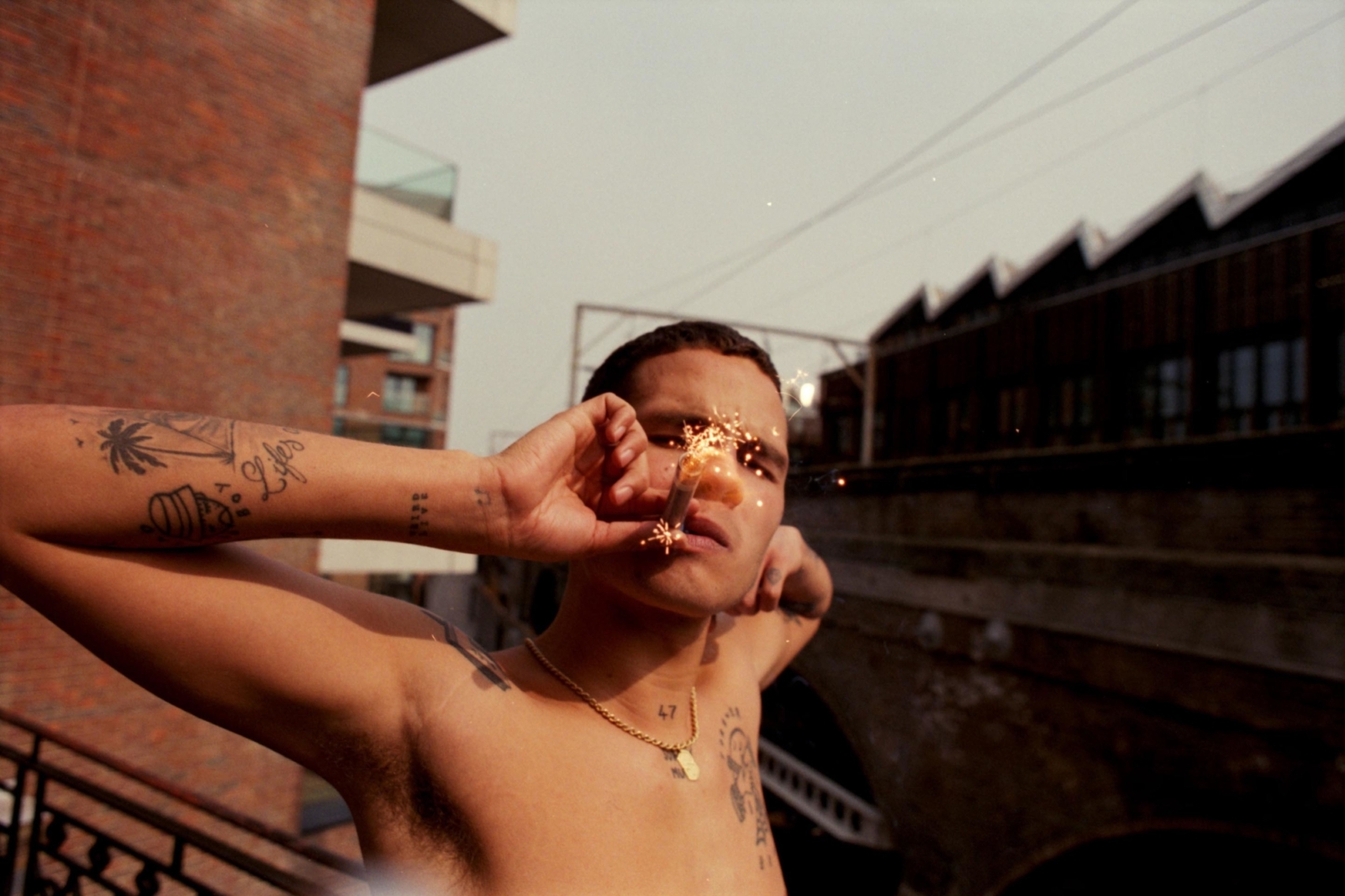 Photo: Jono White
Tracks: slowthai, Mark Ronson, Biffy Clyro and more
The biggest and best tracks of the past week, rounded up and reviewed.
It's finally the end of the week, and we have a brand spanking new edition of Tracks - our weekly round-up of the biggest and best new tracks around.

There have been not one, but THREE brand new tracks from slowthai released over the past seven days, Mark Ronson's whipped out his production prowess for a lockdown cover with his new label signee Raissa, plus there's another banger from April cover stars Biffy Clyro's forthcoming ninth, and much more.

For what we have to say on this week's biggest and most exciting tracks, scroll on! And if you're itching to check out even more, subscribe to our Essential New Tracks playlist.
slowthai - ENEMY, MAGIC & BB (BODYBAG)
Having all-but-disappeared since *that* much-publicised incident at the NME Awards in February, time was beginning to tick on how slowthai would make his re-entrance back into the limelight. Would he act like it never happened? Hope he'd simply become yesterday's news? Would he fuck. Instead, the Northampton rapper's first offering back arrives in the form of 'ENEMY' - which begins with a sample of Matty Healy from the night in question, telling everyone to "send their thoughts" to the rapper, and ends with a woman calling him "cancelled" and a "cunt". Then, he drops two more tracks within the week, just to remind you that that shit's old news, and this is what's new. It's a bold, confident move - and one that pays off. 'ENEMY' spits like a man scorned, flitting from somewhere close to empathy ("Have ups and downs like an elevator") to an altogether more pissed-off realm, while 'MAGIC' (easily the best of the three) finds producer Kenny Beats helping the rapper turn in one of his most wild-eyed, weird performances to date, all playful vocal affectations and dark, bubbling beats. (Lisa Wright)
Mark Ronson ft Raissa - I Want To See The Bright Lights Tonight
Turning Richard and Linda Thompson's 1974 ode to having a mad one from an easy, breezy country-rock nugget into a twinkling slice of wistful electronic pop, Mark Ronson - King of Sad Bangers - strikes again. This time, of course, there's some obvious logic behind his slightly melancholic motives; as new Zelig Records signing Raissa sings of "crazy people running all over town" and "drunken knights rolling on the floor", her crystalline, wide-eyed vocals are the sound of a million people staring forlornly out the window on a Friday night, wishing they could see the bright lights (or at least the bar lights of their nearest Wetherspoons) too. DJ, hitmaker and consummate party-starter, this is Mark's equivalent of an emotional lockdown zoom call with a much-missed love. (Lisa Wright)
Biffy Clyro - Tiny Indoor Fireworks
Hop, skip and jumping into life with a sense of playful electricity, the latest track to come from Biffy Clyro's 'A Celebration of Endings' feels like an aptly-timed look towards a brighter future. "I fire it up then blow it out / I build it up then I tear it down / Cry at the joke, laugh at the rage / And I'll pray for the better days," sings Simon Neil, as if channeling all our thoughts on our present situation - despite the track itself being written long before the current crisis - but for all its reflection on the troubles that surround our lives right now, it still comes packed with the sense of hopeful defiance that's so vital in these times. (Sarah Jamieson)
Brockhampton - NST & things can't stay the same
THIS IS NOT A DRILL! Returning on the sly, BROCKHAMPTON have shared their first new material since last year's 'GINGER' LP. Sharing two new tracks 'N.S.T' and 'things can't stay the same', the songs were followed by the news that the group are planning to release two new albums this year. Giving us the first glimpse of what to expect, 'N.S.T' sees vocalists Kevin Abstract and Matt Champion going hard in their lyrics over the looping synth sound and punchy backing, with bearface's refrain of "big trauma, stone-cold stunner" an undisputed ear worm line at the end. 'things can't stay the same' once again sees Kevin leading on vocal duties, with a punchy freestyle-esque verse, merging into a subtle almost gospel interlude, before Matt Champion dives in over a bass-heavy backing. Back with two bangers, it's an exciting look at what BROCKHAMPTON are cooking up for us next. (Elly Watson)
Alison Mosshart - It Ain't Water
One unintended consequence of artists' access to recording being limited to what they keep at home is the airing of a lot of material which, for whatever reason, has laid dormant on hard drives, tapes, or down the back of various seating implements. The flip side to recent solo single 'Rise', Alison Mosshart's 'It Ain't Water' was recorded with QOTSA knob-twiddler Alain Johannes "quite some time" ago, and channels the softer side of her work with The Kills, finding the singer in pensive mood. It might not - as she's told us - be part of anything more than something to keep her mind ticking while the world stops - but we're really quite glad she decided to share it. (Emma Swann)
Crack Cloud - Ouster Stew
Crack Cloud are the kind of outfit whose reputation precedes them. They describe themselves not as a band, but as a collective; their members largely identify as recovery addicts, with the group functioning partly as a rehabilitation tool; their forthcoming new album is called 'Pain Olympics'. In short, the next Catfish and the Bottlemen, they are not. Yet, while the Canadian group might seem like a complex concoction (and in many ways, they are), that idea does the fact that they actually make fucking excellent, catchy, often quite sprightly music a disservice. See, while 'Ouster Stew' is not a straightforward proposition, its Devo-esque plinking melody and off-kilter gang chants are actually pretty damn joyful. Like if Parquet Courts decided to cover Talking Heads, the result is something packed full of character but with a more accessible heart than it might initially let on. (Lisa Wright)

Get your copy of the latest issue