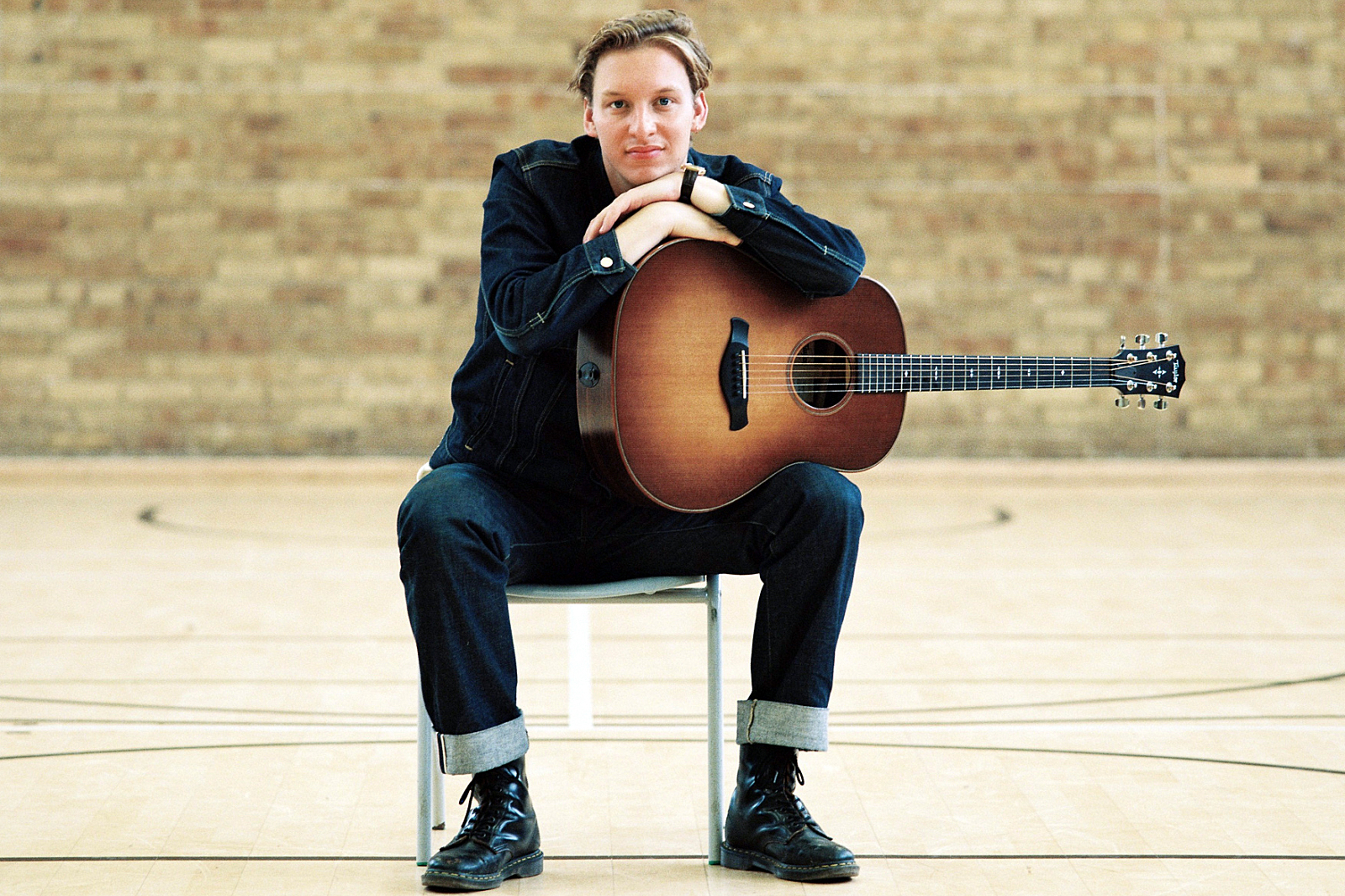 George Ezra: The Pursuit Of Happiness
On third album 'Gold Rush Kid', the UK's favourite happy-go-lucky hitmaker is taking stock and looking for something a little deeper.
Over two years since George Ezra rounded off the run for his four-times-platinum-selling second album 'Staying At Tamara's' - a stint which ended in two sold-out shows at London's Royal Albert Hall - he's stood side of stage, minutes before his comeback at The London Palladium, thinking just one thing: "What the fuck do you do now?" "You've essentially invited however many people into this room to share this thing, but you don't even know what it is you're sharing with them," he recalls contemplating.
He soon found his stride, however, and now, speaking to DIY a month later, George remembers getting a bit emotional during that "special" performance back in April - especially, he says, after seeing the reaction from fans singing along to every word. "It's like, you have a fan base, and you have a catalogue to pick from live. That's fucking weird!" he laughs. "I guess that's just the way things go, isn't it? Things progress under your nose and you don't really recognise it in real time."
It's easy to see how George's career must feel a bit of a blur to him, having first risen to levels of pop ubiquity almost a decade ago with 2014 debut album 'Wanted on Voyage' - a record inspired by trips around Europe during his late teens and early twenties. When 'Staying At Tamara's' arrived four years later, the anthemic single 'Shotgun' quickly became an undisputed sound of 2018's summer, and the record once again saw George ascend to the UK charts' top spot. With an immediate knack for earworm hits, the Hertfordshire-born singer-songwriter's spotlight doesn't seem to be waning any time soon.
Looking back on those early years, George is open about how the sudden nature of his success affected him. Though on stage he was gleefully singing about "bikini bottoms" and "lager tops", he admits now that he found it hard to cope as he navigated his newfound fame during his twenties. Having previously spoken about how he suffers from Pure O, a form of OCD, he recalls often feeling stressed over venturing into the outside world for fear of being recognised in the street, concerned that everyone was obsessed with who he was or what he was doing. "It's not the end of the world, [but] I used to feel that it was the end of the world sometimes," he shares.
It's something that he's had to come to terms with gradually. "What I've now realised is for a song [like 'Shotgun'] to have that level of success, a lot of the audience that are enjoying it are kind of passive, they're not necessarily concerned with who you are. I didn't know that at the time," he explains. "I love that song and it still makes me happy and I stand by it. It's a hard ask of yourself, especially as young as I was, to go away and make sense of that."
Having the work of your formative years still so prominently in the spotlight must be difficult, and though he still very much backs tracks like 'Shotgun', George does admit that he previously had a tendency to "cringe" when listening back to some of his older material.
"I woke up about six months ago and I couldn't sleep, [so] I went downstairs and put on a vinyl," he recalls, smiling. "I was going through my records and found a white label, so I was like, this can only be one of two records, either 'Wanted On Voyage' or 'Staying At Tamara's'… I put it on and it's the B-side of the first album and I was like, it sounds so weird! But for the first time, I was able to sit through it and not cringe.
"I just wanted to hug me from the past!" he continues. "Like, you're 18 when you're singing this. It's okay! It didn't need to be the best thing in the world. It just had to be a snapshot of where you're at, and that's exactly what it was. I don't hate my first two records at all, I just don't want to listen to them."
"
I don't hate my first two records at all, I just don't want to listen to them.
Many before George Ezra have denounced their most successful songs, and George touches upon his own contrasting feelings about writing big hits. "There's a want to write the song that gets everybody's hands in the air, but then not necessarily wanting to be connected to it… I'm fully aware that anyone reading this may be like, 'Well, don't fucking do it!' and I get it!" he laughs. "But that's why I think I owe it to myself to figure out how I feel about these things because I've chosen to pursue it."
He echoes what he presumes many will be asking: "So why IS that, George? And why are you back doing it again?" And it's a question that he's spent the last few years trying to answer. Following a heavy promotional period after the release of '...Tamara's', he admits feeling unhappy in that situation, questioning whether or not it was something he wanted to continue.
"You start being like, [it] turns out I'm quite content in my own company, and it's quite in my nature to go like, 'Why don't you fuck everything else? You don't need anything! Look at the stress that you let that thing cause you!'" he notes. "At that point where you go to the extreme of 'I don't want to promote music anymore', you think about what that would entail and what you'd be saying goodbye to."
Looking back on his career so far, the places he's been to and people he's met through music, he says he began reflecting more intently on the last near-decade. "One day, George, it won't be your choice whether you can do [music] or not, whether you like it or not," he remembers telling himself. "But for now, you can, and so I guess I was trying to find what's the George way of saying that. So, well, let's see that as the gold rush, the pursuit of something. To commit to the record is to pursue this life experience, so be that dude, be that person."
Thus, George's third album 'Gold Rush Kid' was born. Originally meant to be written and recorded during a three-month walking trip from Land's End to John O'Groats ("[That album] would have been utter shit!"), 'Gold Rush Kid' arrives as George's most personal output yet. While his first two albums pulled on external sources as he travelled the world, this time around we meet George as he looks more inwardly into his own feelings.
"I've relied a lot on other people's stories and things I've seen, and I've been like, 'I'll pinch that'. I think I did less of that on this record," he admits. "It's necessary for people to have an identity with how they write; not to become complacent and rely on that, but to have their identity. This time around it's like, 'Ah, I think you have a spot! This is who you are in music. You have your little corner." 'Gold Rush Kid' , he explains, felt like the result of "10 years of writing". "The process of writing and figuring out who you are and being comfortable with that, both for yourself and musically, means that when I hear it, it's like a real achievement," he beams.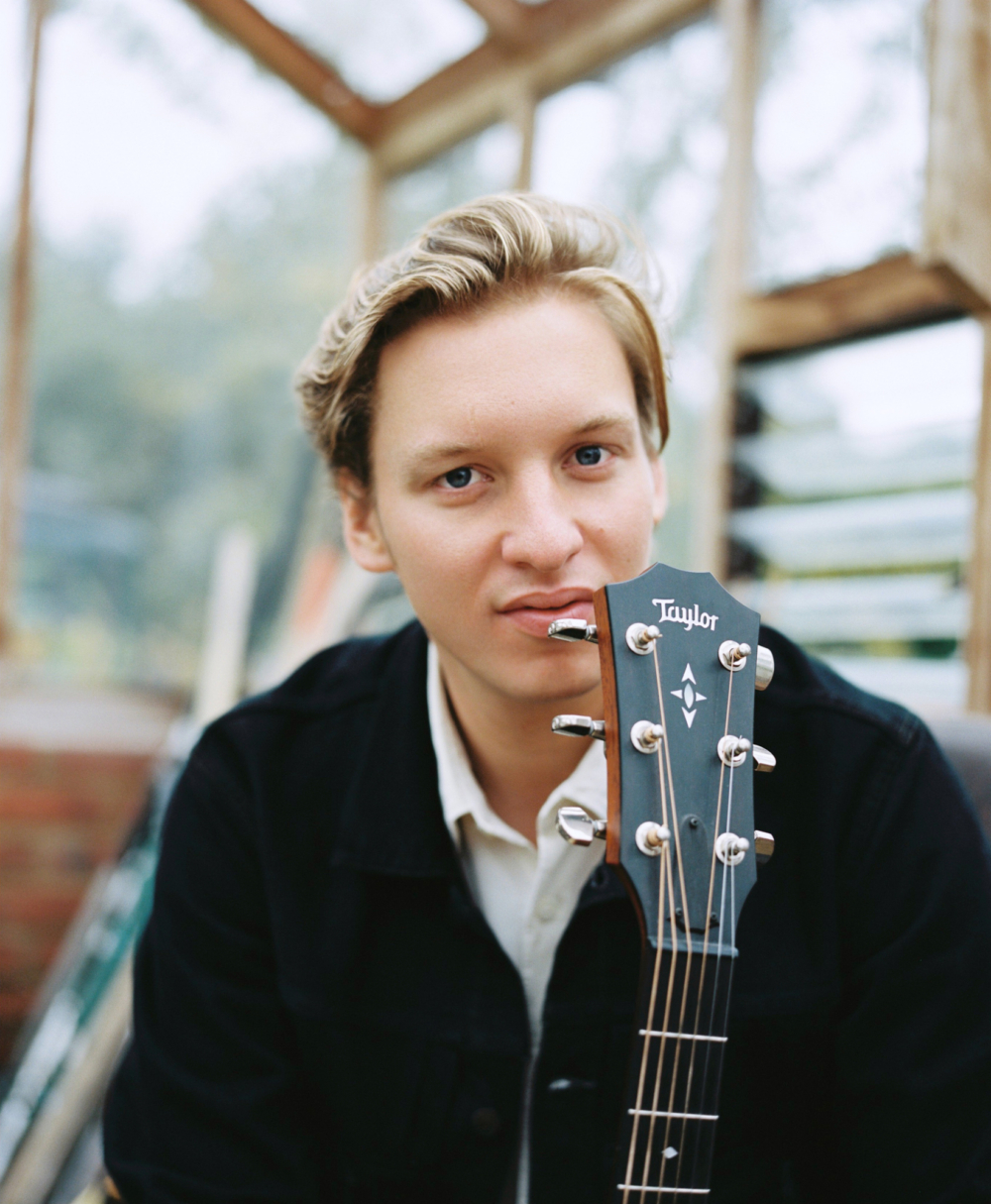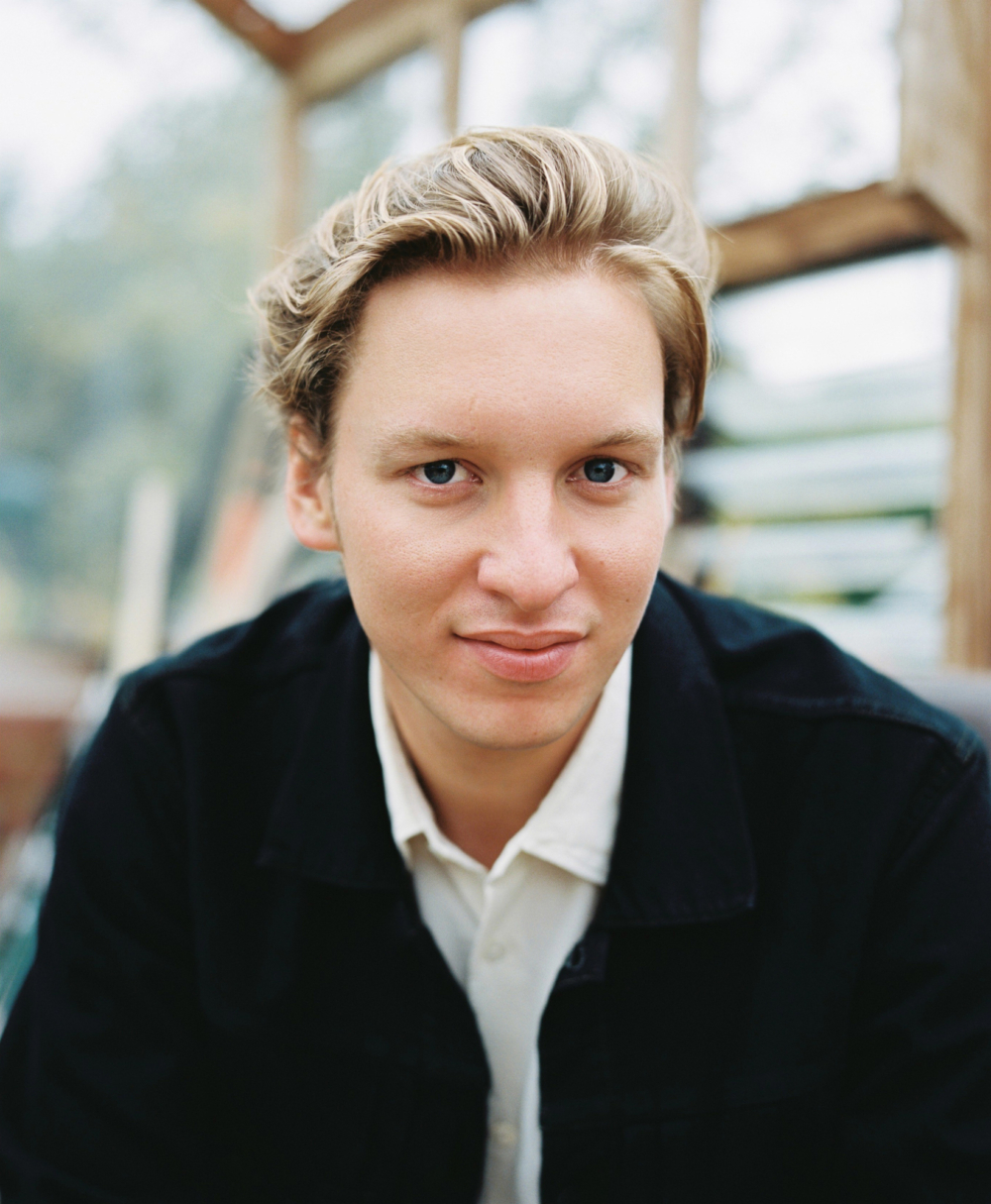 "
I just feel far more comfortable in the world. Not just in releasing records, but in myself.
Partly created in lockdown, George recalls living on his own in London for five weeks and seeing it as a time to experiment with what it's like to not interact with anyone. During a period of longing for his friends, family, and loved ones, he told himself, "Just say it!" and began writing all the feelings he was going through. The result is all over songs like 'Sweetest Human Being Alive', an ode to a future love George hopes to find, which features the quintessential and irresistibly George Ezra refrain, "Can't wait to meet you, babe / Can't wait to love you, babe".
During another moment in lockdown, George began to create daily challenges for himself, mostly centred around fasting from certain things for a few days. "I've grown to know that giving myself rules is something I like to do as a way of controlling things," he explains. It was during one of these abstinences, particularly from speaking, that he came up with his album's delicate closer. Pulling an armchair to his flat's window to enjoy the heatwave, George began working on a new picking technique, and 'The Sun Went Down' was born.
'Gold Rush Kid' is packed full of highlights, but perhaps the most poignant moment on the album arrives with 'I Went Hunting'. George describes the track as being almost the "polar opposite" to the themes of escapism that ran through his first two albums. "Change my name and book a holiday / Tryna get out of my head," he croons in the self-reflecting song, allowing himself to be the most intimate we've heard him sound.
"Digging yourself up is tiring, but maybe something we should all do?" he muses. "It felt like the right thing for me; any thoughts I had during the day I would go through them at the end of the day. Why did you think that? Why did you react that way? Ultimately, it was a good thing, holding myself accountable for everything helped me figure things out. I think that's a big difference on this record - there's a few songs that point to that way of thinking."
One of these such songs is 'Love Somebody Else', which George sums up as "a pursuit of trying to figure out a bit better who I am". The song touches upon feelings of solitude ("Is there anybody out there in the silence? / Give me a sign, let me know that you're there"), but also the prospect of sharing your life with another ("Love, love somebody else / Cause I'm giving up on myself").
"I've benefited now from quite a few years of this time by myself where I've been fortunate enough to pursue real time [alone]," George says. "It's, without a doubt, changed my life. It's changed how I feel about myself. But it does also highlight that it would be fucking awesome to be with somebody else some day. But I don't want to rush because it will mean saying goodbye to this time of self."

"
I think that I'm able to write playfulness without it being throwaway.
Throughout today's interview, George strikes a more contented tone when speaking about his present mindset. "I just feel far more comfortable in the world. Not just in releasing records, but in myself," he says. "I think that's the nature of your twenties, you figure out shit. That's what it's there for. I guess my twenties just coincided with me trying to convince people that I knew who I was. I think that's part of what caused this tension in myself."
While exploring his own personal journey, 'Gold Rush Kid' balances darker moments with the shining pop sensibilities that have seen George become a cross-generational pop star beloved by the whole family. Tracks like 'Manila' and the upbeat anthem 'Green Green Grass' provide effortless feel-good bangers like only he can, and he pinpoints his position as a family fave as what makes him unique.
"I'm able to write songs that are fun without being novelty," he smiles. "I think that I'm able to write playfulness without it being throwaway. I think I've always been aware of this to a point, but more so on this record than before; I feel really aware that this is just entertainment, this is just fun. I don't know if either of these words are the coolest words, but I think that's the truth."
Armed with a new Canadian tuxedo uniform for the record - "I love the double denim!" - he may not think of himself as the "coolest", but 'Gold Rush Kid' looks ready to cement his legacy among the UK's top tier. He's even throwing a huge show at London's Finsbury Park later this year to celebrate. But while Ezra-fest is a clear show of the scale of George's pop reach, he's still finding it a bit hard to soak in.
"I find myself looking at bits from [Dua Lipa's] tour and those boots need filling for every generation. Harry [Styles] is doing it, Dua is doing it. Bonafide pop star shit," he grins. "It's awesome. But look at where my second record left me! I can't imagine going to that level. There must be an awful lot of stress. Already I feel a little bit like the shows I'm able to perform and the festival slots feel a little bit wrong. I started playing open mic nights and I still feel a part of that. It still seems funny to me."
While he may not see himself quite among the ranks of Dua and Harry, by the time you're reading this it's likely that 'Gold Rush Kid' will soon be joining its predecessors and hitting the UK charts' Number One spot - something George himself is extremely hopeful for. "I would love it this time around, but I think this is my last time of that bothering me," he shrugs. "I don't know if that's too honest. I would love it if this record was able to do that. I don't feel stress about it, I feel like what will be will be, but I also look forward to not feeling that way in the future."
Ultimately, though, it feels like George is finally allowing himself to take comfort in how much his music means to people – and from the roaring reception he got at the Palladium, his tunes certainly mean a lot. "How do I enjoy music?" he asks himself out loud. "It soundtracks life. As much as I love music, for the most part it comes second to life. It's a lovely thing if people can find opportunities to listen to my record either travelling to work, or walking, or going on road trips. What a cool thing! I just love it."
'Gold Rush Kid' is out now via Columbia Records.

Cover animation: Andrew Boyle