Interview Animal Collective: "We've been around longer than most of my favourite bands"
Dinosaurs, Dada and prehistoric punk - it's just another normal day in the office for Animal Collective.
"I like the Ankylosaurus," announces Animal Collective's Geologist, matter of factly. "It's got armour and a club tail, with a very square head, and spikes. I know so many dinosaurs," Brian Weitz goes on, proudly. "I have to read this book called Dinopedia every night to my son."
From the glitching radio static of previous album 'Centipede Hz.' to humid, undergrowth-shaking Jurassic pop; it's just another casual step in the wildly varied, never-slowing universe of Animal Collective. Recorded in a Hollywood studio, under the glare of muted dinosaur documentaries playing on loop, 'Painting With' takes its name from sloshing paintbrushes and modge-podged collages. Sonically, Animal Collective were thinking about Cubism, constantly targeting the heart of a song before even trying to splice and abstract things. Panda Bear, Geologist and Avey Tare wanted to write a record with all of the immediacy of The Ramones, but diced up, rearranged, and viewed through a physic-defying prism. The Ramones connection, though important, was just a starting point. "It's not like we wrote songs about sniffing glue," jokes Geologist.
"There was this idea of wanting to do something with short songs, with a homogenous energy to the record," says Noah Lennox, otherwise known as Panda Bear. "Something where the first song revs up the engine, and it kind of just cruises after that. We didn't want to throw in some ethereal moment. We wanted to do something that blasted away the whole time."
Chasing a "70s punchiness" and a crisp sound, 'Painting With' is sparser than previous Animal Collective records. With the layers of meticulous fuzz-covered samples stripped right back, every element operates in full view, like a transparent Swatch-watch. West Coast whistles cruise smoothly down the sprawling boulevards of 'Bagels in Kiev', while lead single 'FloriDada' bounces happily along, trailing gargled lyrics in its pogoing wake.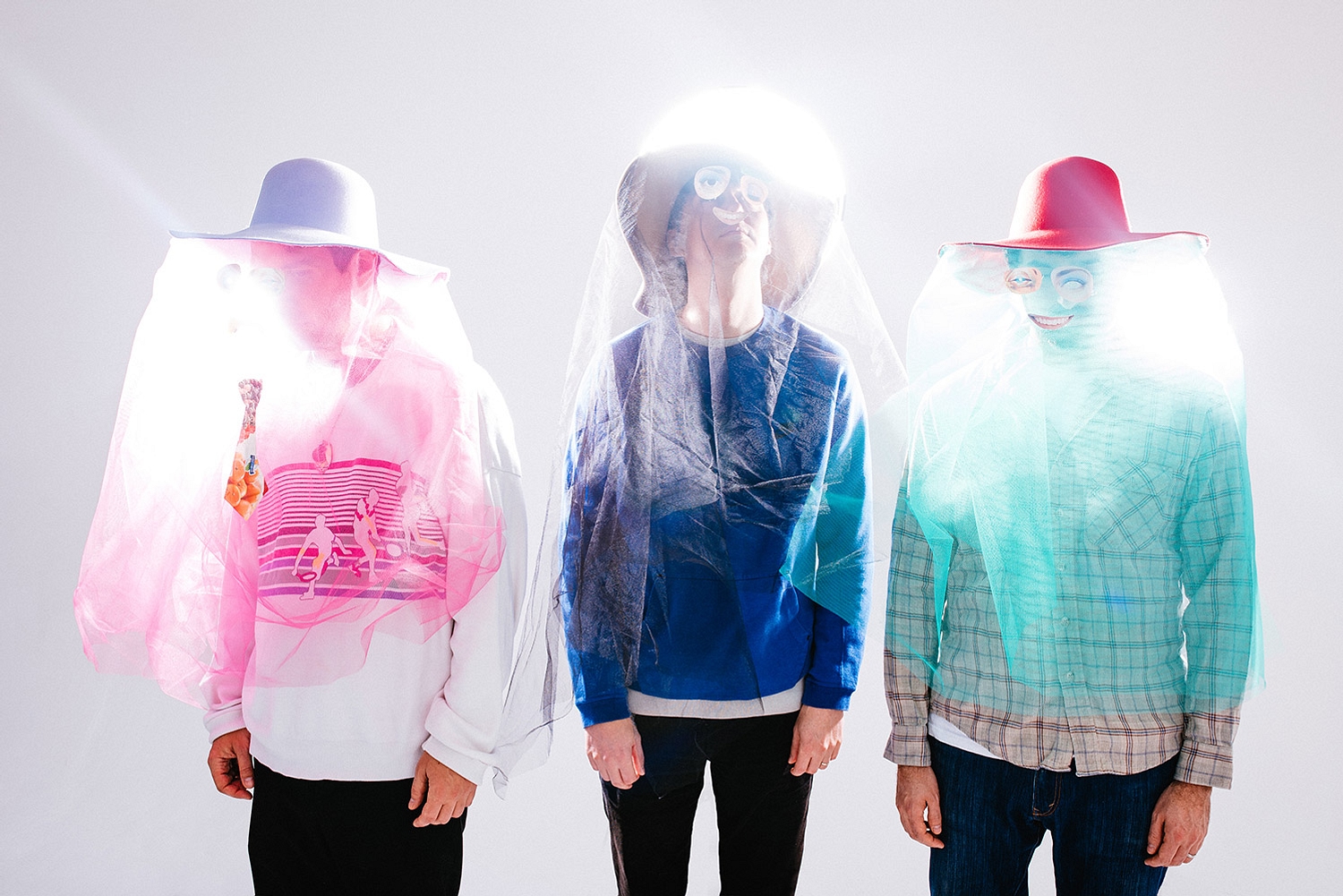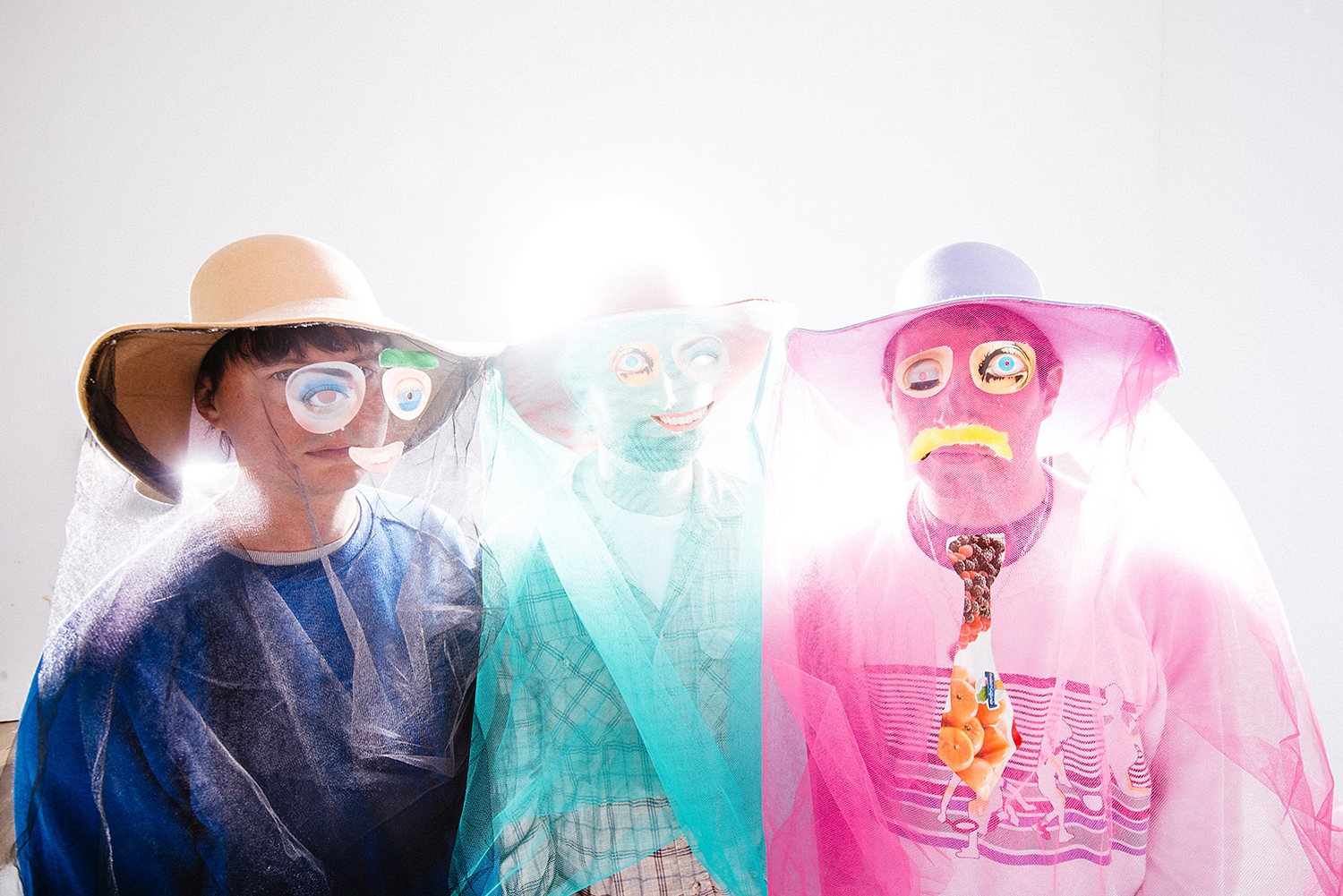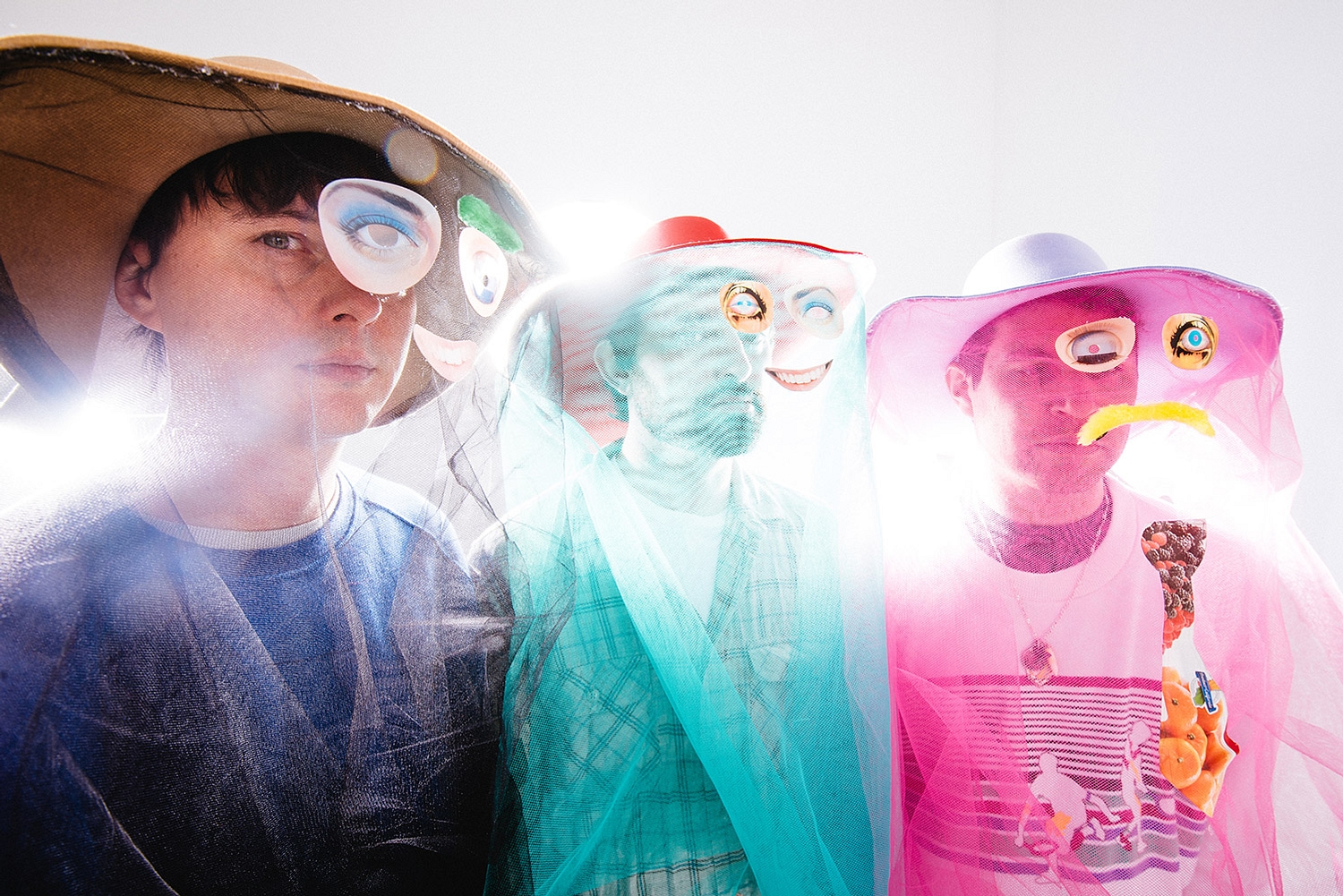 "We'd take a sample from a popular television show or song, or a court case, and we'd use it as an instrument."
— Avey Tare
Animal Collective, more surprisingly, buy into the idea of traditional song structures more than ever before. "It's about the nature of skewed perspective, and looking at things from lots of different directions at the same time," says Avey, aka Dave Portner. "With the traditional pop song you might have two verses, a chorus, another verse," adds Panda Bear. "Those elements are here quite a bit, but distorted in weird, perhaps unconventional ways."
"In the same way, there's an aspect of Dadaism where you take something familiar and turn it into art. Maybe it's something else, out of context," says Avey, referencing the art movement which inspired 'FloriDada''s title, and, it turns out, much of the record. A movement built on putting urinals on display in snotty-nosed art galleries, and writing nonsense poems out of randomly jumbled words, Animal Collective directly borrowed Dada's love of surprise. And, combining samples from dinosaur documentaries with burglars, and recordings of childrens' paddling pools, very little is off limits in this particular collage.
"We were using collage, which is something that a lot of Dadaists did, like Duchamp," Avey Tare goes on, referencing the unofficial lead artist of Dada. "We'd take a sample from a popular television show or song, or a court case, and we'd use it as an instrument." Though the band agree they've always been interested in the idea, it has never been as pronounced as on 'Painting With'. "I don't know that it has ever had such a purpose before," concludes Noah. "On 'Centipede Hz.' all the collages that I made were usually in between the songs as a segue to space out to," Brian adds. "On this, it's more like cutting something and pasting it straight into the middle of a song."
'FloriDada'
"We had this idea of wanting to write music for two singers where it felt like one."
— Panda Bear
The idea of doing your own thing is a recurrent theme on this new record. Pushed right up in the mix, their voices at times morphing into one larger force, 'Painting With' sounds distinctly removed from Animal Collective's usual love of interplay, and call and response. Avey Tare and Panda Bear's voices morph together by melodic osmosis, and even they admit they have trouble distinguishing. "There's a very specific design to the way the vocals work together," explains Noah. "We had this idea of wanting to write music for two singers where it felt like one - where they've both doing their own thing but working together."
Animal Collective address an especially personal form of connection on 'Bagels in Kiev'. It's less about a love of the humble breaded foodstuff itself, and more an exploration of Avey Tare's family history, and exactly how he's supposed to relate to his past, years removed from it. "My grandfather's from Kiev, and he came over to Ellis Island when he was a kid with his family," Dave says. "They're a family of bakers. To me, the song is about connecting to a past you never experienced." His vague, but not entirely concrete sense of personal connection to the current political unrest in Ukraine is also a factor, he says. "I talk a lot about the violence and that sort of thing, and having a connection to Kiev through my family being bakers, but also not having a connection to the more political side of things. Can that skew my vision of a place, and where I'm from?" he asks.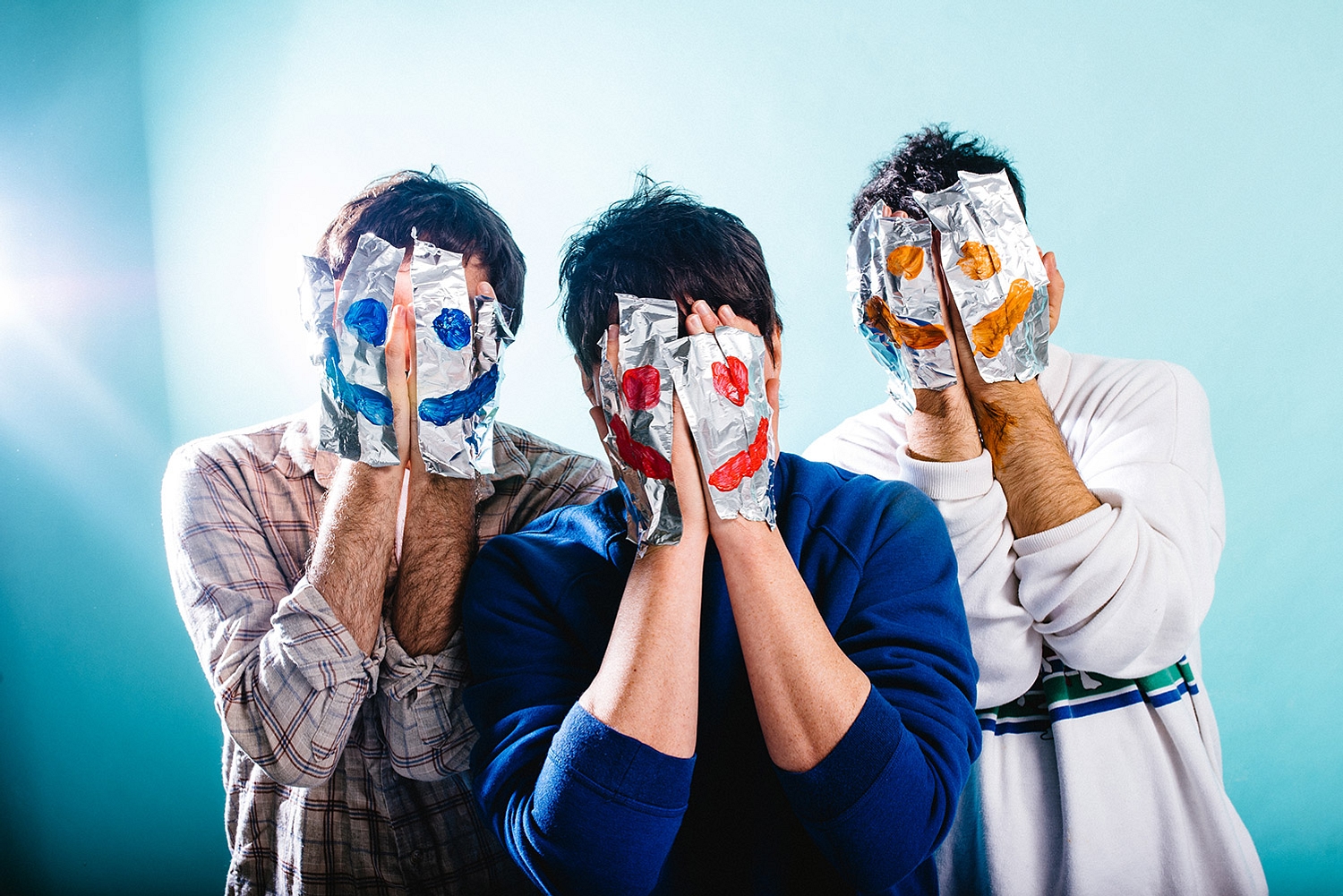 "We've been around a fucking long time, how come you're not sick of us?"
— Geologist
After launching the pirate-radio inspired 'Centipede Hz.' on their own late-night show, Animal Collective set out with an equally deliberate plan for this new record, playing it for the first time in Baltimore airport as hundreds of thousands of Americans travelled home to see their families over the Thanksgiving weekend. It's a fitting first airing for an album that craves connection, and looks to build links at every turn. Though it might approach things through a skewing, disorientating lens, 'Painting With' is always looking to jumble problems into solutions again; work things out.
For the first time, Animal Collective say they have started to think more about exactly what the band means. Avey Tare mentioned it in passing to DIY as they re-issued 'Prospect Hummer' - their 2007 Vashti Bunyan collaboration - for last year's Record Store Day. It's a sentiment both Panda Bear and Geologist agree with.
"We've been around longer than most of my favourite bands," observes Geologist. "In a depressing way, I think, we've been around a fucking long time, how come you're not sick of us? They might be? I don't feel like we're a band people grow old with," he claims. "It feels like we're reloading a new generation. Every time a young kid finds us, and they only know our last two records."
It's testament to Animal Collective's constant hunger for experimentation and new territory. Leaving the door wide open for new fans with every single record, the vital energy that connects the band is their secret ingredient. "Injecting this very primitive, energetic feeling into the music goes back to the feeling we had when we were younger," smiles Noah Lennox. "It's always about new energy."
Photos: Mike Massaro / DIY. Animal Collective's new album 'Painting With' is out on 19th February via Domino.
Taken from the February 2016 issue of DIY, out now. Pick up a free copy below.
Read More
Featuring James Blake, Romy, Marika Hackman, yeule and more.