Interview
Bursting The Bubble: Black Honey
Stepping out of the fantasy to square up to life in all its messy, ugly beauty, third album 'A Fistful of Peaches' finds Black Honey older, wiser and ready to face anything.
Black Honey have been masters of escapism since their very beginning. Creating cinematic, fantastical worlds that eschew the imagery of the Brighton seaside environment they spawned from, they've instead favoured palm trees, symbols of vintage Americana, and the feeling that you're only ever a few steps away from being in a Tarantino movie. That is, until now.
This time however, on the quartet's third album 'A Fistful Of Peaches', that glitzy, glamorous bubble is bursting; its protective shield giving way to the harsh realities of everyday life. "I'm kind of bored of the whole fantasy Palm Springs thing," frontwoman Izzy Bee Phillips explains, sitting in a green room in Mannheim, Germany. "Let's have the story about walking through Tesco and having an argument! That can be as glamorous and fantastical as painting an entire magical universe with swimming pools and flamingos."
"With the other two albums, we were creating a world around that album, whereas this is the first time where maybe the world we've created is actually the one that we live in," nods guitarist Chris Ostler, sat to her right.
'A Fistful Of Peaches' might have both feet firmly in reality, taking listeners deeper than ever into Phillips' personal experiences and struggles, but it's far from grey and gloomy. It fizzes with an effervescent glow throughout, songs like 'Up Against It' and 'OK' gleaming with the energy and euphoria of indie disco favourites. "There's still a bit of sparkle and elements of cinema, but it's less [about] taking on the identity of a character in a movie and much more about trying to elevate what I'm really feeling, and voice something that would be scary or intimidating," Phillips adds. "I think there's still fantasy in all music, even people that write about real deal shit; even the Sex Pistols were making some sort of rogue glamour out of something that feels like day-to-day."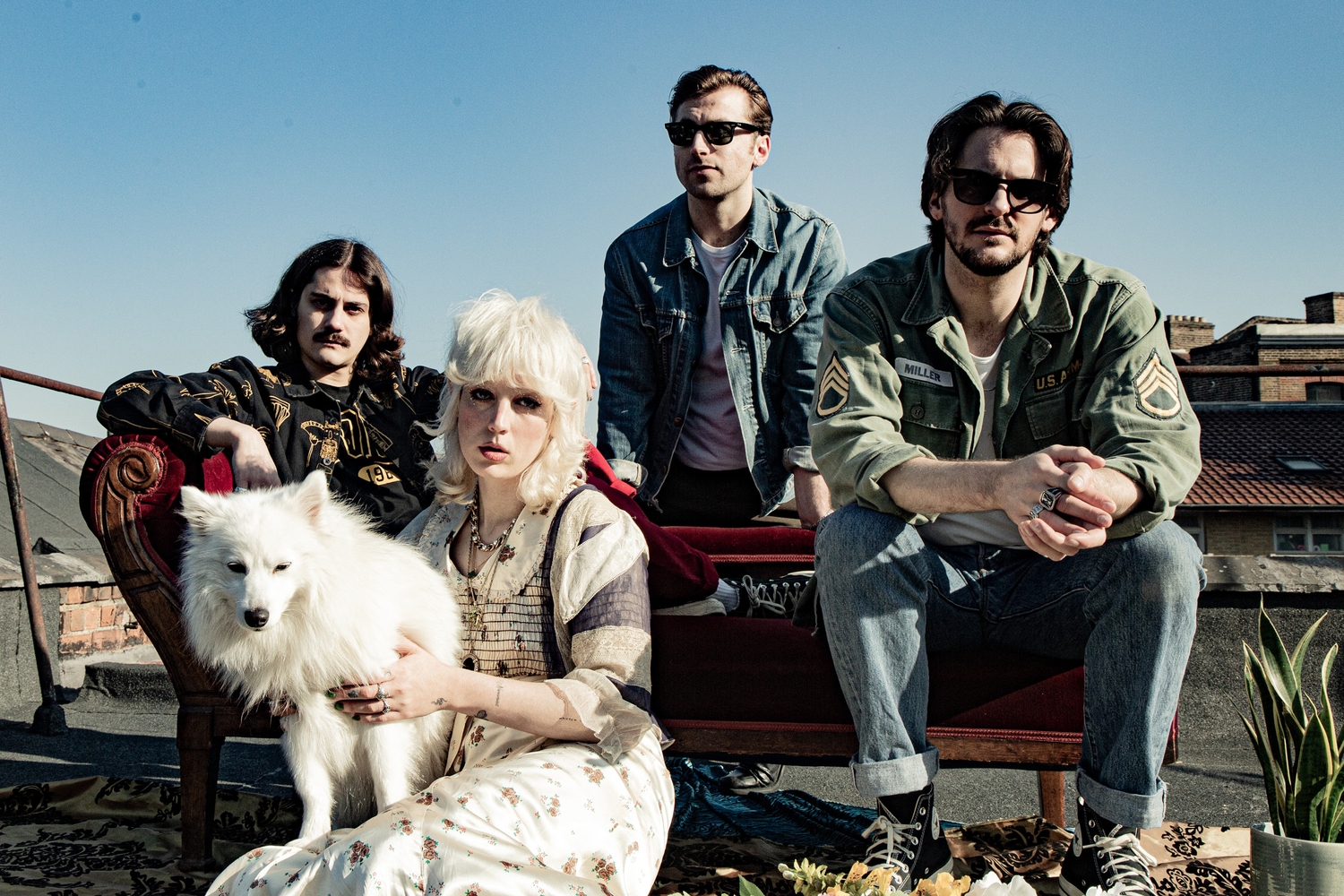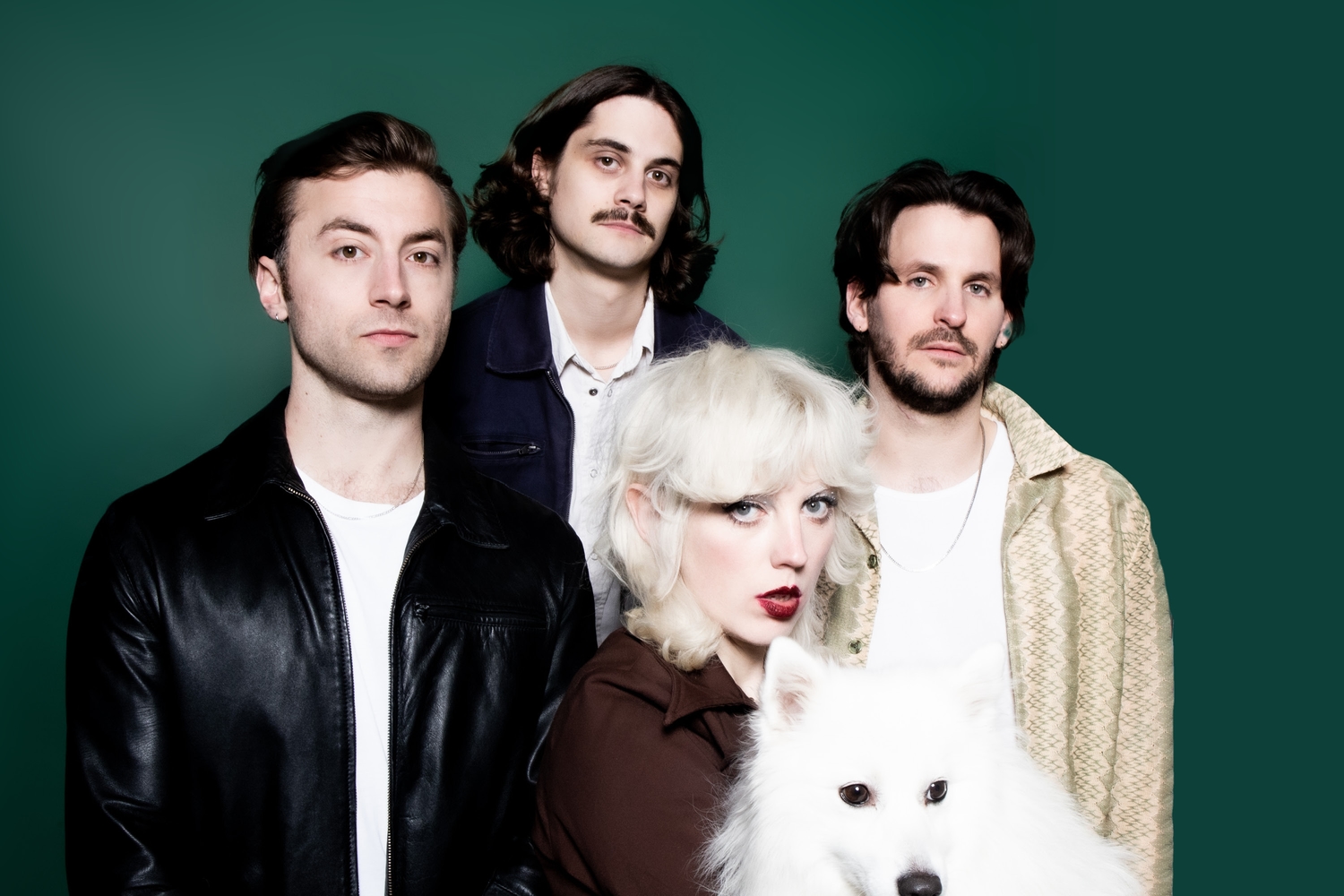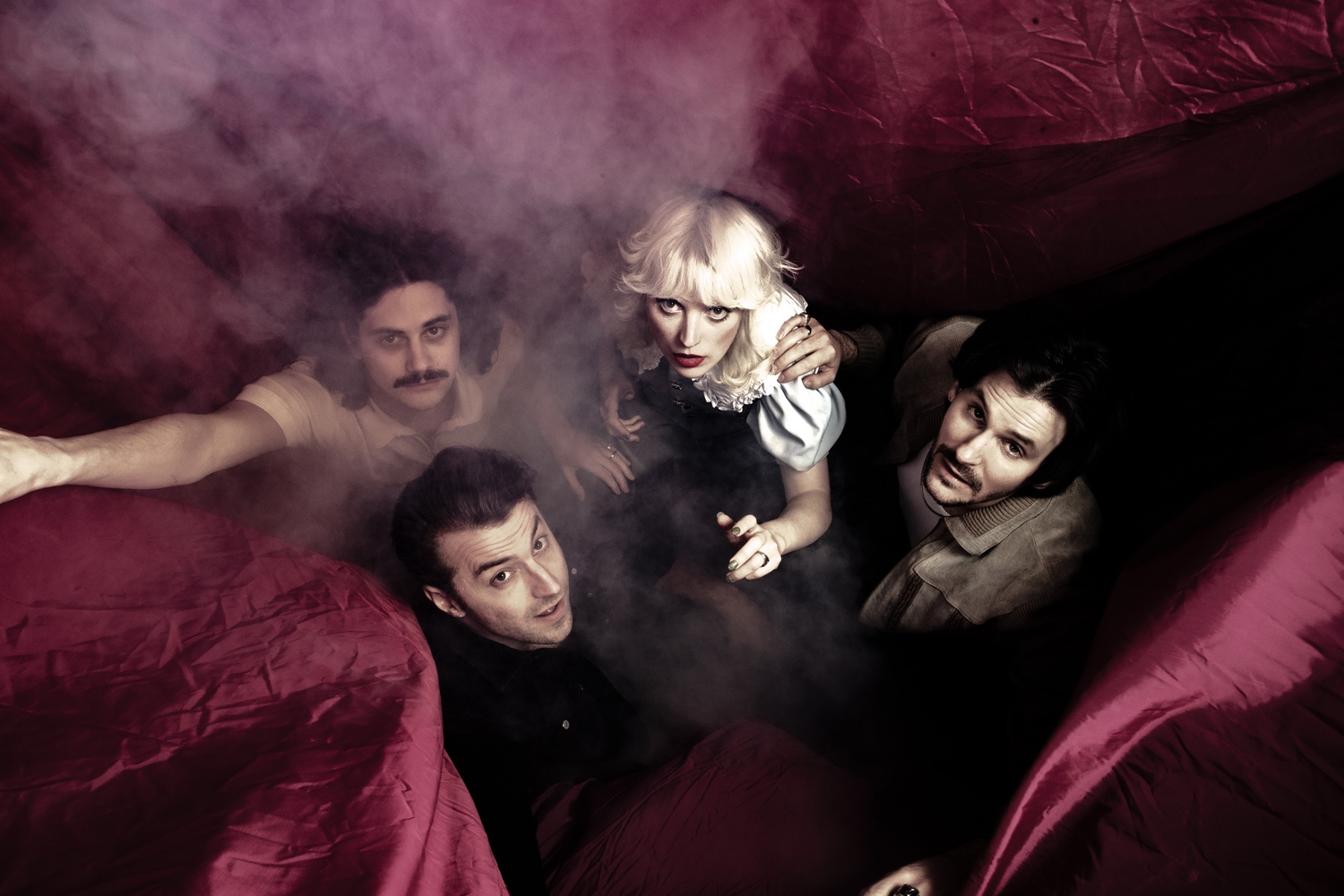 "[Being in a band is] harder than I ever, ever could have planned, and in ways that I would never have imagined."
— Izzy Bee Phillips
Step behind the sheen, though, and Black Honey's new odes to their day-to-day are devastatingly raw and vulnerable. 'Heavy' details the impact of grief, while 'Out Of My Mind' explores Phillips' dissociative experiences. At the time she was writing these songs, she was going through intensive therapy – something that, despite knowing that it's good for her in the long run, she despises. "It feels like doing the dishes or like a really horrible chore that you're literally doing everything in your power to try and avoid," she says, rolling her eyes. "It's still really exhausting and draining, and feels like the slowest, most expensive baby steps of all time towards managing myself better." At some point, therapy began to feel necessary – a better option than her past coping method of "getting blind drunk to avoid my feelings and being destructive in the most hilarious way possible".
After she began the process of trying to heal, Phillips' songwriting changed in response. "I can feel when I'm trying to deflect something that my brain naturally wants to talk about, and then I can actually be brave enough to be like, 'Well, why don't I talk about that actually really horrific, hard thing?'" she explains. She points to a song like 'I'm A Man', which finds her processing her own experiences of sexual assault by embodying the character of a male sexual predator. "The funny thing about that one is it's so jolly, and no one really catches the fact that it's making a satire of consent – the literal intro of it is us chanting the word 'consent'. We came out of writing that one like, 'That was a heavy day', but then all our mates who hear it are like, 'This is fun!'. You can be a lot more honest in songs, I've realised." "I know you came out of those sessions drained," Ostler says to his bandmate. "It was almost like the sessions were like therapy, in a sense."
Often, there's almost an expectation on songwriters and artists in any medium – particularly female ones – to cannibalise their own lives for their art, wringing the life out of every experience, anecdote and feeling, and putting it on full display for the world to judge and tear apart. "I do see why people feel like that, and I do think about how that could be the case with songs like 'Corinne'," Phillips says, referencing one of Black Honey's first singles - a track detailing the deterioration of a female friendship. "But I think a lot of that feeling depends on what and how you're processing stuff – for me, it was a mixture of being in the intense depths of therapy and thinking, 'What words do I need to leave this planet knowing that I've said?' I don't see the point of just a twinkly pop ditty anymore."
For the musician, a part of her life "being eaten by the cannibal" feels inevitable because "that's the whole point of art". "It's just a way of trying to process where you are at the time," she reasons. "Even now, when I look at these songs I do think, 'Oh wow, I was really sad'. It's nice to be in a place where I'm looking back on them and being like, 'I was really sad and actually I'm happier now'. I already look back fondly at the songs like they're a little sister."
"This is the first time where maybe the world we've created is actually the one that we live in."
— Chris Ostler
Right as Black Honey are leaving their fantasy worlds of escapism behind, so too is the illusion of band life as a glamorous world of excess and unbridled fun being torn down. Making a living from music is becoming increasingly trickier, tours are being cancelled left and right due to rising costs and the cost of living crisis, and the whole thing feels like much more of a slog with far less reward.
"I'm so glad you brought this up," Phillips says, becoming so animated the propped-up phone she and Ostler are speaking to DIY through begins to wobble. "It's like everyone's been in a secret truce for 10 years about pretending to keep the illusion alive." She reels off a list of things bands are not "supposed" to talk about: day jobs, the reality of touring, essentially anything that makes them seem real. "But we ARE struggling; I would never go back [to the beginning] and tell myself how hard things are still because I just wouldn't have fucking done it. It's harder than I ever, ever could have planned, and in ways that I just literally would never have imagined."
Although Black Honey's tour schedule can often look gruelling to an outsider, Phillips notes that it's nothing compared to what some other bands who've blown up recently are up to. "I look at Wet Leg's touring schedule and I feel a bit sick. We're not in psychotic demand like some of those guys, but some of those things they would really struggle to say no to because you've worked up to this point for your whole career – I'd be scared to get more successful for that reason," she continues. "I don't know if humans are programmed to cope with the way that these demands are put on them."
Yet despite all the stress and struggle that the music industry and the political decisions that affect it so severely bring to their door, there's no chance of the band giving in. "I feel like if we were going to be broken by something, it would probably have broken us a long time ago," Phillips smiles.
"The biggest thing for me is going on tour, meeting fans, seeing people's reactions to the songs and being on stage with my three best friends playing music that we've written," Ostler says of what keeps him in the game. "It's still the best feeling in the world. That doesn't go away and, especially after Covid and not being able to do it for so long, I cherish every gig."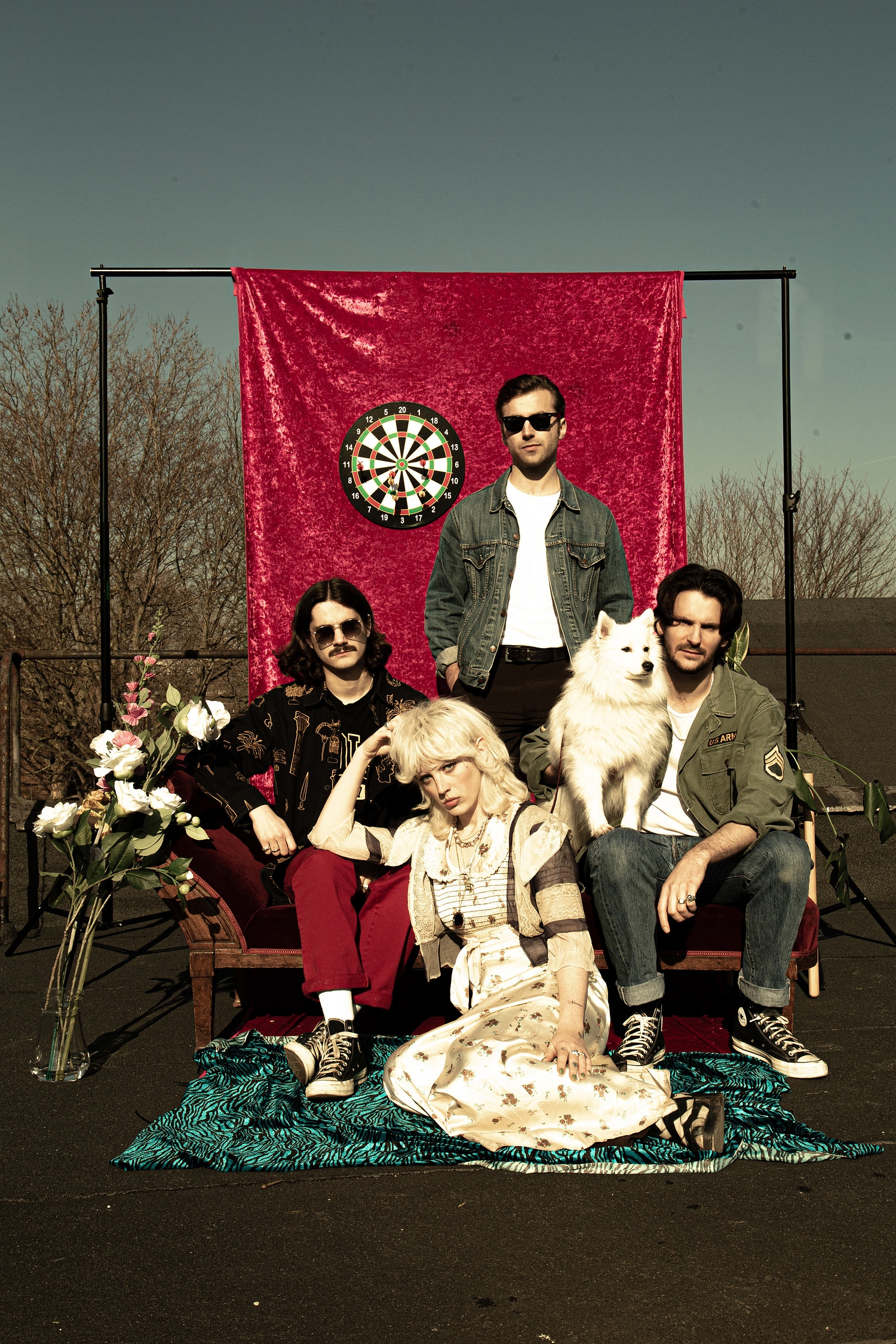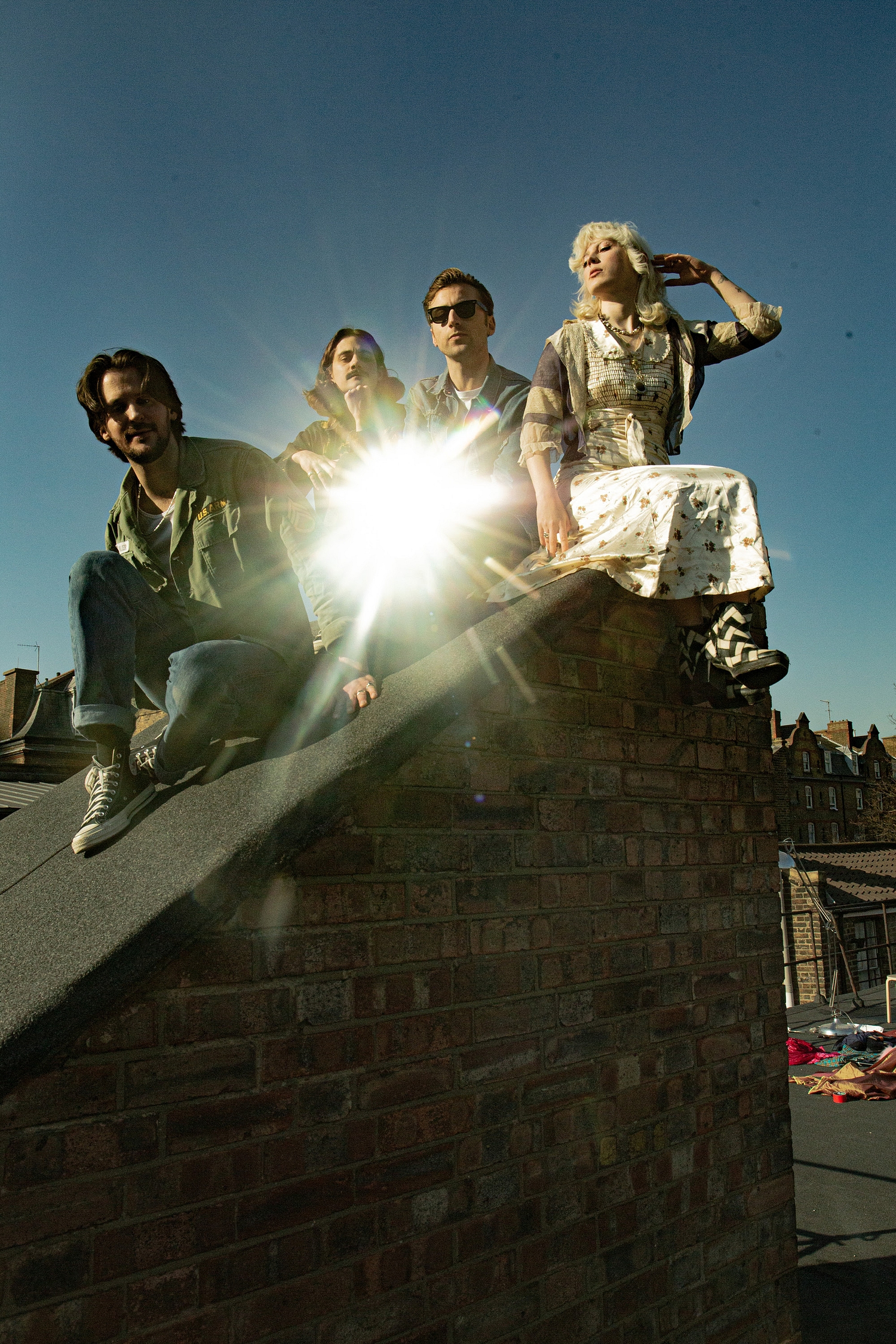 "I don't see the point of just a twinkly pop ditty anymore."
— Izzy Bee Phillips
While the whole world went through the collective wringer over the last few years, Black Honey had their own world-upending problems to get through too. In February 2021, Ostler started having problems with numbness in his limbs and, eventually, went to hospital. He didn't think too much of it, until a doctor told him he had a herniated disc compressing on his spinal cord and he urgently needed emergency spinal surgery. "If it went wrong, I could have been paralysed from the neck down," he explains. "It was like my whole world exploded – it was so mad, I couldn't really comprehend it."
Two years later, the guitarist is doing much better, although he says he still has "up and down days" and needs to get treatment every now and then. The experience has changed things for him and the whole band. "It's given us more to be grateful for," Phillips says. "We still have petty arguments, but I think we're much more able to rise above the nonsense and bullshit. Once you have bigger problems, you're like, 'OK, let's just stop arguing about this fucking thing and just appreciate that we're here together and still standing after what happened'."
"We're back to our true selves, just doing what we love," Ostler nods. "It's just us in a room doing this without any outside expectations or goals that we want to achieve." Don't take that to mean this era of Black Honey is about sitting back and meekly letting life happen though. "I'd almost say it's made us more ambitious," the guitarist says. "We've gone through all that shit, why stop there? Let's just fucking go for it."

'A Fistful of Peaches' is out now via FoxFive Records.

Read More