Festivals
Live at Leeds in the Park 2023
27th May 2023
Scouse-Irish solidarity triumphs, with stellar sets from CMAT, Crawlers and more
Live at Leeds has been a vital event for music fans to discover their next favourite up-and-coming artists since 2007. Championing the local scene, smaller acts, and independent venues, the festival has earned its reputation as a fundamental occasion within the musical calendar. Today, though, rather than queuing and cramming into tiny city centre venues, festival-goers are heading to Temple Newsam for one day only. Boasting five stages, an impressive host of artists and twenty-three degree weather, this second incarnation of Live at Leeds in the Park is set to be a celebration.
Opus Kink don't waste time in trying to prove that, their ceaselessly energetic experimental jazz meeting breathless, enthralling live performance, providing a forceful kickstart to the day. The captivating Bug Teeth follow, enchanting the audience with their twinkling shoegaze, sparkling in the sunshine. Youth Sector's fidgety synths and funky bass riffs fall somewhere between Talking Heads, late-noughties British indie and 'After Laughter'-era Paramore, which makes for a certainly delightful - and arguably ideal - summer festival act.
Mid-afternoon sees the peak of the Cockpit Main Stage. "This is a love letter to girls," declares Black Honey's Izzy B Phillips before the band plunge into their hazy breakout single 'Corrine', in which the band's distorted guitars and '60s-inspired surf pop vocals lament the break-up of a female friendship. 'Heavy' receives an elated sing-along from the crowd, meanwhile the sordid 'I Like The Way You Die' transforms the band into something else entirely: deliciously wicked and syrupy sweet all wrapped in one.
Kate Nash's subsequent set is enjoyable enough, if slightly underwhelming. It's undoubtedly fun - tracks like 'Dickhead' and 'Mariella' are entertaining sing-alongs, and 'Foundations' is as cathartic live as it is when you're four double vodkas deep in your local pub. Before closing with the latter, she teases the crowd: "Go on, put your fingertips in the air," and the girls - knowing, fully, what's coming - quickly abandon their boyfriends to grab onto each other and scream along to the millennial staple, whether they know each other or not.
The Cockpit teeters off after Nash, but DIY's stage eagerly overthrows. The line-up is eclectic and expansive, with no two artists sounding the same. The artful grunginess of Sir Chloe is the antithesis of the gentle melodies of Cavetown's bedroom pop, for example. 'Salviate', Sir Chloe's chugging, sleazy lead single from their newest output 'I Am The Dog', sees vocalist Dana Foote mesmerise the crowd with a flawless vocal performance. Their single 'Michelle' - a bewitching slow-burning track that went viral on TikTok - inspires a hearty singalong from the Crawlers and Cavetown fans who have been firmly planted at the DIY barrier since gates opened.
Their hours spent waiting are worth it, though. Between Holly Minto's quick-witted quips and the band's devastating alt-rock, Crawlers are endlessly engaging. They don't leave you much room to be neutral. After some technical issues Holly laughs: "Well! That guitar was less in tune than my Nan at karaoke!" and then boom: 'Come Over (Again)' - a song that makes you want to fall to the floor and cry. Purgative, powerful and down-right impressive, the Liverpool four-piece are really something special - it's no wonder why they've already inspired a dedicated cult following. Great lyrics and good rock music aside - they also look like they're having the time of their lives on stage, exuding a joy that's quite irresistible.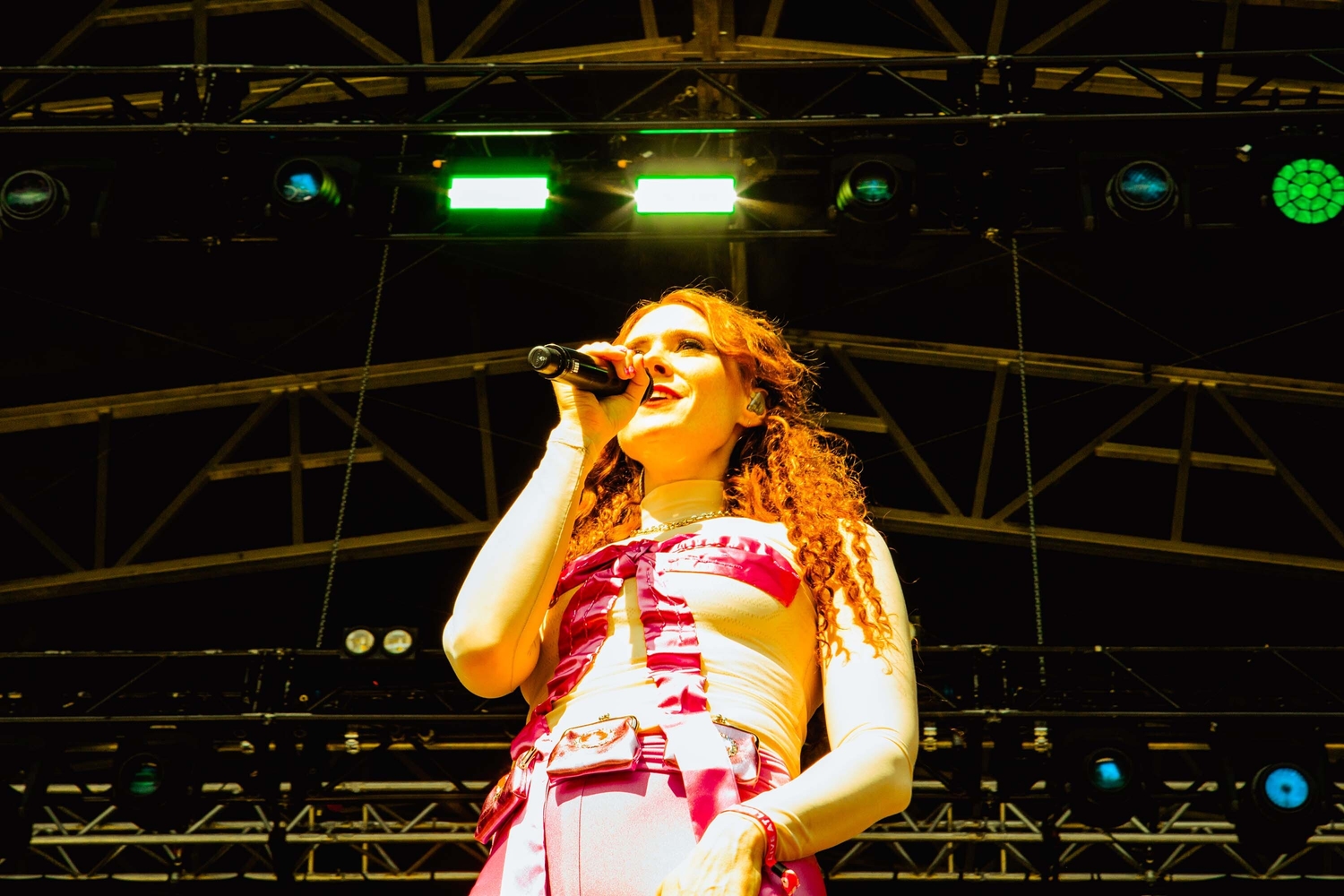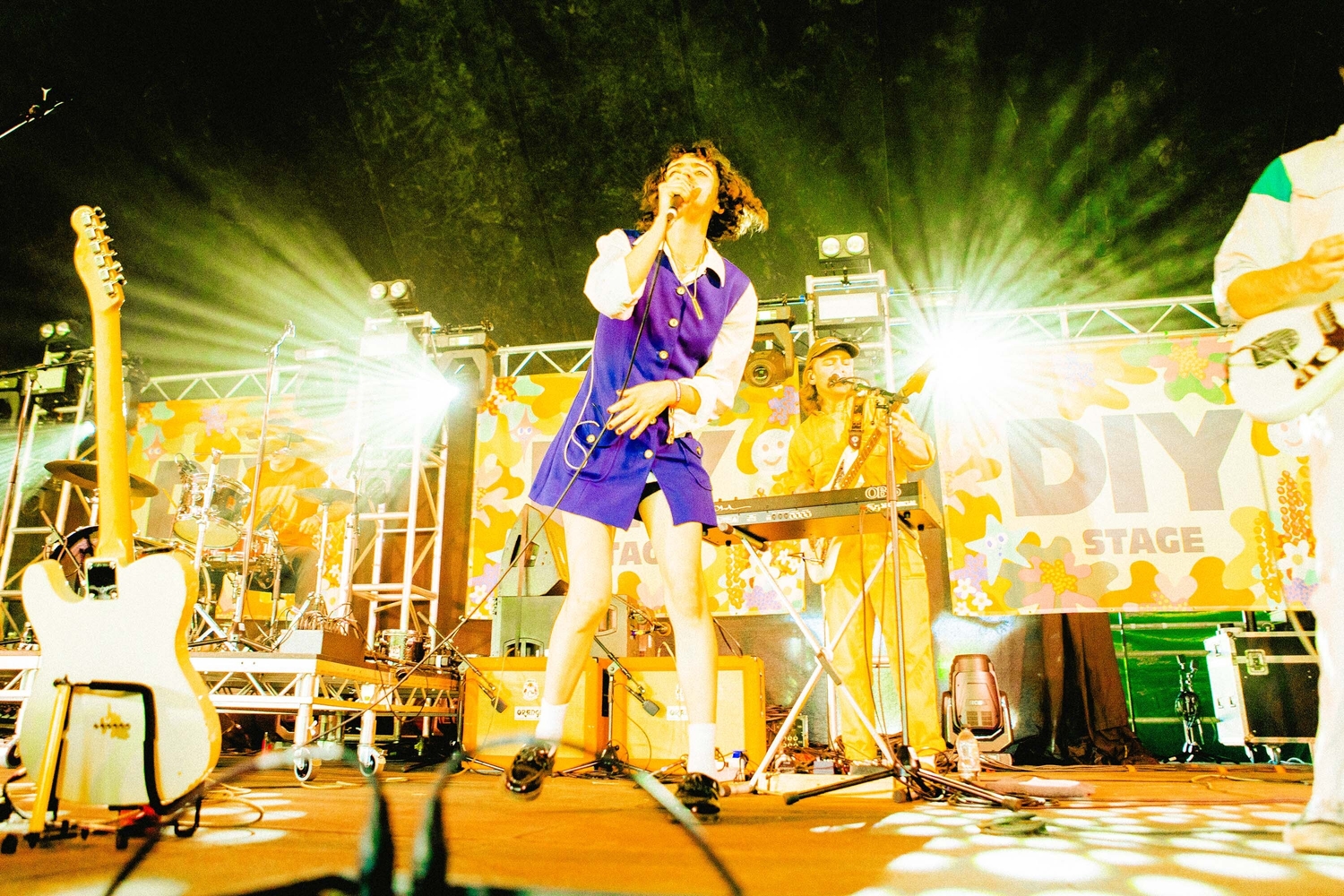 It's CMAT, however, who eclipses the entire lineup. Camp, colourful and cleverly written pop melodies all over. Opening with 'Lonely' and then diving straight into 'I Don't Really Care For You', she has it all: choreographed dance routines with her keyboardist, flirtatious wit ("This next song's a banger…but it's only for gay and Irish people!") and a vocal range that is so impressive it's hard to believe it's coming from someone who's dancing like an old puppet one second and then lying down and kicking her feet the next. When she accidentally breaks her guitar (and steals Crawlers' for the rest of her set, in a proud example of "longstanding Scouse and Irish solidarity"), she laughs it off and invites the crowd to join her in the silliness of the situation. CMAT uplifts her uniquely brilliant back catalogue by having such a charming onstage presence.
Closing the festival is indie heavyweights Two Door Cinema Club. As the sky turns pink they thrash through old album tracks and new singles alike; a tight musical unit who jump from song to song without a moment to catch your breath.
Live at Leeds in the Park does exactly what was needed of it: it's fun, it's hot, and if you hang around the smaller stages, there are plenty of fresh, intriguing acts to see.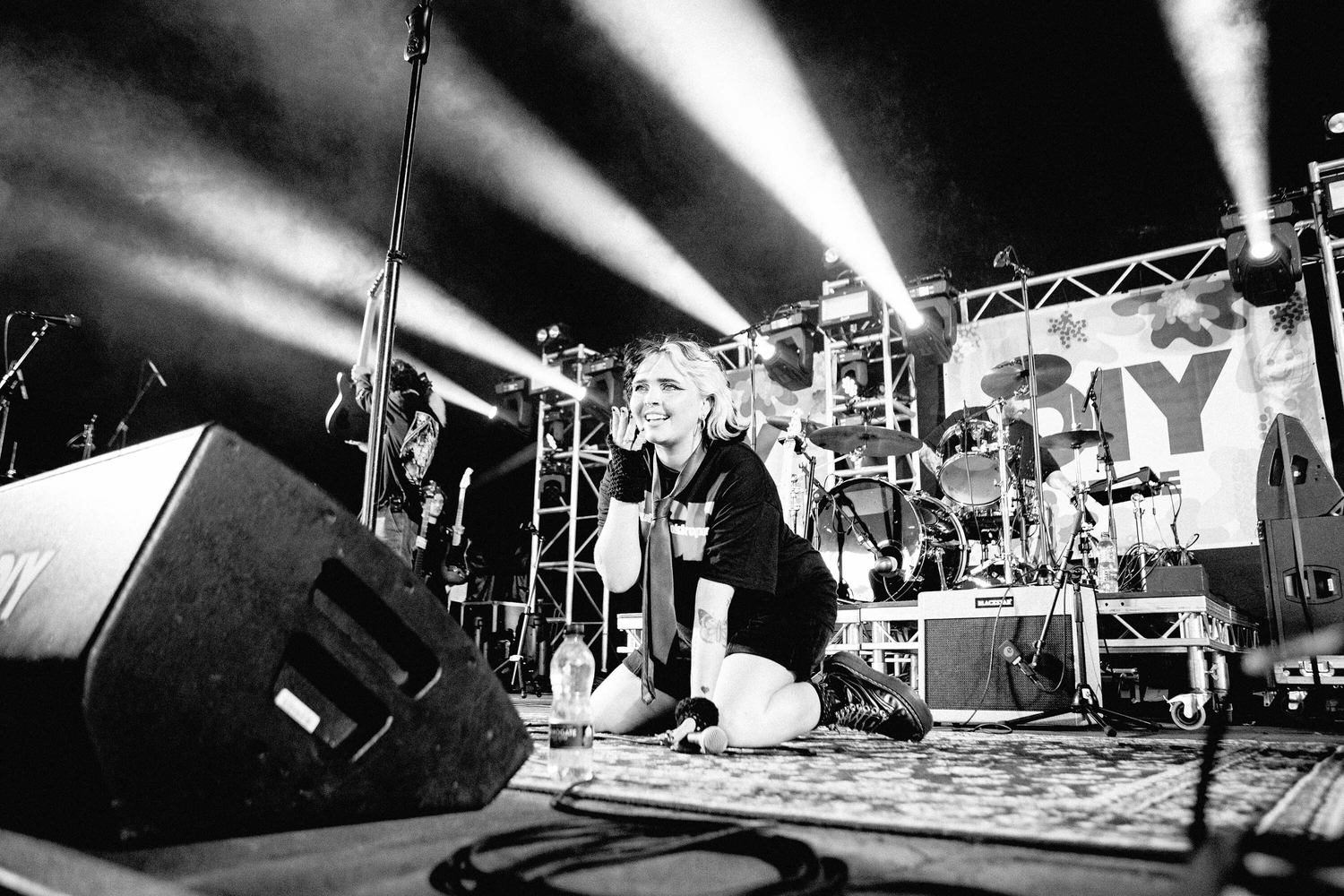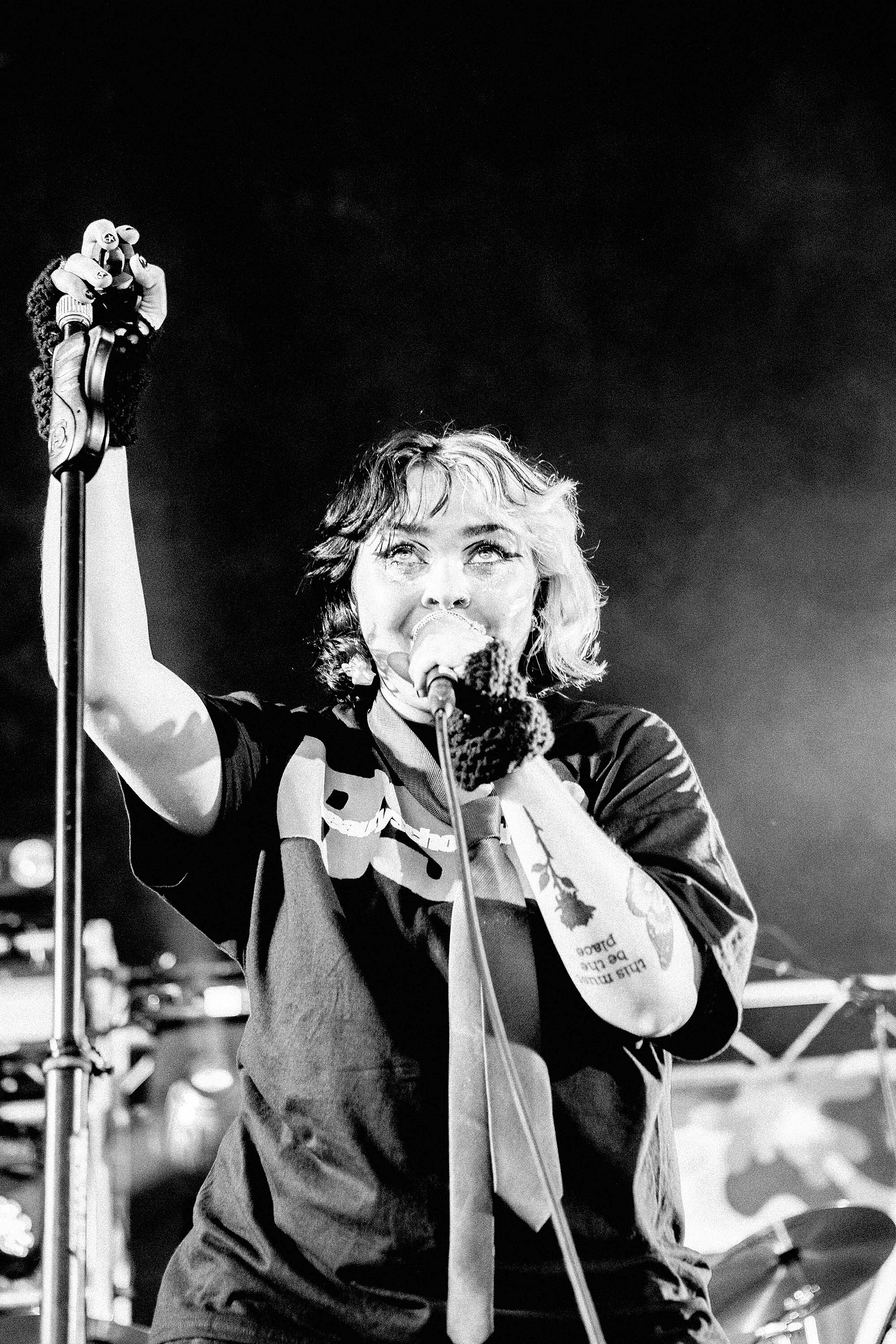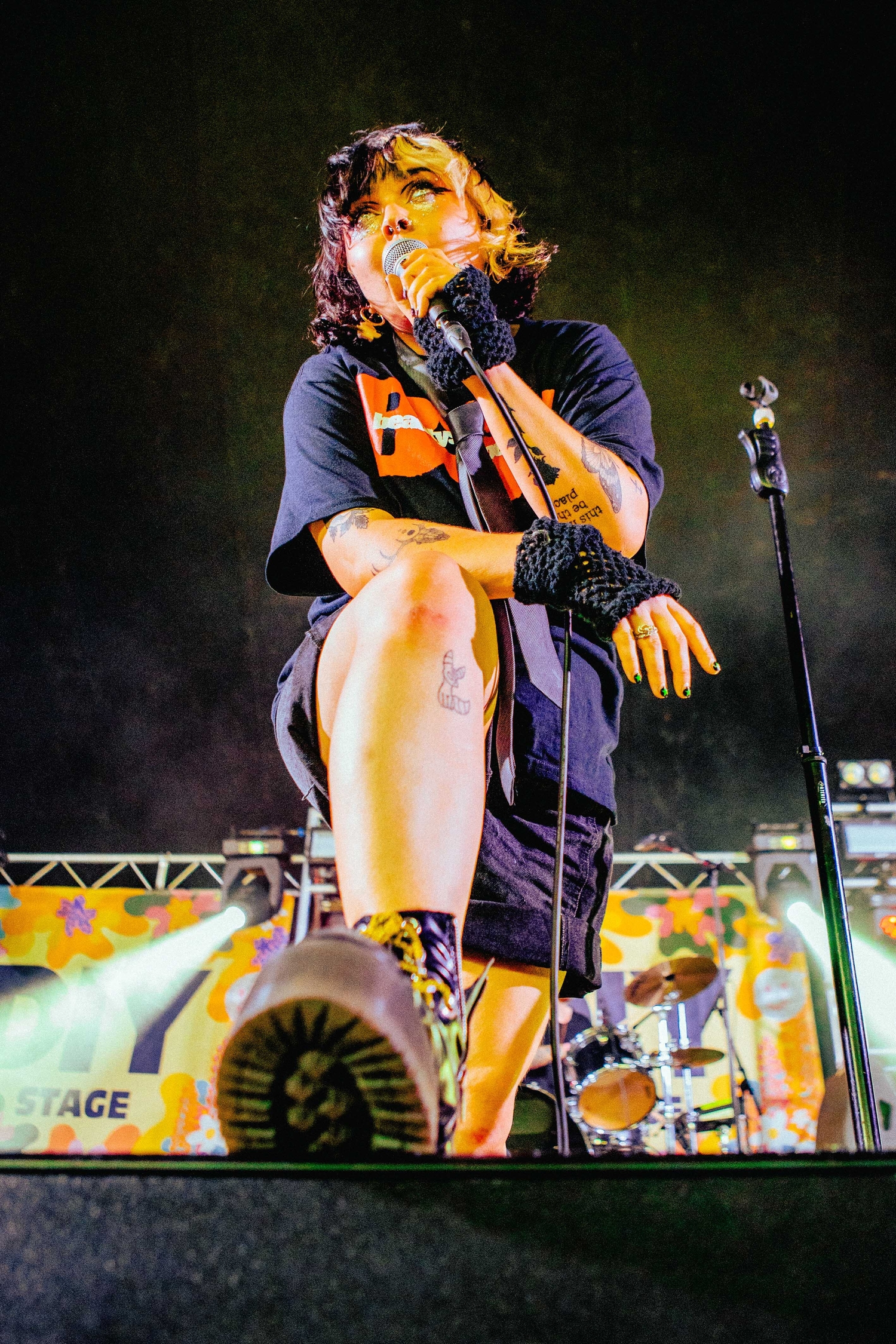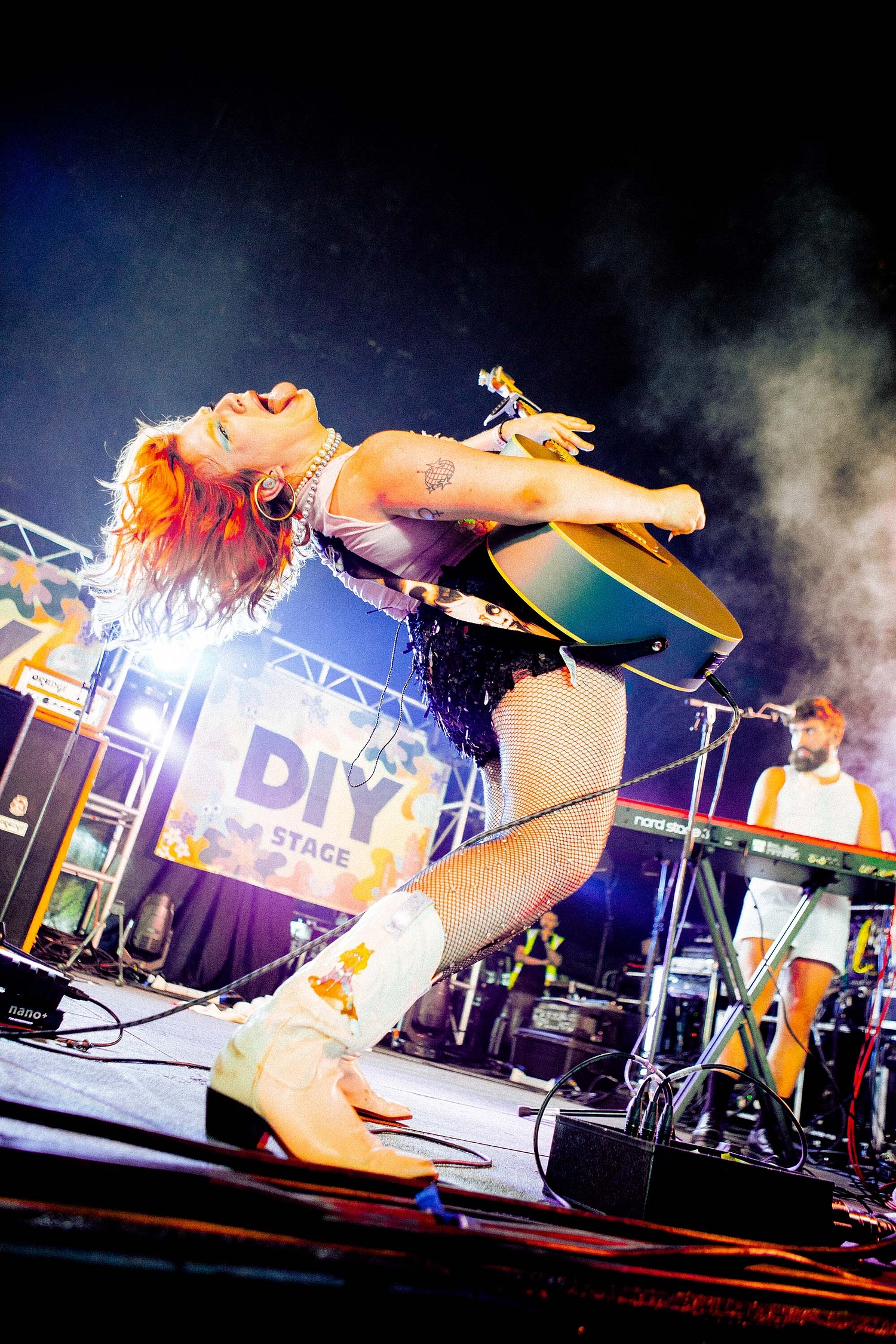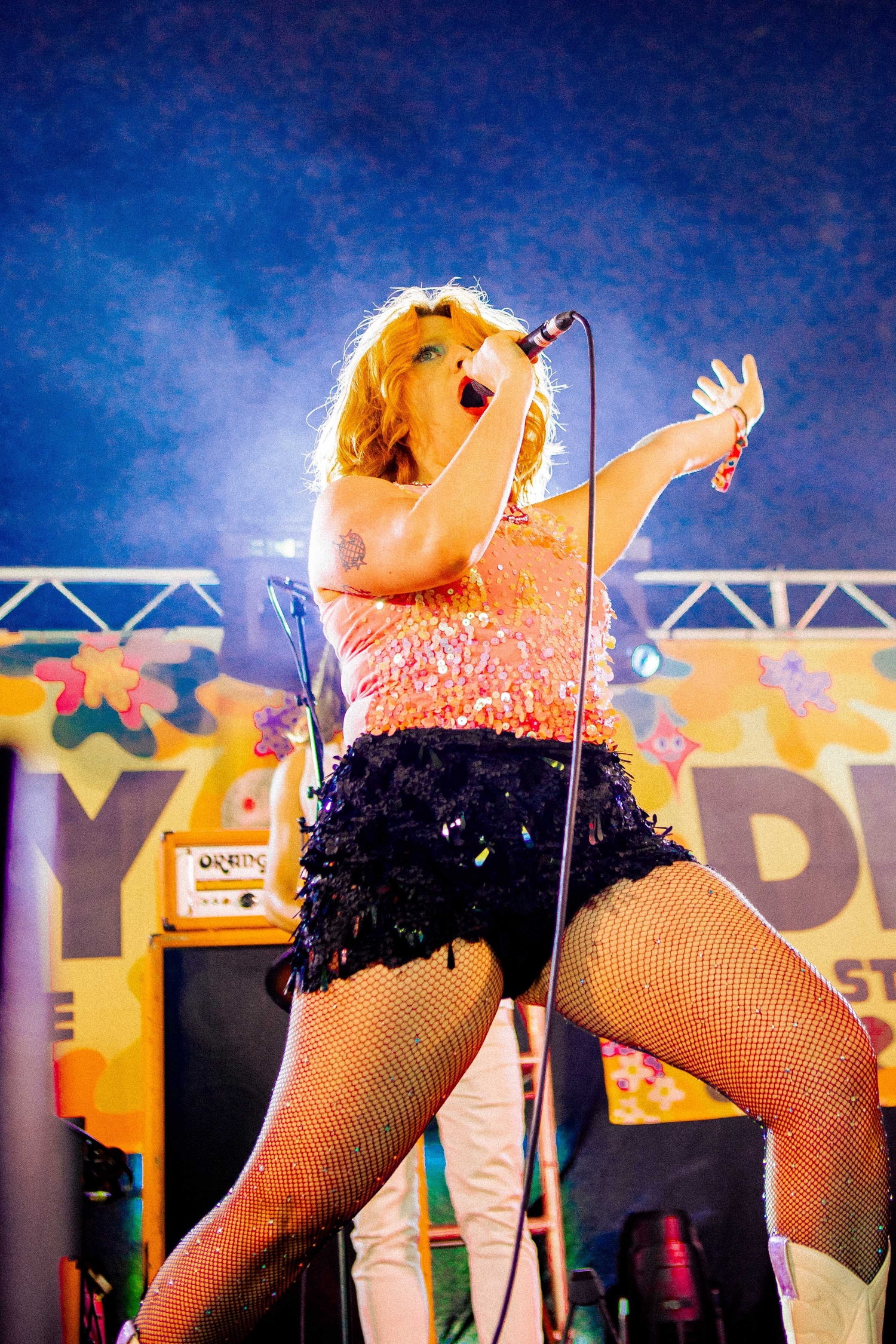 Read More
Featuring James Blake, Romy, Marika Hackman, yeule and more.