Blink-182 are ready to begin a fresh chapter. With Alkaline Trio's Matt Skiba in tow, they're returning with 'California' and proving that new tricks aren't a problem.
"Dude, did I say something wrong?" Mark Hoppus has just been stopped short mid-sentence by his new bandmate Matt Skiba, who's currently whooping with laughter. The massive hotel room that they're sat in makes his laughing echo even louder. "I was just thinking about John and something he did to me!" comes his reply. Safe to say, the Alkaline Trio frontman has some explaining to do.
"I was sitting doing guitar tracks," he begins, thinking back to Blink-182's time in the studio earlier this year. Back in January they began work on their forthcoming new album 'California', and drafted in the infamous John Feldmann on production duties. "It was once the record had been written, and I was in the lounge at about 11pm at night." He splutters again, "John was like, 'Hey Matt!' and I turned around: he was just butt naked. He was standing in the doorway with his dick hanging out! That's just what popped into my head - I was just thinking about John's dick…"
Dick jokes may still be present in Blink-182's ranks but a lot has changed since the release of their last record. Following their high-profile comeback, and post-reunion album 'Neighborhoods', it was back at the start of 2015 that the tide really shifted for the trio. A sudden and well-documented bust up occurred between Mark and the band's drummer Travis Barker, and former guitarist Tom DeLonge. Exactly what went on behind closed doors, no one will ever really know, but now, almost eighteen months later, the band look as tightly-knit as ever with Skiba by their side.
"We had always talked about working together on a project."
— Mark Hoppus
"We were supposed to play these shows at the beginning of 2015 and Tom had dropped out of the band at that point," Mark opens up, on just how Matt came to join the group. "Travis and I did not want to cancel the shows - we'd already sold tickets - and we wanted to continue to play. So, we talked about it and the only person that we wanted to play music with was Matt. We didn't really have a Plan B. We met with Matt, took him out to lunch and asked him if he wanted to fill in for the shows, to which he very graciously said yes. Matt had to learn a whole bunch of songs really quickly, but he killed it and the shows went awesome.
"The thing is," he goes on, "we had always talked about working together on a project. For years, Matt and I had talked about writing songs together or scoring a movie together; just doing something. So we had been circling one another for a while - we've been friends since the late nineties - so it just fit easily. It all felt very natural and organic."
After a successful run of shows with their new guitarist - "everybody embraced him early on and everyone felt it was just the natural evolution for the band. Even before we walked out onstage, people were chanting Matt's name" - they decided to try their hand in the studio. And, after a flurry of creativity, they decided to recruit a host of new producers, to add different elements to the mix. Enter former Goldfinger frontman - and the infamously ridiculous - John Feldmann.
"It was Travis who first reached out to John about meeting up," Mark explains. "We had worked with Jerry Finn, who was our dear friend and producer for many years, and really helped define Blink's sound and find what we were all about. But he unfortunately passed away suddenly many years ago, and we hadn't worked with a producer since. At the start of this record, we had talked about maybe working with a few producers and John came up as a potential name. We asked him to be a part of it, then played him a bunch of demos we had been working on, and thought he would take a few of those songs and help record them and guide those songs.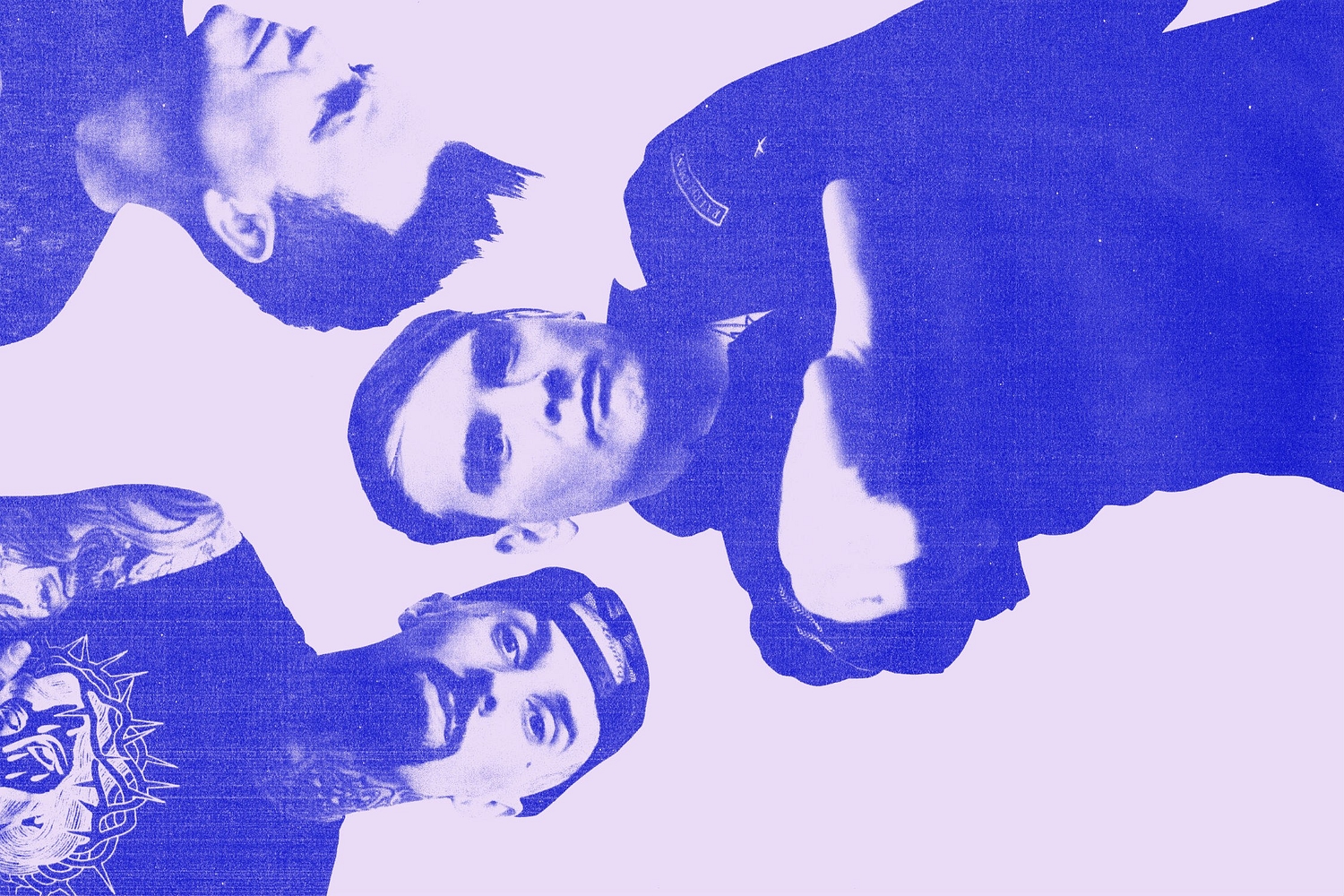 "The songs have an energy and a passion and enthusiasm about them."
— Mark Hoppus
"We ended up going into the studio the next day, starting from scratch, and wrote twenty five to thirty songs in a matter of five weeks; that's what became 'California'." Having begun writing in the middle of January, they found themselves finished before the end of February. "There was such an energy and we had an incredibly creative time for five weeks. Everybody was non-stop, twenty four hours a day, Blink-182 full-on. It was awesome; it was one of the best writing experiences I've ever had. It was completely different from any writing experience that I ever had, and it got the best out of all of us in a really positive way."
"When we got in with John, when we wrote a song together," Matt continues, "it was like there was something magical. That's how the record really quickly came together - just through the energy from him. He's contagious and it made us all... not quite as crazy as he is, but the guy just has craziest energy and it's perfect for what he does. It just brought the best out of all of us. It was really exciting."
The result of that unhinged energy shines through in 'California'; a record that bears the real essence of Blink, it also manages to represent a new era for the band. That's undoubtedly down to the excitement that the band felt themselves. "I totally think that, absolutely," Mark confirms. "I think that energy is one of the great things that John brought to this record. The intensity and the immediacy of what Blink-182 is all about. When I listen to it, I'm excited. The songs have an energy and a passion and enthusiasm about them."
That's the main thing they hope fans will take away from the record. After all of the upheaval and change in their camp, 'California' feels the perfect step. "As a member of - and a fan of - Blink-182," concludes Mark, "this record feels like everything that I love about the band in 2016. I love the energy, the catchy songs, the lyrics. Travis' drumming is insane, Matt's voice is awesome, and I think and hope that people will be excited with this record, because it feels like home."
Blink-182's new album 'California' is out now via BMG.
Taken from the July 2016 issue of DIY, out now. Subscribe below.
Read More
Featuring James Blake, Romy, Marika Hackman, yeule and more.