Interview Choose Your Own Adventure: Nadine Shah
Game-changing LP 'Holiday Destination' positioned her as a voice to soundtrack a politically turbulent era. Now, she's turning her eye on her own life and proving that she's a pretty funny fucker too.
"I've got this really sexist playlist that I had playing before a recent show at MOTH Club," begins Nadine Shah with an audible eyebrow raise. "There are so many of these great old songs that had the most despicable lyrics - 'Hey little girl, fix your hair, do your make up…'; 'Young girl get out of my mind, my love for you is way out of line…'. And it's only in the past few years that I discovered the Bechdel test too [that denotes whether a film has a female protagonist that isn't involved in a plot line based around a man], so now I find it really hard to watch films! There are so many of these old films and old songs that make me so angry!"
It's a nondescript, balmy Thursday afternoon and, between inventing theories about the people who walk past the window of the Ramsgate flat she's currently holed up in (a man who rollerblades from his car each day has a secret second life, she's sure) and settling down for another night in ("I'm drinking every day, but I drink every day anyway so this all suits me fine"), the Tyneside-born singer is getting annoyed. She's annoyed at a culture that allowed gross messages like this to be broadcast to the masses for years. She's annoyed that, as a woman in her mid-thirties, she is constantly being fed certain ideas about what she should be prioritising in her life. And she's annoyed that, until recently, she somewhat thought she should prioritise them too.
"Me and my friends were talking about our 'timeline', and [that idea is] something we had in common when we were younger," she recalls. "'When I'm 20 I'm gonna get married, and when I'm 22 I'm gonna have a baby…' And then life happens and you're 22 and not married. 'OK, when I'm 25 I'll get married, and when I'm 27 I'll have a baby…' And now I'm 34 and I'm not married and I don't have children, and then you start changing your ideals a bit: I might not get married and I might not have a child, and that's OK. It's only recently that these so-called dreams or expectations have started to change, but I do still have this niggling thing at the back of my head and I find it really conflicting as a feminist."
Full of pissed-off musings on double standards and misogyny, and wry, witty observations on the minefield experience of growing older as a woman, it's into a recognisable, relatable world that Nadine's fourth LP 'Kitchen Sink' arrives. But, from its tongue-in-cheek aesthetic - a send-up of repressed '70s domesticity - to a barrage of middle-finger-up one-liners (open 'Club Cougar' takes the grubby lyrics of those old singers past and turns them on their head), the singer's latest is far from a downbeat listen. Instead, it's a record that brims with humour, personality and a twinkle in its eye - if not a demonstration of killing them with kindness, then an attempt at slaying with more vitality, vim and playfulness than any of the traditional bores could muster. "The line 'One year younger, call me a cougar' always makes me laugh because it says a lot, but the irony itself is so ridiculous," Nadine chuckles. "There are all these names for women, but what do you call a man who dates women who are younger? Er… a movie star?"
"There are all these names for women, but what do you call a man who dates women who are younger? Er… a movie star?"
Having released two relatively under-the-radar records in 2013 debut 'Love Your Dum and Mad' and 2015's 'Fast Food', it was with 2017 third LP 'Holiday Destination' that the singer began to break through on a wider scale. Early critical acclaim then led to a Mercury Prize shortlisting; performing 'Out The Way' live on the BBC during the ceremony, its central themes around the treatment of immigrants soon turned her into a sought-after artistic voice whose perspective seemed to reflect a key political moment in time.
"I remember one really poignant moment during the performance, seeing my mother and father in the audience - especially my dad who is a first generation immigrant from Pakistan - and it meant so much to me. That sticks. That's one of the ones I'll bore me grandkids with," she remembers. "Sometimes an album comes along and it soundtracks people's frustrations at the time and I think that's kind of what that album did; it was in the right place at the right time. I realised after making it that [speaking about its topics a lot] was a necessity and that was gonna come with it, but for a while people were just calling me a political artist and being very serious with me, so being more expressive about my own personality and feelings felt like an itch that needed scratching."
Leaning in to every wicked and wonderful idea she had, 'Kitchen Sink' became an exercise in pushing herself further: riding a joke to its limit; wrangling with often conflicting emotions and letting both live side by side; making a musically bright record that was "almost slapstick in part". "I really wanted there to be this playful nature in the music, the sonic version of going 'ner ner ner ner ner'," says Nadine, "a cross between Sesame Street and [experimental cult artist] Dr. John.
"There was always a perception [of seriousness] when people heard my music and hadn't met me, but that illusion is immediately broken as soon as they do," she laughs with a broad Geordie twang. "I definitely ruined that mystery a long time ago, and it's a thing I started to regret because you look at someone like PJ Harvey and she's so mysterious and classy, but there's no going back now..."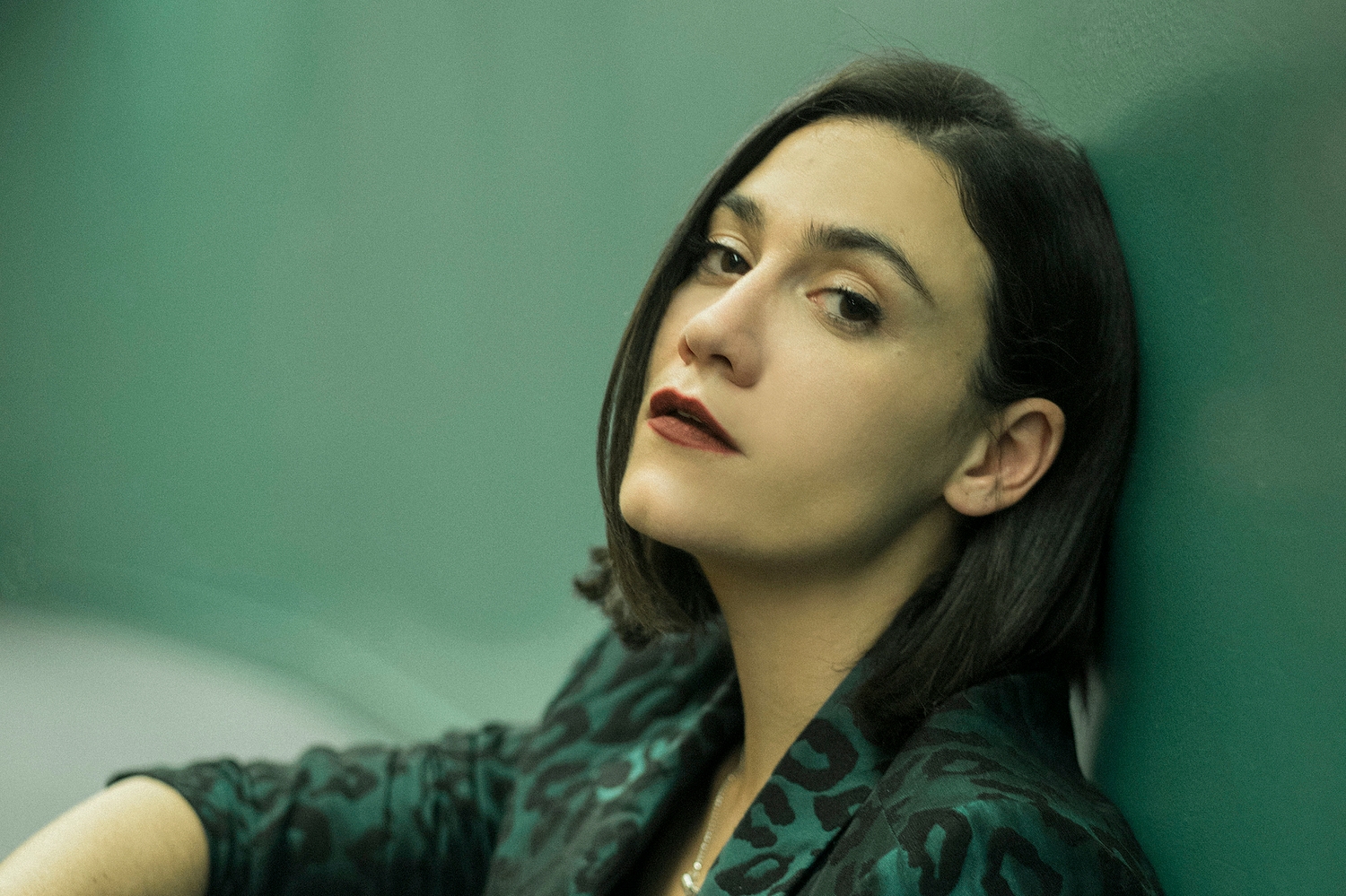 "There was always a perception [of seriousness] when people hear my music and haven't met me, but that illusion is immediately broken as soon as they do."
Far from regret, however, Nadine's fourth instead revels in this duality. It's a record that looks weighty, sensitive ideas dead in the eye and addresses them head on with eloquence, empathy and a sense of humour: one that acknowledges the utter mindfuck of being alive, but then pours a large glass of red and gets on with it. The likes of recent single 'Trad' - simultaneously a refusal to pander to archaic ideas and a nod to their appeal - and 'Dillydally' with its central lyric "I am aware of the passing of time" are as socially conscious as anything from 'Holiday Destination', just this time it's the personal that's political.
"I re-read and re-read and revise things to make sure I'm saying things responsibly. Am I saying exactly what I want to say? Can I say this in a way that speaks to more people? Can I say this with more power? I am aware of being a part of this wave of change," Nadine emphasises. "But there's something so powerful to me about taking those subjects and laughing at them. It feels like there's a real direct ownership there. And it's not funny - I mean, the fact that sexism still exists in 2020? What the fuck?! But what I was trying to do was champion these people and these stories. There's something empowering about [this album]. It feels empowering to perform."
If the best way to undermine a problem is to laugh at it, then 'Kitchen Sink' finds Nadine taking every outdated, unhelpful notion thrown at her and the rest of the world, blowing it a raspberry and raising a glass. Cheers to that.
'Kitchen Sink' is out 26th June via Infectious.
#AD
Records, etc at
Read More
Featuring King Gizzard & The Lizard Wizard, IDLES, Tkay Maidza, Sleater-Kinney and more.