Are the South London quartet one of the most vital new live bands around? Quite possibly. And if they're not now, Talk Show are ready to make sure they take the title soon enough.
Talk Show are hungover. Now just a two breakfasts kind of hungover, but a two McDonald's breakfasts kind of hungover. However, the after-effects of several double egg McMuffins aside, you can forgive them for celebrating with one-too-many Vodka Red Bulls after the year they've had.
Originally meeting at Goldsmiths with the iconic introducing line of "Oh you wanna be in a band? I wanna be in a band. Let's be in a band!", the South-East London fourpiece - frontman Harrison Swann, guitarist Tom Holmes, bassist George Sullivan and drummer Chloe MacGregor - have had a pretty damn exciting 2019, from the first time they burst into our collective consciousness with raucous debut track 'Fast & Loud', released via YALA! back in March.
The story of how this partnership came about is well known by now, with the tale going that Harrison and YALA! co-founder (and former Maccabees member) Felix White share the same barber/music-enthusiast, who told Felix about this band that he "must go and see live". "We played a gig and we're getting off stage and I can see Felix coming straight through the crowd to talk to us. I was like, 'Oh shit, cool, you're Felix White!'" Harrison recalls of their first IRL meeting. "He was like 'We wanna release 'Fast & Loud', and I was like, 'You can have it, mate!'"
"We'll catch each other on stage and be like, 'No, we're not playing hard enough. Harder, harder, harder!'"
— Harrison Swann
Follow-up single 'Ankle Deep (In A Warm Glass Of Water)' then landed via Council Records back in October. Part Spaghetti Western soundtrack, part Echo and The Bunnymen-meets-Roxy Music, it was yet another example of their hard sound and post-punk energy, yet with an undeniable groove weaved in throughout - a trait in part thanks to Chloe's unshakable love of funk. "The first rehearsal we has, we asked Chloe what music she was into and she said 'funk, soul and disco' and us three were like 'Oh, shit!'" Harrison laughs. "It was the one thing we said we didn't want to sound like. But it's nice though because it's definitely seeped into the tunes in a really good way now. Maybe now I'll go full Charles Bradley with it? Perhaps get a horn section in?"
Though the trumpets are still TBC, what's already set Talk Show apart from the rest is their quickly established arsenal of captivating on-stage antics. From stomping about and encouraging sweaty mosh pits, to Harrison's almost demon-like stare into the crowd, performing is what the group, above all else, want to be known for. "Our thing when we first started was that we're not going to bother getting something recorded and slapping it on SoundCloud just for the sake of it," Harrison explains. "We're going to gig, and that's how we're going to start the band, and do it as much as we can; for us it's the most fun. We just had a mindset from the start that it's got to be fun and if we don't enjoy it then it's not worth it. We're never going to be one of these bands that stand at the front and act all serious, like 'Oh yeah, we're so fucking cool wearing sunglasses'. It's not us. We're a bit stupid. It's fun to have a big live show and have a laugh with it. We'll catch each other on stage and be like, 'No, we're not playing hard enough. Harder, harder, harder!'"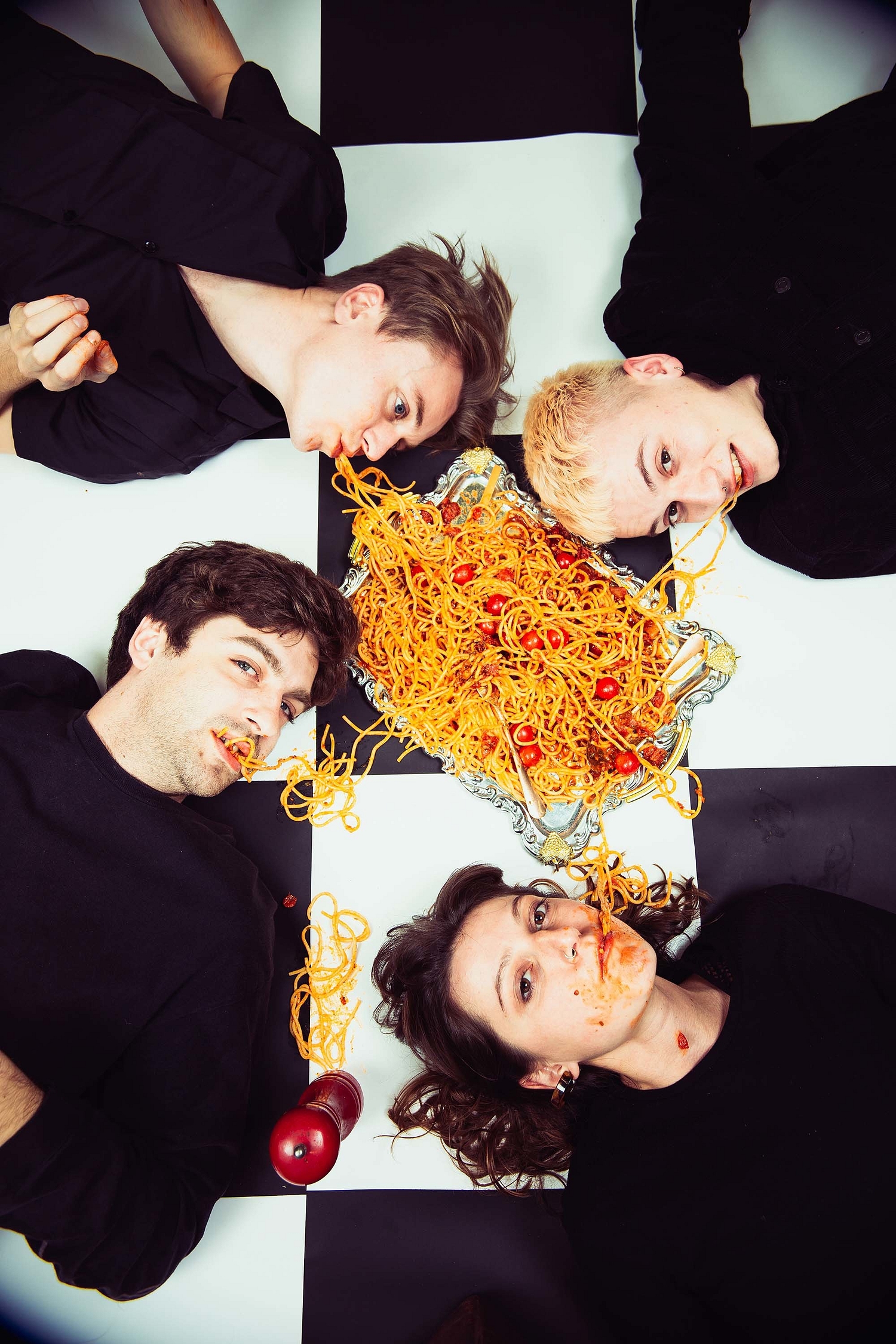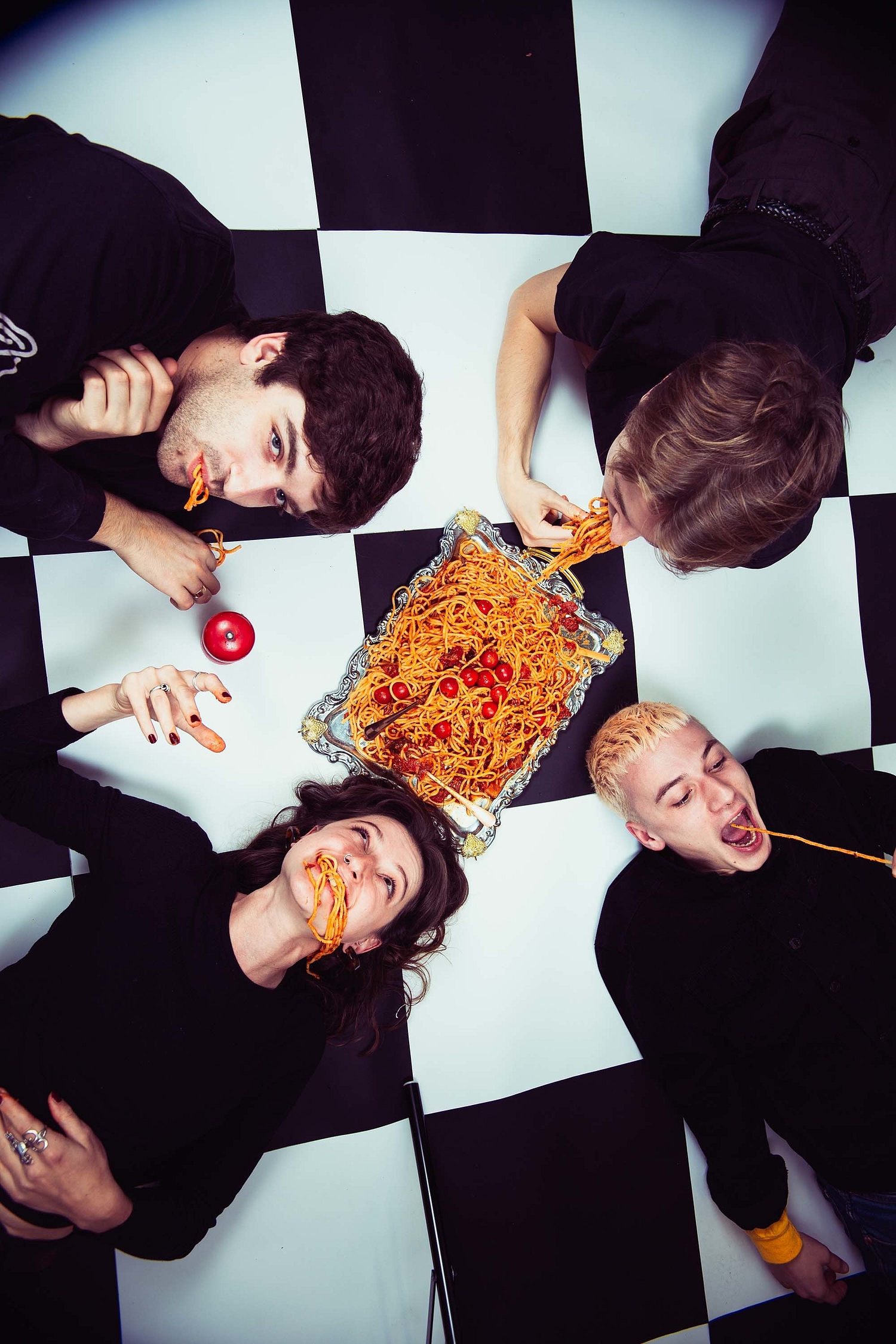 "From going to loads of shows, there's nothing better than leaving a gig and being like, 'Shit that was phenomenal'," adds George. "Loving it on record and then hearing it be better live, that's something that we really want to emulate in our set." "You see bands that get a buzz and then just can't play their tunes and can't sell what they're trying to put across," says Harrison, shaking his head. "If you can't sell me your set, then I'm not interested."
Luckily Talk Show are set to match their live bark with a notable on-record bite, with their debut EP due for release in the spring. "Everything's been recorded. It sounds good!" says Harrison "We're still working on the artwork and we don't have a name yet. But we know what tracks are gonna be on it, so that's good."
However, though destined to inevitably be full of bangers, Talk Show aren't too fixated about the record; looking towards 2020, they're still focussed on firing up their incendiary live show to even hotter levels. "We just want to gig as much as we can and see how far we can take it," Harrison explains of their future. "We want to try and take Talk Show as far as it can go." We'll see you for the celebratory third breakfast this time next year.
Read More
Featuring James Blake, Romy, Marika Hackman, yeule and more.