Riding high off the back of megahit 'SUPALONELY' and her recent celeb-featuring full-length debut, BENEE's already done the hard bit - now she's ready to reap the rewards.
2020 has been a year of viral hits, but few have reached the heights of New Zealand newbie BENEE's Gus Dapperton-featuring pop smash 'SUPALONELY'. Blowing up on TikTok and subsequently filling the airwaves almost non-stop, the track now has nearly 200 million views on YouTube and over 450 million Spotify streams following its release in February - and no one seems more surprised of its success than BENEE herself.
"I made the song and I was like, 'I feel like people might hate it'," the singer - aka Stella Bennett - laughs. "I was really happy with it, and usually the songs that I'm super, super stoked about, people don't connect to; I'm always disappointed because people don't like my favourite ones. But this was a pleasant surprise! I was swearing in it, and being really self-deprecating and using loads of autotune, and I was like people are gonna think, 'What is this girl doing?'. But it ended up being something different, which is nice. What happened with it is just next level for me! So many people in so many different parts of the world now know who I am and it's opened so many doors," she smiles. "It's been a good ol' time so far!"
Growing up in Auckland, Stella always dreamt of being a musician, but it wasn't until her final year of high school that she began to believe it was something she could genuinely pursue. "I understood that a lot of people try releasing music and making it their career path, so I didn't want to get my hopes up so high," she says. "It's all pretty surreal and I'm so stoked that I'm now doing it every day. I was releasing music thinking it was something I'd be doing as a hobby, but I got to quit my pizza-making job and my dishwashing job!"
Inspired by a wide array of artists, she marks James Blake, Björk and Groove Armada as some of her early faves, but singles out fellow Auckland-based star Lorde as a direct influence. "Her coming out and doing something different was really inspiring," Stella recalls. "I remember going to the first concert that she did and you had to win tickets to it, and I went and was like, 'Oh my god, this girl is really cool!'"
Now experiencing a similarly meteoric rise as Lorde did with 'Royals', BENEE's debut album arrived last month to fully cement herself among the next pop greats. Only starting work on the record in February, 'Hey u x' hops between genres, showing that the singer has more musical muscles to flex than merely writing hugely successful pop bops. "This album is all over the place!" she explains. "There's a drum and bass song, a pop-rock song, an indie folk song. I guess a lot of my melodies are poppy or indie, but I really like how you can pull elements from anything you want and make something new."
"I still don't really understand why these [famous] musicians want to feature on any of my songs!"
'Hey u x' does just that. Flowing between styles, it also finds huge names including Grimes, Lily Allen, Flo Milli, Bakar and more endorsing the newcomer by hopping on songs for some standout features. "I still don't really understand why they want to feature on any of my songs!" BENEE laughs. "I mean, the Grimes thing still doesn't make sense to me at all! I've been obsessed with her. My publishers were like, 'What about Grimes for the 'Sheesh' feature?' and I was like, 'No way, shut up, don't let me get my hopes up'. I saw that she was following me on Instagram and I fangirled the fuck out. She slid into my freaking DMs! I was so stoked; I was like, 'What the heck is my life anymore?'"
And did she keep her cool during the DM back and forth? "I can't remember what I said to her! Right I'm gonna find out what I said…" she giggles, picking up her phone to scroll through to the message. "Oh yeah, I did fangirl. I said 'I've been listening to '4ÆM' literally every day for the last four weeks, you're crazy.' Wow, that's really embarrassing, but hey!"
Elsewhere on the record, Lily Allen and Flo Milli jump on 'Plain' for an excellent double feature on the self-proclaimed "bad bitch anthem". "I actually had a second verse on 'Plain' with me doing this spoken word rap thing which I hated," Stella recalls. "I was like, what if I get two features on it? I hadn't done it before and I wanted two females, and Lily and Flo Mili came to mind because their sass is quite well known, and they're both queens. I'm so happy with all the features and I'm so glad there are so many of them. I'm so lucky how I can get these artists that I'm super obsessed with!"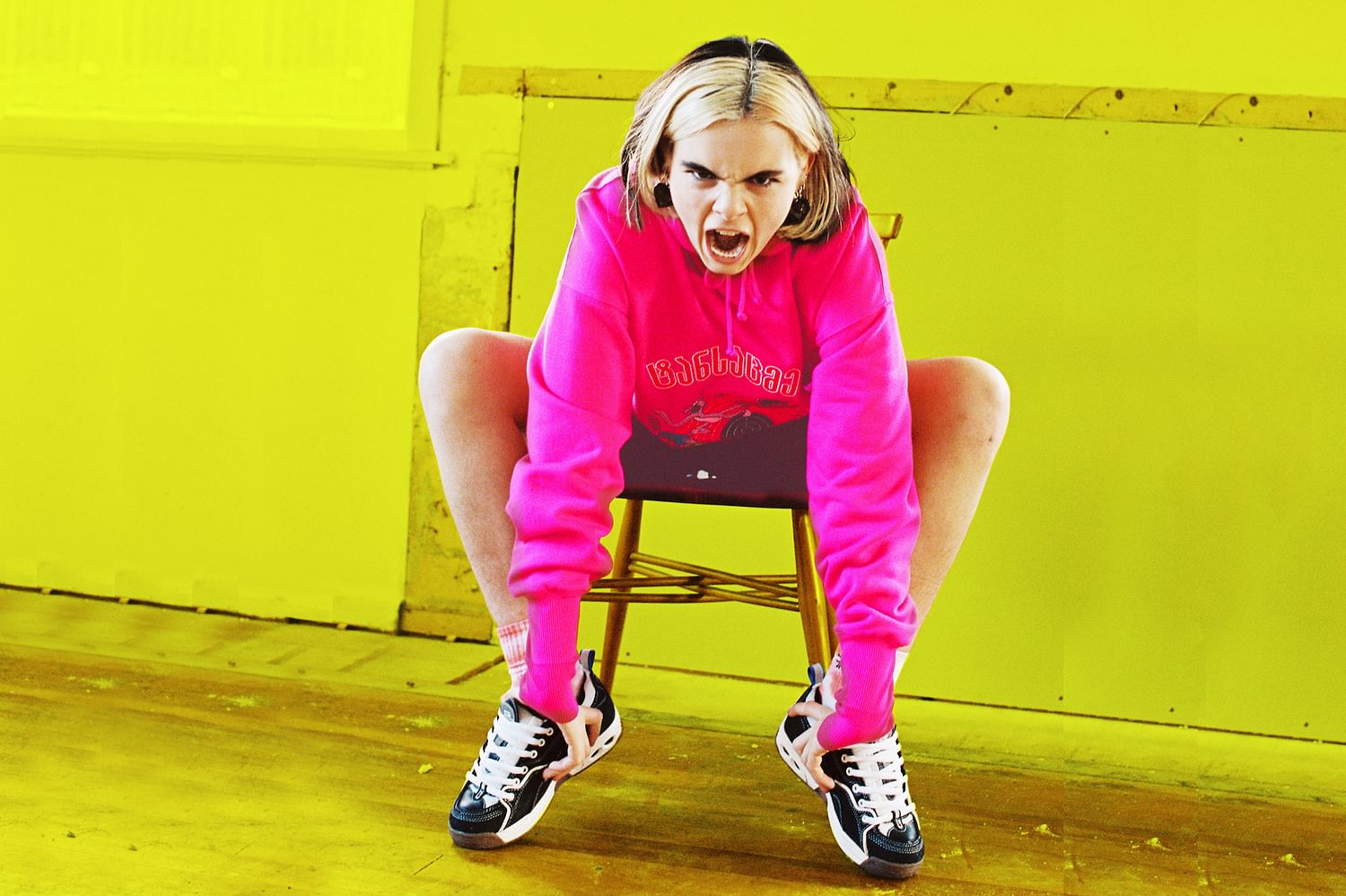 "I don't take myself too seriously, which I think people appreciate."
Already receiving glowing reviews, BENEE's direct lyricism is what makes her music stand out. "I write pretty honestly and it's all stuff about how I'm feeling and all this relatable stuff. I feel like people connect to that," she muses. "But also I don't take myself too seriously which is why I'm self-deprecating in songs like 'SUPALONELY', which I think people also appreciate. A lot of people feel the same way and I think it's nice when someone can joke about it. People can relate, but I also try and make music that's interesting and fresh; I've had people reach out and tell me that's something they like - that it's different sounding."
She pinpoints album opener 'Happen To Me' as her personal favourite on the record and an example of her forthright lyrics, which see her questioning "I think about these things too much / My mind likes to wind itself up / And I don't get a lot of sleep / 'Cause what if they happen to me?". "It's about my anxiety and I was feeling pretty low at the time when I wrote it," she explains. "I think it's very important to talk about mental health, and with that one I was pretty honest in the lyrics."
Other songs on the record pull inspiration from all over the place, from former relationships on 'Same Effect' ("I've written the majority of my songs about my ex-boyfriend, unfortunately. But that's all right, thanks for the inspo!") to musicians she thinks are effortlessly cool on the aptly-titled 'Kool'. "I wrote it about a couple of musicians who I look at and think 'Oh my god, they've got everything together and they won't be filled with anxiety or worry'. But people message me saying they think I'm cool now and I'm like, what?!" she laughs. "I'm very uncool."
Still coming to terms with her rise to stardom, yet surely destined to climb the pop ranks even further in 2021, BENEE remains surprised at the sheer volume that she's achieved this year. "It's pretty crazy," she smiles. "I don't think I would've believed it if I knew that this was what was going to happen with my year. It's very weird to think about!"
Read More
Featuring King Gizzard & The Lizard Wizard, IDLES, Tkay Maidza, Sleater-Kinney and more.