Comfort in Sound: Waxahatchee takes a new trip
Katie Crutchfield has returned with new album 'Ivy Tripp' - "I've gotten more adventurous," she tells Ali Shutler.
It's the morning after the night before. Curled up in the armchair of a coffee shop, wrapped in a blanket and with a cup of tea going cold in front of her, Katie Crutchfield is a long way from home. Visiting London as part of a promotional blitz for 'Ivy Tripp', her third album as Waxahatchee, yesterday saw Katie perform a pair of sold out shows at London's St Pancras Old Church. They provided a taste of what's to be expected from 'Ivy Tripp' while getting the room drunk on beauty. Today is out of focus.
"I feel at home here," reasons Katie. "People have always been so supportive of what I do, especially London, so I feel comfortable here."
Waxahatchee, the Alabama native currently living in Philadelphia, takes influence from the world around her. "At every point in writing, at my parents' house or at Waxahatchee creek, I'm surrounded by nature. I wrote a lot of this record at Long Island, which is beautiful," says Katie, giving a reason for every jaw-dropping moment of serenity that floods 'Ivy Tripp'. It's not just the lyrics that benefit from this exposure, as the whole project has grown in the sunlight. "If I played 'Ivy Tripp' to myself when I started, I'd be like, 'What, this is so weird'. For my audience though, it will seem like natural progression," she admits. "When I started Waxahatchee, it was just a solo thing. I feel like I've got more adventurous."
Before Waxahatchee, Katie was in a string of now defunct bands with her mirror twin, Allison. P.S.Eliot was the most recent, and the one whose absence is still felt today. "It's funny, we're all still really good friends but the dynamic is different. I can see us getting back together and playing some shows," Katie teases. P.S.Eliot mobilised after a run in with Brooklyn punks, The So So Glos. "It was romantic and lovely. They were just travelling around the world, playing their music. They didn't have a home, they lived on their little bus and as soon as they left, we wanted to do that," Katie remembers. "Those were the best years ever."
"What was hard about P.S Eliot, was making creative decisions," she states. "People were bringing different things to the table and having different expectations, so we clashed a lot. P.S Eliot was your standard band democracy. I was always in the driver's seat and sometimes it's hard, when you have so much invested in a band, to talk about it with other people. It starts to feel a bit uneven. It was a bit of a struggle so when I started Waxahatchee I wanted to be the sole member, I wanted to make every decision and for it to be my thing."
"The biggest collaboration now is with Keith [Spencer, drums]. He is a really big part of what I do and has a lot to do with how the songs turn out," Katie states. "I bring the lyrics, the structure and the melody but then we build them up together. Keith is really adventurous, and that's rubbed off on me. I let myself try things, just to see what works and what sounds good. When I was younger I tended to make everything a certain way, make it really simple and I play with that now. I think it would be boring if I was writing the same songs again," she explains.
This sense of exploration is at the heart of 'Ivy Tripp'. A record that needs and wants to be heard as a whole, every poignant word and carefully assembled sonic world is the product of seek and retry. "It's based around the idea of 'Ivy Tripp', which is a term I made up," starts Katie. "It's about the general directionless of life, especially for people in their twenties, thirties and beyond. It's an evolving idea that I have.
"I try and draw from depression and sadness, and that sounds the most like me."
— Katie Crutchfield
"A lot of my closest friends are in the same boat as me, where all their weird friends from high school are getting married. We all lament that together, but who knows if they're even happy? It's an observation of that. It's resisting that weird conformity and realising that everyone's kinda unhappy but ultimately, it doesn't really matter. That sounds like a weird and existential idea but as long as you try and make yourself happy, that's all that really matters," she smiles. From the opening gambit of 'Breathless' to the melancholy finale of 'Bonfire', it's Katie's demanding, yet comfortable vocals that captivate the listener throughout. "You look at me like I'm a rose," are the first words Katie utters and it's easy to see why.
Recorded at home, away from the "clinical" feel of a studio and the constraints of working to a deadline, "I wanted the opportunity to take as long as we needed," 'Ivy Tripp' came together one song at a time. "Every day we'd sit with one song and see what it needed. We'd toss ideas around and add things," remembers Katie. Then, at the end of the day, Kyle Gilbride, who engineered the record and plays alongside Allison in Swearin', Keith, also from Swearin', and Katie would relax and take in what they had created until "by the end we just knew. We knew it was in a good place."
The lyrics that twist around the swells, the echoes and the silence, are an altogether more private affair. "I feel like lyrics are always really important to what I do," she declares. "A lot of my songs are so personal and I used to have a lot of ownership over them but now, they mean what to mean to me and I just want them to mean something to people," Katie finishes. "Every time I've tried to draw from anger or happiness or love, it doesn't sound like my voice," starts Katie. "I try and draw from depression and sadness, and that sounds the most like me." Despite the inspiration, 'Ivy Tripp' is "a fun record," Katie promises. "I like the juxtaposition, have the lyrics heavy, but have the music fun. It evokes a weird, emotional combination that I enjoy."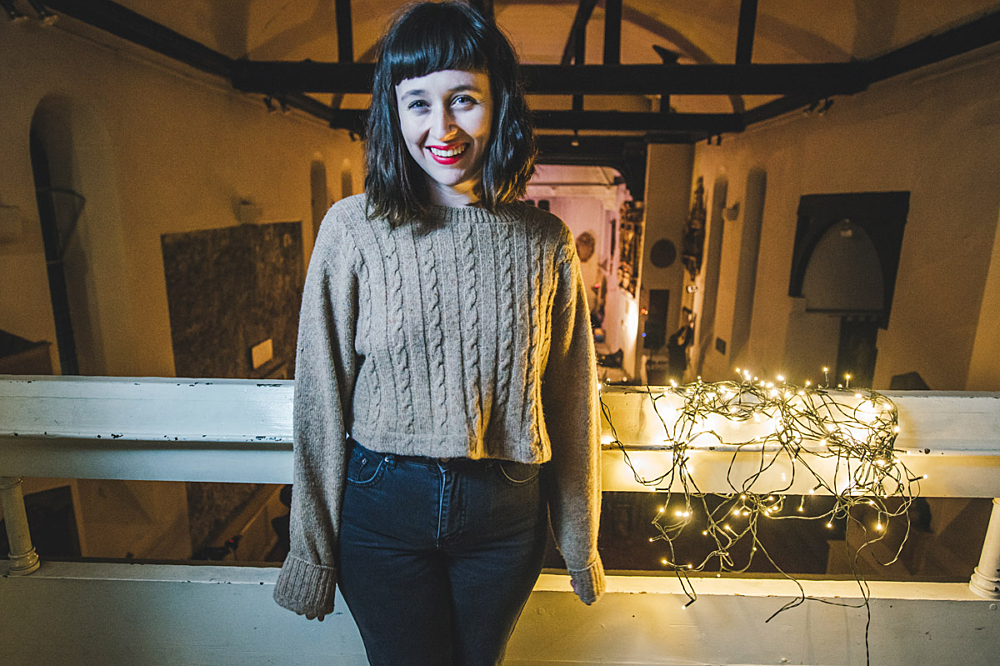 The battles that subtly rage on 'Ivy Tripp' are well balanced, coming from a place of vocal self-assurance. "I trust myself creatively," Katie states without a whisper of arrogance. "If I wasn't confident, I just wouldn't be able to do it. I'm terrible at baseball, so I never play it in front of people. It's definitely something that's come with age but I've got to this point where, I've played music for so long that I feel like I can handle anything. Making records for me at this point is routine, in a good way. As soon as I finish one, I want to make another and I've been doing that for ten years. I make records, it's what I do," Katie says with a glint in her eye.
"I can't decide what I want to do with my next record. Part of me wants to make another solo record. Maybe I'll make two records in 2016," she smiles, playfully. And beyond that? "Who knows." With this comfort in sound, it's sure to be an adventure.
Photos: Carolina Faruolo. Taken from the April 2015 issue of DIY. Waxahatchee's 'Ivy Tripp' is out now.

Get your copy of the latest issue
Read More