Never ones to do things by halves, theatrical rockers Creeper have risen from the dead (almost literally) for their new album 'Sanguivore'.
Picture the scene: goth-rock troubadours Creeper have just concluded their final UK headline show of 2022 to a packed out Camden Roundhouse, with the kind of closing singalong bands can only dream of. Then, just as the final chords of their cathartic hit 'Misery' ring out, a figure emerges from the shadows and grabs frontman Will Gould - or William Von Ghould, to use his full adopted moniker - wrestling him to the ground while biting at his neck. Moments after the scrabble, the creature - resembling iconic horror movie vampire Nosferatu - stands triumphant, holding aloft Will's decapitated head, and the lights go down on the band's former era.
It's not exactly your average Friday night. But Creeper's London show last November was, nonetheless, entirely on brand. Fully committed to theatrical flare, their final act in support of second album 'Sex, Death & The Infinite Void' didn't just mark the end of the album's life (or - spoiler alert - Will's either) but saw them launch their relationship with new label home Spinefarm, and drop a brand new single for good measure. "There was a phrase that was bandied around on the last album at the [previous] record company that we were 'too vaudevillian'…" he laughs today. "I always loved it because I was like, 'We're trying to cultivate that!' That's the point!"

Theatrics aside, it's little secret that the last few years proved challenging for the band. While their "cursed" previous album saw them at their most fragmented - Will working alone in Los Angeles while guitarist and writing partner Ian Miles recovered in a UK hospital following a mental health crisis - things didn't improve when the album was finally released in the middle of the pandemic. "It was just such a nightmare, it was just horrible," Will remembers, reflecting back on their self-inflicted social media blackout in 2019 that led up to the album's launch. "All the discipline of not posting and not interacting was all for the greater good of the reveal, then as soon as we'd done that big magic trick, the real world had other plans."
Even after their second album finally emerged in the summer of 2020, uncertainty had bled into all corners of the music world, and with shows off the cards for another year at least, Creeper's meticulously-crafted concept had nowhere to come to life. "I felt like what we'd made was a real accomplishment and it was really different from what we'd done before," he nods, "but it didn't feel like it achieved its full potential. I still think it's a really wonderful journey it takes you on and I love the characters, but it's just very painful to listen to." It would, however, become a necessary stepping stone for the band. "I hate to say this because I sound like my mum, but as painful as it all was, everything happens for a reason," Will says. After 2017 debut 'Eternity, In Your Arms', the follow-up saw the band head even further down the dramatic rabbit hole, showcasing their "intent to genre-hop" and, in Will's own words, conditioning their fans "to expect the unexpected properly".
It would also introduce them to producer Tom Dalgety, who would become an integral player in the creation of their next step, 'Sanguivore'. Having previously worked with the likes of Ghost, Rammstein and Royal Blood, to name but a few, it wasn't just an impressive CV with some of rock's most theatrical names that saw him hit it off so well with the band; his love of composer and producer Jim Steinman, though, really sealed the deal.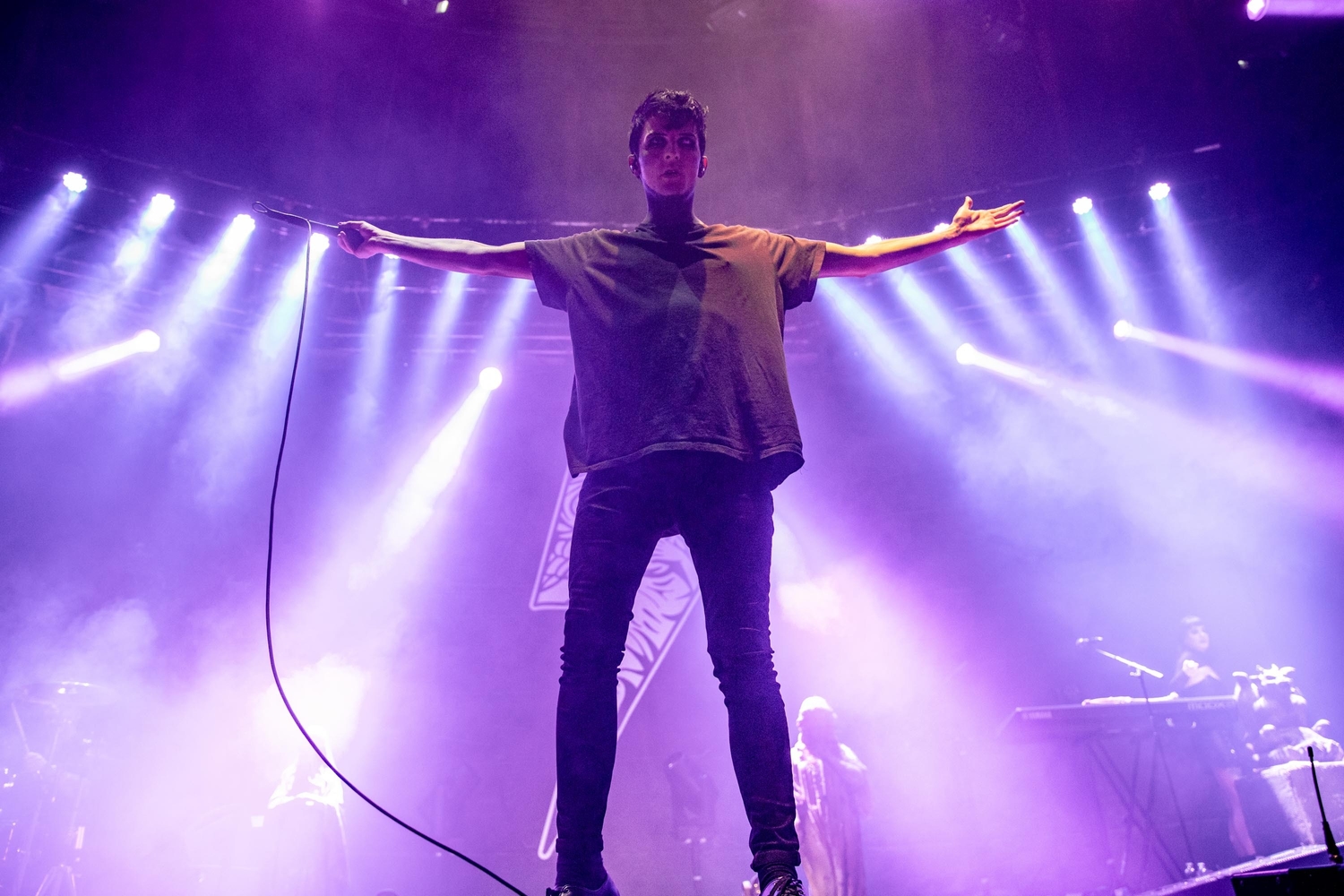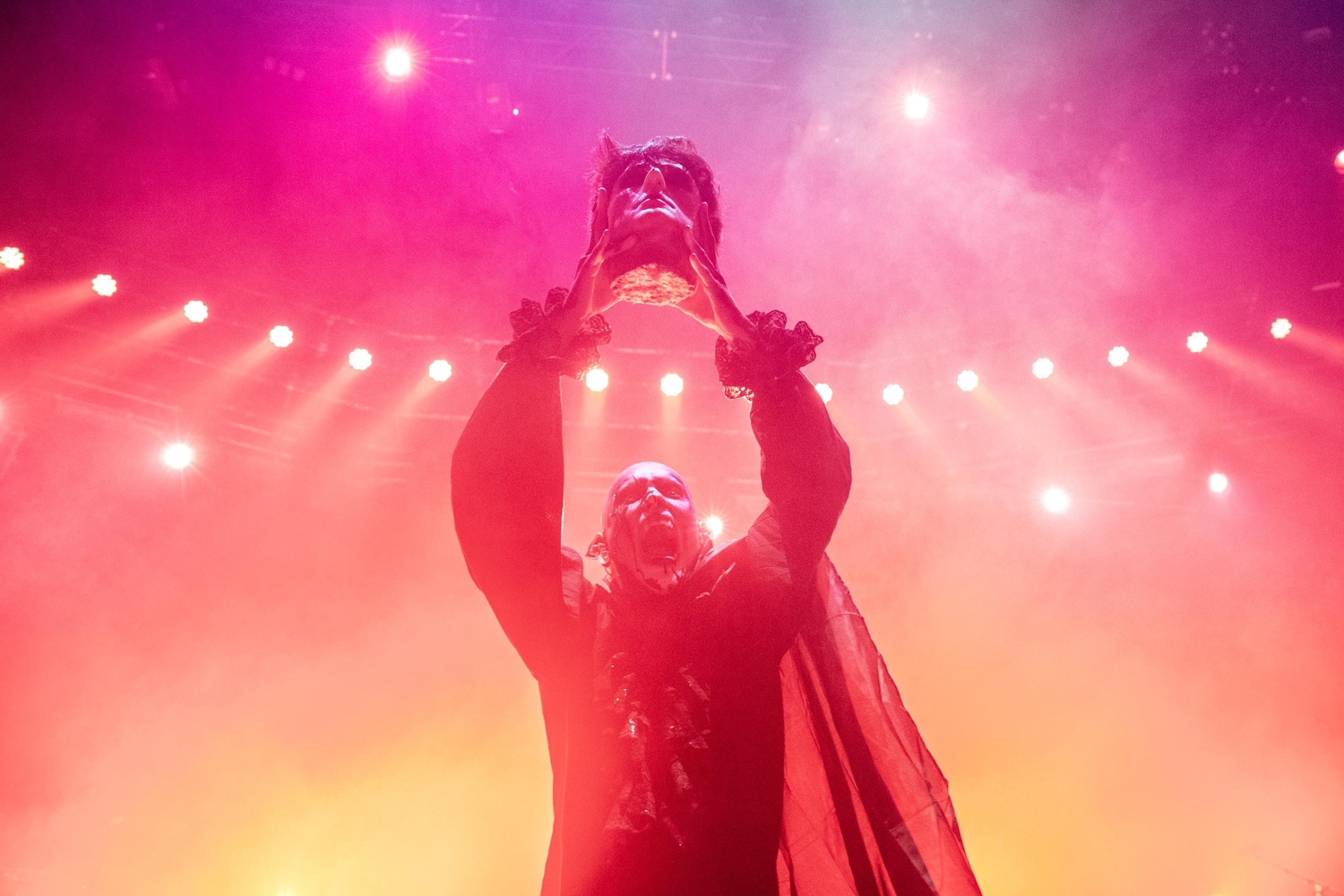 "It sounds like that Jim Steinman quote: 'Going all the way is just the start'." - Will Gould
For those who might think they're unfamiliar with the work of Jim Steinman, think again. The hits he helped produce during his lifetime are arguably some of the late-20th century's biggest musical moments. Bonnie Tyler's 'Total Eclipse Of The Heart'? Check. Celine Dion's 'It's All Coming Back To Me Now'? You betcha. The 14x Platinum-selling 'Bat Out Of Hell' by none other than Meatloaf? Of course he did. He even somehow had a hand in writing a Boyzone song, such is the ubiquitous nature of his work. And so, of course, for Creeper's next trick, they decided to pay homage. "We all dedicated the record to Jim and we just got off on going, 'Oh OK, we'd love to open with this nine-minute epic…'" laughs Will, while also being completely serious. The record's opening track 'Further Than Forever' twinkles with John Williams-esque notes before swerving into full-blown rock opera territory, clocking in at just under ten minutes.
Their grandest statement of intent so far, 'Sanguivore' - which follows its ruthless vampire protagonist of Mercy and her journey to rediscover some of her humanity - harks back to the halcyon days of classic rock and power ballads, in what feels like the most distilled version of the band to date. "We just had to go all the way," Will confirms of the over-the-top, classic-sounding nature of the record. "It sounds like that Jim Steinman quote: 'Going all the way is just the start'." From its larger-than-life Meatloaf-indebted opening through to the dark driving force behind 'Scared Blasphemy' - complete with ominous classic horror voice-over - via the eerie Nick Cave-ish swagger of 'The Ballad Of Spook & Mercy', and the hefty riffs of 'Teenage Sacrifice' (that immediately conjure up a camper take on Judas Priest), little feels off limits or too ambitious for the quintet. "I was talking to [Static Dress frontman] Olli Appleyard and he asked how the record was going, and I said 'Oh it's great, Tom's kicking the last few bits of emo out of it'," Will laughs. "It's not that we don't love that stuff…" he pauses, "but I just don't think that we could ever have made something like this before."
As for what the record has come to mean for the band themselves, it's clearly given them the lease of life they were craving and united them once again. "It was about breathing and giving our band a new life, and the vampire theme felt like the metaphor for that," Will concludes. "It kinda had to die a death over the last couple of years in order to be born and walk again."
Heads Up!
Prosthetic heads are no joke, as Will and the band discovered after commissioning their very own for their London headline show last year. Here's a few lessons Will himself has learned after becoming the proud owner of his very own decapitated head… 
"Recently, we were going to do some bits at Radio 1 in London and we had to take the head with us. It's just so odd. It's so fucking heavy! But I needed it for a photo, and then every time I stopped off somewhere else, everyone just wanted a picture with the head. Now the head's starting to go bald because everyone keeps holding him by the hair and his hair keeps coming out, because they put the hair in individually!
"Originally when it turned up, it didn't have any eyebrows or make-up; it resembled me on the last album when I had my eyebrows bleached at that point, and that was odd. So, Charlotte [Will's girlfriend and make up artist] had to do the make up for it, which was really funny because it's just odd isn't it! Then we had to take him to have his hair cut, and she had to sit on the barber's chair with this head in her hands and just hold it still while our friend Sean cut his hair. It was very, very funny."
Sanguivore' is out 15th October via Spinefarm.
Read More
Popular right now
Featuring King Gizzard & The Lizard Wizard, IDLES, Tkay Maidza, Sleater-Kinney and more.