The kids aren't alright: Declan McKenna
As he readies his socially-conscious, bold pop debut 'What Do You Think About The Car?', there's just no stopping Deccers.
"If you can't walk, then run." That's the feverish refrain of Declan McKenna's single 'Isombard', inspired by a poem by E. E. Cummings and centering on a newsreader's misinterpretation of a story he's trying to tell. It's also a curiously apt way of summing up Declan's career so far. Going from nought to sixty in just a couple of short months, he was first thrust into the limelight at sixteen after his anti-FIFA song 'Brazil' won him Glastonbury's Emerging Talent competition in 2015.

But this is where his story differs from the dazed and confused reporter in 'Isombard'. Rather than stumbling, Declan's been confidently progressing forward, producing a clutch of politically-charged yet catchy singles. Now, two years on from that first release of 'Brazil', he's unleashing debut album 'What Do You Think About The Car?' into the world, and he's taking it all in his stride. "I'm glad to just finally have an album and a group of songs that exist rather than a few singles," he says.

It's a collection that mixes singles like 'Isombard' with a clutch of brand new tunes, and was pieced together with the assistance of James Ford. But despite having produced the likes of Arctic Monkeys, Klaxons and Depeche Mode, Declan wasn't fazed by the knob-twiddler's musical pedigree. He remained as calm as ever, simply working to "get everything to sound its best". Declan has a simple explanation for his collected nature. "It's funny, as a producer, although James Ford has worked on loads of records I've listened to, I wouldn't recognise his face," he muses. "He wouldn't be someone you'd look at in the street and be like 'oh my god, it's James Ford' even though I've listened to a lot of his work!"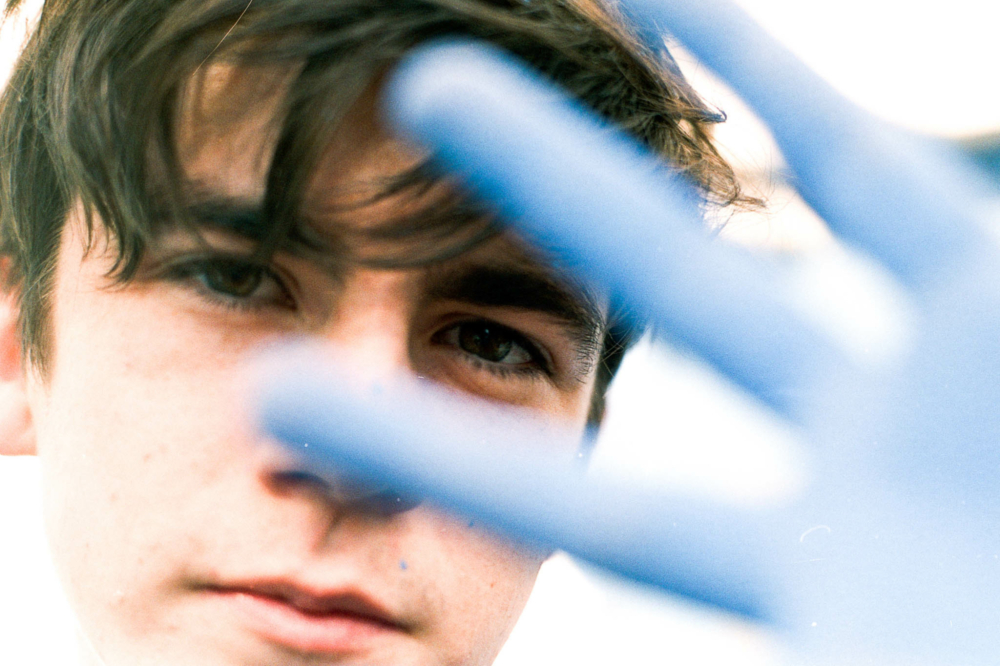 "There's so much happening in this generation."
— Declan McKenna
Putting a face to a name is something Declan wants to try and establish for himself. The cover of 'What Do You Think About The Car?' is simply an intimate head shot with nothing to hide. For him, having a portrait on the cover of his first record was a no-brainer. "People don't really know who I am or what I look like," he explains, "so I think having a big fuck-off picture of my face is very simple, very effective."

Looking at the shot though, it shows off more than simply the face behind the music. In its vision of a slightly sweaty young man, hair bedraggled and eyeliner smudged, it presents a musician who's toured and recorded tirelessly over the past two years, as well as someone who's found a home making smart pop music, the starkness of the image harking back to 'Aladdin Sane'-era David Bowie. Indeed, for the cover Declan kept a question in the back of his mind - "what would Bowie do?" It's not a surprising mantra; he did perform in front of Brixton's 'Aladdin Sane' mural in the original video for 'Brazil' after all.

The callbacks to vintage pop records don't stop there either. Declan listens to Paul Simon, Madonna and even a bit of George Harrison, saying that "there's so much good stuff from the classic pop world, 80s and before," so it's unsurprising that these influences have filtered through. "I've edged towards taking in a couple of different influences and work more towards pop, because that's what I want to do," he explains. At its heart, 'What Do You Think About The Car?' is a big, bold pop record, with the likes of 'Mind' fitting into a long tradition of lilting alt-ballads and 'Why Do You Feel So Down' almost ironically a perfect pick-me-up thanks to its euphoric melodies. Opener 'Humungous' is a perfect introduction to Declan's world, built around classic, powerful chords and a chorus that's, well, enormous.

"Politics is a big part of my life and ignoring it would be very difficult."
— Declan McKenna
But 'Humungous' also gives a glimpse at another side of Declan. Its squalling, frenetic ending symbolises his frustration over the past few years pouring out, giving a glimpse into his more socially-conscious side. He's criticised FIFA, questioned why religion is used to justify hate crimes on 'Bethlehem', and he wore a t-shirt demanding 'Give 17 Year Olds The Vote' on his debut performance on Later… with Jools Holland. 'Paracetamol' was inspired by the tragic suicide of American transgender teen Leelah Alcorn, the track focusing on the misrepresentation of trans issues in mainstream media. On that topic, Declan still thinks there's more to be done. "There's been certain moments in the past few years where I've seen progression, but there's a long way to go," he says. "A lot of it is just having normalised perceptions of people from different backgrounds and LGBT representation. A lot of that will come from the mainstream media and it's super important."

Despite standing up time and time again for young people of all backgrounds, he's still reluctant to be labelled as a spokesperson for youth. "It's odd," he muses. "It's nice seeing people say certain things, but I don't think what I'm about is being a voice of a generation." Declan's fully aware that his forthright stance on political and social issues lends itself to that statement, but his hesitancy isn't necessarily because of wanting to avoid the spotlight. Instead, he wants there to be a greater, collective voice that's more representative of a range of thought. "There's so much happening in this generation," he says, "so many different voices to be heard or that need to be heard more. Until all those voices can have their say, it'd be unfair of me to take on that title and be what people want me to be."

On that front, Declan's already made a step into making sure the voices of ordinary young people are voiced, featuring them prominently in the video for 'The Kids Don't Wanna Come Home'. A toe-tapping stomper, it's about challenging the idea that young people are more bothered about uploading selfies than they are current affairs. The clip further proves it.

"That video was just largely about using a platform to let some young people talk about what they care about and what they think about the world around them, which isn't done enough," Declan says. He knows that one video alone might not change the world, but it's a start. "It's a very small step," he admits, "but it's part of representing people and presenting them for who they are rather than what the media represents them as."
While it's unsurprising to hear him state that "politics is a big part of my life and a big part of the world, and ignoring it would be very difficult," his debut, he insists, "is not all politics. A lot of the songs have multiple meanings and they come from all kinds of different places," including personal experiences and thoughts on human connections. On 'Make Me Your Queen' he examines a potentially abusive relationship between two people with "the assumption that one person is a king and they're possessing someone else because the queen is the second most important person." 'I Am Everyone Else', meanwhile, was originally about someone that he and a friend became particularly annoyed at, but there was a catch. "I liked the melodies, but I didn't really like the song itself," Declan explains, "it was just mean and didn't come across how I wanted it to."

So instead, he flipped the concept on its head, turning his personal experience into a wider commentary on the world. "It became to be about politicians in general pretending to represent the masses without actually doing it," Declan reveals. "Pretending that they had the same experiences as normal, everyday people when they're very far from it." Similarly, while 'Make Me Your Queen' is on the surface a tale of two people, it harbours a deeper subtext about "being patronised, with connotations surrounding the patriarchal society that we have."

That's Declan's songwriting skill in a nutshell. He can write nuanced, intelligent lyrics that span the personal and political, and wrap it all up in an impossibly catchy tune. "It's just about controlling it and learning about yourself, learning about where your writing comes from," he confirms. If there's one thing Declan seems to have always known though, it's that one day he'd be releasing this album. Before a note is played, a recording of his four-year-old self plays, and he confidently declares "I'm going to sing my new album now." Fourteen years down the line, it's impossible not to sit up and take notice.
'What Do You Think About The Car?' is out 21st July via Columbia.

Get your copy of the latest issue
Read More